Watches under sail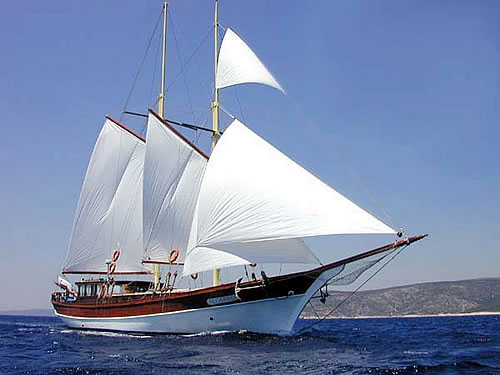 So much was said about sea! The famous philosophers and thinkers of all times were inspired by beauty and serenity of the sea and admired rough nature of salt waters. They say the sea has a soul, and you can really feel it when you stay alone with the sea. If you want to understand yourself better – go to the open sea, stay alone with the element. The sea reveals true character of people, real friendship and love.
The spirit of travels allured people all over the world during many centuries. The history of seafaring counts more than one millennium. The ancient people, driven by desire to broaden horizons of their consciousness, started on a risky and dangerous travels on fragile little boats. So many battles were given at the sea, so many civilizations were enslaved by courageous travelers. People were building and improving their vessels to go even farther, to unknown and mysterious places. They were discovering islands and whole continents. The shipbuilding was getting over art. The greatest minds worked on improving constructions and increasing speed and reliability of sea vessels. The scientific and technological revolution opened a way for navigators to expanses, unachievable before. New animals, new nations, new cultures – result of navigation development. The ship motors and bodies were being improved: they were becoming bigger and more luxurious. The great cruisers furrowed the seas, transporting thousands of passengers in their luxurious cabins.
But only in the XX century the navigation became truly individual. Various private yachts started conquering water expanses. Various constructions and characteristics turned yachts into pieces of art. Sometimes the big private vessels could compete with ocean liners in their sizes, design and power. The sailing, motor yachts of different classes and sizes, various cutters and motor boats became something like cars in people's life. But the sailing yachts take a special niche. As only at sailing vessel you will be alone with the sea. You can feel the spirit of great geographical discoveries, when courageous seamen went under sails to unknown expanses, attracted by romance of travels and craving for adventures. The sailing yacht is a sign of taste and individuality, courageous and resourceful man, who doesn't afraid of unforeseen situations.
The sailing sport, appeared in Holland several centuries ago, has a special character. The first sailing race took place in England in October 1, 1661. Then the yachting was a royal privilege: the kings owned several different vessels. The first yacht-club in the world was created in Russia by Peter I in 1718 and named "Potomstvenny Nevskiy flot" (The hereditary Neva fleet), included 141 yachts. But only in 1775 the "pacing under sails" acquired sport orientation, when the Cumberland flotilla, specialized in training and organization of sailing regattas, was created. Soon, the yacht-clubs started to be established in all countries with sea, and that kind of sport began its world development. Today the sailing regattas are one of the most popular kinds of competitions. The races under sails are arranged in different classifications: by territory of sailing, by type and class of vessels, by crew, by type of distance, by professional qualification, by distance length and rules of competition. Whatever the type of sailing competition is, it always represents a showy and fascinating event. But not everyone can afford such pleasure, as the sailing sport is one of the most expensive kinds of sport. For example, the average budget of one team per season, participating in the most prestigious competitions, America Cup, makes up about 200 million dollars. As the regatta is a competition of not only people, but also of technical novelties – sailing yachts, where the best shipbuilding engineers embody their boldest ideas. And, naturally, the companies-manufacturers of wrist watches couldn't stand back from such total infatuation. Especially if people, who could afford participation in regattas, weren't stingy of such modern accessories, as watches. Every respectable watch company has a watch line, devoted to yachts and sailing sport, in its "arsenal". Supporting teams in prestigious competition "America Cup" is considered to be very honorable. So, one of Cup laps is named after famous watch brand "Louis Vuitton Cup". The company in its turn released a limited line of yacht wrist watches. The main distinctive feature of watches for yachtsmen is a 10-minute countdown, which is performed right before race start. One of famous watch brands in America Cup is one of oldest watch manufacturers "Girard-Perregaux". But some watch manufacturers went to even greater lengths and organized their own sailing regattas. The prestigious competitions under the aegis of Rolex, arranged in different classes, are wide-known. In one of Cups the winner gets the famous chronograph from Rolex — Oyster Perpetual Yaht-Master II – as a present. The Swiss company of Italian origin "Panerai" also organized unusual competitions. The skippers of vintage yachts, built before 1950, demonstrate their mastery in sailing regatta. The company issues new limited series of its marine watches "Luminor" for each Cup. Many famous watch manufacturers release special watch series, devoted to sailing regattas and teams. Such "marine" wrist watch is an integral accessory of sailing sport fan, which perfectly shows "mind brothers" on land.
We will describe most famous watch series for yachtsmen in detail.

Watch "Corum Admiral's Cup Tides 48"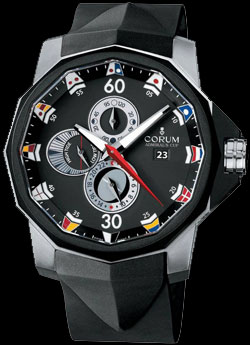 Admiral's Cup is one of extraordinary examples, when the glorious series of wrist watches eclipse the company released it; many people know about famous marine chronograph "Admiral's Cup", but a few of them have heard about watch brand "Corum", which worked many years on that line of wrist watches. And if you appear to be in company with a person, who knows well the models of Corum, you can be sure that you deal with a very educated and wealthy companion. Admiral's Cup is derived from the name of prestigious sailing regatta, established by maritime power of Great Britain. The level of organization was so high that the regatta "Admiral's Cup" got unspoken status of nonofficial world champion. The watch brand "Corum" wasn't inferior to new sailing competitions at all, and the certified chronometer, named after transatlantic regatta, became an object of desire for every yachtsman. The first model of Admiral's Cup was so successful that during 20 years Corum had been standing competition at the world watch market with such heavy brands, as Rolex and Audemars Piguet, without introduction any changes into construction of its wrist watches or number of models in Admiral's Cup line. But rising competitions and changing customer needs made Corum think about widening of its famous collection. The line "Admiral's Cup" started acquiring new models of marine wrist watches with various design of cases and different functional decisions, but all watches of Admiral's Cup obtained their specific details, distinguishing them from other models of Corum – 12-faceted case with thin bezel around sapphire glass and original indication marking in the form of international marine code symbols. But a real surprise for fans of Admiral's Cup watches was issue of exclusive chronometer "Admiral's Cup Tides 48", which is unique for its complicated tides intensity and time indication system in any required region. The design of that complicated triple movement took Corum three years of work in collaboration with Observatory of Geneva and Oceanographic Institute of France. The automatic movement CO277 was specially designed by Dubioz Derpaz and is provided with 42-hour power reserve. The massive case of 48 mm diameter is made of titanium or 18-carat gold and can boast of 300-m water resistance. Apart from tide indicators, very useful function in navigation, the dial is equipped with supplementary dial with Lunar phases and date aperture. The marine chronometer is provided with relief rubber strap, reliably fixing rather big watch on yachtsman's wrist. The watch was presented in Paris at annual prestigious exhibition "Belles Montres". The chronometer "Admiral's Cup Tides 48" created worthy impression with all Corum watch amateurs, especially with those, who are linked with the sea, as Corum has been gladdening "sea dogs" with its comfortable and reliable marine chronometer during half a century.

Watch "Audemars Piguet Royal Oak Offshore Alinghi Polaris"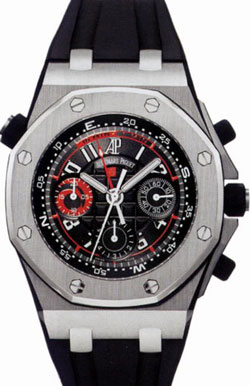 The pictures of watches from famous Swiss company "Audemars Piguet" became familiar on sails of worthiest yacht teams long time ago, as from its first day AP became an integral companion of most famous sailing regattas, being a sponsor of many teams, whose notable members in their turn always appeared with watches Audemars Piguet on their wrists. The Swiss watchmakers found their clients among team members and owners of luxurious yachts, rejoicing them with its famous "octagon", presented in different variants. Of course, we are talking about marine interpretation of legendary series "Royal Oak Offshore", which remains a true object of pride for many collectors of expensive wrist watches. One of such "interpretations" is another "royal" chronometer Royal Oak Offshore Alinghi Polaris, released in honor of great victory of Swiss yacht team Alinghi at the most prestigious competition of sailing yachts – America Cup. That victory can be called fantastic because of emotional tension that accompanied the race of two strongest teams from Switzerland and New Zealand, equally sailing at all stages of Cup. But the success smiled upon team from country of best watches and reliable banks: in the long run, the Swiss team "Alinghi" took ahead of "Emirates Team New Zealand" for only 35 seconds! Having sailed through the whole ocean! There were not any such short lags between teams during all history of America Cup. Alinghi doesn't simply deserve ovations and prizes, its victory can be recorded in history. The compatriot of team-winner, Swiss brand Audemars Piguet, applied itself to that mission. Just the name of Alinghi is engraved on the back case of chronometer Royal Oak Offshore Alinghi Polaris. This is the second model of Royal Oak, devoted to Swiss team Alinghi, made of glace stainless steel. The diameter of case is 44 mm with usual octagonal bezel, fixed by 8 polished screws. The dial covers anti-glare sapphire glass, and the strap is made of rubber with special additives, "invincible" for salt sea water. The water resistance makes up 100 m, and extra tightness is provided by rubber cover, protecting most vulnerable place for water – the crown. The wrist watch "Royal Oak Offshore Alinghi Polaris" is distinguished by all specific "regatta things": countdown scale, positioned under glass and protected from random shift (it rotated by means of supplementary crown at "10" hours), 360-degree marking, which helps to define parts of the world, and symbolic last minute indicator in aperture at "12" hours. One more specific feature of this marine chronometer is automatic movement AP 2326\2847 with frequency of 28 800 alterations per hour, provided with powerful anti-shock system "KIF Elaston". The watch has Fly-back function of chronograph, which allows resetting counters. The cast image of compass adorns the back case, and the names of brand and collection are repeated on strap and buckle from polished steel. The wrist watch "Audemars Piguet Royal Oak Offshore Alinghi Polaris" will be a worthy reminder of exciting competition – America Cup and fantastic victory of Swiss team, as Switzerland, whether it is horlogerie, or prestigious competitions of sailing yachts, is always on top of pedestal.

Watch "Breitling Avenger Seawolf Chronograph"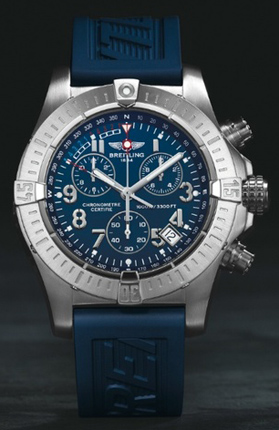 Enjoying its incontestable advantage in the air, the manufacturer of "instruments for professionals" Breitling couldn't stand back from marine theme either. With its invincible "Seawolf", the Swiss famous watch brand "Breitling" with its winged logo can be seen more often on bodies of sailing yachts; the huge pictures of notable watches show off on sails of best teams, meaning that Breitling is a sponsor of one of the greatest races on the planet. But the connection of Swiss watchmakers and sailing regattas is not limited by sponsorship of teams and participation of chronometers themselves in races on wrists of team members. One of MedCup competitions in 2007 was named after Breitling. MedCup represents sailing regattas in Transpack class, which recently has become popular and present races of sailing pitch yachts. The best world teams and qualified skippers meet at popular world tournament, which requires not only professionalism of participants, but also constant work on improvement of yachts and sailing equipment. And, of course, Breitling added one more model of professional time meter to its marine collection, but hinted at belonging to elite world of yacht sport. The model "Avenger Seawolf Chronograph" is distinguished from usual deep-water watches for diving by two scales, counting symbolic 5 minutes before start of sailing regatta. This wrist watch is one of few examples, when such chronometer is provided with quartz movement; due to vulnerability of usual quartz movement to temperature falls the accuracy of movement can be low. But that's not about Breitling! The famous movement "SuperQuartz" is a conceptually new design in the world of quartz watches, saving chronometers from baneful influence of temperature differences on movement accuracy, and naturally the wrist watch "Avenger Seawolf Chronograph" is certified as an official chronometer "COSC", proving high accuracy of this model. The chronograph is provided with 12-hour counter and counter of tenths of second. But there is one more specific feature of that model from Breitling – it is water resistance, making up 1000 meters, at that the chronograph function can be used even under water, and it is a really unique opportunity. The case consists of two chambers, and the control of split-chronometer by buttons is transferred by means of impulses of electric charge that completely excludes the availability of moisture penetration through vulnerable places into fields of buttons fastening. This model is provided with one more specific feature of marine watches for real professionals – decompressed valve, automatically equalizing pressures inside and outside of cases. The steel case makes up 44 mm in diameter, and its thickness – 17,2 mm. There is a rotating bezel with 60-minute marking around sapphire glass with anti-glare treatment. The date aperture is between "4" and "5" hours. The 360-degree marking that helps to define the part of the world is applied on the circle of dial. The wrist watch "Avenger Seawolf Chronograph" is released with three color decisions of dial: blue, graphite and white. Also the manufacturer offers steel bracelet or leather or brown strap. It's clear that the sky was conquered by Breitling long ago, and we can only wait what this famous watch brand can achieve in the sea.