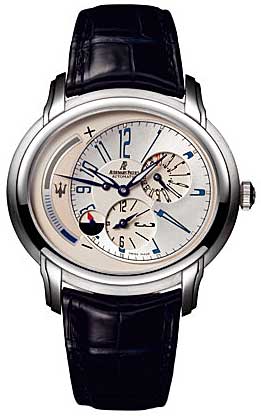 "Dual Time Millenary Maserati" watches
In February 2005, Maserati, a famous manufacturer of sport cars, and Audemars Piguet, a luxury watch brand, concluded a partnership agreement. Audemars Piguet celebrated its 130 anniversary that time, while Maserati had its 90th birthday. And a limited series of watches "Dual Time Millenary Maserati" were released as a sign of partnership. Since that time Audemars Piguet has become an official supplier and sponsor of Maserati MC12 at FIA GT championship, and sponsor of The Maserati Trophy. A round case, reminding the Roman Coliseum, became a specific feature of these watch series, and the famous Maserati trident and three-level dial design, looking like a control panel, say about the relationships of these watches with motorsports.
Why should one take the life path along, if it's possible to gain much more together? No wonder big watch houses more often create perfect tandems with the manufacturers of yachts, cars and even plains. The "Dual Time Millenary Maserati" wrist watches present one of the most successful examples of such partnership.
The first model from these series is provided with watch movement – a tourbillon with manual winding, double spring, and chronograph. These watches with bridges of anodized aluminum and carbon platinum consist of 336 details; the power reserve makes up 240 hours! Along with hour and minute hands and chronograph, they are also provided with power reserve indicator and tachometer. The case of 47 mm diameter is made of platinum.
There are plenty of associations with Maserati MC 12 racing cars: they are blue mother-of-pearl lacquer in the spirit of MC 12, carbon elements of open dial, and clear hint to cars automobile devices. The red symbols on dial intensify such effect.
Tradition, magnificence and courage are the three pillars Audemars Piguet leans on in its partnership with the legendary automobile manufactory. Besides, the partnership of two design titans resulted in "Trofeo Audemars Piguet Maserati Europe" – a series of seven races, which will be held for the forth time on the most prestigious European tracks this year and finished by "Maserati World Final".
The "Trofeo" races are considered to be a great base for accumulation of experience for those drivers, who are rather ambitious to strive for the future participation in the GT races. Along with the "Trofeo" series Audemars Piguet is a main sponsor of the races on Maserati MC 12, taking part in the GT competitions. As a result, two models of Millenary MC 12 have appeared recently.
Both "Millenary" models, flesh of "Maserati" flesh, are undoubtedly "blood brothers", but they are completely different. The Dual Time models are provided with a bright "day/night" indicator on the left part of dial, indicator of date and second time zone. The position of hour and minute hands is a remarkable feature of design: they are situated at the center of not the main dial, but the whole watch case, that creates a visual mess. The watches are provided with an automatic winding with 40 hours power reserve and 28.000 a/h frequency. The model is made in three variants: in cases of steel, pink gold and platinum.