Audemars Piguet became famous for making complicated watches, because its masters were the first who created the smallest mechanism with repeater in 1891. The "Royal Oak" collection, a specific combination of sport practicality and glamorous style, became the company's image; according to experts, the watches from this collection make up 75% of sales in many countries. The "Royal Oak" collection first appeared in 1972 thanks to collaboration with Gerald Genta, who managed to combine a classic round case with octahedral welt with screws. "Grown" into watch, the bracelet just added a special charm to watch and became one of the distinctive design solutions of this collection.
Since then many variations of "Royal Oak" were produced, however, not only that luxurious collection brought success to the company. The point is that Audemars didn't want to be dependent on only one collection, rather popular though. Therefore, it started developing an alternative collection, which was released first in 2007. New "Millenary" collection differed by an oval case, that gave more freedom to designers for imagination.
In 2006, Audemars launched the watch collection with a limited number of only two pieces, named "Tradition d'Excellence Cabinet Nî 5", which has become the foremother of "Millenary".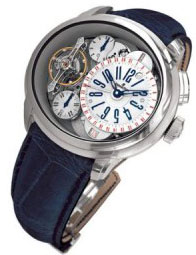 "Audemars Piguet": "Millenary perpetual Calendar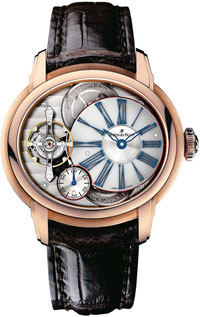 Cabinet ¹5" – a hand-wound movement (Caliber ÀÐ 2899) – date – day of week – month – year in four-year cycle.
The "Traditional d'Excellence" collection, according to its creators' idea, was supposed to consist of 8 "wonders of the watch world". This model of perpetual calendar is provided with "Millenary" case and patented high accurate non-lubricant escapement. Its prototype was a mechanism, created by master R.Robin in 18th century. The device combined accuracy of spiral movement and durability of lever type.
The "AP" engineers developed Robin's idea and made it perfect. The fruit of their labor can be seen through opening on dial (at "9" hours). The power reserve makes up 168 hours. The collection is limited by 20 timepieces.

"Audemars Piguet": "Millenary with deadbeat seconds"
In 2007, the appearance of "Millenary" collection caused a sensation at the watch market. In fact, it became a renewed version of "Cabinet Nî 5" in pink-gold case with AP-Robin movement of the same name with deadbeat seconds. This model movement is provided with two balance spirals, and they can be seen through half-opened dial. Thanks to a breaking solution of engineers, reducing energy consumption, the mechanism can do without lubrication. The constant force in mechanism is provided by "deadbeat seconds", which sum up two alterations of balance. The watches are provided with a hand-wound caliber 2905.

"Audemars Piguet": "Millenary Pianoforte"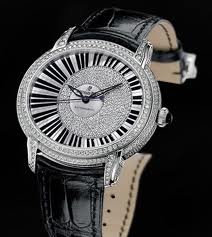 Black and white watch "duets" became one of the popular trends of 2008 among watch brands. Audemars presented its version of this trend: "Millenary" "Black&White". However, the "Pianoforte" collection, limited by 500 pieces and inspired by fortepiano keyboard, became an original design solution.
An oval dial of 40x50 mm size is made with the use of mother-of-pearl; it is adorned with black enamel inserts, designed as black keys. At first glance they seem like marking, but in fact, the real Roman marking is hardly noticed at asymmetric central part of dial.
The model case is crafted in white gold; the watch is base on automatic movement Calibre 3120. The power reserve – 60 hours. This model represents an evening extravagant accessory.

"Audemars Piguet": "Millenary MC 12 Tourbillon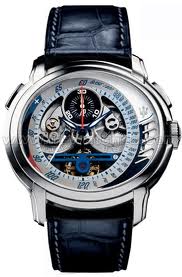 Chronograph" – a hand-wound tourbillon chronograph with two counters (ÀÐ Caliber 2884).
A new shaped movement with column wheel and tourbillon (the form of caliber was designed, considering the "Millenary" massive oval case) was designed specially for that model.
The 10-day power reserve, provided by two barrels, made of white gold and treated with palladium, became the main advantage of novelty.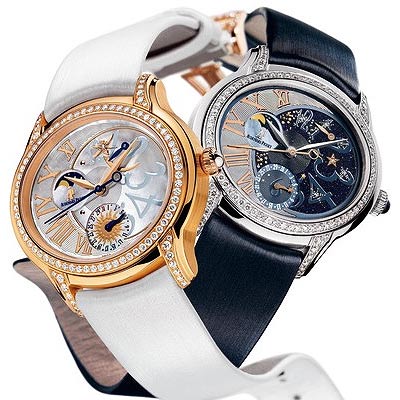 "Audemars Piguet": "Millenary Ciel Etolie" – selfwinding movement (AP Caliber 3123/3908, base Caliber 3120) – date – Lunar phase – power reserve
The company from Le Brassus presented two models under romantic name "Cie Etolie" ("Celestial Star"): "Day Star" and "Night Star". The "night" is played in latter model with the use of dark-blue part of dial, adorned with miniature diamond stars. The power reserve and date indicators, which gold hand is crowned with little star, are situated among them. Another part of dial, like a half moon, is decorated with plated Arab numerals of pink gold, associated with rays of rising sun. The lunar phase indicator is situated at the border of these two zones.
"Day star" is set in the case of pink gold, and its dial is made of natural silver mother-of-pearl.

"Audemars Piguet": "Millenary Minute Repeater"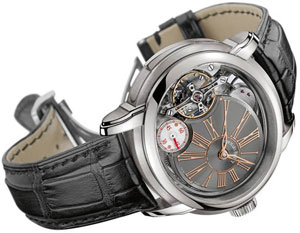 – a minute repeater.
In 2010, Audemars Piguet presents a new model in "Millenary" collection, keeping a tradition of making complicated watches. "Millenary Minute Repeater" is based on caliber 2910 with a system of two spirals and hand winding. The power reserve is 7 hours. The oval case is made of matt titanium, the bezel – of polished titanium.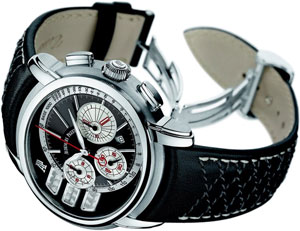 "Audemars Piguet": "Millenary Tour Auto 2011"
In 2011, Audemars Piguet took part in the retro-automobiles race "Tour Auto", which took place in Paris, in April, 11, for the 20th time. At "Tour Auto" you can see vintage Ferrari, Aston Martin and Alfa Romeo on the run.
You don't have to be a professional to take part in race. It's more an amateur tour on rural picturesque roads in France. Anyone, who owns a proper car in his collection, can become a participant. The main requirement of competition: a participant must arrive to the start line in automobile, identical to cars of other participants of "Tour de France Automobile" from 1951 to 1973.
Audemars Piguet is the official chronometer of competitions, and the "Millenary Tour Auto 2011" wrist watches with chronograph, based on selfwinding Calibre 2385, the power reserve of which makes up 40 hours, were created just for the race fans.
The black asymmetric dial, rounded by tachometric scale, became the design accent of model. Besides the hours, minutes and seconds function, the model is provided with date indicator and chronograph with three silver counters. The left part of dial is made with decorative openings, through which a round grained metal can be seen. The back case is engraved with the "Tour Auto" emblem and inscription "Millenary - Série Limitée". The collection is limited by 150 timepieces.