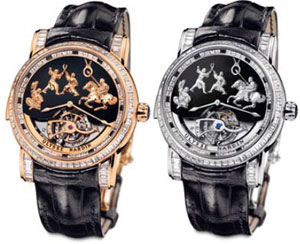 For a long time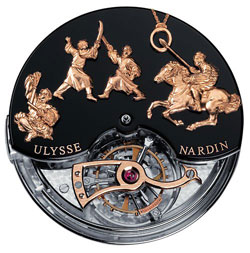 people like decorations from onyx. This stone attracts with combination of discreet unobtrusive and at the same time – amazing beauty. Massive brooch with onyx is a classic accessory, relevant in every situation.
The perfection of this stone is that it suits to making men's jewelery. It is almost rings of different sizes and forms. Though, masters of Swiss brand Ulysse Nardin presented to men one more variant of its watches with usage of this precious stone, becoming elegant jewelery.
Swiss watches Ulysse Nardin Genghis Khan have not just maximum value among brands, but enter in number of the most expansive in the world. The price of such accessory can reach about half a million dollars. Reason of it are materials, from which these watches made, and combination of technical characteristics.
Ulysse Nardin Genghis Khan is a round case from black onyx, framed with rose or white in different variations gold 750. Added jewelery is carved from the same metal figures, as if illustrated sounds of repeater. The last one has four tones. Note of repeater "do", "re", "mi", "fa" and "sol" sound every quarter of an hour in different sequences.
Talking about functionality, we couldn't say about opened tourbillon, fixed in the center of the dial. Watch Ulysse Nardin Genghis Khan has hand winding with power reserve of 80 hours. In the whole they say, that design solution in this Swiss watch is equivalent to perfect in making technical component.
Additional value Ulysse Nardin Genghis Khan is a fact that it was produced in 30 pieces, thanks to which the price is got higher. Collectors and fans of rarity don't spare money for buying such watches. Ulysse Nardin Genghis Khan can be called the top of masterpieces.