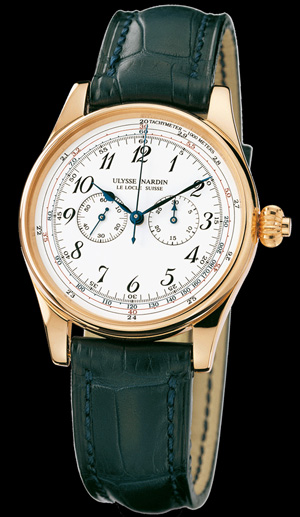 At the beginning of XX century no one thought that wristwatches will "bury" pocket watches. In 1920 after death of Paul - David Narden the leadership of the company moved to three sons of him – Alfred, Gaston and Ernest. By that time were new priority directions for company: besides marine chronographs, developed collections of "civilian" pocket watches, from classic to stylish and highly complicated and high accurate wristwatches – company Ulysse Nardin appeared in the number of pioneers of new direction of wristwatches. In range of the company there were earlier wristwatches pocket on the strap, complicated watches – for example, Ulysse Nardin made one of the earlier wrist minute repeaters and wrist chronographs.

In last company succeeded, many from earlier wrist chronographs are perfect like quality and beauty of used movements and design of the case and dial. Especially perfect earlier wrist chronographs of Ulysse Nardin with white enameled dials.

In XX century company Ulysse Nardin in its chronograph collections developed two directions, one of it was connected with wristwatches, the other with measuring chronographs are for technique and sports usage. First wrist chronographs appeared in collection of Ulysse Nardin very early, in 1912. Three years later – in 1915 – appeared the first in horology wrist split-chronograph Cronografo Medical ¹37773 it is split-chronograph is one of the earliest.

In 1930 Ulysse Nardin together with Swiss watch companies moved to double button chronographs, and in the middle of 1940-s expanded collection of wrist chronographs with full calendar (with indication of date, day of week and month).

In 1935 Ulysse Nardin developed 24-line movement of split-chronograph, with the help of which you could measure with the step of 10 seconds. On the base of its movement during many decades made pocket chronographs, firstly "worked" on sports chronometry in Olympic games in 1936 in Berlin. In memory of it in 1980-1990-s Ulysse Nardin produced wrist split-chronographs Chronosplit Berlin.