The history of Ulysse Nardin for past two decades shows that range of priority directions, which Schneider gives preference. One of such directions – making repeaters with jaquemarts. 2002 was marked with the highest achievements Ulysse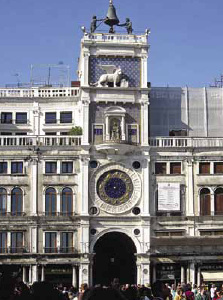 Nardin in this area: appeared watches Genghis Khan Westminster Carillon Tourbillon Jaquemarts Minute Repeater, the first wristwatches in the world with minute repeater, Westminster stroke, tourbillon and jaquemarts.

Pocket watches with "grand complications" were one of the mandatory item in menu of leading Swiss watch companies at the end of XIX – first half of XX century. It was kind of competition, but not in accuracy and stability of watches like in tests of chronometers, but in complication of movement, which has to keep three classic "grand" functions: minute repeater, perpetual calendar with Moon phase indexes with minute counter.

Company Ulysse Nardin managed to find its brand specialization in this horology area: minute repeater with moving with stroke of movement repetition miniature figures on the dial – jaquemarts.

Company Ulysse Nardin which didn't specialize on making complicated movement of such range, bought rough calibers from specialists of famous manufactures and elaborated it, leading up to the maximum range of perfection, in which it was recognized as specialist: balance node of movement, responsible for accuracy of watches. As a rule, in high complicated watches of Ulysse Nardin company used balance wheel of chronometric quality - split bimetallic temperature compensated balance.

As Rolf Schneider says, the idea to use jaquemarts in wristwatches appeared in 1988, when he traveled around Europe with his future wife Chai:

"At the end of August or at the beginning of September we went on car to San-Trope. Then we went to Monte-Carlo, then in Milan, and at the end in Venice. On the San Marco square I look at the top and saw it. "Here it is", - I said to myself".

He hurried in souvenir shop and bought card with the picture of jaquemarts. Schneider, coming back from Venice, shared with the idea of watches with jaquemarts with Christof Clare, who immediately began to modify its minute repeater, fixed movement of drive with miniature moving figures from the side of the dial. The next year watch – repeater San Marco Minute Repeater with jaquemartswas shown on Basel exhibition, and in 1993 appeared watches San Marco Hourstriker with quaternary repeater, watch stroke and one jaquemarts.