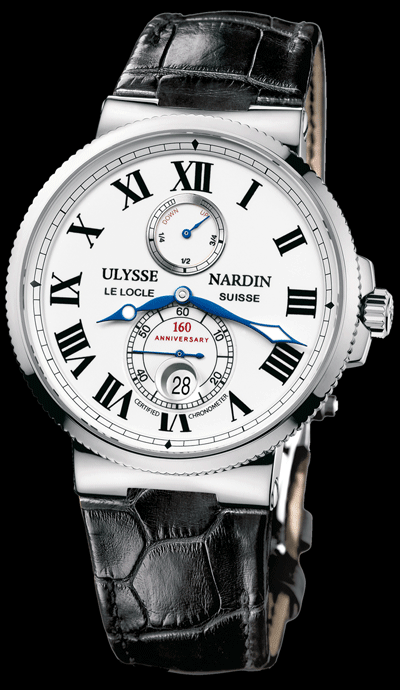 Since 1861 company Ulysse Nardin began to present its marine chronometers to Geneve and Neuchatel observatory for testing, which was called competition of chronometers.
For marine chronographs tests were strict and long, it was not easy to go through it uneasy. Era of mechanical marine chronometers lasted for century, till 1970, when traditional "mechanic" were changed on controlled quartz resonator electric watches. During this century company Ulysse Nardin was monopolist in area of classic marine chronometers of high class. This position illustrates statistics, published by Neuchatel observatory in 1975:

for more than one hundred years company Ulysse Nardin got 4324 certificates of marine chronometer from 4504 produced by observatory. Share of Ulysse Nardin is 96 percents.

In 1904 company Ulysse Nardin put the range of marine chronometers to Russian and Japanese admiralty, it appeared that in clashes of Russian-Japanese war 1904-1905 ships of both sides were equipped with marine chronometers of one brand.
This case wasn't unique, situation repeated later, during Second World War. Naval observatory of USA began to buy from Ulysse Nardin deck chronometers (made in style of pocket watches and played role of second time measuring instruments) in 1906, and marine chronometers – in 1913. Purchases were prohibited in 1942, when Germany "sealed" Switzerland borders.

In 1906 deck chronometers of Ulysse Nardin got 7 tests in competition of chronometers, led by naval observatory in Washington, USA.
And in 1915 naval observatory in Washington awarded first place to company Ulysse Nardin in competition of marine chronometers, to which 60 competitors fought.
Company Ulysse Nardin got three places among 217 deck chronometers, presented on competition.

Silver medal of marine chronometer Marine Grand Format, the name of which was shortened to M.Gr.F., producing by Ulysse Nardin in 1903, was so highly evaluated by specialists in marine navigation, that it was copied many watch companies. With many clones of M.Gr.F. Were equipped ships of confrontational navy of USA and Japanese during Second World War.

Naval of USA ordered in 1940 to company Hamilton 10500 marine chronometers, and in period 1941-1945 in Hamilton company were made 9300 copies of M.Gr.F. The scope of borrowings from Japanese side appeared more modest: since 1942 till the end of war Japanese company Daini SeikoshaCo made about six hundred copies of marine chronometer M.Gr.F, Japanese even kept the position of logo of manufacturer, which posted near ratchet-wheel on the back platinum of movement.

One more legendary model of marine chronometer Ulysse Nardin is called Amirote - "Admiralty". This watch was based on the movement more smaller in compare with VI.Gr.F size – 22 lines.

In 1905 one of marine chronometers Ulysse Nardin broke all records in accuracy, fixed in Neuchatel observatory since 1901.

Among modern wristwatches Ulysse Nardin there is collection Marine Chronometer, which is dedicated to legendary chronometers of the company. The beginning of the collection was laid by popular anniversary wristwatches Marine Chronometer 1846, which were produced in 1996 to 150 anniversary of Ulysse Nardin.

First variant with automatic movement (small second hand, index of power reserve, dial, which is analog to dial of chronometer M.Gr.F but more smaller) started series of classic watches Marine Chronometer Anniversary 160 (gold and platinum case, white dial), and also chronographs of sports style and diver watches Maxi Marine Diver and Lady Diver (gold, rubber, diamonds) and complicated watches with perpetual calendar Diver Perpetual (titanium, rubber, carbon fiber, perpetual calendar of Ludvig Oichslin construction).

Movement of watches collection Marine Chronometer get certificates of chronometer COSC, and not marine. In modern range of technology achieve accuracy of the watch movement comparable to the accuracy of the marine chronometer large format, it is impossible, if not considered as an alternative to high-precision quartz watches...