Ulysse Nardin has organized and led the "silicon movement" in the watch industry. Assessing the opportunities, challenges for the natural properties of silicon, Ulysse Nardin and company Mimotec (founder Mimotec Hubert Lawrence developed a technology for photolithography, "League", which are used instead of ultraviolet ray), a joint venture Sigatec, producing silicon parts for watches. Is headed by Marc-Andre Glass.

Products Sigatec very diverse, it even includes a comb to minute repeaters. These combs are equipped with special teeth braces with slots in the middle, which provide a more solid link. Due to this configuration could heal some congenital malformations, chronographs available with horizontal links and connections arising from a failure of the teeth.

Among the products are Sigatec and silicon hairspring with a coating of silicon oxide, whereby the elasticity of the details in the temperature difference is almost unchanged. There are parts of composite materials. It is, for example, the escape wheel teeth with silicon and nickel tribes, is a single, first part is made of silicon, and then in its "implants" nickel.

In fact, all the parts are subjected to oxidation of silicon. As a result of thermal processing part is covered with a layer of oxide constituting 30% of its thickness and, in the words of Gygax, all the irregularities caused by etching, are smoothed out. In addition, this layer protects the item from the temperature difference.

Rolf Schnyder:

"We had a choice: either to build up expertise in traditional areas of watch, or focus on the technologies of the future and to leave behind all its competitors. And since we first started to use silicon in high-end watches, we decided that we have a moral right to go to the second way. And we are willing to share their experience. We have, for example, be happy to discuss the possibility of delivery of components of any company which, in our view, correctly refers to the time the case."

Watches InnoVision Freak:

Technical advances received Sigatec, it was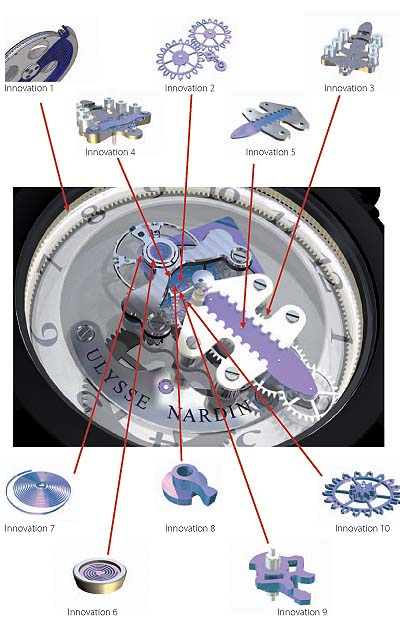 important to more effectively and serve. So there were watches InnoVision Freak, the likes of which has not happened.
"We wanted to make the world's first movement - says Schnyder. - We are, however, ahead of Jaeger-LeCoultre, which even before the Basel show in 2007 showed his watch Extreme Lab. I must say I was not expecting it. But when I good look to their movement, I realized that with all due respect to the Jaeger-LeCoultre, we still went on. We have the details do not require lubrication due to the material itself, rather than through a special coating. "

But it's not just the lack of lubrication. Watches InnoVision Freak have combined a number of technical innovations, such as the original cushioning system for an axis of balance, which marked a new stage in the development of watchmaking. Watches InnoVision Freak are industry innovations once 10:

1. Requires no lubrication bearing with 96 balls which can be rotated in the vertical and the horizontal plane.

2. The device is a double indirect descent also does not require lubrication. Its other advantage is that the angle of lift is reduced to 31 degrees.

3. Without lubricant bearings made of silicon, which are mounted on a brass plate. There is no need to grease the holes.

4. Thanks to technology DRIE, release bridge, made of solid silicon, high accuracy of manufacturing. Another advantage of silicon products - low coefficient of friction, allowing the stones to do without, so that it is possible to punch close to the edge of the bridge.

5. The bridge of composite materials with excellent performance characteristics. Advanced technology provides precision manufacturing, silicon provides a low friction coefficient, nickel provides strength.

6. A new type of shock absorber - silicon slotted disk, giving it the appearance of a flat spiral, which is put on the axle of the balance wheel. If you shake helix absorbs, and then takes its original shape.

7. Hairspring made of silicon is flawless in operation.

8. Roller pin and pulse are one-piece component, which is produced by two-way process with technology DRIE.

9. CVT double indirect descent performs several functions. Like a Swiss anchor course, it is equipped with a spear, which must be placed between the horns right in the middle. Thanks to technology bilateral etching, once the item has now become a team monoblock: it requires no assembly or adjustment.

10. Two-level etching technology allows one-piece, which includes escapement wheel and the tribes. Get the technology adopted, many developers will want to watch movements around the world.