That time tourbillon was rare to use as bait for clients, and no one considers to show it from the side of dial. Tourbillon was used with the aim for what it was created: it improved the accuracy of pocket watches.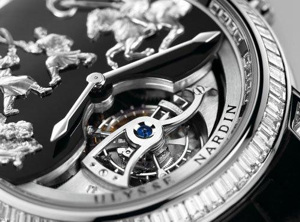 The company Ulysse Nardin at the end of XIX – beginning of XX century became the largest manufacturer of marine chronometers in Switzerland. Besides marine chronometers, it has simple and complicated pocket and wristwatches. Heirs who headed the company that times , the special attention payed on pocket chronometers, among of which marked pocket watches with tourbillon. Carriages of tourbillons Ulysse Nardin supplied such well known masters as J. Pellaton and G. Golay.

The production of tourbillon was time-consuming task and expensive, the aim should justify the means. And this aim was to create accurate "emulative" chronometers. These watches made in single piece, and it is no wonder that by the first half of XX the company Ulysse Nardin made just nine watches.

The producer of carriage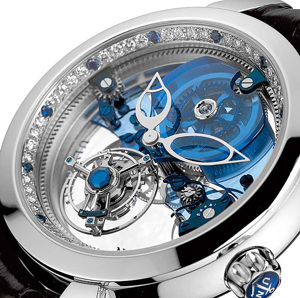 of tourbillon of these watches was James Pellaton, who made all nine tourbillons for Ulysse Nardin. Unusual like a bird form the bridge of the this tourbillon was used Ulysse Nardin in the future for minute repeater Genghis Khan.

Tourbillon called vortex move, presented in modern collection Ulysse Nardin in two directions – there are few watch companies which can afford it.

The first direction -watch Royal Blue can be called classic, though in tourbillons of this direction used avant-garde transparent movements, built on platinum and bridge from synthetic sapphire of blue color.

The second direction – watches Freak are avant-garde not just by appearance substance. The father of tourbillons of these watches is Ludwig Oechslin - outstanding creator of watches and think-tank of Ulysse Nardin. Oechslin left just one fixed position - axis of the winding drum – and turned around it all the watch world: and exactly minute hand, in which collected almost all wheel system of movement, and added hour hand. And at the same time and site balance with a double swing of Oechslin.