Small watches
Watches are a constant companion of man for many centuries. And if before they were generally used for its intended purpose, but now watches are usually worn as an accessory or a beautiful addition to a particular outfit. Modern watches are a kind of "delight" to the human eye and perform more aesthetic function. And what we do with inconspicuous wrist watches when there are mobile phones and other gadgets that are equipped with a function for measuring time?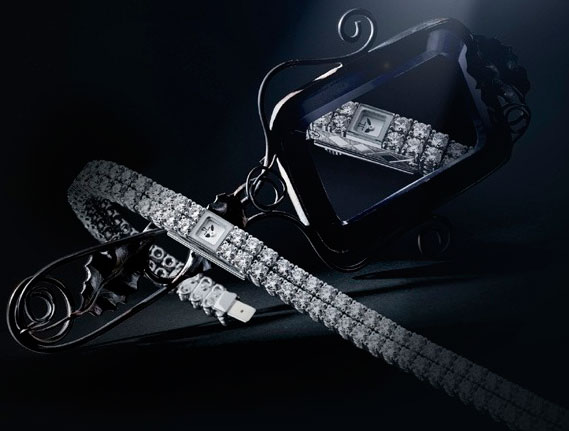 Ladies watch «The Queen's Diamond Jubilee» by Jaeger-LeCoultre created in honor of the diamond jubilee of the Board of British Queen Elizabeth II
Throughout the existence of wrist watches fashion for their look is constantly changing. The earliest models had a fairly large size, while their design was hardly unusual - at the end of XIX century (and it is this era is considered the starting point in the history of watches), no one could have imagined that the watch can be used as decoration. But time has brought its changes not only in design but in the design of watches, which are now more enjoyable and (what can we hide!) beautiful addition to the image of the modern man. "What watches to choose - small or large?" – you also asked for sure. No one, perhaps, is able to give the answer, because even the designers and those who are familiar with the world of fashion is not hearsay, will tell you that the accessory you need to choose based on your personal preferences. And it is very silly and pointless to chase for constantly changing fashion!
Recently, the very popular not only among the fairer sex, but also among men are small wristwatches. If you do not believe my word for it, just look at the photos of show business stars and other famous personalities on which you can see the miniature watches on their wrists. It should be noted that such accessories are not only comfortable, but also beautiful - they look stylish, elegant and very unusual.
Small but precious!
What kind of watches can be considered small? Small wrist watches are accessories, case diameter of which not exceeds 30 mm (note: this only applies to ladies models!). Previously, however, the figure was slightly less - 24 mm. Man also wear small wrist watches. But you must admit: the men's wrist (if not the largest) a watch with a diameter of 30 mm will look somehow undignified and even ridiculous. That is why small wristwatches for men are considered accessories with a diameter of 36 mm or less. Among the fans of small watches there are all sorts of people, but still they do have something in common: the taste and sense of style. On the women's hand small wrist watches will look elegant and give the image of a kind of "flavor."
In the world of small wrist watches there are also champions. It is known that the smallest wrist watch in the world has very tiny dimensions: overall length of unusual invention is only 9 mm, width - 6 mm, and a thickness of curios and even less - 5 mm!
This tiny watch, by the way, in 1966, received the Gold Medal at the International Exhibition in Leipzig. It is now in the museum of the history of watch factory "Chayka". About the life of the smallest watch in the world before it appeared under museum's glass, little is known. Unfortunately, I did not get to meet this unique accessory itself, nor the owner of the original (if ever there was a man capable of bearing such a model). Probably to determine time by this watch is very uncomfortable - although this is only my speculation. Still, I believe that to go to extremes is not necessary, because the watch should not only be original, but also comfortable to use. Do not forget about its original function - the time display.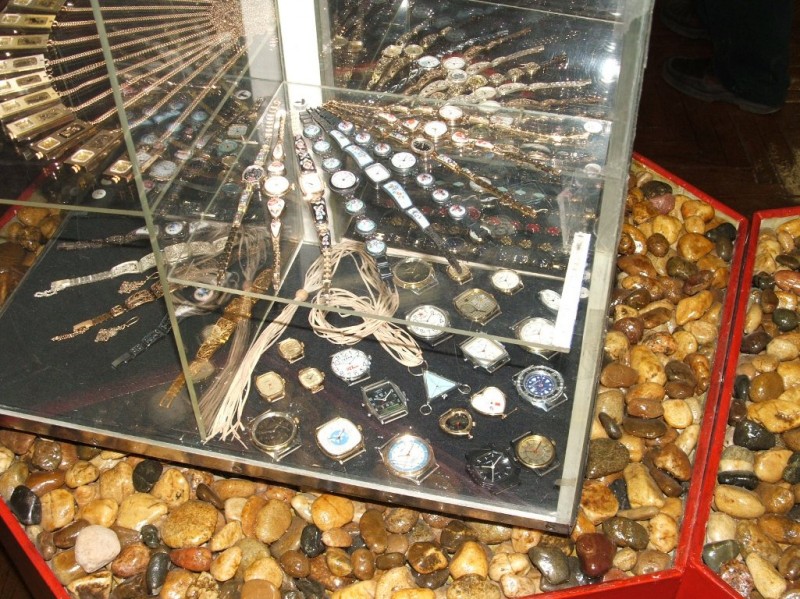 The world's smallest watches are in the history museum of watch factory "Chayka"
Today a lot of companies – famous and not so - are producing small watches. Fans of the very popular style of minimalism would like creations of watchmakers of iconic brand Chanel. On the anniversary of the most popular collections of the fashion house - J12 - Chanel company has released new models of watches presented in black and white. The case diameter of models is only 29 mm. Madame Coco Chanel and her followers have never been fans of bright and artsy stuff. Probably each of us knows that this legendary woman preferred rather minimalism. It was impossible to see her in a bright dress and extravagant jewelry. Chanel always said, 'Let me be caught better in the absence of funds, rather than in bad taste! " The philosophy of Madame Coco is reflected in all the works of the company - watches are no exception. And the issuance of a commemorative models J12 is a direct confirmation. No frills and bells and whistles - small watch by Chanel is made in a classic style. The diameter of the case is only 29 mm, and small watch Chanel J12 is made of steel and ceramics. The dials of these exquisite and expensive accessories are decorated with diamond indexes. Finishing of the top edge of the case resembles lace - an easy and elegant. Small watch J12 by Chanel is unlikely to leave anyone indifferent. Lovers of elegant and luxurious accessories certainly enjoy it!
| | |
| --- | --- |
| H2570 Channel J12 White Classic 29mm Diamond Set Bracelet Watch | H2569 Chanel J12 Black Classic 29mm Diamond Set Bracelet Watch |
Especially for fans of jewels was created miniature models of watch Chanel J12. Each of them is decorated with forty diamonds with a total weight of 0.9 carats. These precious stones perfectly complement the design of the watch that looks as luxurious and expensive accessories. Part of the indexes is also adorned with diamonds, and other indicators (3, 6, 9, 12) are made in the "classical" version - in the form of numbers.
Other well-known watch brands are also engaged in the manufacture of watches with miniature size. Swiss brand Jaeger-LeCoultre was the real pioneer in this field. Small watch was developed by the brand in the 20s of the last century, and in 1929 this accessory was presented to the public. At that time, it was the smallest watch in the world. The case length was a little more than 12 mm and the width was 48 mm. Issue of a tiny accessory had become a true revolution in the watch industry at the time - before Jaeger-LeCoultre no one could even think that the creation of such small watch was possible at all (if only in the distant future).
| | |
| --- | --- |
| | Small watch Jaeger-LeCoultre of 20s |
Creation of the masters of Jaeger-LeCoultre is a miniature model of a watch with a unique mechanism, which consists of 98 parts (each of them has been collected and engraved by hand!). Accessory weight is only 7 grams.
One of the most popular Swiss luxury watch manufacturer - the company Ulysse Nardin – is associated with beautiful accessories, each of which is a true work of watch making art. Ulysse Nardin pays much attention to ladies wristwatches, among which there are also miniature models. In popular collection Michelangelo Lady there are small and neat women's watches. The cases of all models are made in the form of drums and dials are adorned with diamonds.
Watches from collection Michelangelo Lady - is not only a beautiful accessory, but also a reliable assistant. They can be used in sports and even swimming (watch is very durable and water resistant up to 30 meters)!
Russia has something to brag about too!
Russian manufacturers of wrist watches is also not lagging behind their Western counterparts - domestic brand Nika, which is engaged in manufacturing of jewelry watches, recently released a collection of miniature accessories for women. Line called "Cameo" includes women's watches with small size. Size of dial of each such accessory is 20x20 mm and a thickness 7 mm. Just imagine how beautiful this miniature watch will look at a thin woman's wrist! They are made of quality materials - yellow, white and rose gold.
Wrist watch from the collection "Cameo" weights only 7 grams. On the dial you can see the marks of different fonts: Arabic, Roman, and on some watches Nika you can see precious stones. Very nice small case is framed with the elegant wristwatch strap of high quality genuine leather.
Small watch to everyone!
If you think that only representatives of the fair sex can wear small watches, so you mistake. Many men are happy to wear a watch with a small dial and assure that such accessories are very easy to use and often appear to be more advantageous than the big watch. This accessory is not suitable for every suit, besides the big dial can be a problem when wearing classic shirts with long sleeves (who knows will understand). But not only these circumstances encourage young men to wear wristwatches - miniature accessories are elegant and stylish, besides a small watch attracts public attention to its owner. In our time, the stronger sex (let alone to hide!) still chooses to wear a big watch, a lot of men do it. A few dare to show individuality, but still there are such people.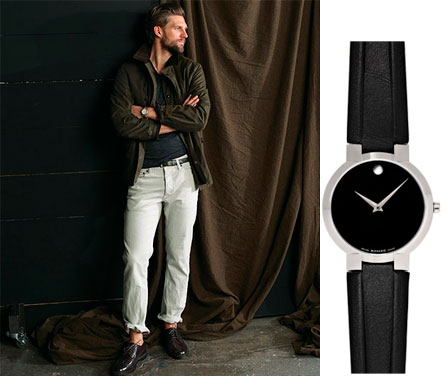 Small men's watch Movado
Usually successful and confident men wear small watches. Especially for them the famous Swiss brand Tissot has issued an unusual line of watches with small dials. It was called New Helvetia Gent Small Second. The series includes models, the case of which is made of yellow gold. You see no diamonds and other "bells and whistles" on the dial or case of such watches. All models of the New Helvetia Gent Small Second look simple and elegant, so they fit almost any clothes. The case diameter of small wrist watches by Tissot is only 31 mm. Despite the rather modest size, they will look great even on a large male hand.
Among the large number of watchmakers' creations of Auguste Reymond you can find small wrist watch for men. Experts of the Swiss brand released a collection of such accessories designed for the modern man. The line, which has called Elegance Quartz, includes 11 models of small watches in steel cases. Size of dials is 31.5 and 33 mm. Accessories from Elegance Quartz are made in a classic style.

| | |
| --- | --- |
| Auguste Reymond Elegance Quartz watch | Auguste Reymond Elegance Quartz watch |
Which watch to choose?
Recently, small wristwatches are becoming increasingly popular. Fashion stylists in one voice say that the big watches will soon go out of style. The demand for accessories and clothing of large sizes can be easily explained: the style of hip-hop and military have long been very popular, and representatives of a strong half of humanity, as well as some women are happy to follow fashion trends. But the world is constantly changing, and that even a couple of years ago, it was relevant, it is now not so popular.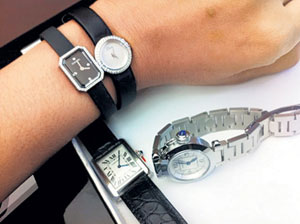 Which watch to choose?
Big accessories are measure not so much the taste, but the status of the owner, while the small watches on the wrist are sign of elegance and sense of style. People, who buy a watch of the large size, are sure to acquire accessory with high-precision and high-quality tool, but it is not always the true.
In addition, a similar accessory has pretentious and even a "screaming" design, while the small watch looks stylishly elegant on its background. But whatever famous designers and other fashion gurus advice, try to focus on your own tastes and desires, because in the end you have to make a choice!
Written by Katya