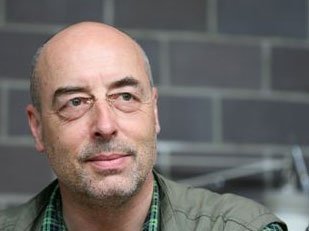 At the end of ÕÕ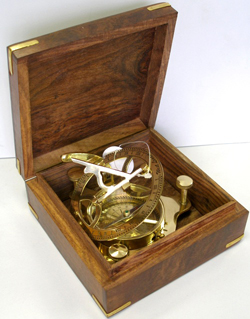 century quartz watches seemed to win under mechanical. For many old Swiss companies this turn of situation was unwanted. Family company Ulysse Nardin was near bankruptcy.
In 1983 company was bought by Rolf Schneider. To move Ulysse Nardin on leading position he needed to make not just perfect watches, but something outstanding. Schneider began his work with searching interest ideas in company's archives. He planned to combine tradition approach to watch making and innovative technologies. The motto of Ulysse Nardin was the phrase of Schneider: "Ulysse Nardin will alive in watches, which never exist before". On this call responded genius watchmaker Ludwig Oechslin.
His first masterpiece, made in company Ulysse Nardin, became "Trilogy of Time". This watches managed not just measure time, but also determine the relationship of the time with the movement of celestial bodies. Oechslin found for every model historical prototype and made all counting on ordinary calculator, without help of special computer programs. This made the lightest and thin movement amazingly accurate.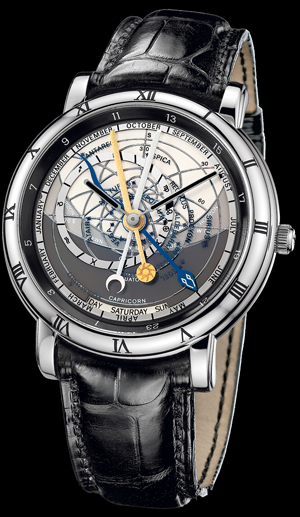 First in "Trilogy of Time" appeared wristwatches Astrolabium Galileo Galilei. On its making Oechslin was inspired by real astrolabe. This devise in old times was indispensable for astronomer and sailors. It is big in size, heavy and made in technique execution. Though, its opportunities can do wristwatches Astrolabium Galileo Galilei. Not looking on rather small size, it let to count the time of sunrise and sunset of Sun and Moon.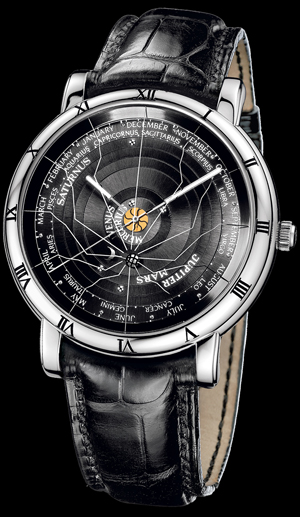 Also the owner of Astrolabium Galileo Galilei easily determine duration of day and night, will know days when its going to be equinox and solstice. This wristwatches will tell about position of zodiac on the sky. The back case of watches is transparent. This let the owner to look at the work of movement of watches. The watches are amazingly accurate. It was counted that in 144 thousand years movement of Astrolabium Galileo Galilei will slow less than a day. For this achievement it was painted on cover of Book of Guinness records, which produced in 1998.
Winged with success, Oechslin and Schneider decided to embody one more brave idea with the name Planetarium Copernicus. On the dial which has small diameter, genius watchmaker fixed Solar system. Besides, he fixed two different conceptions of perception of the world – antique and modern. The first one is illustrated by system, developed by Ptolomaeus, the second one developed outstanding scientist Nicolaus Copernicus. The dial of Planetarium Copernicus illustrates the moving of planets of Solar system around main luminary, letting to determine its position due to Earth in any moment of time. Their owner learned instruction, can count the moving of any celestial bodies. Planetarium Copernicus has movement which is differ from any what was created earlier. Oechslin made that all rings of the dial move around general axis, Mercury and Venus move in one side, and Saturn, Mars and Jupiter in another. By the way, there are 65 pieces of these wristwatches, dial of which is made from real meteorite, fell in 1896 in Greenland. Planetarium Copernicus is complicated and unique device. This wristwatches are on the cover of Book of records Guinness.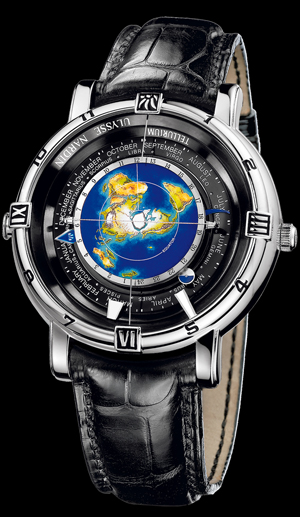 Series "Trilogy of Time" ends with the masterpiece Tellurium Johannes Kepler. From old times telluriums were necessary element of big astronomic watch. It shows the position of Sun, Earth and Moon relative to each other. It got the name in honor of Greece goddess Gaia, which sounded on Latin like "Tellum".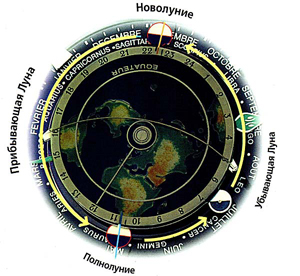 After recognition of heliocentric system, telluriums were painted in the center of Sun, and around of it Earth and its satellites. Tellurium Johannes Kepler is made in general correspondence with ancient Greece mythological ideas about world. Oechslin backed to Earth the central position. Its image in technique of cloisonne enamel is made in the center of the dial. Thus, we will see the Earth from space, looking at it from North Pole, but by order masters are ready to make version with South Pole. During day the disc of the dial makes one full turn. Marks on its inner ring shows time zones, beginning the counting from Greenwich meridian, which is the first. That is why Tellurium Johannes Kepler is needed to synchronize with world time (GMT) for accuracy. Dial is crossed with curved gold line, which gives imagination of where on the planet is day and where is night at the moment. Also, thanks to it you can determine sunrise and sunset, endurance of the day and even trajectory moving of Moon and Sun on sky. There is in movement that endurance of the day changes depending on season. Tellurium Johannes Kepler shows time, which match of where the owner is. For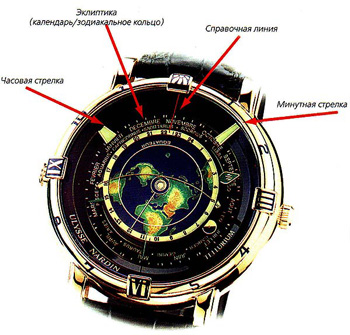 this are hour and minute hands, and also groove with numerals from 1 to 11. Numeral 12 changes the image of Sun. It is covered with special blue enamel and luminescent substance, letting know the time in the dark. Tellurium Johannes Kepler is equipped with calendar and zodiac ring, making the whole moving in 365 days, 5 hours, 48 minutes and 46 seconds. This is the time during which the Earth moves around the Sun. Tellurium Johannes Kepler shows the phase of the moon, which rotates on its dial, making a complete circle in 29 days, 12 hours, 44 minutes and 2,9 seconds, which corresponds to the length of the synodic month. In difference from hand indication, this movement let the owner to look at phase thanks to painted with gold color half of indicator, which is always turned to Sun. Hand of Tellurium Johannes Kepler in the image of dragon, showing eclipse. It shows pointers where orbit of the Moon crosses with ecliptic. It occurs in eclipse.
Finished its "Trilogy of Time", Ludwig Oechslin stated that creation of this collection wasn't by accident. Reflection of the boundless space in the watch was an impossible task. However, in triplicate Oechslin quite handled it. Every watch of the "Trilogy of Time" embodies one aspect of the cosmos: the awareness of time, watching the movements of celestial bodies and, finally, the correlation between the passage of time and movement of celestial bodies.