Watches with jacquemarts
Today the wrist watches with jacquemarts are not manufactured very often. But many watch manufactories still issue these complicated and undoubtedly beautiful movements for the collectors. In fact, the jacquemarts are inseparable from the repeater function, imitating striking the hours. They represent moving human or animal figures, situated on the watch dials. Today the wrist watches with jacquemarts are met most often among the masterpieces of Ulysse Nardin brand from series "Jagemart".

By his own image and likeness

At the turn of XX century the music mechanical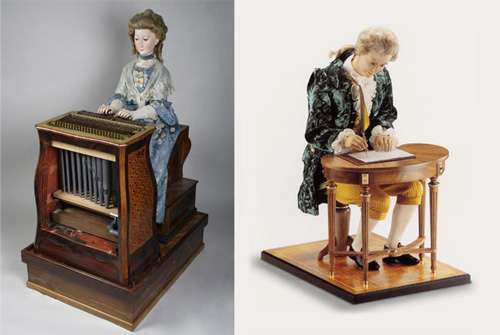 automatons were called jacquemarts. In fact, they represent mechanical dolls, imitating different movements of people. Even Leonardo Da Vinci designed such machines by order of the King Francis I. The master drafted various mechanical animals. The most popular mechanical dolls by Da Vinci are "The lion with its chest, full of lilies" and "L'ocel de la comedia" (The bird of the comedy). Later such creations were called automatons.
However, before decorating wrist watches, the jacquemarts fulfilled many other functions. One of the most famous automatons, named "The draughtsman" – a unique mechanical doll, created by the company of Pierre Jaquet-Droz, existing since 1774. That prototype of moving figures, decorating wrist watch dials, created four pictures one after another thanks to amazing skillfulness of masters.
Automaton is an extremely complicated and, therefore, expensive toy. Only representatives of social elite or monarchs could afford such luxury, sponsoring those projects, and only the best masters worked on those mechanisms. The creation of one automaton could take about a year. Bringing the mechanical man to perfection, the masters demonstrated its incredible capabilities to kings and their minions. And while they were only expensive and unusual entertainment for the latter ones, the creators of those dolls pursued other aims. They were tempted by the perspective of creation an artificial man, enlivened not with the help of magic or divine intervention, but only by human sense and mechanic achievements. The military men also found their interests in use of automatons – just imagine how they were charmed by the possibility of acquiring dutiful and enduring mechanical army. The soldiers-jacquemarts don't need to eat and dress warm, they don't discuss orders or know what the fear is.
But as for the churchmen, they didn't participate in that delight. Of course! Who ever heard of a mechanic, encroaching on the role of God?! However, despite the heated protests of the priests, the masters kept on creating various automatons. The mechanical dolls could smile, wink, paint, embroider and, what reminded of jacquemarts on modern wrist watches, dance or play, say, the piano.

Monsieur Jacquemart with his wife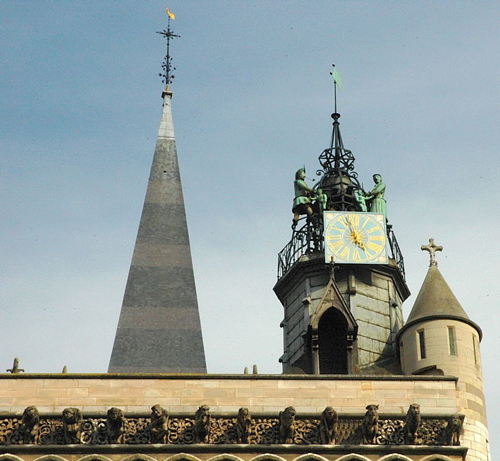 But the jacquemarts didn't get into wrist watches at once. At first they were used in bigger constructions.
Jacquemart in his own person can be seen in French town, named Dijon. This is a bronze monsieur of middle age with a hat with wide flaps, who smokes the pipe all the time. Jacquemart together with his bronze wife – a typical peasant woman from suburbs of Dijon – lives in the tower clock, designed by the master Heinrich De Vic. This respectable family is known all around the world. The jacquemarts perform simple, but important work: once in an hour they strike a big loud bell with special hammers. Such an original repeater. Later the couple had a baby, who became the dynasty successor. He is charged to strike the quarters of an hour.
Actually, Jacquemart is the master's surname, who created the famous bronze couple. But his idea was perfect, so that his creation settled down and was copied by other masters. As a result, the name of Jacquemart became common, and the clocks with bells, or chimes, all over the world acquired "relatives" of the bronze family from Dijon. The construction of such mechanisms reminds of music box or usual grand piano. The clock movement lifts and lowers the special hammers in appropriate moment. They drop, in their turn, on a bell, making it sound. Usually the bells with different tones were chosen for chimes for the repeater produced not simple strikes, but some melodies. Today the miniature wrist watches also can do it, but in that time the technology was quite difficult.
There was a period, when such architecture things came into fashion. The Dutchmen were especially keen on chimes. Before the masters obtained a wrist watch with jacquemarts, they tried to place its movement into an interior clock. The German watchmakers were creating such clocks indeed in the XVII century to amaze and entertain the sophisticated connoisseurs of beautiful things. The clocks-automatons of animals, horsemen and even mechanical Madonna and Child were especially popular in that period. One more interesting model of those times is interior clock "Planetarium". It consists of two mechanisms at once: one is responsible for time indication, the second one – for position relationships of the Solar system planets and the celestial body itself. It is also a kind of automaton, at that it is made of with all astronomic laws compliance. As intended, the Earth makes a full rotation around the Sun in 365 days, and the model of Saturn requires 29,5 years as its prototype does. But the jacquemarts, which first adorned the wrist watches, were still made by image of people.

Frivolous secrets of wrist watches

The smaller the movement, the more difficult it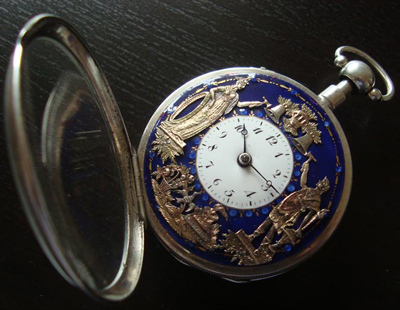 is to design. That's why the first jacquemarts were impressively big. However, by the XII century the situation has changed: the watchmakers acquired experience and started making pocket watches. Their adornments were also changing, influenced by fashion and prevailing philosophical ideas. As the first big mechanical watches, situated in towers, served for the Puritans as another reminder of the world's caducity, so they were decorated accordingly by using awesome sculptures or martyrs' statues.
The first pocket watches were a great luxury. Only the representative of aristocracy could afford such expensive toys. They could afford any whims and caprices indeed! Just in that period the aristocrats started getting infatuated with erotic miniatures, considered to be a top of clowning and epatage. At the turn of XIX century the erotic pocket watches won incredible popularity. The Calvinism was dominating in Switzerland in that time, and such frivolous accessories naturally provoked violent reproach. Finally the priests of different cantons arranged by letters and agreed to cease the issue of such unholy things in 1817.
At first the watches, adorned with frivolous pictures, were simply withdrawn from their owners. But not few collectors appeared to be also among the priests and judges, struggling for purity of Swiss citizens thought – such an ill luck. In some time they found out that the forfeits slowly settled in their personal collections of rarities. Then the watches with frivolous pictures were decided to be annihilated at the spot. In case if they found some precious piece, after execution they returned the golden case to its owner. To keep their creations safe, the watchmakers resorted to cunning: the frivolous pictures were hidden under back cases, which were provided with special mechanisms – secret locks. The wrist watches cause less troubles for watchmakers – if they put the scabrous picture on the back case of accessory, no one will guess what is there until the owner takes it off.
Some curious events happened when in several generations the offspring found out that the favorite pocket watch of their lovely great-grandfather had hidden such spectacle, for which he would burn in Hell for sure.
The collectors tell a story about one high-moral old woman, who has recently addressed to some famous historian of horlogerie for advice. When he came to her, the old woman showed a part of inheritance from her brother. It was a watch with repeater and jacquemarts, depicting Napoleon and Josephine at, say, the moment of date. The historian just brightened – what a score! That rarity would be priceless at auctions. But no such luck: the old woman demanded that unholy thing to be destroyed at her presence. During several months the historian was trying to make her change her mind, but neither requests, nor entreaties gave a positive result. Suffering from heart ache, the historian broke the rare horlogerie masterpiece with a hammer, after which he walloped into hospital because of attack.
In spite of the fact that an epoch of permissiveness has come and no one will get surprised at frivolous pictures, the watchmakers still create erotic watches. True, such models are not mass produced, many of them exist in one piece. And it's not about the funny scenes, but about the craftsmanship of masters. The erotic wrist watches were produced by such famous manufactories, as Sven Andersen (Geneve), Gérald Genta, Chopard, Blancpain, Hublot, Ulysse Nardin and others.

Mechanical love from Sven Andersen (Geneve)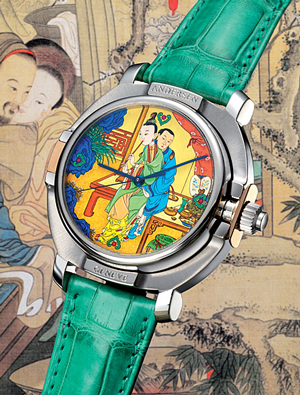 Sven Andersen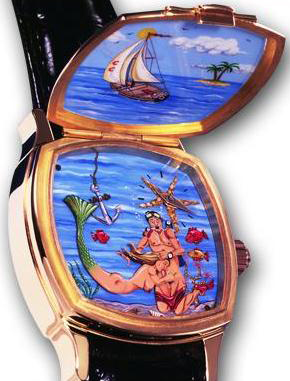 became one of the successors to a tradition of making frivolous watches. The first such timepiece was manufactured by his company in 1997. Judging by furious public reaction, Andersen understood that he had hit the bull's eye.
The wrist watches with erotic scenes from Sven Andersen (Geneve) are distinguished from their predecessors mainly with the jacquemarts, which are hidden from onlookers. Andersen placed the animated figures on the back case, making his watches both functional and outrageous. One more way to hide an erotic scene is to provide the watch case with a cover. The models "Eros or gris gondolier", telling us about pastime of Venetian gondoliers, and "Eros or jaune tresor" with a miniature, depicting the date of mermaid and diver, from Sven Andersen (Geneve) are provided with such covers.
On the whole, the watches "Eros" are classic wrist watches of medium size with automatic movement, made of gold and provided with strict dials without any luxuries. The back case is made of sapphire glass, covering the jacquemarts. All frivolous scenes, adorning the wrist watches by Sven Andersen (Geneve), represent quite detailed many-colored miniatures, made by hand. Each of them is provided with 10 moving details in average, imitating simple movements of mini-automatons. Andersen's record - use of 15 moving elements in one picture.
Sven Andersen (Geneve) — exclusive brand, collection things. Particularly the wrist watches from "Eros" collection are made by this manufactory only by order. Totally the watchmakers of Sven Andersen (Geneve) have 15 kinds of different miniatures in their armor. The popular subjects: "French driving", "Mythologie grecque", "Business trip", "Venezia con amore". The line "Eros 69" is notable not only with miniatures, taken by masters from Chinese "Kamasutra", but also with unique cases that you can turn over, keeping your watch on your wrist. The price for such accessory may vary from USD 51.000 to 58.000.
The wrist watches from Sven Andersen (Geneve) manufactory are really unique for their exclusiveness and complicated movements, putting the tiniest figures into action, which are brought to perfection.

Modern characters from Chopard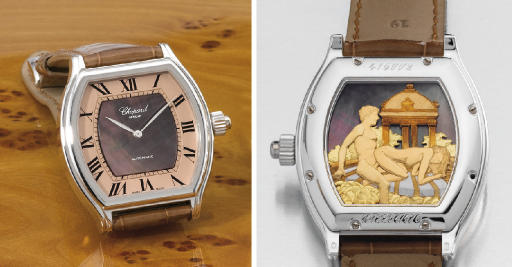 However, the watchmakers are inspired not only by ancient sources. For example, the Genevan watch house "Chopard" found its heroes in the movie "Grand-Canyon". The modern Americans became the prototypes of frivolous jacquemarts and accessories of that brand. The average price for such masterpiece from Chopard makes up almost USD 60.000.
The erotic watches of this brand are made of gold, and the dissolute miniatures are placed on the back case. Of course, their automatic movements are provided with minute repeaters, the illustrations of which are presented by jacquemarts scenes.
The unique model from Chopard "Tortue Erotique" was presented in 2004. This watch is provided with a barrel-shaped case from 18-carat white gold of 36х43 mm size. The dial combines two colors in design: pearl grey in central part and pink background for hour indexes in the form of Roman numerals. The back case is decorated with picture of a couple against a background of an arbor. The jacquemarts are made of combined gold and put into action with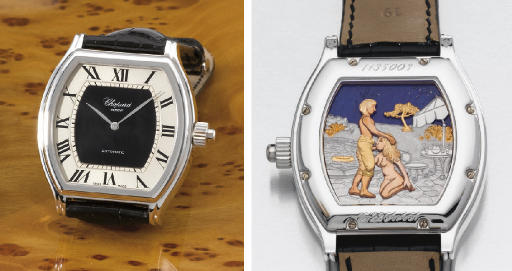 the help of a special button, situated on the crown.
In 2005 the watchmakers of Chopard manufactory released another model with the function of repeater and frivolous jacquemarts under the title "Erotique Model". The size of this case is the same as of the previous model 36х43 mm, it's made of 18-carat white gold. The dial of this wrist watch is combined. A black onyx is situated at the center of Roman numerals, placed on the silver disk. The back case is decorated with jacquemarts, depicting a night date of two lovers at a pool. The figures are made of white and yellow color. They are put into action by a button on the crown.
The following variations from Chopard with frivolous scenes are distinguished from the previous ones mainly with plots. The surrounding of jacquemarts is also moving – there are not only static objects on the background, like pools or armors, but also vehicles – cars, motorbikes. The wrist watches from "Erotique" by Chopard are made by special orders individually for each client. Each timepiece from that line is unique with both complicated constructions, putting jacquemarts into action, and use of exclusive materials for finishing the dial and frivolous miniature itself.

Romantic and historic miniatures from Ulysse Nardin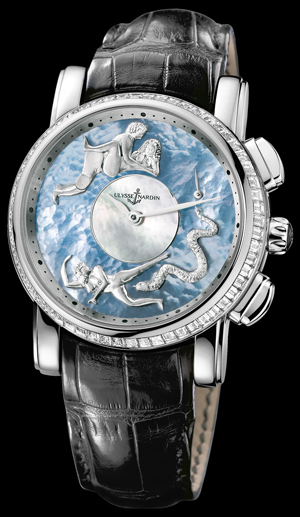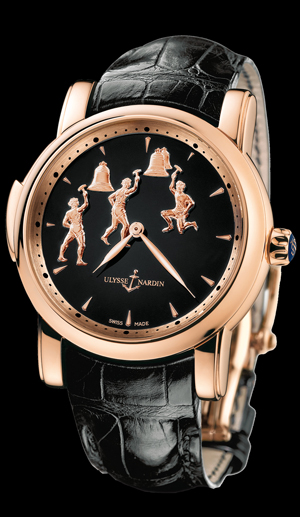 The connoisseurs associate the manufactory "Ulysse Nardin" with original complications, specific for timepieces of this brand indeed. The masters of that company created about a hundred of various movements, many of which can be safely considered to be unique. Naturally, Ulysse Nardin couldn't pass by such sophisticated and original complications, as jacquemarts.
The wrist watches "Hourstriker Erotica" are adorned with frivolous miniatures, which are not hidden on the back case. The jacquemarts, depicting Adam, Eve and the serpent, are situated right on the dial, coated with transparent blue enamel. The back case is engraved with the picture of winged lion with a book, the original statue of which can be seen at St. Mark's square in Venice. The cover is fixed to the case by six screws. The case of Hourstriker Erotica is crafted in white or yellow 750 gold. It consists of three parts; its diameter makes up 41 mm; the thickness – 13,5 mm. The upper cover is made of convex sapphire glass. The watch "Hourstriker Erotica" is equipped with a waterproof crown from gold with blue enamel logo of the company "Ulysse Nardin". The right side of case is provided buttons-correctors, responsible for sounds, produced by the movement. The button, situated at "2" hours, is responsible for the function "chime-silence"; the one, situated at "4" hours, turns on the repeater.
The wrist watches "Hourstriker Erotica" are provided with unique movement, which represents an improved caliber UN-76. This is a base movement ЕТА 2892А2 at 42 jewels, completed with a special module of strike. Thanks to this module, Hourstriker Erotica has the function of hour repeater and intermediate chime at one gong.
But just the dial is mostly valued by the collectors. Its outer ring is coated with blue mother-of-pearl, the inner one is guilloched. The inner part of dial is movable. An immovable figure of bare woman is situated at its bottom. This is Eve, hourly tempted by movements of that mythic serpent. According to the designers of Ulysse Nardin, the jacquemarts at the upper part of dial depict the fantasies of Eve. These are the figures of Adam and Eve, consisting of two static and four movable elements.
The wrist watch "Hourstriker Erotica" from the manufactory "Ulysse Nardin" is a real masterpiece, object of collectors' desire. This toy for adults costs about $100.000; it is made exclusively by order. However, the collection of models with jacquemarts from Ulysse Nardin includes not only frivolous watches. The masters make movable figures, engaged in most various occupations. They can represent classic scenes with few characters, like the model "Forgerons Minute Repeater" with two smiths, striking a golden anvil in time with chime by turn, or such variations, as Hourstriker or Triple Jack Minute Repeate, the dials of which are adorned with figures, striking the bells at repeater sounds. Ulysse Nardin also has models with jacquemarts in its range, which became real masterpieces of horlogerie, devoted to notable historic personalities. One of such characters was the world-known ruler of Mongolian tribes Genghis Khan.
Genghis Khan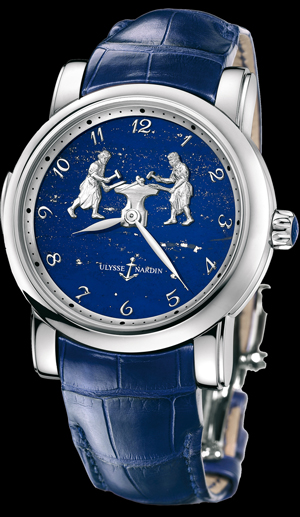 managed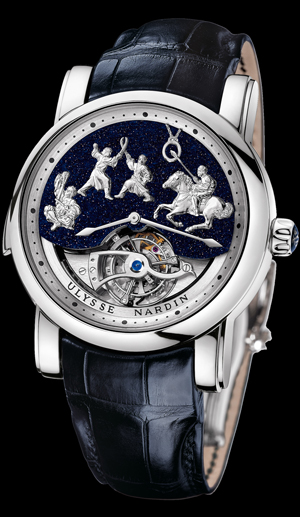 to unite Mongolian people; he introduced laws, cancelled slavery and tortures. Besides, that ruler was tolerant and didn't make captured people adopt his compatriots' way of life and points of view.
In honor of that significant historic person the manufactory "Ulysse Nardin" created a unique wrist watch "Genghis Khan". This is the first timepiece in the world, provided with tourbillon, Westminster chime, minute repeater and jacquemarts at the same time. The watch "Genghis Khan" is made in two variants – from 18-carat white or pink gold. Both of them are released in a limited series of 30 pieces. The diameter of case makes up 42 mm; its water resistance reaches 30 m. The Westminster chime is made by four gongs, tuned in different tones (they sound the notes "mi", "do", "re" and "sol"). When the repeater starts working, the hours are struck by the note "sol", the minutes – "mi". By the way, the gongs of Genghis Khan produce four different melodies: each means its quarter of hour. The dial is made of black onyx and provided with golden figures of warriors, cut by hand. The mechanism, animating the jacquemarts, synchronizes their movements with the gong sounds. So, the warrior on the left, brandishing saber, illustrates the sound, produced by the repeater each hour, and the movement of horseman counts minutes. Through the dial of Genghis Khan you can see a tourbillon, the form of which was previously used in the model Tourbillons James Pellaton, designed in the beginning of ХХ century especially for the manufactory "Ulysse Nardin". By the way, all details of this complicated movement are made and finished by hand.
Creating that small masterpiece of horlogerie, the company "Ulysse Nardin" went even further. The union of complicated art of making mechanical watches and jewelry craftsmanship gave birth to a true masterpiece – wrist watch "Genghis Khan Haute Joaillerie". It is distinguished with a sophisticated adornment – encrustation with black and white baguette diamonds, completing the bezel from outer and inside parts and the staples. The jewels also fulfill the function of hour markings. Each piece of Genghis Khan Haute Joaillerie is adorned totally with 148 baguette diamonds, produced by Top Wesselton; their total weight reaches 6,2 carat. This wrist watch is not just a complicated movement; it can safely become a family treasure, and the noble scene, acted by the jacquemarts each quarter of hour, will leave no doubt in its trustworthiness with the offspring of its owner.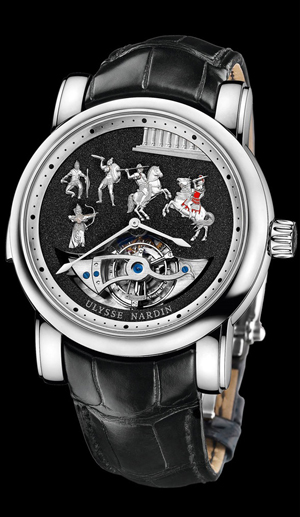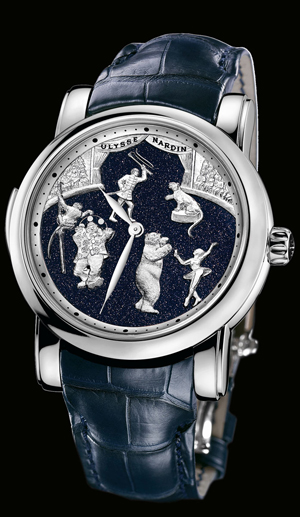 One more masterpiece from Ulysse Nardin – a watch, devoted to Alexander the Great. This hero of antiquity is still considered to be an example of military valor and political talent. The wrist watch "Alexander the Great Minute Repeater" by the company "Ulysse Nardin", was supposed to reflect all greatness of that historic person. The case of this luxurious watch makes up 44 mm in diameter and 30 m of water resistance. It is provided with fixable crown. The case is made of 18-carat white or pink gold. The watch is equipped with the manual winding movement UN-78 at 36 jewels that provides 70 hours of power reserve. Each detail is made by hand. The watch "Alexander the Great Minute Repeater" has some complications. They are tourbillon, situated in special aperture at the bottom of dial, repeater and Westminster chime. As well as the model, devoted to Genghis Khan, Alexander the Great Minute Repeater can play four different melodies: each of them means a certain time interval.
The dial itself of rich black color represents a real work of art. It has an unusual style, as it's made of a special decorative diamond, named "adamas" that means "unconquerable in Greece. It's quite difficult and laborious to obtain this material. The specialists breed tiny polished crystals of artificial diamond so that they combine and form a confluent layer of strong two-dimensional table, the surface of which, refracting the rays of light, shimmers with all colors of the rainbow. Five figures, cut by hand and polished by charcoal, are situated on this luxurious background. These jacquemarts demonstrate the image of Alexander the Great with various armaments during a battle. There is the only immovable soldier at the left part of dial. The figure brandishes a sword, pointing hour intervals. Each quarter of hour the archer and horseman with spear start moving. The soldier with red armor on a horseback counts the minutes by strokes of sword.
The wrist watch "Alexander the Great Minute Repeater" is a combination of ancient traditions in Swiss horlogerie and advanced modern technologies in manufacture. As a result of such approach, Ulysse Nardin got an innovative and technically complicated item of horlogerie.
Those, who are lack of bright and joyful impressions, are offered with funny jacquemarts, the watch "Circus Aventurine" is adorned with. Its dial is like a circus ring. True, there are black onyx and aventurine instead of usual sawdust, and the show is performed by figures from white or yellow gold, made by hand.

"Funny pictures" from Blancpain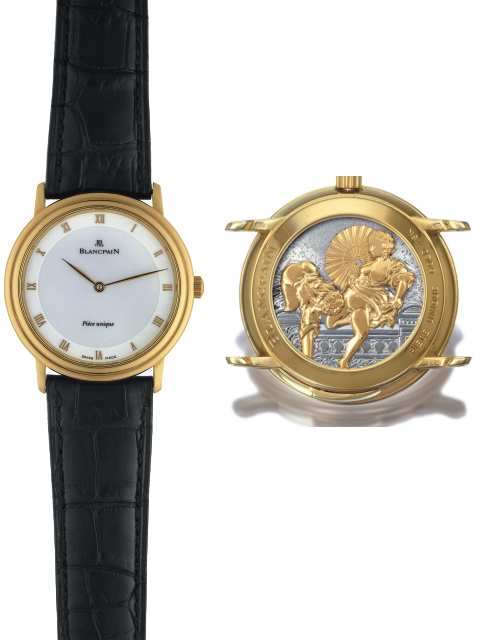 Other famous watch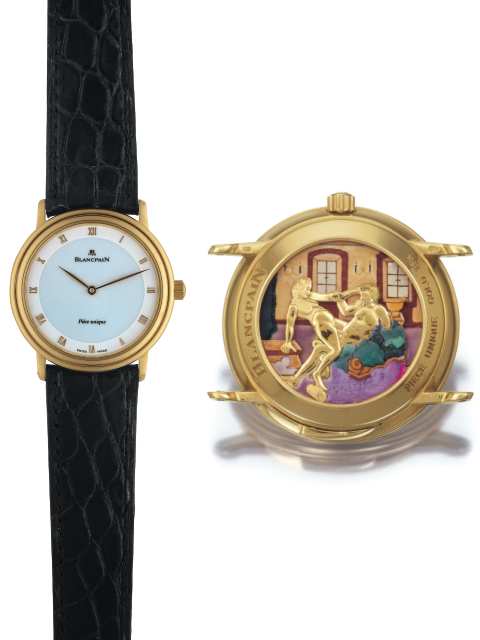 companies aren't averse to present their version of watches with frivolous miniatures either. The Swiss manufactory "Blancpain" has been specializing in manufacture of erotic jacquemarts too since a long time. That genre was revived by the masters about 14 years ago. Today the frivolous chronometers are released only for wealthy clients. Considering that such watches are very limited, each of piquant accessories by Blancpain is exclusive – the watchmakers won't do the second piece of the same model.
The wrist watches of limited series "Erotica Watches" are made by order. Choosing some piquant scene for his accessory, the future owner can be sure that no one else will get the same. The designers use boudoir as decorations for jacquemarts on the watches "Libertine", there are also models with antique theme. Blancpain also has variations with characters from Japanese anime or scenes from Fêtes galantes, which were not such gallant, judging by those pictures.
The masters from Blancpain place the frivolous miniatures on the back case of watches. The cases are made of white or pink gold, and also of platinum for wealthy amateurs of "morsel". The figures and surrounding decorations are cut by hand from the same precious metal of different colors. Besides, the pictures on watches "Libertine" are covered with enamel. One more notable feature of these models – the minute repeater, illustrated by frivolous jacquemarts.
Such complicated and sophisticated masterpiece of horlogerie, and even modified according to taste and desire of a client, will cost a pretty penny. The golden models of Libertine series will cost about $187.000, and the platinum variant starts from $ 189.000. At first it may seem a bit high price for the jacquemarts, which no one except the owner will see. However, you can't but agree that it's so nice to have your own little secret!

Hours of love with repeater from Antoine Preziuso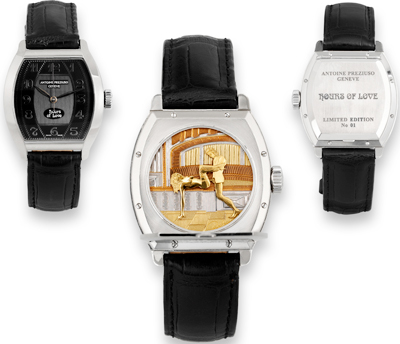 The wrist watches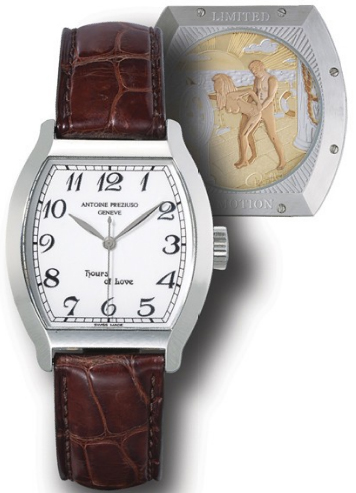 by Italian master Antoine Preziuso are not just high-quality and functional devices. Purchasing a timepiece from this Genevan manufactory, you get an effective accessory, striking imagination. The watchmaker admits that his main goal always was to give life to micro-mechanism by making it beautiful, to care about tiniest details by creating a real time keeper. The impression is that Preziuso meant jacquemarts.
The line "Hours of Love" represents masterpieces on the verge of two worlds – obvious and closed for onlookers. The Genevan workshop of Antoine Preziuso lifts the curtain of mystery over most concealed spheres of this watch owner's life. Each model of "Hours of Love" collections in included into a limited series, consisting of 30 pieces. The barrel-shaped cases make up 42,5 mm in diameter. They are made of gold: different series – of different colors. They are often adorned with jewels. The dials of "Hours of Love" are designed in a strict and laconic style: black-and-white colors, three hands, Arab numerals for hour markings. Besides, they are water resistant at 30 m depth, provided with manual winding movement and 42-hour power reserve.
However, there isn't even a smell of classic strict design on the back case: the frivolous miniatures from combined gold of different colors are place by the craftsmen of Antoine Preziuso. The places for erotic scenes are most various: comfortable kitchen, car hood, ship deck, pool with palms. It should be said that Hours of Love are the most modest watches with frivolous jacquemarts. The watchmakers placed the scabrous pictures on the back case and covered them with additional case in many models, adorned with guilloche. One can safely say that they treat the delicate spheres of art really delicately.

You may like erotic jacquemarts or not, but they are undoubtedly unique creations of watchmakers, as complicated, as amazing and interesting. Apart from that, such accessories are able to excite sensuality of their owners, who are sometimes so deprived of it in their everyday busy life. And if the jacquemarts illustrate some important event or tell about historic persons, we can say that such wrist watches also provide a link between epochs and generations.
To be continued ...