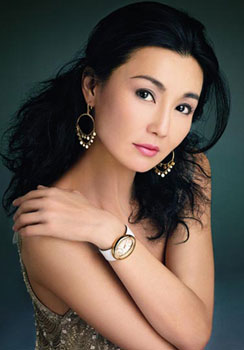 When a story about Piaget watch-company is told, it is hard to believe that in 50-s of previous centyry it was a simple company which started to produce watches and in 30 years it also started to produce female jewellery watches. Whatever Piaget does watches or jewellery, the quality is rather high. The products reflect all the creativity of Piaget designers, their skillfulness and best quality standards.
In the case when other watch companies produces one watch model per year, Piaget releases three which are absolutely individual and perfect. When other companies, for example, release one collection, Piaget watch-makers issue two. And it can be said for sure that it is difficult to decide what collection is better and worth to be remarked more.
For the last seventeen years Piaget watch-makers created seventeen original watch movements which is a good result. Even the best Swiss watch-manufactures show such result not very often.
Piaget released ring-watches, pendent-watches and also classic wrist-watches. There also a number of chronometers and chronographs. Sometimes it is very difficult to distinguish this or that kind of watches and jewellery produced by Piaget because both are very valuable and precious.
Every woman dreams about original Piaget watch, Magic Time for example, which was released in 2007. This is a watch which case turns over, changes the shape and transforms from traditional classic oval form into some fantastic asymmetric jewelery.
Piaget also has some sporty models in one's collections. Polo 45 for example created especially for 30th anniversary of Piaget company in 2009. It was the first model produced in titanium case.
In 2008 Piaget brand got its official representative – an actress of intellectual movies Maggie Cheung. She became famous after Kar Wai Wong movie "Fa yeung nin wa" ("In the Mood for Love" in English).
In 2004 Maggie got a prize for the female lead in movie by Olivier Assayas "Clean".
In 2007 she was awarded for her contribution in Chinese cinematography at the 10th Shanghai Cinematography festival. Maggie was one of few Chinese actresses who became world-famous. For this she was called Shanghai Julia Roberts.
If you look at the people who have Piaget watches you can see rather independent, self-confident people who got used to all the best. Their personalities perfectly characterize Piaget watch and every thing that is valuable in jewellery goods made by Piaget – independence and originality.
Angelina Jolie and Brad Pitt also have Piaget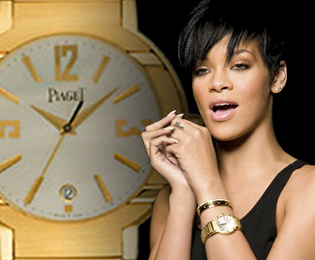 watch. Principally they do not popularize any watch-brands, but their choice speaks for itself. Angelina is an actress, film-director, script-writer, an ambassador of UN goodwill mission, Oscar award owner. She was also awarded with US Screen Actors Guild prize and three Gold Globe prizes.
Brad Pitt is also an actor and producer, thee times he was nominated on Oscar prize: in 1996, in 2009 and in 2012. He was awarded with Gold Globe prize. Except the professional achievements this couple has some personal ones. They take active part in charity missions, help starving children and those who are in need.
A popular R'n'B singer Rihanna was shooted in a music video «Take a Bow» having put on the rings released by Piaget in Polo collection. Rihanna is one of the most popular artist of the present time. Her albums are soled in more than 20 millions of copies, singles are soled in a number of 60 millions.
More over she is very young singer of Billboard history. Three times she was on top of Hot 100 chart for the last six years. Rihanna got five Grammy awards, five American Music Awards, eighteen Billboard Music Awards and World Music Awards in two nominations.
Julia Ormond is Laurence Oliver nominee, owner of three London Drama Critics awards, Nestor Almendrossa award and Emmy award (as the best sidelines actress). Julia Ormond is a British actress who appeared at the premiere of her latest movie «Kit Kittrege: an American Girl» in New York having a tourmaline jewellery set Magic Gardens by Piaget. The actress became one of the first buyers of this beautiful collection which was released in Piaget boutique in Los Angeles on the eve of the premiere of the movie.
More over jewellery and watch by Piaget got and valued only famous persons as Jacqueline Kennedy – wife of The USA president. She was also an icon of style of her times. Andy Warhol – designer, artist, the founder of POP-ART. Gina Lollobrigida – world-famous actress.