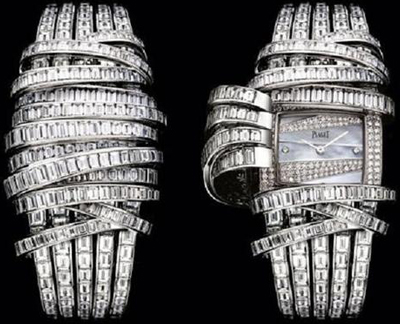 Piaget watch company is worth to be respected for its modest style and high quality. Piaget is one of few brands who produces watches which can be estimated as real piece of art. An unbeaten delicacy, refinement and chic really astonish. It does not matter when and where these beautiful watches are made in La Coute-oux-Fait or where Piaget company was founded or in Geneva where all the dreams of lots of people who adore horology are always come true by the help of very skilful watch-makers.
Thanks for collaboration with the specialists of nearly 40 professions all the traditions of horology are carefully kept. Piaget jewellery watch are not only very fine and accurate chronometer, but also a rial piece of art.
Such luxury watch perfectly combines beauty and time together.
Different kinds of watch is are offered by Piaget watch company: cuff-watch, pendant-watch, ring-watch, bracelet-watch, cufflink-watch.
Not without reason Jacqueline Kennedy a real woman of fashion and beauty of all Europe and America. She adored her jade watch by Piaget.
Jacqueline Kennedy was not the one who adored Piaget watch, Gina Lollobrigida (an Italian actress), Endy Warhol (an American artist, designer and producer, film director, editor and collector) also liked Piaget watch.
All the assortment of the company contain watch models made of precious metals decorated with gems. Even the straps of Piaget watch sometimes can be made of very small rings connected together.
In 1960 Piaget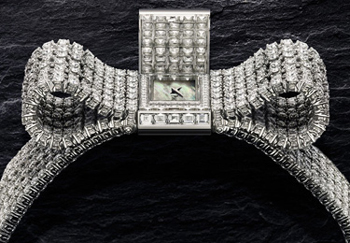 watch company released jewellery watch. The model was perfect inside out. This year a lot of work-shops were opened in Geneva. Starting from 1964, Piaget produces jewellery watches which dials were made of lazurite, calaite, onyx, crocidolite and other semiprecious stone.
Soon Piaget watch company released a new model which shape and design is absolutely unique. It was look like a bracelet which became a real sensation and discovery in horology world.
These achievements firmly fixed Piaget at the position of the first World producer of jewellery watch. Thanks that in 1988 Piaget linked one of the hugest corporations which was Richemont. It specialized on luxury things producing only. The company continued its development and improvement. In 1990 the first collection of jewellery called Possession was released. The collection got a huge success. The next collection called Limelight had an atmosphere of real Hollywood chic. Female watch got a conquer the hearts of millions in 1998. In 2003 Limelight collection was renewed by jewellery watch which became a real triumph of Piaget. In 2005 new watch models of Possession collection appeared and Piaget was again on a rock.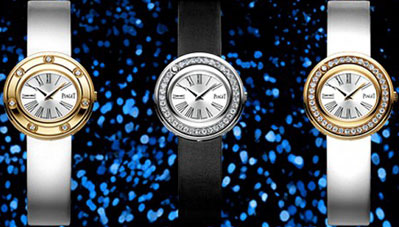 Limelight collection became a real classics and absolute chic. Female models of Limelight collection got a small secret were decorated with a motive "ribbon" 31x52mm made of 18carat rose gold and decorated with 187 diamonds of frame cut (0,9carat each), 78 diamonds of a round cut (0,9carat each). Dial was made of white nacre incrusted by 37 diamonds of a round cut (0,3carat each). Bracelet was made of 18carat white gold, incrusted by 250 diamonds of a frame cut (total weight 39,9 carat).
Inside the watch there was quartz movement of a caliber Piaget 56P. The watch really amaze by the beauty of shapes and colours. Limelight watch creation took a very laborious work of Piagaet watch-makers. Thanks to original construction of the movement the central outside screws and ribbons can raise up opening the dial. The buckle accomplishes the conception of watch.
During all the time of Piaget brand existence, the company was awarded by lots of respectable medals and awards many times. In 2005 Piaget was awarded with Best Jeweller Prize for the genius jewellery watches. This award has always given only to the deserving nominees of Certificat Fédéral de Capacité of horology.
Dorian Record was world-famous jeweler who got this award before Piaget brand which is always faithful to one's quality and traditions.