SIHH 2012: watches with enamel dials
(part 4)
In our days people are so spoilt by progress achievements that they are hardly surprised by any technical novelties. That's the reason the companies, manufacturing wrist watches, often try to draw attention to their products, using unusual design decisions and original appearance.
Let's remember the history of watchmaking: the great master Abraham-Louis Breguet became famous for creating hands of special form, named after him, more than for inventing tourbillon. The point is that at bare mention of watches people, first of all, imagine not their complicated movements, but their appearances. There many ways to turn a dial into a piece of art. The wrist watches are decorated by jewelers, engravers, but the enamellists take a special place among these craftsmen. The time meters were adorned with enameled plates in the far XVIII century. But they went out of fashion in time. As a result of technological development, the watches became mass products. The companies, manufacturing them, couldn't afford to decorate each of many pieces with enamel miniatures, considering the fact that creation of only one decorated dial might take about 250 hours of work.
A long time the secrets of enamellists' art seemed to be lost forever. But at the end of last century the unique design and hand-made decoration were coming into fashion little by little. The enamellists became in-demand again, many famous watch manufactories wanted to collaborate with them, creating unique time pieces.
No wonder Geneva became one of the biggest centers of that art renaissance. It still keeps its status. The new watch models, the dials of which are enameled, presented at the annual exhibition "Salon International de la Haute Horlogerie" (SIHH) in this January, prove this fact.

Poetic Wish from Van Cleef & Arpels: dreams about Paris

The watch and jeweler house "Van Cleef & Arpels" has presented another two masterpieces of horlogerie with poetic complications under one title "Poetic Wish" at SIHH 2012.
These models are a result of cooperation of the watchmaker Jean-Marc Wiederrecht and the enamellist Dominik Baron. The collection "Poetic Wish" is not the first experience of their cooperation for Van Cleef & Arpels. Baron and Wiederrecht created many watches, embodying the world of romance.
The dial of Lady Arpels Poetic Wish is adorned with the landscape of Paris. Dominik Baron created the waters of Seine by means of enamel and mother-of-pearl clouds. The Notre-Dame de Paris, the symbol of Paris, is at the center of landscape. The miniature copy of the Tower of Eifel, made of white gold, is situated at the left part of dial. We can see a figure of young girl, who appears to be in a hurry for a date, at the terrace of the tower's first floor.
The miniature, adorning the dial of second model from "Poetic Wish" series under the title "Midnight Poetic Wish", is also created by Dominik Baron. It demonstrates darkening Paris. The left part of the dial shows the Notre-Dame de Paris, flaring in sunset. A cavalier of the girl from the previous model stands at the terrace of the tower. The right part is decorated with the Tower of Eifel from white gold.
| | |
| --- | --- |
| | |
Both models are provided with round cases, finished with diamonds. The watch "Lady Arpels Poetic Wish" is equipped with a silk strap of mother-of-pearl color, which is fixed by brand central fastening. The strap of "Midnight Poetic Wish" has classic fastening. It is made from two materials: chamois and natural leather of dark-blue tone.
Jean-Marc Wiederrecht worked on creation of movements in those unusual watches. Both models have retrograde hands, pointing hours and minutes. The hour hand Lady Arpels Poetic Wish model is represented by a girl's figure, which moves to the center of the dial in time. The minutes are pointed by a flying kite. The hour hand of Midnight Poetic Wish model is a male figure, moving to the Tower of Eifel at the opposite side of the dial. A meteor, flying among the clouds, plays the role of the minute hand. The movement has 60-hour power reserve.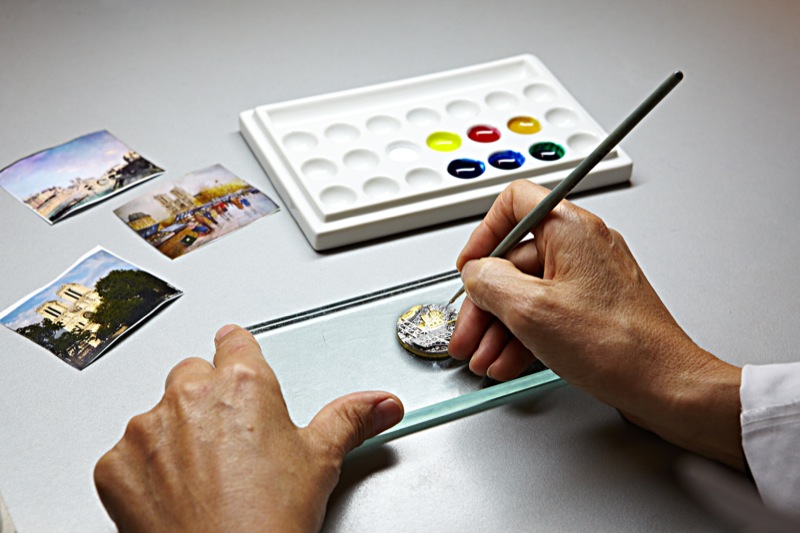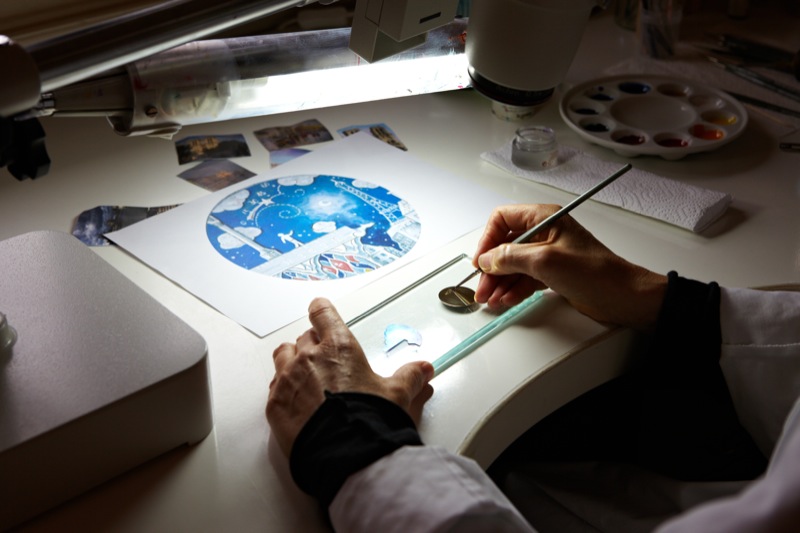 Collection "Metiers d'Art" from Vacheron Constantin: the time of optical illusions

The famous watch company "Vacheron Constantin" has been existing during 250 years. Over that time it reserved its status of craftsmanship traditions treasurer. The masters of Vacheron Constantin try to keep intergenerational continuity, reminding of forgotten crafts and ancient works. That was the aim of the manufactory, creating the collection "Métiers d'Art" and still completing it.
The new models from this collection, presented by Vacheron Constantin at SIHH 2012, are adorned with miniature reproductions of engravings by famous Dutch graphic artist Maurits Cornelis Escher. Enamellists, engravers, incrustators and guillochers were invited for their creation. As a result of their cooperation three watch models were made. Each of them is released in a number of 20 pieces. The watches by Vacheron Constantin, the dials of which depict flying pigeons, have round cases, made of white gold. A technique of "champlevé" is used for enameling. An engraver applies contours of pigeons, engraving a part of them, on the base of dial, made of yellow gold. Then another master enamels some birds. He selects such tones, which after burning acquire violet color. Special matt enamel, showing engraving texture, is used for white birds. Then an incrustator starts its work on dial design. He adorns one of pigeons with diamonds. To create a visual depth of the composition, a guillocher finishes the dial. Enamel pictures are rare guilloched, as enamel can be damaged. The master carefully guilloches its hard surface, and the pigeons acquire true plumage.
The manufactory "Vacheron Constantin" has already created a wrist watch with that engraving's reproduction on its dial for the charity auction "Only Watch", sold for 90 thousand of euro. However, it was issued in a single piece, and its miniature color range was a bit different: red color was used for pigeons instead of violet.
Another novelty, presented by Vacheron Constantin at SIHH 2012, has been a model from "Métiers d'Art" collection under the title "Les Univers Infinis". Its dial is also adorned with another reproduction of Escher's engraving, depicting many multicolor fishes. A technique, named "cloisonné", and enamel of two colors, blue and grey, were used for its creation. The base of the dial is made of white gold. By means of accurate microscopic cuts a guillocher makes contours of fishes and their scales. Then an enamellist underlines these contours with the help of golden wire, separating the parts for different colors. Then he enamels the half-finished product and burns it. The master has to enamel it several times to make the colors rich. Then the finished dial is polished and lacquered.
One more new model from Métiers d'Art – a wrist watches with starfishes and sea shells, copied from another famous engraving by Escher. The engraving and "champlevé" enameling were applied for making that dial. At first, an engraver, using dry needle, makes contours of shells on golden base. Some parts of picture are cut to create necessary relief. These cavities are filled with enamel. The half-finished product is burned at about 800-850°C. This process is repeated several times to make enamel brighter. Then the finished miniature is polished and lacquered. Then the engraver touches reliefs on the surface of starfishes.
All three novelties from Vacheron Constantin are equipped with self-winding movements of caliber 2460. They are assembled by hand and stamped with "Geneve" that proves quality and reliability. The movement can be admired through the transparent back case, made of sapphire glass.
Three new models from "Métiers d'Art" collection became an embodiment of Vacheron Constantin philosophy, striving for keeping traditional art crafts. Besides, these wrist watches combine different types of art: painting, engraving, incrustation, guilloching. So, Vacheron Constantin unites horlogerie with other types of art.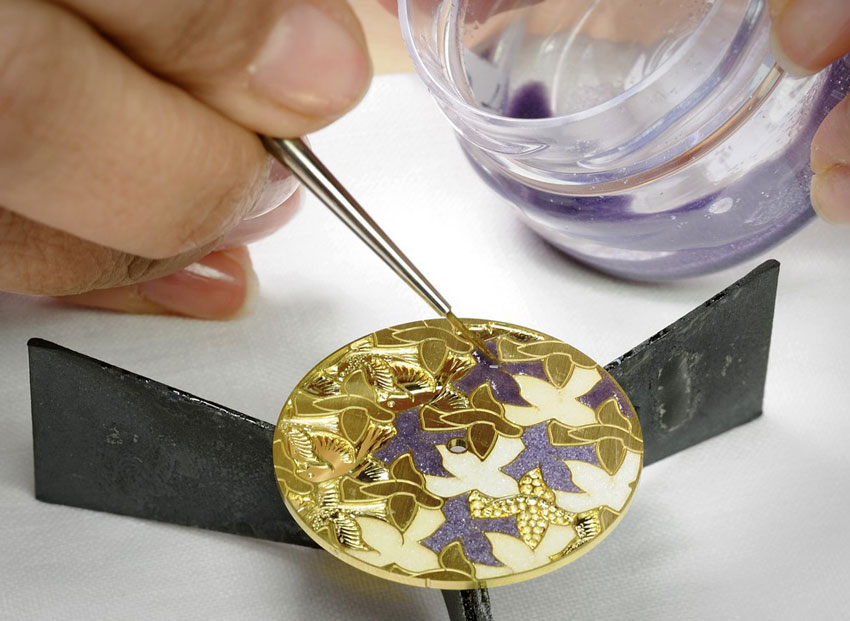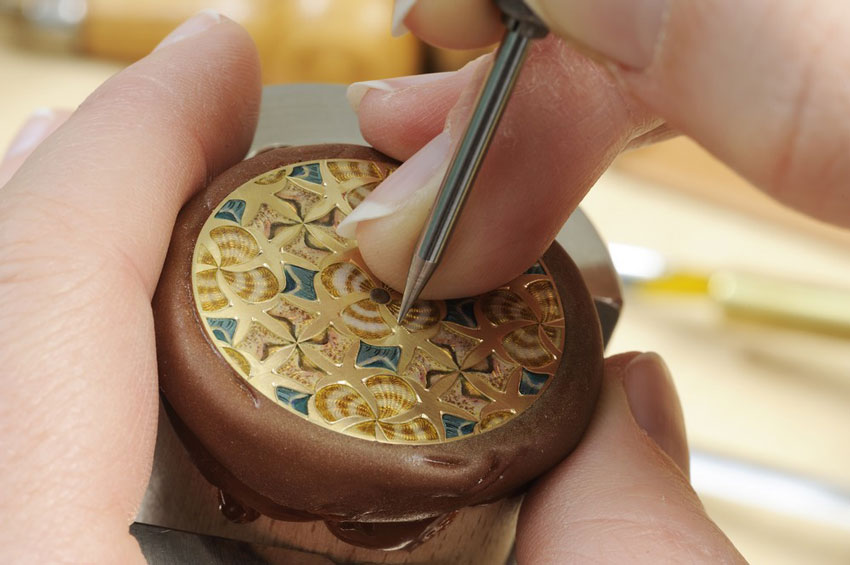 Dragon Protocole XXL by Piaget: how to tame a dragon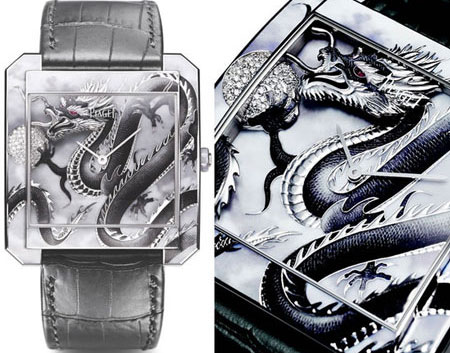 The year of Dragon comes officially at the 23rd of January by Chinese calendar. The watch company "Piaget" couldn't leave that fact without attention. Especially that the watch manufactory made wrist watches, adorned with dragons, earlier.
At SIHH 2012 Piaget presented another time meter from "Dragon and Phoenix". Its name is Piaget Dragon Protocole XXL.
This model can be called jewellery, as its bezel is adorned with 32 diamonds of classic round cut, the total weight of which makes up 0,1 carats. 37 more jewelers are incrusted in the dial of Piaget Dragon Protocole XXL. Their total weight is also equal to 0,1 carats. The case of Piaget Dragon Protocole XXL is rectangular. It is crafted in 18-carat white gold. The case and dial of Piaget Dragon Protocole XXL are adorned with enamel miniature, made by "Grand feu enamel" technique. A specific feature of this model is its bezel's picture, which flows into the picture on the dial. Piaget Dragon Protocole XXL doesn't have any symbols, marking time intervals. The time is indicated by means of two central hands – hour and minute. The manual-winding movement of this watch is based on caliber Piaget 830P.
The grey strap, made of alligator leather, emphasizes nobleness and elegance of monochrome dial of Piaget Dragon Protocole XXL. It is fixed on wrist with the help of 18-carat white gold. Only three timepieces of this unusual watch were released by Piaget to show exclusiveness of the model. The price for Piaget Dragon Protocole XXL is still in strict secrecy.
Perhaps, an orient symbols are intended to draw the attention of Eastern countries to the products of Piaget. This or that way, the manufactory even launched a version of its website in Chinese. However, the model "Piaget Dragon Protocole XXL" will easily find its clients in Western countries too, among people, who are fond of Eastern culture, horoscopes or simply able to value skilful work of craftsmen.

Grande Reverso Blue Enamel from Jaeger-LeCoultre: charm of simplicity

The previous year was marked for the Swiss manufactory "Jaeger-LeCoultre" by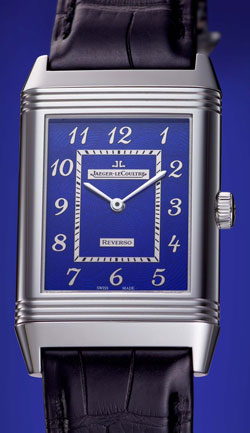 return to its own experience and heritage. The collection, presented by the company at SIHH 2012, demonstrated the desire of masters to return to classic forms.
Simplicity, elegance and excellent taste are main advantages of new variation of Grande Reverso from Jaeger-LeCoultre, named "Blue Enamel". This is a perfect variant for those, who want to buy a watch of strict and elegant design.
The model "Grande Reverso Blue Enamel" has a rectangular case, made of white gold. Its sizes are 8,5×30 mm at thickness of 10,2 mm that are a little bit more than the parameters of previous timepieces from this series. This men watch doesn't have complications. The time is indicated with the help of two central hands – minute and hour. The time intervals are marked by Arab numerals. The watch is fixed on wrist with the help of strap from natural black leather.
The monochrome enamel dial makes this men watch "Grande Reverso Blue Enamel" more attractive. The white gold was used as a base for its creation. This material is resistant to oxidation and doesn't contain mixtures, able to influence on color of covering enamel. The golden base is finished by engraver. After that a semitransparent enamel of rich blue color is applied on it by hand, and the half-finished base is burned. As a result, the dial acquires unusual texture and depth. Grande Reverso Blue Enamel is provided with caliber 822. The company "Jaeger-LeCoultre" haven't named its price yet. But if you want to buy Grande Reverso Blue Enamel, you'll have to show vigilance: this embodiment of style and classic design is issued in a limited series of 50 pieces.

Rotonde de Cartier Tiger Motif — watches with animals' spell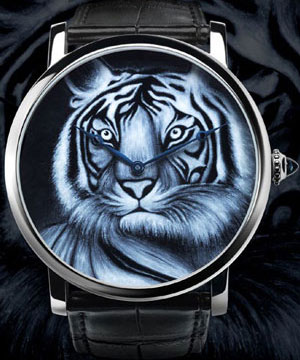 Another novelty with enamel dial has been presented by the company "Cartier". It is famous for its wrist watches, adorned with pictures of various animals and birds. This year the collection "Cartier d'Art" has been completed with another model, showing a tiger on its dial.
The wrist watch "Rotonde de Cartier Tiger Motif" is made in monochrome color range. The black leather strap emphasizes noble color of 18-carat white gold, which the case is made of. It has classic round form. The diameter of Rotonde de Cartier Tiger Motif case makes up 42 mm. It protects the movement from moisture penetration at the depth of 30 m.
The main advantage of this watch is its dial, adorned with enamel miniature. It is made by hand in a technique, called ""Grisaille". The miniature depicts the tiger's head, made in black-white tones. At first, en engraver works on the base, making contours of picture. Then this layer is covered with black enamel, as a background. Then he creates a picture with white enamel by means of thinnest brush. This hard work may take up to 40 hours. And, finally, a snowy tiger appears at the black dial of Rotonde de Cartier Tiger Motif. There is no hour marking. This wrist watch is equipped with two central hands – hour and minute. To the contrast with miniature, they are painted in rich blue color.
The hands of "Rotonde de Cartier Tiger Motif" are put into action by hand-wound caliber 9601 МС. It was specially created by Cartier masters for that model. The crown is situated at the right side of the case. It is incrusted with diamonds and sapphire cabochon.
Those, who want to buy Rotonde de Cartier Tiger Motif, should increase their vigilance. These watches are released in a limited number, and only 100 persons can become owners of this horlogerie masterpiece. Each piece of Rotonde de Cartier Tiger Motif has an individual number. This model shows again how the famous watch manufactories do their best to give a new life to traditional art crafts.