Rings-watches
Whatever you say, the system of stereotypes and double-think is booming in the modern world. The simplest example is that the general public condemns the so-called piercings: pierced noses, lips and other parts of the body. "Just try to make this terror with you" – parents threaten their children. But the earrings - quite a common thing, and they don't cause publicity! And what is the fundamental difference? Any person will answer without hesitation: "So it is accepted!" Is it unfair? The same story with watches: people used to wear wristwatches: some do not know that there are another watches, others have heard vaguely about the rings or ring-watches or pendant watches, but are in the belief that this is pure anachronisms, or worse, funny decoration for weirdos, and others, can, and see, and know, but they do not dare to put on an unprecedented accessory, fear of attracting unwanted attention.
And only a few, who are not afraid to stand out from the crowd, are constantly in search of beautiful unusual watches. After all, what is the difference to wear a watch on your finger, on the wrist or around the neck - they only have to show time and delighted their owner by their appearance. Ring with a watch (or watch in form of ring, as it please) - this is a great combination, as it would be said in the advertisement, "two in one". Miniature mechanism often hides under the cover, which can be decorated with precious stones, enamel, rhinestones or painted; dial is sometimes surrounded by diamonds - in general, considerable scope for creativity. Due to the abundance of designers' ideas, ring-watches are popular over the fair sex. In fairness, note that the ring-watch is not only very interesting accessory, and in some cases, a masterpiece of art, they also carry functional load - in vain, many people think that it is "self-indulgence." In comparison with the wristwatches, ring-watches even win in comfort due to compact size. Judge for yourself: watch is difficult to lose, they almost do not interfere on the hand, it is not necessarily to take it off for the night (and the less likely to forget them on the table in the morning), it is easier to read the time without attracting the attention of others (for example, during an unsuccessful interview or a boring meeting). The ring-watch also comes to help, when it is impossible to wear a watch with bracelet.

All new is well forgotten old
Mistake those who believe that the watch-ring - this newfangled invention, invented modern creators in the moment of boredom. The first such accessory was created already in the 18th century! But this case wasn't done without Russia: as customer of this unusual watch was made by the Empress Elizabeth. Immediately after the invention of the mechanical watch people minds were occupied with the question how to put the watch mechanism in small case to wear it all the time. And when - hallelujah! - in the late of 17th century, a solution was found, watchmakers around the world rushed to compete in fantasy. Key rings, pendants, pocket models, and then, as we know, and the ring filled great world. Of course, if we saw way that people of that time wearing watches, we would be accused of a lack of taste: a few pieces at once, on a finger, on neck and on jacket. But let's not too hard, because then it was kind of fun, all rejoiced new invention and did not know how to measure, how to depict their joy. Over time, people have calmed down, and when the wrist watches took their place on Olympus, the rest of their "brothers" had taken a back seat. In the mid of 20th century ring-watches again appeared at the height of relevance. Main (in fact, by the official version - the only!) manufacturer of watches in the form of rings was a company "Chayka". Step back a little from the topic, say, those who were lucky enough to dig up in my grandmother's casket such a treasure, with pride and pleasure now wearing a ring-watch Chaika, and many of those whom fortune did not smile, willing to pay a lot of money just for the rare Soviet models of such watches.

| | |
| --- | --- |
| ring-watch "Chayka" | |
In the 80's this accessory has been gradually forgotten. Time, fortunately, has the shape of a spiral, and then, fashion on rings-watches fully returned at the beginning of the millennium, but at this time, it seems, it has no plans to go. Trend first captured America and began to spread rapidly to other countries. But anyway, ring-watch cannot be named a common adornment. Now watch-rings, as usually, distinguish a person with impeccable style, also who is seeing in the art of watch making.

A rare collection of Piaget is not complete without watch in form of a ring!
The legendary Swiss watch brand Piaget is particularly famous in the field of watch making. Watchmakers of Piaget regularly present to the audience the new models of watches,
what is more time after time accessories are becoming more functional and, of course, beautiful. Thus, in the collection Limelight there is an amazing watch-ring in 18 carat white gold and diamonds with intricate "leaves" - if carefully pull one of them, eyes open a little dial. Proprietary precision and reliability of Piaget doesn't depend on the size: quartz movement is running smoothly. Other luxurious cocktail ring «Haute Joaillerie» by Piaget is massive enough, which is not surprising, because on it there are the best diamonds, rubies and emeralds. You should have an enviable share of imagination or a very sharp eye to determine that for all that beauty lies chronometer with automatic movement and dial, protected by sapphire crystal. Gold ring-watch is catchy, shiny adornment which, coupled with such a complex internal content simply will not allow its owner to get lost in the crowd!
| | |
| --- | --- |
| | ring-watch Piaget in white gold with diamonds, rubies and emeralds |
From which started the history of world fame of Ebel?
But for the watch company Ebel ring-watch has become a symbol of success: this watch in form of a ring brought the company worldwide fame in 1914, allowing get a gold medal at the Swiss National Exhibition. Elegant model impressed the jury by its incredible combination of artistry, practicality and originality. A that time started triumphal path to glory of Ebel!

Digit Watch – a gift from Mo Eden to fans of the art deco style.
It took several years from designers and craftsmen of London house Mo Eden, to create a strikingly beautiful watch in the form of rings. Elegant ring-watch in white gold, encrusted with diamonds, carry us into the era of Art Deco, when on top of fashion was exclusive fine jewelry. In addition, a gold ring-watch Digit Watch by Mo Eden has a little secret: sapphire dial is performed as magnifying lens – there is no need to squint to see the time.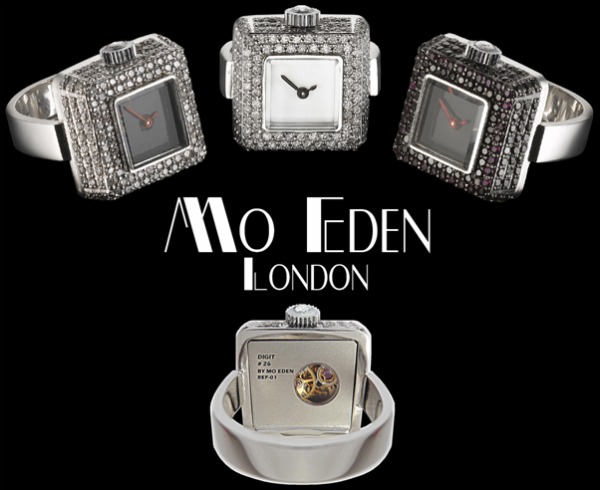 watch in form of rings Digit Watch by Mo Eden
Miniature size – does not mean a little space for creativity.
To break down the boundaries between the chronometer and jewelry took a designer Stephen Grotel. Grotel presented his collection Ring, which includes watches-rings in white and yellow gold, and also in their alloys, with diamonds and semi-precious stones. A special role in the creation of Grotel has played amazing cutting of stones. For example, one ring-watch encrusted with rock crystal and diamonds in the form of cylinders, mesmerizes by its matte shine of pearl dial.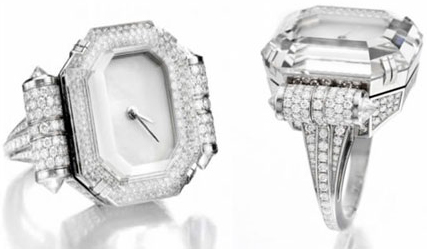 ring-watch Ring by designer Stephen Grotel
Sleek and light-headed flower on the finger can conceal the watch movement.
All the previously considered ring-watch can hardly be attributed to the budget, but of course, there are numerous options with democratic pricing category, but they are no less interesting and attractive. And what the watch market offers! Ring-watch in the shape of flowers, animals, fairy tale characters ... Australian designers, for example, developed the concept of watch in form of a ring for young girls. The original and tender design of the model, made in the form of a bright ring with a picture of flowers, seems frivolous at first glance, but twelve petals show the time: each of them is "responsible" for a certain hour, and lights, respectively, in the allotted time. "Minute" petals function approximately by the same scheme.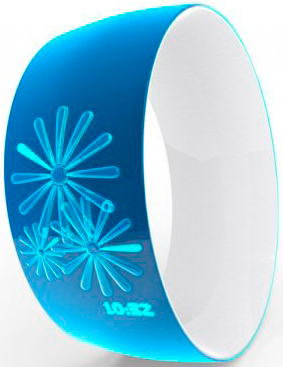 petal will tell time
Italians never lag behind fashion!
Fashion-masterpiece of the famous Roberto Cavalli doesn't shock by its prohibitive cost. The Italian designer has released a spectacular watch in form of a ring called the Queen Ring in different colors. Model's availability is due to the relatively simple materials: quartz movement is in a small, round stainless steel case. The dial is protected by mineral glass. Well, but what and from which scandalous Italian creates his works, corporate Identity of Cavalli is met: the watch-ring, as well as other designer's creations embodies success, optimism and good life.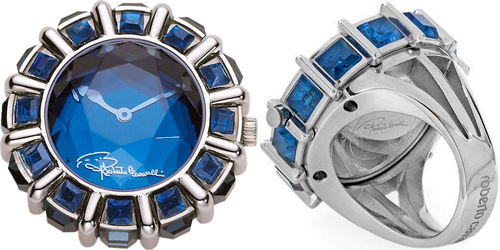 ring-watch Queen Ring by Roberto Cavalli
Multifunction watch-ring with heart rate monitor? Easily!

Watch mechanism within the small ring - it's incredible, isn't? And what do you say about the watch-ring with heart rate monitor? Just image three in one! Such watches wearing on the finger not only show the exact time, but also measure the heart rate! The result is displayed on a tiny little screen. Such a useful ring-watch is an indispensable gift for an athlete or just a person who has the care of his or her health. Among other things, this watch is water-resistant, so you can safely dive into the pool or go to the shower without putting them off.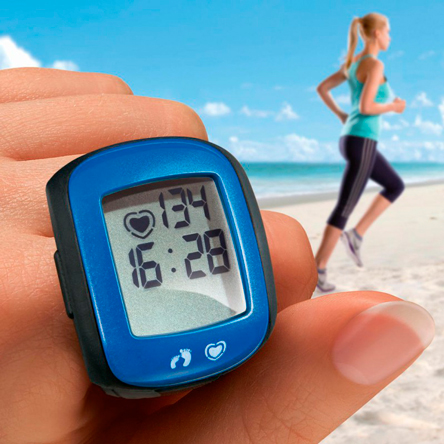 ring-watch with heart rate monitor
To what technology has come!
Or here's another miracle of technology: made up of 1,400 metal balls ring-watch automatically turns on the finger to show time. The trick of this watch is that each ball, in addition to external decorative, has an internal magnetic direction.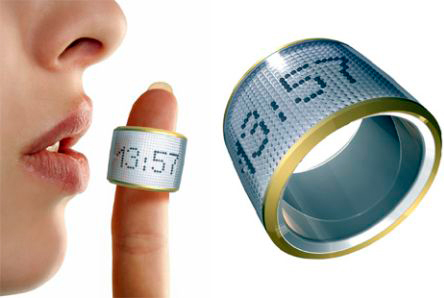 ring-watch, made up of 1,400 metal balls
We had the difficult, but interesting share - to live in the age of discovery: scientific progress literally every day "throws" surprises. It is no secret that the time can be easily recognized with a mobile phone or laptop - roughly speaking, there is no urgent need to carry a separate device for determining the time. But today there is romance, aesthetes and connoisseurs, unusual wrist watches, as well as the watch-rings, and other "obsolete" accessories will be in demand. And today the trend of erasing the distinction between a clock and jewelry, while not new, is becoming popular again. Does bijou tend to take place of watches? .. Or watches oppres jewelry? Who cares! Do they have something to share?
Written by Lena