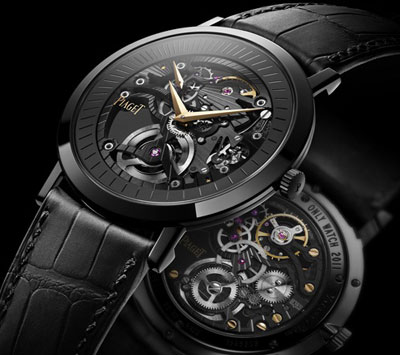 Activity of charity founds is turned to supplying with all needed people who have encountered difficult situations or who are suffering from very bad diseases treating for which takes a lot of energy and money.
Every year charity founds are renamed by new participants which gives an opportunity to send money to people who need them.
For a long time Piaget company has been taken part in "Only Watch" which is charity auction. It usually takes place in Monte-Carlo. Money got in this auction are sent to the found which is responsible for help to people who suffer from Duchenne muscular dystrophy (DMD). The main symptom of such a bad disease is progressing asthenia of muscles which leads to difficulties in work of all the organs and systems of human body.
Specially for "Only Watch", Piaget company released new exhibition model called Piaget Altiplano Skeleton and which does not have any analogues, it is the one model.
Piaget Altiplano Skeleton watch reflects the main conception of the brand which pays special attention to innovative approach to the new watch collection creation.
Round case of Piaget Altiplano Skeleton is made of 18carat white gold PVD-coated. It has sceletonized dial supplied with gold hands and sapphire crystal which let to look after the work of the movement. Watch model Piaget Altiplano Skeleton is supplied with manual rewind and a unique ultra thine movement which is fixed by screws made of pink gold. Axels are guilloched and circular grained. The model has function of hours, minutes and seconds. Seconds are displayed by one special, very small hand which is located near the hour mark of "10 o'clock". Piaget Altiplano Skeleton watch model is supplied with genuine crocodile leather strap which a gold buckle.
Not every people pay attention on such events because they are not ready to spend a lot of money for someone else who they do not know and can hardly even meet.
As long as they stay aside thinking: "No, not me, anyone but not me", Piaget says: "Who, if not me?" thanks to such companies as Piaget doctors are still keep saving lives of hundreds of people.