Cartier tamed the wild and beautiful predators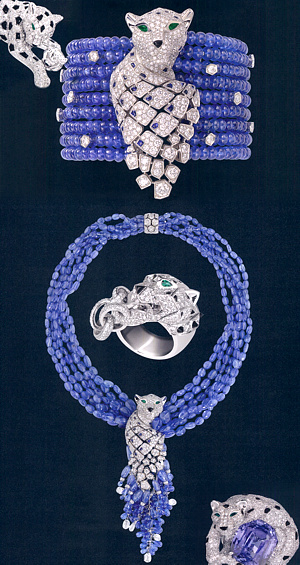 about century ago. Since then, the panther is instantly recognizable symbol of Cartier. For nearly a century jewelers gave it skin and color of precious materials, embodied in dozens of sculptural poses, forced hundreds of women to admire it. The appearance of precious pride Cartier should thank to women – a socialite Jeanne Toussaint, who gained in Paris the nickname "Panther" for her trait, freedom-loving character, bold and sometimes ruthless judgment.

Jeanne Toussaint had an affair with Louis Cartier, and in 1933, possessed with great artistic taste a sweetheart was appointed a jewelry director of the Paris office of Cartier. And after the death of Louis Cartier in 1942 Jeanne became the chief designer of the company - then Cartier tamed precious wild cats.

The best known panthers of Cartier are the two brooches:
1 - made in 1949 for a friend of Toussaint, the Duchess of Windsor, platinum panther brooch, which sat on a huge, 152-carat blue sapphire cabochon;
2 - created in 1957 for the American heiress 'Woolworth' Barbara Hutton, a brooch in the form of lazy cats on an imaginary tree.

These ornamentals clearly demonstrate the two main versions of the wildcat's color of Cartier: from white diamonds with black spots of yellow onyx and black diamonds.

However, the symbol of Cartier is not static - without the numerous art variations on this theme have not done. Wild cats of white diamonds with blue sapphires are moving, living their full life in Cartier jewelry: for example a cat, as if rushed down to catch by the paw a cascade of blue stones, and another cat curled around a 21 carat sapphire or proudly reclines on a wide cuff of bracelet with eight strands of sapphire beads. In one of the Cartier necklaces an elegant cat is not on sapphire, but on the lavender chalcedony in 23-carat, and on the other ring by Cartier a cat playfully pressed between legs yellow sapphire in 5 carats.

In all these ornamentals cats are in a peaceful state with a skilled hand of jewelers, sometimes on their faces can even be seen the smile of gold. However, despite the weasel, Cartier decided to tame a wild cat: in necklace and bracelet made of yellow gold a panther was first put on the chain.

Incidentally, among the wild cats of Cartier are not only panthers, which skin is decorated with spots like a leopard. Among Cartier there are also tigers - remember Santos Triple 100 watch, the dial of which is assembled of turning sections of triangular cross, and depending on the wishes of the owner on the dial are shown usual Roman numerals, or "chessboard" of diamonds and black sapphires, or the proud face of a tiger. But Cartier jewelry is presented under the single name "Panther".