In the Richemont Group Carole Forestier-Kasapi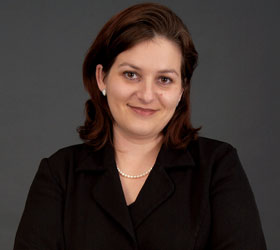 has created a revolutionary caliber P.2005 for the famous brand Panerai, which tourbillion is quite effective even when the watch is in the horizontal position. Carol also was engaged in creation of two famous tourbillions Piaget Emperador and Relatif, in which a tourbillion has turned into a three-dimensional mobile sculpture. No wonder what in the world of watch connoisseurs Carole Forestier-Kasapi is called the "Queen of tourbillons."

At question of what inspires her the most, Forest Kasapi replies: "People interested in their work and know how to turn an ordinary watch mechanism into the object of worship, are able to lift you above the daily routine!"

However, despite of all possible technical delights, she prefers watches with hand-winding. Forest Kasapi explains it, that the operation of the winding of spring manually creates an emotional bond between the watch and its own:

"As if you give food a living being, it is very symbolic. You give them a part of your energy, and in return you get the time, leading you through the life. For me in this is inexplicable charm and magic of watch movements.

Emotions play a huge role in watch making. Because when we talk about the high-end complications, we have in mind not only the technical side of watch making, but also the feelings that arise during its contemplation. When a customer buys such a watch, then, along with the know-how, he takes something else at first glance inconspicuous: a new experience. Therefore, a huge part of our job is to invest in our models the emotional content, which has an impact on the people imagination.

The Swiss watch Rotonde de Cartier Day and Night is a great example of that watch, thanks to its peculiar way of indicating time, is not only a carrier of mechanical precision but it begins to express the irrepressible flow of our lifetime.

But on the one hand is a free art, and the other is the observance of certain rules. It is important to understand that Cartier has a long history and has significant potential. I believe that priority should be given to the development of new technologies, but not to deviate from the specifics of the brand. So, creating a new watch, you must first follow the spirit and the individual characteristics of Cartier.

Cartier watches have always been different by their artistic side, the design of the brand can be considered a truly legendary. The unique design of Cartier watches is timeless. Our task is to continue this tradition. All our arrangements are designed for a specific design or case. So we are working on the preservation of individual style of Cartier».

At the beginning of her career, Carole Forestier-Kasapi received an award Breguet for extraordinary tourbillion, in which the whole mechanism rotates around its axis and was powered by a mainspring, swirling around it.

"I received this award for the tourbillon, which I developed over a decade ago. It was a superturbillion – at that time people didn't hear about that kind of tourbillion. Everyone began talking about my conception. However, in those years, I could not manage to decide from where to get the for the mechanism's work. But later the idea helped to make a quantum leap and create a new generation of more sophisticated tourbillions.

The success of any watch depends on the cohesion of its creators. For reaching the watch to the production efforts of the entire team should be focused on a single rational vector. Of course, the star role is for watch itself, but that the star began to shine, you need to go through a number of different stages: to achieve smooth operation mechanism, to ensure its durability and provide for repairs. Creating a watch, you shouldn't lose sight of any, even the smallest detail.

Mechanical wrist watches embody the dreams of buyers. Get examined the tourbillions – among them there are also strong and quite simple. However, they all have the ability to somehow evoke an emotional response in people and to realize their dreams."