SIHH 2012: Grand Complication – from 1783 to 2012
(part 6)
In January, 2012, 18 biggest companies, such as Panerai, IWC, Cartier, and many others have taken part in the 22nd international fair SIHH (Salon International de la Haute Horlogerie) in Geneva, Switzerland. Some companies were trying to create impression by their unusual stands and many invited celebrities, others were striking imagination by their over-complicated models. The world-known brand "Cartier", famous for its watches and jewelries, presented an amazing skeletonized pocket watch "Cartier Skeleton Grand Complication Pocket Watch". The famous Swiss company "Jaeger-LeCoultre" demonstrated an excellent chronometer with tourbillon under the title "Duomètre à Sphérotourbillon". Another famous Swiss company-manufacturer of "lux" watches "Vacheron Constantin" also presented its new model with tourbillon "Patrimony Traditionnelle 14 Day Tourbillon" with phenomenal power reserve (14 days). Each of these models is unique, as well as their creators, but one feature unites them – all these Swiss watches can be called "Grand Complication". Today there is no common definition of Grand Complication, but generally the category "Grand Complication" includes watches with minimum 3 complications: timing, astronomical, and striking complication.

From the history of Grand Complication models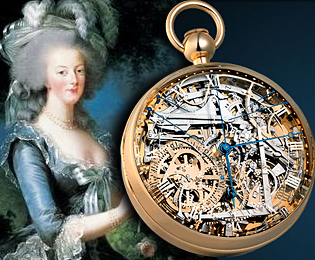 Such men and women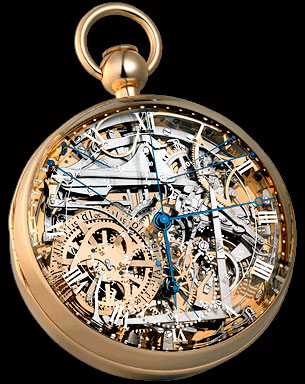 wrist watches appeared due to wall and tower mechanical clocks, often provided with many functions, not directly connected with watchmaking: altimeters, compasses, barometers, thermometers, various astronomical complications (usual calendar, Lunar phase indicator, perpetual calendar, time equation), and others. Of course, as such watches have enough room for a flight of watchmaker's imagination. But placing the same functions in wrist, or in pocket watches, for the beginning, is not a simple task! Nevertheless, accomplishment of this task for any talented master is just a matter of time. So, already in the XVIII century famous Abraham-Louis Breguet created one of the first watches with many complications. That was the famous model "Perpetuelle Grandes Complications", designed by the great watchmaker for the Queen of France Maria Antoinette. Its creation began in 1783 and lasted over 10 years, but unfortunately, the Queen had already been dethroned in 1793 during the Great French revolution, and she had never managed to admire that masterpiece of true horlogerie. The case of Breguet's watch, its plate, the wheel and bridges of its movement were made of gold, and the dial was covered with glass from purest rock crystal. The movement of this excellent time meter was provided with a revolutionary set of functions: independent second hand, minute repeater, power reserve indicator, automatic winding, time equation, perpetual calendar, and even thermometer!
So, the history of Grand Complication started from great Abraham-Louis Breguet's invention, but soon other watch companies comprehended advantages of this approach over manufacture of traditional models, and from the middle of XIX century the big watch companies started making few, but outstanding models of Grand Complication.

Unique skeletonized pocket watches from Cartier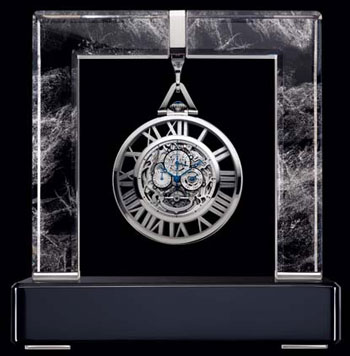 Four models of Grand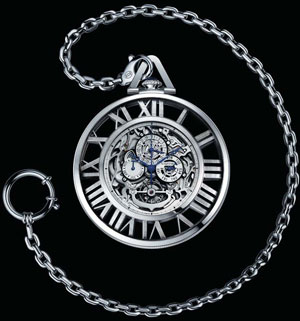 Complication have been exhibited at this fair. Grand Complication Pocket Watch from the world-known jewelry house "Cartier" aroused most interest, perhaps. During several years the company has been presenting its overcomplicated watches at SIHH. The list of their functions certainly includes perpetual calendar, tourbillon, and one-button chronograph. The designers were inspired by pocket watches from Cartier of last 30s. This outstanding case of 59-mm diameter is made of beautiful 18-carat white gold. The skeletonized Roman numerals with chamfered angles – a typical element of all Cartier lux watches – are situated along the perimeter of dial. The watch-chain is also made of 18-carat white gold. While you don't wear it, you can hang it on its support, made of rock crystal and obsidian, and, therefore, change the Swiss pocket watch into a table one. The "heart" of this wonderful chronograph is caliber 9436 MC from "Renaud et Papi" with manual winding and 8-day power reserve. The movement is completely skeletonized, and, as a result, one can admire all its elements from both sides, including tourbillon with bridge, made in the form of typical letter "C". The golden crown is decorated with sapphire cabochon. One button of chronograph is used for functions switch (start, stop, reset). The use of perpetual calendar with jumping hands, which return to initial position after adjustment, instead of traditional disks is an original technical achievement of the company's engineers. The perpetual calendar reflects week day, date and month with consideration of leap years at three additional dials. This masterpiece of horlogerie was released in a very limited number – only 10 timepieces! In addition to them, 5 more pieces from 18-carat white gold, incrusted with diamonds, will be issued. So, if you wish to buy Cartier Grand Complication Pocket Watch, hurry up: the financial director of Cartier is impatiently waiting for your call!

Patrimony Traditionnelle 14-day Tourbillon from Vacheron Constantin

The model "Patrimony Traditionnelle 14-day Tourbillon" from Vacheron Constantin is based on new caliber 2260 with unique complication – tourbillon, set in an elegant and restrained case at the same time. This new men wrist watch of Patrimony Traditionnelle will become the first model from Vacheron Constantin, which will undergo certification in accordance with new standards of honorable "Geneve" mark conferring. Therefore, the new masterpiece of haute horlogerie will undoubtedly attract attention of many collectors around the world.
The high-functional and aesthetically attractive movement perfectly harmonizes with restrained elegance of the case. The men wrist watch "Patrimony Traditionnelle 14-day Tourbillon" is a quintessence of haute horlogerie, as it corresponds to the renewed standards, accepted for honorable "Geneve" mark conferring. The new standards apply not only the movement, but also the appearance and finishing of a watch. This is caused only by progress of the most prestigious certification, which turns 125 this year.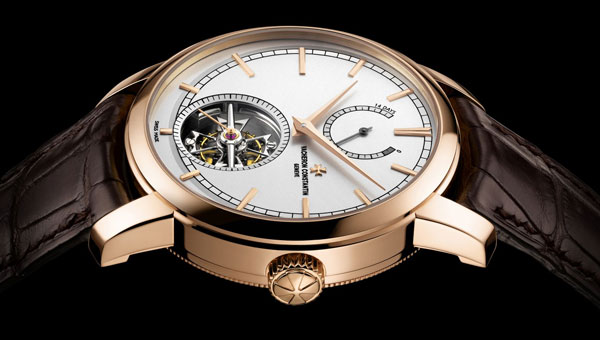 The watch company "Vacheron Constantin" has been taking strong leading positions at manufacture of movements with the highest complication – tourbillon – since a long time. Such movements are often completed other complications, and the tourbillons themselves are distinguished by high quality of assemblage and unique design. Drawing on experience of several watchmakers' generations, the watch house started exploring new horizons of horlogerie and decided to create a movement, equipped with tourbillon, which would match the case from the aesthetic point of view, and its functions would surpass all existing achievements in that sphere. The caliber 2260 with record power reserve of 14 days and manual winding became a result of collaboration between watchmakers and engineers of Vacheron Constantin. However, the fact that the tourbillon movement regulator provides higher accuracy and unsurpassed stability of indications is more important.
The phenomenal 14-days power reserve of new caliber 2260 from Vacheron Constantin is provided by four barrels, joint by pairs. They are interconnected, and they rotate simultaneously at four times less speed than one barrel does. The total length of all barrels' springs makes up about 2,20 meters, and each one is able to provide about 13 turns. The movement is assembled from 231 details, its frequency – 18 800 alterations per hour.
The construction of new movement 2260 is specific for its two bridges only (not three, as in previous watches of Vacheron Constantin with tourbillon). The enlarged surface area of details allows revealing richness of caliber finishing and demonstrating Côtes de Genève to all amateurs. Two additional bridges give a possibility to increase accuracy of assembling, but they hamper an access to the movement and complicate a watchmaker's work. The tourbillon's cage reminds of Malt Cross, the symbol of the manufactory, and provides a possibility to value an excellent finishing of caliber's details and admire the facets, beveled by hand. Only the appropriate quality of tourbillon's bridge rounding requires about 11 hours of uninterrupted hand-work!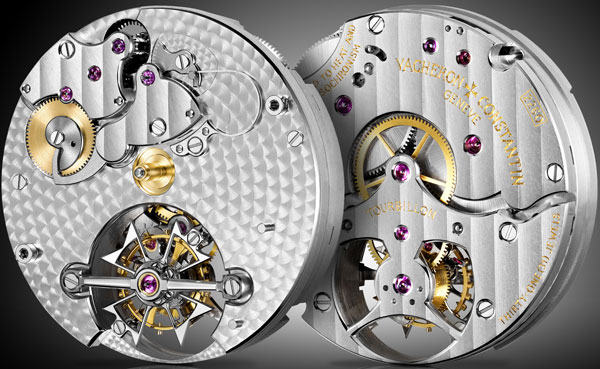 The tourbillon and second hand are positioned at "6" hours. Apart from these details, the movement 2260, designed by the Vacheron Constantin craftsmen, puts into action a bit off-centered hour and minute hands, and also power reserve indicator. The latter is made in the form of arch with 280° angle that considerably simplifies reading of indications. The power reserve indicator is situated at the matt silver-plated dial at "12" hours, and its design calls up associations with some models of pocket watches from wide range of Vacheron Constantin products.
The new Swiss watch serves as an ideal embodiment of design concepts, defining high reputation of "Patrimony Traditionnelle" collection. The specific features of this series are clear lines in combination with high-quality performance. Narrow bezel, riffled central part, sapphire glass back case fixed by screws, faceted hour markings ("12 hour" is paired), Dauphine hands made of pink gold 5N, and traditional matt silver dial adorned with various types of finishing – all these elements became an integral part of technically complicated, but restrained line "Patrimony Traditionnelle", proving clearly that Vacheron Constantin perfectly combines centuries-old traditions and advanced innovations.

New Grand Complication model from Jaeger LeCoultre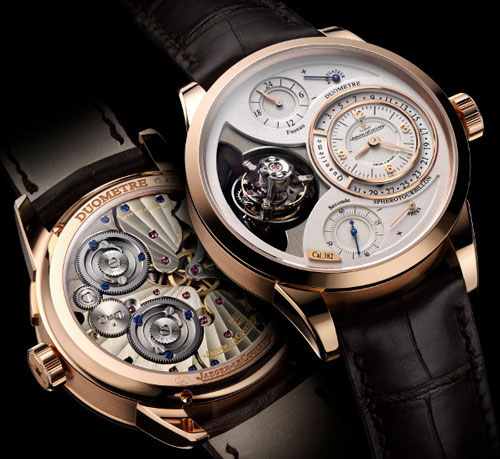 The brand "Jaeger LeCoultre" has gladdened its fans once again by presenting a new masterpiece – the men wrist watch "Duomètre á Sphérotourbillon". This fine Swiss watch is equipped with a movement with many-axis tourbillon, representing a tourbillon inside another tourbillon. Each of them rotates at its own speed, creating a construction like a sphere. When the company created a new chronograph with the movement, able to keep the same accuracy whether the chronograph's functions are active or not, the watchmakers didn't even suppose they would create a completely new concept of watch movements. The latter appeared to be so innovative that it "paved a way" for creation of unprecedented functions and "gave birth" to legendary line "Duomètre".
On a matt-finished dial we can see some disk indicators, situated at different levels and edged with pink gold rings. The date indicator is situated around supplementary hour and minute dial. The additional dial at the top points the second time zone in 24-hour format, and a small additional second dial is situated at the bottom. Mark you that this men wrist watch is provided with two power reserve indicators: one of them is designed for the movement, another one – for functions. The round case of 42-mm diameter and 14,1-mm thickness is made of pink gold.
The principle of revolutionary "Dual Wing" consists of two independent movements, each provided with its own source of power, but they are adjusted by one element. Due to that concept, the first chronograph, keeping the same high level of accuracy whether the chronograph's functions were on or off, the first watch with a calendar of dial, which could be adjusted at accuracy of up to 1/6 seconds, and the first model of Grand Sonnerie, which could produce a melody, struck by Big Ben, were created.
Another specific feature of "Duomètre" line is position of additional dials, reflecting a dual structure of "Dual Wing" principle. The hour indicator is off-centered by 3-9 hours' axis; two indicators of corresponding power reserve, two differently colored hands, silver grain finishing – the union of all these amazing details gives unique aesthetics and outstanding individuality to each model of "Duomètre".
Striking design, unique set of functions and atmosphere of sophisticated elegance in harmony with best traditions of horlogerie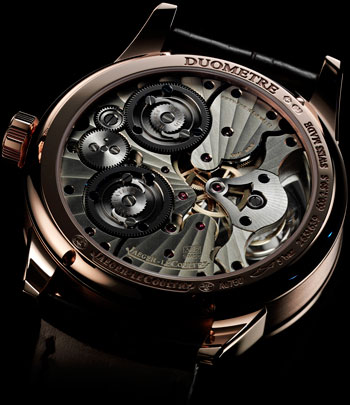 – the new model "Duomètre á Sphérotourbillon" unites all these ingredients. This model of Grand Complication demonstrates brilliantly a possibility of combining high-technique level, restrained aesthetic elegance with effective complexity of horlogerie. Precision underlies the concept of Dual Wing and the slogan of craftsmen from Jaeger LeCoultre that couldn't but influence on creation of "Duomètre á Sphérotourbillon". As a result, the Swiss watch that can be safely named as the first watch with tourbillon and function of the very second setting has been made. For what's the sense of accuracy if you don't have a chance to show it?
Indeed, there are quite few models with easy readable second indicators at a separate dial and even fewer watches with the function of second hand stop. For certain, there haven't been any models with the function of second hand stop and reset to initial position for high-accurate time adjustment until now.
The use of Dual Wing principle allowed the masters of Jaeger LeCoultre creating first tourbillon with adjustable accuracy. The button at "2" hours resets the small second hand, positioned below tourbillon, to zero position by means of fly-back function.
One of peculiarities of this "fly-back" system is keeping the regulating device moving. The small second hand is reset to zero position and starts moving at once. That means the chronograph keeps optimal movement accuracy even at precise set of the time to the very second. Besides exceptional reliability of "Sphérotourbillon", the fourth model from excellent line "Duomètre", the tourbillon is its important feature.
Initially created for pocket watches, a traditional tourbillon is not designed to compensate the gravity at all positions. To achieve an ideal rotating movement in all three fields and tourbillon effectiveness at all positions, which men wrist watches may take, it's necessary to add one more rotation axis.
The opened dial allows watching the fascinating tourbillon, making unusual rotations. It rotates around both axis of its titanium carriage and second axis at 20-degree incline. The combination of these exact and quick rotations (a rotation per 30 and 15 seconds correspondingly) serves for complete neutralization of gravity influence on watches.
For even more aesthetic delight the transparent back case of beautiful chronometer represents an excellent "offstage" complicated work of the Jaeger LeCoultre caliber 382, assembled and decorated by hand.
This incredibly complicated Swiss watch remains inimitably beautiful at the same time. Innovative spirit is united with the design, inspired by vintage pocket watches, and serves for giving elegance and sophistication to the watches.
The finishing of the model, made of untreated nickel silver, emphasizes the exclusiveness of beautiful model "Duomètre á Sphérotourbillon". Brand finishing of "Jaeger LeCoultre", "côtes soleillées", clearly outlined inside and outer angles, harmonious forms – the appearance of caliber 382 from Jaeger LeCoultre represents an example of haute horlogerie.
Showing deep respect to ideal proportions and principles of watch design, expressed through sophisticated case from pink gold, restrained readable dial, polished bezel and staples, case's satin side surfaces, the craftsmen of Jaeger LeCoultre reproduced the brand aesthetic characteristics of "Duomètre" line in that excellent chronometer with jewelry accuracy that created a unique contrast with unsurpassed complexity level of the movement. It's unknown if the master of Jaeger LeCoultre, creating the men wrist watch "Duomètre á Sphérotourbillon", comprehended that they would make one of the most outstanding models of the beginning of XXI century.
A. Lange 1 Tourbillon Perpetual Calendar – new masterpiece from masters of watch complications

The off-centered dial of "Lange 1" watch creates all conditions for placing perpetual calendar. Thanks to such position, the calendar indicators can be neatly placed out of hour and minute rounds, keeping readability of time. The calendar is so harmoniously positioned at the dial of "A. Lange 1 Tourbillon Perpetual Calendar" that one may fail to see the complication at first glance. Only the modest inscription at "12" hours points to the tourbillon with patented mechanism of second hand stop. The balance of dial doesn't even prompt to technical complexity and enormous work of engineers, performed in that outstanding masterpiece of haute horlogerie. The tenth masterpiece, completing the most famous line of A. Lange & Söhne, the men wrist watch "A. Lange 1 Tourbillon Perpetual Calendar", embodies fundamentally new technical decisions. To create preconditions for integration of perpetual calendar into architecture of "A. Lange 1" watch, the designers of the in-house caliber invented the first rotating periphery ring of month, ever used in wrist watches. The ring is provided with incisions of different depth for corresponding duration of each month and a unique quantization movement. That unique movement was proposed for patent conferring.
| | |
| --- | --- |
| | |
All indicators of the calendar – external date indicator, retrograde week day indicator, month ring, leap year indicator's aperture, and Lunar phase indicator – are switched instantly, providing precise indications. The movement is designed in such way that it will require adjustment for 1 day only at the 1st of March, in 2100. And the indications of Lunar phases calendar will be accurate during 122 years, then the calendar will need to be adjusted for 1 day. The adjustments are executed very easily with the help of sunken buttons, which allow adjusting the calendar indications both together and separately. The concept of A. Lange 1 Tourbillon Perpetual Calendar is based on the principle: nothing must impede indications on dial. At that, they had to make some sacrifices: the dial wasn't provided with any apertures, through which one could admire the tourbillon. But the transparent back case from sapphire glass opens a view at the improved watch complication. The filigree cage rotates around its axis once a minute to eliminate the gravity influence on the balance wheel and its counterbalances. In combination with patented balance spring "Lange" the tourbillon provides incredibly high level of accuracy. Two details are precisely adjusted to each other to achieve optimum accuracy at nominal frequency of the movement of 21600 alterations per hour. The patented mechanism of second hand stop allows blocking the balance when inside the tourbillon's cage instantly, simply pulling out the crown and, therefore, adjusting the watch at second accuracy.
| | |
| --- | --- |
| | |
The high efficiency of new automatic caliber L 082.1 rotation is achieved by means of heavy central rotor, made of 21-carat gold, the midsection of which is adorned with the brand engraving "A. Lange & Söhne". The platinum load at the rotor's external edge is denser, than the gold, and, therefore, gives additional driving force. So, even the most insignificant hand movement transforms into oscillation energy. As a result, the maximum power reserve of 50 hours is achieved even after a short period of wearing the watch. The movement is provided with many brand elements of Lange's legendary style, as all details of the unique caliber are carefully decorated by hand: tourbillon and idler pinion, and also four golden sockets, fixed at the plate by thermally connected screws. The finishing of the upper part of tourbillon's cage is undoubtedly the most sophisticated and laborious part of the work: it is called black polishing and the processing of this tiny, but complicatedly twisted detail can take up to 5 work days. An unsurpassed diamond tourbillon's fixing represents the top of A. Lange & Söhne engineers' watch craftsmanship. This is a tribute to pocket watches "Lange", referring to the highest category of "À1". Today the most complicated model from this category is available in pink gold or platinum case of 41,9-mm diameter. The strictly limited series of platinum watch by 100 pieces emphasizes uniqueness of this unusual time meter.
| | |
| --- | --- |
| | |
The characteristics of "A. Lange 1 Tourbillon Perpetual Calendar" movement: in-house caliber Lange L 082.1 with automatic winding, made in accordance with the highest standards of Lange quality, fully assembled and adorned by hand, accuracy adjustment at five positions, plates and bridges from German silver (white cooper), central part of unilateral rotor from 21-carat gold, platinum load, idler pinion and upper part tourbillon, engraved by hand.
A few people can afford "A. Lange 1 Tourbillon Perpetual Calendar" watch, and not because of high price, but in connection with limited number of these matchless extremely complicated watches.