Exclusive interview of Armand Nicolet for Montre24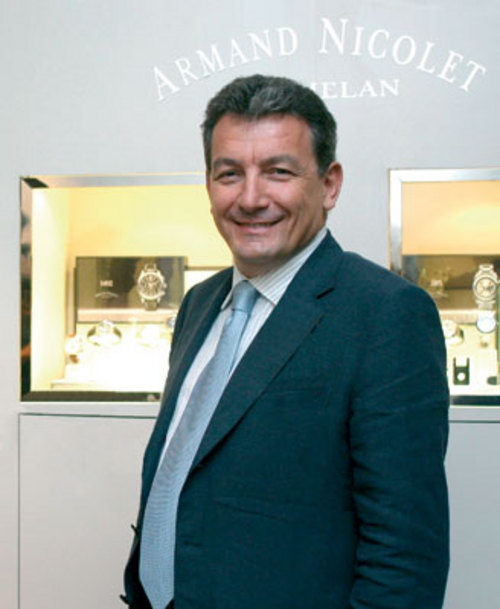 Armand Nicolet Watch Company was founded in the town Tramelane by the talented watchmaker Armand Nicolet. Back in the early childhood there was a singular passion for horology in little Armand. At the age of 20 years, he has managed to establish his own watch workshop, which started producing fine timepieces. The wrist watches Armand Nicolet have not lost their relevance: the classics never go out of fashion.
Today, the watch company CEO Armand Nicolet is Rolando Braga. This Italian entrepreneur for 35 years has been active in the watch industry and known for his significant achievements in the field of engineering and design wrist watches. According to Rolando Braga, they create watches as Arman did: attention to details, personal usage of mechanical movements, the variety of elegant forms, strength.
The CEO of the watch company Armand Nicolet - Rolando Braga - kindly agreed to answer the questions of Montre24.

Montre24: Watch brand Armand Nicolet is known for its beautiful classic watches. Today there are many different watch companies on the market suggesting different classic wristwatches. What do you think the distinguishing feature of watches Armand Nicolet is?
Rolando Braga: As you correctly said ours are classic watches and we are not planning on changing. What really makes the difference when it comes to Armand Nicolet watches is the attention to details, the finishing of the movements, the construction methods of the dials (see, for example, the lady dials that are a beautiful mix of techniques guilloché with inserts of MOP) and of the cases. The result is that, looking at our watches, people feel the harmony of all the elements together that brings the difference from the crowd. Getting this emotional result is a very difficult part of our designer's job, this is also the reason why our design center is located in Italy while the factory is in Switzerland.

Montre24:: Do you have limited editions in your watch collections? And if you have, whom are they dedicated to?
Rolando Braga: This is the most important and unique point of Armand Nicolet in comparison with other famous and prestigious Swiss watch brands. Our Limited Edition series are not dedicated to a special event or to a specific situation; we are the only company that makes Limited Edition series featuring original old movements that we have in our warehouse. Therefore, these series are limited because of the limited availability of the original old movements. After we have used all of these movements, it will be impossible to replicate them.

Montre24: The models of your collection S05 have rubber straps. Do you think it is a deviation from the classic style?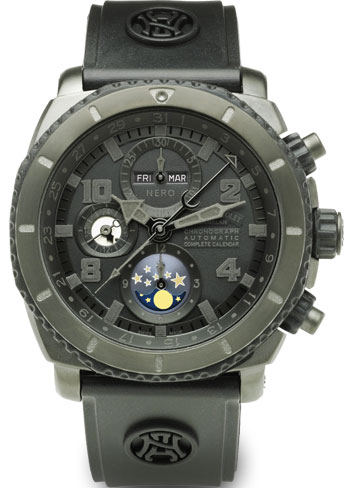 Rolando Braga: Not exactly, the S05 line has been developed, taking inspiration from some of our own old models, found in the warehouse and produced during the Second World War for the Army. We have studied and applied the style and some technical solutions of those old military and sporty models to the new S05 line with the purpose to offer a strong, ergonomically fitting and comfortable to wear Sporty Classic model.

Montre24: The company "Armand Nicolet" uses 3D technology in its watch production. Could you tell us about it and were you the first who used that technology?
Rolando Braga: I don't think we were the first to use the technology that was developed for other industries such as aircraft and car manufacture, nor do I think we are the only one in the watch industry to use it. The problem is always the same: you have to use the most advanced technology in support of your work but the main issue is how capable and good you are at using these technologies at their best. We use the 3D technology along with other top instruments and human skills to make our products.

Montre24: Nowadays there is a tendency to enlarge the watch cases. What do you think about it?
Rolando Braga: We choose the dimensions of our watches always in terms of functionality not because of fashion trends. We will not change our attitude. A bigger size is normally needed, if many functions are displayed on a dial in order to read them more easily. We always keep in mind also the ergonomic wearability of a watch and a huge one isn't really comfortable on the wrist. The proof of our amazing result occurred when I was wearing the prototype of the New S05 line in the thicker and heavier Chronograph with Complete Calendar version. I was looking around the room to find the watch while, in fact, it was on my wrist and I was simply not even feeling it. Our designers have done a great job on this series.

Montre24: On BaselWorld 2011 there was a tendency to simplify watch movements. What do you think about difficult complications of watches, for example, tourbillion or perpetual calendar?
Rolando Braga: We have always produced only watches that are friendly to wear and easy to use. It is the reason why we have not made a tourbillion yet or other very expensive complications: Armand Nicolet watches that are developed to be worn every day cannot be too delicate or too expensive.

Montre24: Do you use in your watches exceptional own mechanic movements? Are you going to use quartz movements?
Rolando Braga: We will never use quartz movements as the market doesn't need another brand selling such products. We offer our uniqueness especially in the Limited Edition series that feature our own mechanical movements.

Montre24: Are you going to create any model in vintage or military style in the nearest future?
Rolando Braga: All our models have been developed keeping in mind our history that includes the production of military watches and, obviously, the vintage style. In the future we will continue to be inspired by them.

Montre24: Are you going to use bronze in your watches in future?
Rolando Braga: No, we don't see any technical reason to use bronze for our watches.

Montre24: Which market do you think is more attractive and perspective?
Rolando Braga: China now and India in the next 10 years.

Montre24: How many watches do you sell annually? Do the sales of your watches increase or they remain stable?
Rolando Braga: We don't disclose data about our production but I can say that in 2010 our production has increased by 10.5% and that the production of all together our Limited Edition series is less than 1'000 pcs per year.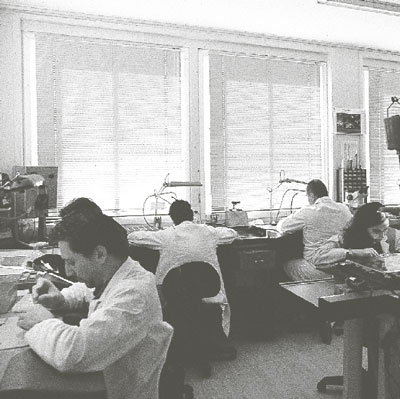 Montre24: Which countries is the great volume of sales of your watches fixed in?
Rolando Braga: We don't disclose data but we can say that no market in the world is more than 7% of our total sales.

Montre24: Does the company Armand Nicolet have any own know – how? And if you have, would you tell about in detail?
Rolando Braga: Yes, we have developed a special team with its relevant know-how and machines necessary to work on, recover and tune the old movements we use for our Limited Editions. You can find the information that we can disclose on the file here attached that explains what we do.

Montre24: Will you present new models in near future?
Rolando Braga: This year we have introduced 4 new lines: SL5, LL9 & L10 that feature Limited Edition movements and the lady version of the S05 that is called SL5. These lines will be in production starting from the end of 2011. Each year we will introduce new lines that will substitute the discontinued ones.

Montre24: And what will you wish our readers?
Rolando Braga: First of all, the best for their health and wealth for themselves and for their relatives and friends. Second, if they are looking for a nice watch, I suggest them to check and compare the Armand Nicolet watches with the other models of the best brands existing on the market. Please, check the line, wearability and outlook of the model, the quality and finishing of all the details, the price of the product and then make your decision and select your purchase.