Exclusive interview of B.R.M for Montre24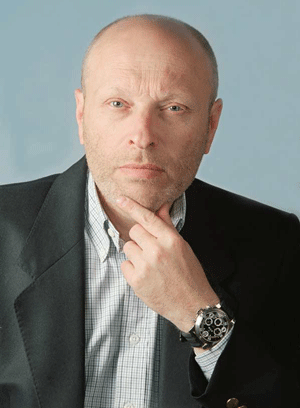 The watch company B.R.M, founded in 2002, today is one of the most specific watch companies. The watches B.R.M "smells" machine oil and customers appreciate this truly masculine spirit. A lot of race lovers can have a miniature sport car on their wrists. Assembled by hand, each timepiece is unique. Each watch component - buckles, straps, movement, crowns, and brackets – is designed, manufactured, processed in the workshops of BRM and verified by experts. Today, Bernard Richard is the main driving force of the company B.R.M. "We are a small company, and this is our advantage. We can react very quickly "- Richard says proudly.
The founder of the watch company B.R.M - Bernard Richard - kindly agreed to answer the questions of Montre24.


Montre24:
Today, the company B.R.M is one of the few French watch companies, which is known for its unique and high-quality chronometers worldwide. How did the company B.R.M appear?


Bernard Richards:

The company BRM was born in 2002. We were machining and sub contracting for the large groups of Swiss watch makers and decided to use our knowledge to create our own company.


Montre24:
What was the main reason that B.R.M watches purchased certain specifics, to be exact - a race specific?

Bernard Richards:
I am passionate about motorsports and when I created BRM, no watch on the actual market really corresponded with what enthusiasts expected from a watch. A touch here and there... We manufacture race cars to put them on our clients' wrists.


Montre24:
The first model of a wristwatch issued by the newly formed company B.R.M, was a model GP44. After the release of the first model the company B.R.M received an order for 50 copies of this successful model. What was the success of this first unique model?

Bernard Richards:
The first BRM, the GP44 was unlike any other watch on the market (titanium case, stainless steel lugs and pushers, race numbers 4-8-12, hands pierced like the branches of a steering wheel, a grooved strap like that of an F1 tyre...) we were in the race that is why we had so much success.


Montre24:
There are limited editions in the range of B.R.M collections. What do you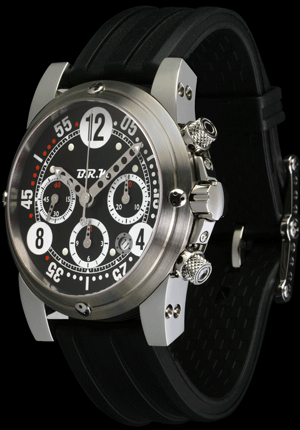 think about the market of limited editions? How could a watch turn from an ordinary measurer of time in a very valuable accessory?

Bernard Richards:
At BRM we make very few limited editions, customers can however make use of our customizing online and edit their own personalized, unique watch. A watch is much like a car or any other everyday object, its value is not limited to just the choice of materials but also how it is made and all the difficulties this implies. We do not work in stamping the material like everyone else but rather by removal of material. This method is a long process especially when using materials such as tantalum, titanium or stainless steel 316L.


Montre24:
The company B.R.M produces 150 - 200 watches per month. It is known that B.R.M watches have certain characteristics and specifics. Does the company B.R.M manage to sell its products on the market fully?

Bernard Richards:
We produce 2000 watches a year, selling an average of 150-160 watches a month. At the moment we have 150 sales outlets worldwide which corresponds to 1 to 1/2 watches per stockist. We work in customizing and quality rather than quantity, two different things.


Montre24:
Today there are serious economic problems in the world that led to the global financial crisis. Did the financial crisis affect on the activities of watch company B.R.M?

Bernard Richards:
The financial crises of the last 3 years has obviously affected the luxury industry as a whole, we have been hit just like everybody else, those customers that bought watches for €50,000 now buy watches at €25,000. However our clients are the cream of society, enthusiastic about our products and I am sure that within a very lapse of time, we will once more be selling our top of the range products.


Montre24:
Which watch was the most expensive at the price sold by B.R.M?

Bernard Richards:
The Tourbillon model which is sold €102,000.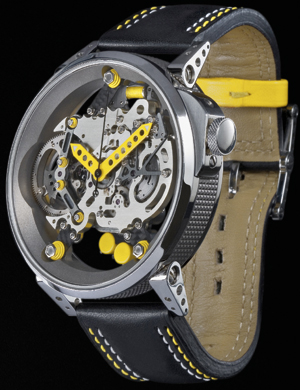 Montre24:
How did the company B.R.M manage to become one of the few watch companies which is completely independent in the production process?

Bernard Richards:
A very pertinent question, since I created the Bernard Richards company in 1986, I have invested non-stop in the very latest generation of machinery available on the market, thus enabling us to keep up to date with all the latest digital technology. To date we possess 14 digital machines and thirty or so other conventional machines spread over two production sites. From the screws to the cases, the majority of our components are machine tooled by us.


Montre24:
Is the company B.R.M going to depart from sport theme and began to produce watches for mass market?

Bernard Richards:
No we will remained in mechanical sports, I have a few ideas for aviation, however for the moment motor sports suit us fine. Most men love cars.


Montre24:
Wristwatches B.R.M embody the spirit of racing cars, to be exact – it is a race car in miniature. If the company get an order for manufacturing watches, which embody the spirit of more tradition car, will the company produce such model?

Bernard Richards:
With our customizing service, clients who do not like bright colors can choose more classical shades such as black or grey. You know not all sports cars are red!


Montre24:
Many watch companies are the sponsors and official timekeepers of the various sporting events. Is the company B.R.M a sponsor of any significant sporting events?

Bernard Richards:
We are sponsors of WSR (World Series Renault) which drains an average of 100,000 spectators per event. In the United States ten events relating to the automobile such as the Concorso Italiano, Texas Mile etc... We are also present at the 24 hours of Le Mans on the official Peugeot Sport with whom we had two world championship titles. As well as Oak Racing with a world championship title, Cyrille Lemoine with four jet-ski titles and the Triplettes of Bonneville with 11 track speed records.


Montre24:
Is there any model in collection of B.R.M watches,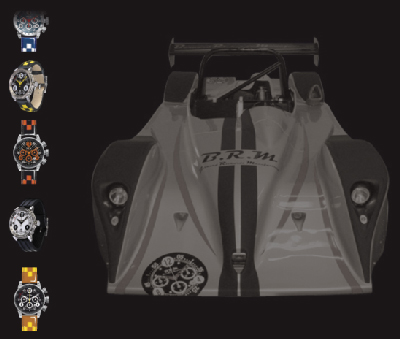 created in collaboration with some designer or famous race driver?

Bernard Richards:
No because we do not need a designer. Pilots generally love our watches, customize and wear them. We will not make a watch for a pilot. I do not like this king of marketing approach because we do not do marketing. We manufacture watches, this is not the same trade. Today more than 500 racing drivers wear a BRM.


Montre24:
At BaselWorld 2011 the company B.R.M presented the lightest automatic watch. Could you tell us little more about this model? How has the company B.R.M achieved such result?

Bernard Richards:
We started on a project for fun, to create an extra light watch for the Triplettes of Bonneville who beat world speed records on a motorcycle. So we worked on the design of a watch, like a race car, starting from a piece and making it as light as possible. In 2012 in Basel, we will present the lightest automatic chronograph in the world which will normally be under 50 grams.


Montre24:
Are any world premiers, new interesting design and technical realization of the company B.R.M expected in the near future?

Bernard Richards:
We have just launched the RECORD TB, a watch with a direct reading of the time with an automatic movement, a first in the world. In Basel we will introduce five new models including two Gulf models who have chosen us to represent their brand as partners.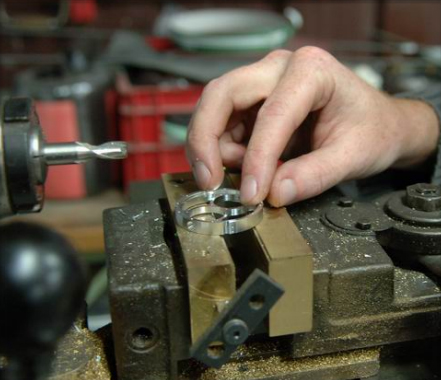 Montre24:
Does the company B.R.M have its own innovations? And if you have, could you tell us about it in more detail?

Bernard Richards:
We have our own innovation: watches mounted on Isolast, a system that permits drivers not to worry about the vibrations generated by the motor sports on their timepiece. The system puts the movement in suspension in the case by means of carbon fiber springs and triangles as in an F1.


Montre24:
Does the company B.R.M have certain regions or countries where the prevailing order quantity comes from?

Bernard Richards:
There are roughly the same amounts and orders from around the world. We do not favor one area over another, this would be a mistake in case of a crisis.


Montre24:
What market is more attractive and promising for the company B.R.M?

Bernard Richards:
I think that the United States is a big market for us. There is great potential because of the many automobile enthusiasts. Brazil as well as Russia, where very important personalities already wear our watches.


Montre24:
Does the company B.R.M consider the Russian market as a target segment and what do you think about it at all?

Bernard Richards:
The Russian market is very important to us. They love beautiful things, customization, big watches, cars....Everything united to enable us to work well in this country.


Montre24:
The company B.R.M receives a lot of orders from various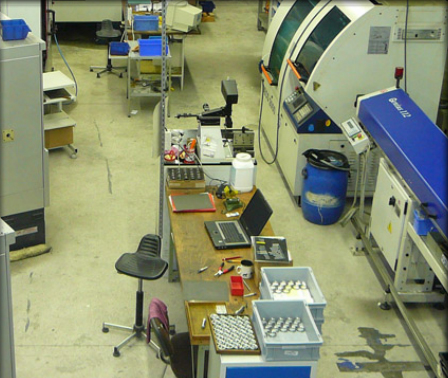 countries, particularly from European countries. Were there any orders for BRM watches from Russia?

Bernard Richards:
We have a lot of requests in Russia, knowing that the Russians travel and come to shop in Europe, Asia, the United States. It's obvious that selling watches on site in Russia is good for us.


Montre24:
In the factory B.R.M, which is located near Paris, employs about 22 people. How does such a small team of staff headed by Bernard Richards manage to maintain the global popularity of the brand B.R.M?

Bernard Richards:
I give the impetus and people follow. It's true that we move around a lot, work hard and are very active in motor sport events, which in the eyes of car enthusiasts is a plus because they see us constantly.


Montre24:
Did the company B.R.M manage to realize all the ideas that were in its entry into the diverse and wonderful watch world? Are there any unfulfilled among them?

Bernard Richards:
We just started so have not done many things, one thing at a time.... We are in no hurry. There are only 24 hours in a day, we will make new things month after month and will market the watches that appeal to us and to those who understand the brand.


Montre24:
What do you wish our readers?

Bernard Richards:
The world of watches is a passion, so I want your readers to stay passionate and partly satisfy their passion by owning a few watches each.