Exclusive interview of Anonimo Firenze for Montre24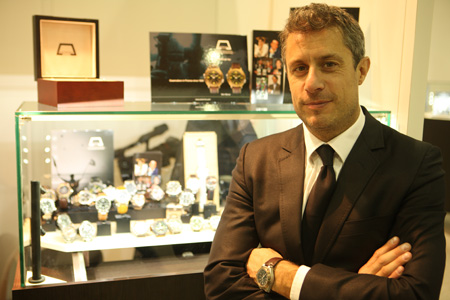 Anonimo is a young Florentine watch company, which only at 14 years was able to take a strong position on the watch market, competing with watch companies, whose history goes back centuries. The Italian company Anonimo is the true keeper and follower of Florentine fundamental values in the manufacture of high-quality watch with Italian design and soul. The pledge of the growing success of the company Anonimo is the constant striving for perfection.
Sales Director of Anonimo David Cypers kindly agreed to answer questions of Montre24.

Montre24: Many young watch companies as usual are registered in Switzerland, which is a global leader in the manufacture of time measuring instruments. Why did you decide to organize the production in?
David Cypers: Really, we did not decide to organize the production in Florence. It was just a natural flow of events that happened in Florence in 1997, when Anonimo was founded. We are indeed a relatively young watch company, as a brand, but we took on a continuation of watch making tradition that exists in Florence since much before 1997. In that perspective the brand name is young but not the knowhow of watch making, it was already very well established in Florence in 1997. I explain it in more detail: Anonimo was created out of the fusion of two watch making ateliers that exist in Florence since 1936 and 1939.
First of all there was the case making and watch making atelier of the Ambuchi family, which started in 1939. In the early 80's, Antonio Ambuchi, son of founder Enrico Ambuchi, came in charge of this atelier. Throughout the years this atelier has been producing watches in Florence for many watch brands, often for well known Swiss brands.
Secondly there is the Officine Panerai know how and its watch makers. In 1936 this company started producing water resistant diving watches in Florence. When this brand was bought by the Vendome group (current Richemont) in 1997, they bought the brand and the existing watch models, but of course not the people behind this watch production. These all remained in Florence, including Colonel Dino Zei, CEO of Panerai from 1972 to 1997. From 1997 Vendome continued producing Panerai models exclusively in its own ateliers in Switzerland, not in Italy.
Then in 1997 in Florence a new company saw the daylight when the watchmakers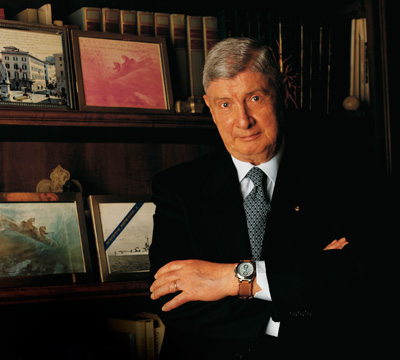 and knowhow of both these ateliers were brought together into the formation of a totally new company, Anonimo Firenze. This shows that Anonimo Firenze really continues a watch making tradition in Florence since the 30's.
Today in Anonimo Firenze all the watchmakers have been making watches for whole their life, and even their fathers. Our youngest watch maker is 55 years old.
This also shows the brand itself may be young, but not the knowhow and watch making culture that it is continuing.

Montre24: We know that you have cooperated with the famous Italian watchmaker Dino Zei and created the watch line in his honor. Is he working with you now and taking part in new developments? If yes, are you planning to release new models with his participation in the near future?
David Cypers: Colonel Dino Zei, who was managing Officine Panerai for 25 years, from 1972-1997, was obliged to sell (for economic reasons) the watch division of Officine Panerai in 1997 to the Vendôme group. He signed a contract whereby he could not make watches for five years, thus until 2002. That is why we started overtly using the name Dino Zei only in 2003, when the contract was finished. Up until today, Dino Zei (born in 1931) still designs one of the four watch lines of the Anonimo collection; obviously this line carries his name. Dino Zei gives design input (dial, strap, case), input on material use, on material treatment (Kodiak, Wolframio,) and input on needed functionalities (for example countdown function days & hours on San Marco) and so on all watches in his line. He continuously collaborates with us, also for the novelty watches in the Dino Zei line for 2012. Furthermore he will become Honorary President of our company in 2012, to celebrate his 40 year lasting career in watch industry (1972-2012) and to celebrate 15 years of existence of brand name Anonimo (1997-2012).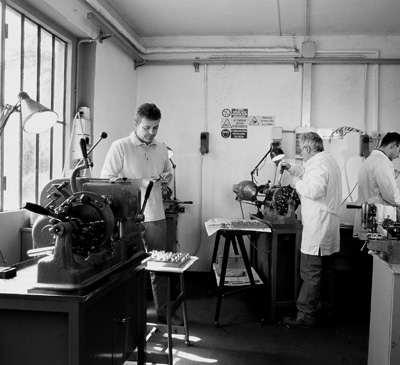 Montre24: What mechanisms are in use at your watches? Are you going to create your own caliber?
David Cypers: We use Swiss modified mechanical movements. Some are exclusively created for our specifications and therefore made solely for us. We mainly use Sellita, Dubois-Depraz, Soprod, Eta, Valjoux. We will not create our own caliber in the near future.

Montre24: Do you have a design department? If not, who designs your watches?
David Cypers: We have our own in house design department which is led by Mr Antonio Ambuchi, son of the founder of the Ambuchi case and watch making company, which started in Florence in 1939, and was incorporated by Anonimo when it was founded in 1997. This shows our activity of continuing a watch making tradition that is present in this town many years and several generations, underlining the pool of know how we have access to.
Also Italy is known for Design around the world and more particularly Florence is known for having put forward some of the most well known artworks in the world. Of course art is the ultimate expression of talent for design, for creating equilibrium in the aesthetic. The design of our watches is an expression of this culture and this passion presents in Florence, Italy, for Design and Art.

Montre24: Anonimo specializes in the production of functional timepieces with brutal design. Brand products are designed for the male audience. Are you going to release female models?
David Cypers: Good news! In 2012 at the BaselWorld exhibition we will present first ladies line, which, of course, is included with our know how of making rather large (for functional reasons, like readability during dive) and sport watches, but with a feminine touch and feminine dial colors and straps. More will follow...

Montre24: On the cases of the Anonimo watches are engraved with the inscription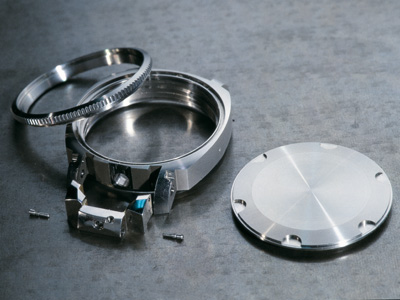 1939, but the company, as we know, was founded in 1997. What caused this discrepancy?
David Cypers: As I say above, there was the case making and watch making atelier of the Ambuchi family, which started in 1939. In the early 80's, Antonio Ambuchi, son of founder Enrico Ambuchi, came in charge of this atelier. Today Antonio Ambuchi is our Head of Technical Design. Even our atelier, in which we do case treatment and pre-assembly our watches, is the former Ambuchi watch making atelier which they moved to in 1959. So in those same premises, watches are being conceived since more than 50 years. To commemorate this over the years we are using the watch making know how developed by the Ambuchi family in Florence and we engrave "Case makers in Firenze since 1939" on the case back of our entire collection.
You can also find this engraving on the inside of our new NBR (rubber strap), which is in use since 2010.

Montre24: We know that the cases of watch Anonimo are made of steel AISI 316L, marine bronze UNI 5275 and gold. What place is occupied by bronze watches as a percentage of total sales? Are you going to release watches with cases of other materials?
David Cypers: The Ambuchi atelier, which is the Anonimo atelier since 1997, is experimenting with cases of bronze alloy since the early 90's. This particular alloy, called Marine Bronze (consisting of 4 different metals) is used in propellers of ships of the Italian navy and even in Torpedo holders. It is very important because it gives us the confidence to use this material in sea environment, for which our watches are conceived, namely for diving purposes. Of course this thanks to our background of making diving watches for the Italian Navy frogmen. We are making bronze watch cases since 2006. Bronze represents about 25% of our total sales. But I want to say that from year to year we have seen a steady growth in sales of bronze watches in our range. I think this contributes fashion to the vintage, and bronze - is the best material, which after oxidation gives the watch a vintage look.
Gerald Genta was the first, who used bronze in watch cases. The problem with the alloy he used was that it oxidized with spots on the case. Our bronze receives an in-house treatment which makes the oxidation process happen in an equal manner, such that no spots arise but the case gets equally darker over time. It even gets a warmer and darker color, thanks to this oxidation process. Recently our bronze watches have inspired some other Swiss watch brands, like Panerai in 2011, which presents its bronze watches. This is so typical for Italian companies and brands: they dare to be different in design and material use, and are consequently copied by larger, mass-marketing brands. This happens in all fields (fashion, auto, furniture) not only in the watch & jewellery sector. We also use Carbon (Carbon Diver) and Titanium (TP52). Next year we will present some new material combinations at BaselWorld.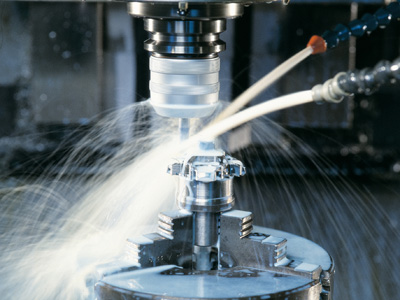 Montre24: In the processing of the cases you use the technologies Ox-Pro and Drass Gold. Have you developed a more advanced processing technology of the cases?
David Cypers: Ox-Pro is our first blackening treatment for cases. It is an anti-oxidation and anti-reflection (for camouflage reasons) surface treatment. We then further enhanced this surface treatment and Ox-Pro evolved into a 14 - step in-house darkening process for case surface, called DRASS. DRASS means Double Refined Anonimo Steel Surface. It consists of chemical bath, polishing, sandblasting and all these processes in several repetitions, in different orders and in varying length of treatment. The result is a marvelous dark grey case. And because the treatment goes deep into the material, it makes the case almost scratch resistant. A possible scratch on the surface will not be seen as a steel colored scratch, because this is not just a surface appliqué. Our system of case treatment is more durable than a well-known in the watch market PVD coating.

Montre24: In the wake of surge current fashion under the name "military" many companies have released watches in the "military format". What do you think how long the style "military" will last in the watch industry? Are you going to release a classic style watch?
David Cypers: I think this is indeed a very important trend in watch making which will still last for a long time. But for Anonimo Firenze, we do not make this kind of watch for reason of "fashion". This is simply the type of watch we have always been making in Florence. As was explained above, Anonimo Firenze is merely carrying forward a watch making tradition existing in Florence since more than 70 years now. More specifically this incorporates a watch making tradition for making large and easy readable (both for functional reasons) diving watches for Italian Navy Frogmen, managed, don't forget, for about 25 years by a Colonel of the Italian Navy, namely Dino Zei.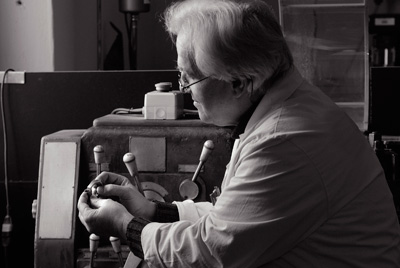 Our tradition, our background, our culture has always been making watches for the Military.
Even today with San Marco, initially developed for the battalion and carried its name, and with the new 2012 model Task Force 45, which we are developing for this battalion of the Italian Navy. At Anonimo Firenze we don't use fashion to dictate our designs, rather our design are inspired by needed functionalities for the Military and Professional divers we make watches for.
Since this an Italian company, aesthetics always play an important role in the design process.
Even if something is designed for functional reasons, it should anyway look good; this is the true Italian spirit and culture. Therefore we are not a trend follower, but a trend setter.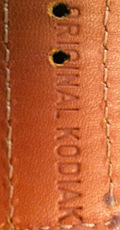 Montre24: As we know, straps for Anonimo Firenze military watches are treated with a solution. Are you going to use the straps Kodiak in other lines?
David Cypers: All leather straps of Anonimo Firenze receive a special in-house developed and patented treatment that makes them washable, the so - called Kodiak (patent). Since we make diving watches, we think a lot about which materials to use, as they should be suitable in a sea environment. All our watches are water resistant (from minimum 120 meters depth) thus we developed a leather treatment which make all our leather straps wearable for a guaranteed 24 hours immersion in the sea. This in - house procedure of making the washable straps is confidential. Water actually rinses through the strap, and after usage in a sea environment, the wearer should rinse its strap to remove the salt, as this could cause damage to the leather. This is the same as what divers do with their wetsuit after diving, and sailors with the sail after sailing. Salt not water can damage the strap,. This is also why we advice all wearers of our straps, not only divers, to rinse their strap on a regular basis if they want to keep it well, as there is permanent skin sweating salt at the inside of the strap. This should be removed to avoid corrosive working of the salt on the leather.

Montre24: We know that Anonimo pays great attention to production watches with metal bracelets. What place is the percentage of watch sales with metal bracelets?
David Cypers: At Anonimo Firenze we have always preferred to work with leather straps, as they are more suitable for diving purposes. Secondly rubber straps are also used for obvious reasons. However for some models we have also developed solid steel bracelets. To meet ends with particular demand from particular customers in some markets. The sales of watches with steel bracelets represent no more than 5% of our total sales. Recently (2010) we have develop a new strap attachment system, which makes it much easier for the end-wearer to change the strap (from leather to steel or vice versa) on his watch by himself. With this quick change of straps Anonimo Firenze watch allow the client to instantly change the strap itself, which makes it possible to select a specific strap at any time. The process of changing the strap takes less than 1 minute.

Montre24: You have released the diver's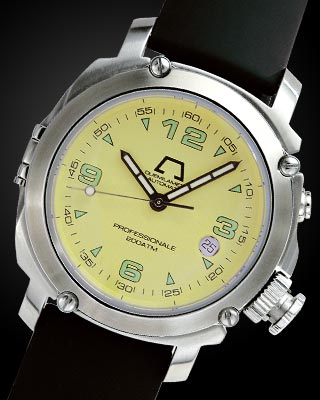 watch Professional. As far as we know you are working with the Navy of Italy. When did this cooperation begin? Are you going to release new models for them?
David Cypers: The Professionale model was developed in close collaboration with professional deep sea divers from C.N.S, Cooperativo Nazionale di Sommozzatori. This is an Italian company that is active across seas worldwide on ship retrieval sites and oil platforms. The divers work up to depths of 400 meters. These professional divers gave us a lot of functional design input while we developed this model. All tools for professional divers, in order to receive international allowance for usage in diving environment, should be water resistant to at least 3 times the depth to which the human descends. That is why all watches in our Professionale line are at least 1,200 meters waterproof, 3 times 400 meters!
Working for the navy, for its divers, is part of our watch making roots, as explained above. Specifically for the navy, at Anonimo Firenze we developed so far the San Marco model (Dino Zei line) and in 2012 we issue the Task Force 45, developed in close collaboration with the unit of the Italian navy and our new model carries this name.

Montre24: Is there in your collections limited edition watch series? If so, what they focus on?
David Cypers: Since we produce maximum 3000 watches per year (see below), and we anyway have a collection of about 25 different watch models, you can understand that even most of our watches are limited edition series. Some are limited to 50 numbered pieces (Professionale CNS, Aeronauta) or 100 (Notturnale, Mark II Drass/gold) or 250 (San Marco, Mark II Nero) or 300 (Marlin Bronze, Professionale Crono). Other models are limited to 1000 numbered pieces, but these are produced over a number of years until we reach the total figure (Firenze Dual Time, Militare Vintage, Millemetri).

Montre24: How many watches do you release each year and is their number of sales
increased over the last few years?
David Cypers: We produce maximum 3000 watches per year. The best year for Anonimo Firenze as far as numbers are concerned was 2007. In 2008 the company has been confronted, just like so many other companies in this trade, with the worldwide economical crisis, and consequently sales dropped drastically. After that we have seen a steady growth in sales over the last 3 years.

Montre24: Which market is the most attractive and promising today?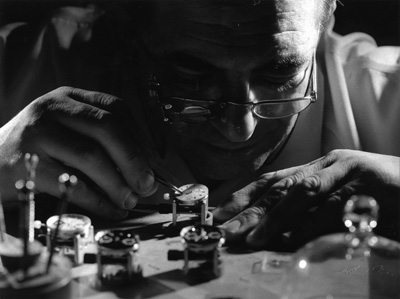 David Cypers: Swiss watch brands combined export today to China counts for 50% of their year production. At Anonimo Firenze we do not have a distribution there yet, but we anticipate starting it very soon. We have even started developing a more classic watch line for this market, a line designed by Anonimo Firenze but completely Swiss made (hence not in our own ateliers in Florence).

Montre24: Do you have a wide distribution network? In which countries is the highest sales volume recorded?
David Cypers: Anonimo Firenze is distributed in North America, South America (few dealers), most countries of Western Europe, Russia, Dubai, SE Asia and Japan.1/3 of our turnover is realized in the Americas, 1/3 in Europe and 1/3 in Asia. As a country, US have the highest sales volume.

Montre24: Periodically, major watch companies "absorb" small brands. Have you received a proposal to merge with a larger brand? If there was a good suggestion, in what way you will treat this?
David Cypers: We have no intention of selling our brand or any of our know how. Our strategy is to grow this brand into the most well known Italian watch brand across the globe and remain 100% privately owned and independent, as it is today. This strategy has already been clearly communicated when we received merger propositions in the past.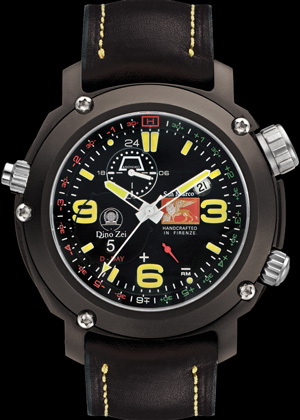 Montre24: The watch San Marco is named in honor of the Italian naval forces Reggimento San Marco. How was the idea of creating these models suggested?
David Cypers: Created by Anonimo Firenze in close collaboration with Engineer Colonel Dino Zei and with Mr. Franco Zavattaro, Commander of the Combat Frogmen Force of the Italian Navy between 1968 and 1971 and Commander of the San Marco Battalion between 1972 and 1975, this watch has been conceived principally for use in military operations. It owes its name to the Battalion that defended Venice during the Great War.

Montre24: Anonimo specializes in the production of mechanical watches in the middle price range. Do you intend to eventually create a mass product?
David Cypers: This is not in the planning. Anonimo Firenze makes high end watches, at the beginning price point of high end. Having said, we are planning a more commercial Swiss made line for the Chinese market, as I explained above.

Montre24: At BaselWorld 2011, you have presented a military watch, "stylized antique." How successful was this project? Are you going to fill this line with new models?
David Cypers: The Militare Vintage is a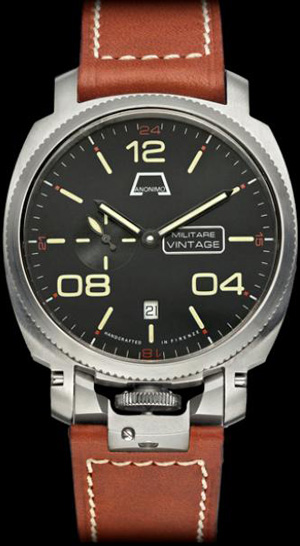 tribute to the fascinating first military wristwatches. Based on the successful Anonimo Firenze model Militare, born in 2001, the Militare Vintage is the perfect combination of modern technology and essential forms and functions from the early days of military watch making. Specifically for this watch we started using a newly developed Sellita automatic movement with small seconds at 9 o'clock. Hence we were able to makes its price point lower than the original Militare Automatico, in which we used an "expensive" modified Valjoux movement. Another change is that the indexes and figures on this dial have been engraved and not printed on the dial as we usually do. It shows a great success. This Militare line also features a chrono model and dual time model; no other models are planned in this line near future.

Montre24: Which new lines are you going to present for the fans of watch making in the near future?
David Cypers: We will make some new versions of the San Marco model. We are also making for the first time a 48mm watch, namely the one for the Task Force 45 as discussed above. Also we are looking at using some more complex movements to be used in our sports diving watches.

Montre24: In the XXI century an important place on the creation of information
resources in a computer network highlights. What do you think about the
watch forums and watch sales by the Internet?
David Cypers: This is the direction we have to follow, this is the future. Presence on internet, through social media, website, and sales is increasing in its importance daily. We already post on very regular basis on our official Facebook and Twitter accounts. We have an important Watchuseek forum. There are a lot of different web - sites, which actively publish various information about our brand, for example watch portal Pam65.ru and Montre24.com. We also send email newsletters to our dbase. Also our website has undergone a complete remake. It will be online very shortly. A next step will be to create a sales platform on our website.

Montre24: What do you wish to readers of Montre24?
David Cypers: To be able to recognize the world of difference between industrialized watch manufacturers, producing huge quantities of watches, which are supported by massive marketing campaigns and driven by profit on the one hand, and the small independent and privately owned watch houses producing limited numbers of watches in an artisanal way and driven by passion, on the other. Our watches only accentuate your individuality!