Exclusive interview of IceLink for Montre24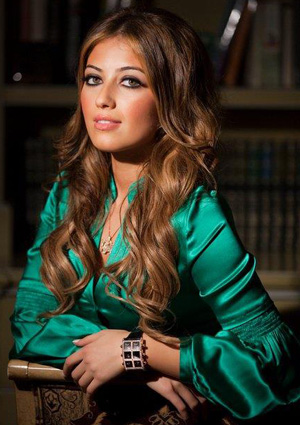 IceLink is one of those watch companies, who exactly knows whom its production is intend for. IceLink watches are the favorites among representatives of American hip-hop industry and all those who can relate to the company motto: «Luxury, without modesty».
IceLink Company is founded in the middle of 70-s in Los Angeles. Its founder – Andy Sogoyan, began his business as a jeweler. However, once visited La Chaux-de- Fonds's watch manufactories he realized that wrist watches and jewelry is an excellent duet, which is able to express passion to magnificent precious products, making out them by the last word of technical achievements of modern watchmaking in the same time.
Nowadays, this company keeps strongly its position of high quality jewelry watches in the world market. There are show-business stars and many celebrities among the admirers of IceLink and just successful people, who are able to afford them these watches.
Except the use of brilliants and production of jewelry wristwatches the company is also successfully engaged in creation of unique mechanisms. So, the watch Zermatt presented in 2011 year was equipped by the unique mechanism ILMM1. This one is patented working out of company and a unique achievement.
Today IceLink Company's president and CEO is Andy Sogoyan. He develops design of watches and indefatigable works to surprise IceLink's admirers with non-standard design and unique development of watches mechanisms, which is the success of the company.
Well, and our questions kindly answered IceLink Watch Company's Director of Brand development and Logistics – Suzy Sogoyan…

Montre24: The Logo of your company is the lion, as a symbol of your goods you name a chain, and the company's name is connected with «ice». Whence appeared such a strange mixture of symbols?
Suzy Sogoyan: Well, the IceLink's logo is a lioness, not lion. CEO/President Andy Sogoyan always loved the symbolic meaning of this animal. Not only for their beauty, but for their inherited traits are characteristics that Andy and his brand IceLink live by: pride, invincible, non-conformist, bold, beauty. The lioness shares many messages with Andy: to stand tall and hold your head high and to show authority; not in a dominating way, but leading others with a loving heart.
In regards to the name, IceLink: Ice is solid and enduring, it preserves and sustains; just like a diamond. Link is the connection between the person and the time zones on his/her IceLink watch.

Montre24: IceLink is the company that began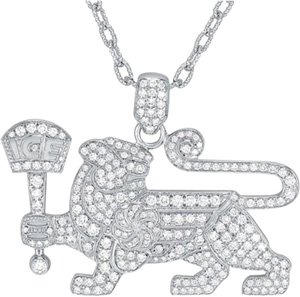 its activity with manufacture of jewels. The main stone and one of the symbols of your production, both jewels and watches, is the brilliant. Whence such passion to luxury, precious jewels and in particular to brilliants?
Suzy Sogoyan: Andy Sogoyan comes from a family of jewelers. When he first came to the United States in the late 70s, he worked for his uncle as an after-school job. Then, he became a salesman for him. Ultimately, he gained his passion for jewelry and started his own business manufacturing gold jewelry…

Montre24: Why have you decided to be engaged in manufacture of wristwatches after producing jewelry? What made you do that?
Suzy Sogoyan: After traveling the world and visiting beautiful watch factories in La Chaux-de-Fonds, Switzlerland, Andy developed a passion for watches and intertwined his love for precious stones and timepieces together. IceLink was developed in 2004, and lately became an official Swiss Brand.

Montre24: Tell us, what principles were IceLink watches developed by? What became the basic philosophy of creation of these products?
Suzy Sogoyan: IceLink is the only brand that offers timepieces that convey a fusion of Los Angeles exuberance and playfulness and Swiss watchmaking rigor. It is not only a timepiece; it is a fashion conversation piece. It's art. When you wear IceLink, you will stand out from the rest; you will celebrate success with pride; you will be recognized; you will SHINE!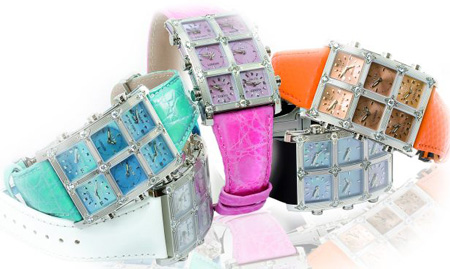 Montre24: IceLink watches essentially differ from the big variety with its design and registration which represents the modern watch market. What designers do you cooperate with?
Suzy Sogoyan: Our CEO/President Andy Sogoyan designed the signature patented 6Timezone timepiece. He has a keen eye for design. As usual, IceLink is thinking out-of-the-box. Traditionally, a timepiece is round but he decided that the 6 windows to the world would look nice in a rectangular shape.
Now, we work with many design teams around the world for upcoming concepts and designs.

Montre24: Your watches are presented by lines «Cortina», «Zermatt», «Ambassador», «Senator», «Floe», «Chill» and «Premier». Which line can you allocate as special one for you?
Suzy Sogoyan: I have a special place in my heart for Ambassador and Senator collections. They are the original, signature 6Timezone collections that have marked IceLink on the highest platform in the Swiss watch-making industry. While the interior maintains its Swiss-made precision, perfection, and quality; the design exemplifies confidence, originality, and a crazy or fun lifestyle.

Montre24: IceLink watches propagandize «luxury without superfluous modesty», your production is presumed not to everybody, but men of means. Tell us, was world financial crisis reflected in your business?
Suzy Sogoyan: Of course. Every business was affected, but since we have a global distribution, and each market was affected differently, we were able to weather the storm and get through it. In recent months, the luxury goods market has rebounded from the tough times and I foresee

Montre24: Coming back to wristwatches, it would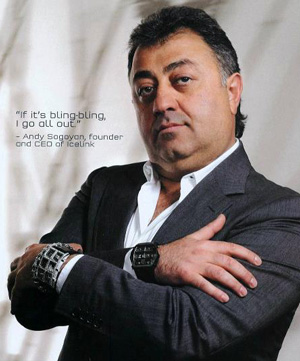 be desirable to note special characteristic of IceLink wristwatches 6Timezone design. Why six zones and why just these cities? Whether do they symbolize something for you or are they chosen simply by a principle of the largest mega cities?
Suzy Sogoyan: The number «6» is very important to IceLink and Andy Sogoyan. While it may be extremely bad luck to some, the number 6 has been great to IceLink. Our CEO, Andy Sogoyan was born on 06-06 in the 60's. His business started on 6th Street in Los Angeles and our signature watch has 6 Time zones. Now, our flagship boutique address is 666 North Kilkea Drive in Los Angeles, CA.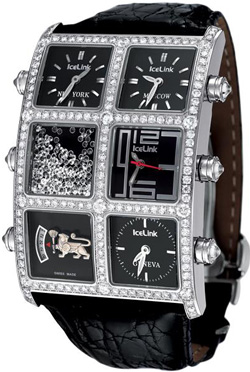 Montre24: In various sources the different information is underlined: one says that IceLink watches are carried out on the basis of one mechanism adapted for six dials, in others, it's noticed that the case of watch contains already six mechanisms, each of which – is a basis of one of «six zones». So what «heart» is beating in 6Timezone watches, at last?
Suzy Sogoyan: IceLink has over 1,000 different variations of just the 6Timezone collections. We like to play with light and dark, color and texture, size and contours. IceLink watches go easily from day to night, from edgy to elegant. The original Senator and Ambassador collections have 6 time zones, with 6 movements. Then, we have the Snow Collection for the Ambassador and Senator. For these timepieces, we have 3 quartz movements, 1 automatic movement, 1 date movement, and 1 snow tank with floating diamonds. The new collection Zermatt, launching in February has one mechanical movement that simultaneously works with the other movements. It is a one-of-a-kind movement that only belongs to IceLink.

Montre24: The bright design of your watches means also «serious» mechanisms. Tell us about them: whether the company develops own mechanisms or cooperates with any company?
Suzy Sogoyan: Our Zermatt collection, launching in February 2012 has a one-of-a-kind movement called ILMM1 which was developed by IceLink. It is a mechanical movement that powers five time zones simultaneously, and setting one automatically sets the others.

Montre24: IceLink has received the big success, as the manufacturer of jewelry and wristwatches, your jewelry and wristwatches are favorites among known people, show business stars, in particular R'n'B and hip-hop, characters of a secular party. Was your purpose to win this audience or has it just simply happened?
Suzy Sogoyan: It's true. IceLink has an impressive celebrity list and it's because we offer something unique. We take luxury to the next level. Celebrities want to stand out from the crowd and IceLink has statement pieces to do just that; from timepieces to diamond cell phones and cufflinks. We've made custom pieces for many celebrities. We made Fergie (Black Eyed Peas) a diamond tiara, and Will.i.am a diamond earpiece he wore to the Grammys.
Besides the hip-hop industry, IceLink has attracted socialites like Khloe Kardashian (Keeping up with the Kardashians) and Kyle Richards (Real Housewives of Beverly Hills).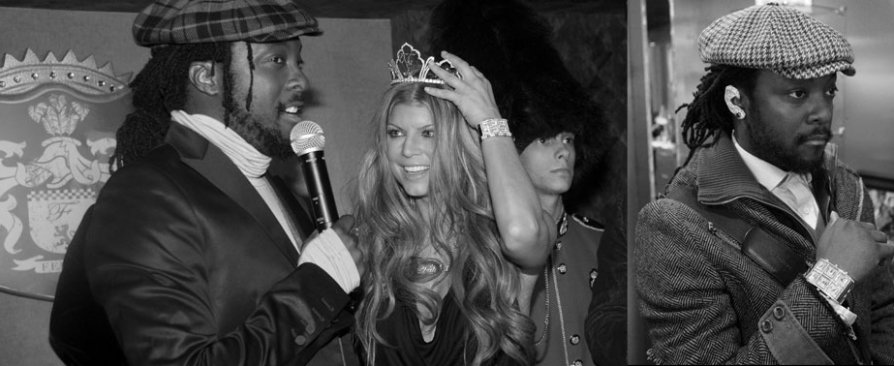 Montre24: Who can inspire you or become the face of your mark from modern celebrities?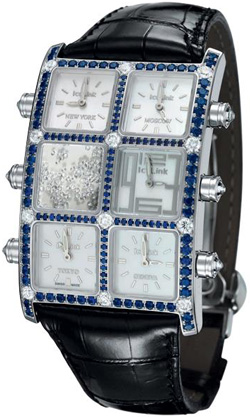 Suzy Sogoyan: IceLink timepieces are dedicated to all who like to live life without boundaries and celebrate success with pride. Anyone who represents our brand should have this attitude. IceLink watches are essential for any person seeking a superior timepiece, not only in terms of its reliability and international capabilities, but also in terms of how it positions the owner in today's world.

Montre24: One more design feature of your watches is the separate «window» in which there's no dial, but brilliants. They «swim» in special structure which is patented as IceFuel. How has the idea of this «window» appeared and who has this structure been developed by?
Suzy Sogoyan: Those are the timepieces of our famed, Snow Collection. We placed dozens of diamonds suspended in a liquid called "IceFuel©" in one of the six dials of the 6Timezone Snow. Due to the reflection of light in the prisms of timelessness, wonder takes hold with each movement of the wrist. It's like witnessing the spectacle of spring sunshine darting across an immaculate field of fresh snow.
Initially designed to allow the simultaneous reading of six different time zones in six dials, the Big Case model has reallocated two of the dials. A fifth dial displays the date while the sixth dial becomes a depository of diamonds: this snow zone is the ultimate tribute to a reinterpretation of the Swiss Alps - without being brash, just with a sense of the sublime and the pure.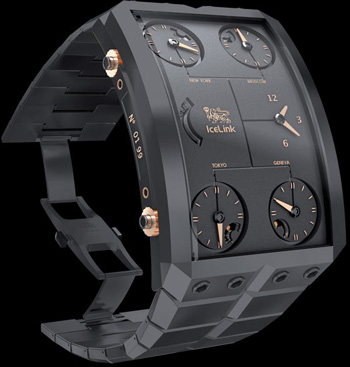 Montre24: Limited edition Zermatt - ZT1, presented at exhibition BaselWorld 2011, differs from your other production very much with its reserved design, elegance, and also use of a rubber strap. Can we regard this model as changes of your traditional «brilliant» and glamor style or as an original and unexpected experiment?
Suzy Sogoyan: For the Zermatt collection, we wanted to create a timepiece with the maximum technical prowess. A special ILMM1 mechanical movement powers all five time zones simultaneously and setting one automatically sets the others.
The rectangular case is divided into a sleek, clean grid that displays five dials and the iconic IceLink logo. Cases are made of modern brushed titanium, while accent and index options range from practical to precious. The Zermatt was previewed in Baselworld 2011. After much anticipation, the final and perfected version will launch in 2012.

Montre24: There is a large quantity of sites on the Internet that offer «original copies» of a various famous watch marks. How do you concern IceLink wristwatches are also on sale in «copied» kind? Do you struggle with fakes that are so extended today in network?
Suzy Sogoyan: Imitation is the highest form of flattery, right? Sure, it's a concern; but at the same time, it's a compliment to us. And the customers, who value what they buy, will always buy an original. In the meantime, our legal department continues to follow up with these matters.

Montre24: What country sows the greatest sales of your watches?
Suzy Sogoyan: Russia and its surrounding countries (formerly known as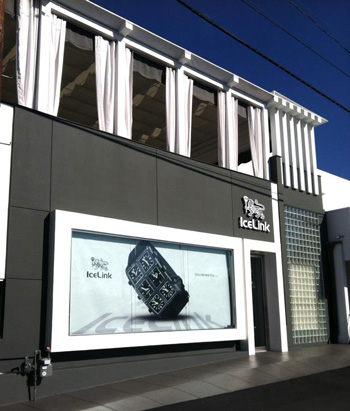 Soviet union) and the Middle East region.

Montre24: Which watch market do you consider as the most developing and perspective?
Suzy Sogoyan: Definitely China. We have just penetrated that market and it looks very promising for IceLink in the future.

Montre24: Is production of IceLink presented in Russian market and how do you estimate its condition for today?
Suzy Sogoyan: Yes, we are present in many exquisite retailers in Russia and its surrounding countries.

Montre24: Do you custom-make exclusive wristwatches?
Suzy Sogoyan: We've made custom pieces for many celebrities. We made Fergie (Black Eyed Peas) a diamond tiara and Will.i.am a diamond earpiece he wore to the Grammys. We also make one-of-a-kind pieces for our VIP customers.

Montre24: Your surname speaks about your Armenian origin. Whence is your family and how did it happened that you're in America?
Suzy Sogoyan: I was born in America in 1986 but my father, Andy Sogoyan and his parents came to the United States in the late 70s. They struggled to make ends meet. They didn't know English and had such a hard time adjusting that they almost moved back to Armenia.
My grandfather was very successful in Armenia as a carpenter who specialized in hardwood flooring. But when he came to America, hard wood flooring was not in demand because most people had carpets. Slowly but surely, he was able to build his client list and proceed with his successful business. Then, he was able to help his son, Andy open his own jewelry business in Downtown, Angeles. I'm blessed to come from a family of hard-working people…