Designer Lois Hill, founder and director of the brand Lois Hill – is a passionate traveler, a lover of history and art. In a wonderful way she combines her favorite activities, in creating wonderful items made of precious metals, silver and gold, among which we find her wrist watches Lois Hill.
An energetic, confident and creative person Lois can say combines all the qualities necessary for a successful entrepreneur. She is constantly in motion, on the road, in the various studies and continuous search, which is one of the keys to success in today's market full of competition.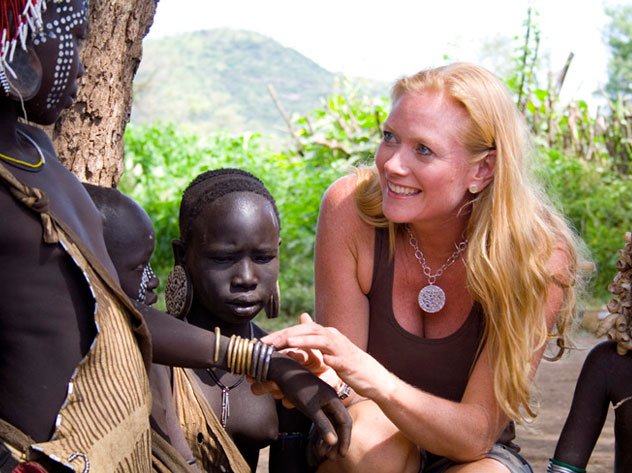 Lois Hill
Lois often mantiones that the secret of her success – is not only for the search and a constant desire for the new, but success is also enclosed in the original fidelity details that make the brand unique and different from other companies. Most of the Lois Hill company's customers - are collectors. A designer herself, among other things, has always said his thanks to those who buy the brand's product for the second and subsequent times, "This is the greatest achievement of my work ..."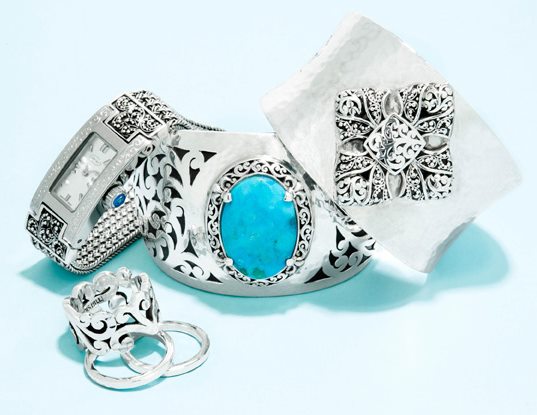 Products inspired by the cultural heritage of the whole world
Products inspired by the cultural heritage of the whole world
Before start working on her watch collection for many yeras Lois had worked on the development of her own methods of signature: it is a unique combination of granulation and filigree by hand, the art of weaving pure, so-called sterling silver. Every product of the company - is the result of many years of research and experimentation.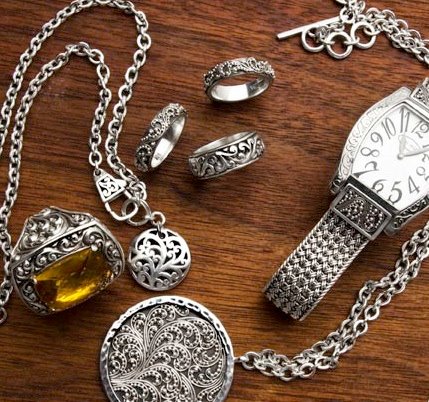 Products inspired by the cultural heritage of the whole world
Technique. Filigree
Filigree – is a special jewelry techniques, basically having an openwork or soldered on metal background pattern of the finest gold, silver wire. The word comes from the Italian "filigrana" and Latin "filum" - literally "thread + grain." Filigree pattern can be quite varied, ranging from the rope, weaving, lace, Christmas trees, paths and other. Elements of filigree are combined into a single unit by soldering.
Most often filigree is combined with grain, which is a small metal balls, pre soldered in a prepared deepen - the cells. That dices creates attractive play of light and texture that give the product a unique, elegant and festive look. All these techniques with great skill Lois uses in her watches, representing not just everyday time meter and smart accessories, but with special glamor and beauty.
Charity
Lois Hill uses her creativity not only in her work. It should also be noted also her adventurism, great sense of adventure, as well as her charity work.
Thus, in 1998, she wins the top of Kilimanjaro within the project CARE International to raise funds for charities in Kenya and Tanzania. As further designer noted herself, it was for her invaluable experience and inspiration to create a collection Masai.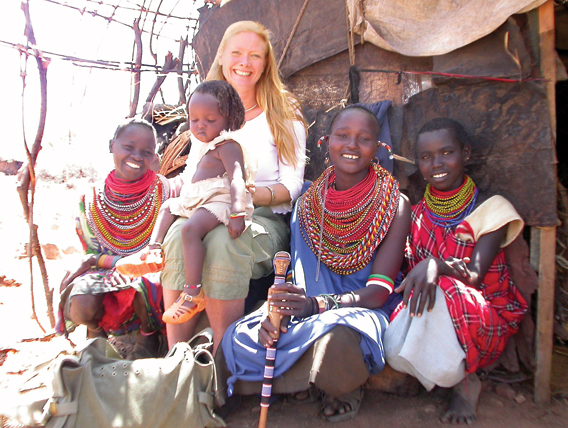 Lois Hill and charity
Engine of her endeavors, as charitable, and business, Lois often marks her exclusive love of life and performance. Today, designer designs and create of exclusive jewelry collections and, more recently, a wristwatch. Lois Hill continues to work with BreastCancer.org and CARE, as well as with many organizations. Since 2009, Lois Hill donates about 8% of her profits to organizations whose activities she supports.
Philosophy
The most important thing in life designer notes professionalism in work, constant research, as well as caring and compassionate of neighbors. These values she embodies all aspects of her lives, faithfully following them in her work.
Original wrist watches Lois Hill
As a basis for her products Lois Hill uses Swiss movements. Each line represented by the company, embodies the cultural studies and inspiration gained during extensive travels of talented designer.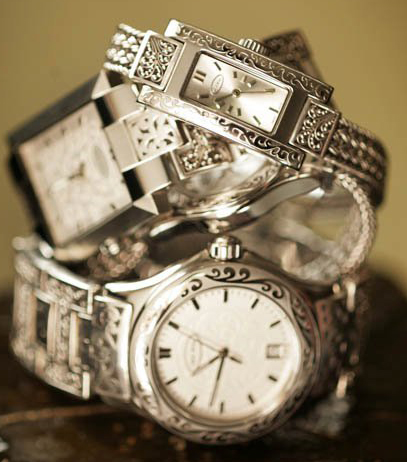 Original wrist watches Lois Hill
Wrist watches Lois Hill 2012
At the international annual watch exhibition BaselWorld 2012 the company Lois Hill presented its new products, which got quite a warm response from the experts of watch the world.
Wrist watch Lois Hill – 9388
Watch Lois Hill - 9388 can be called a kind of eclectic mix elements from different cultures and eras of different continents that have ever visited the designer of these surprisingly feminine watches created by the associations of designer-traveler.
Square case of the model Lois Hill 9388 is made of stainless steel. Dial, made in white shade, is a kind of canvas on which "bloom" flower motif, echoing the same pattern on the bracelet. In the center of the dial are placed hands, hour, minute and second, made of stainless steel. Among other things on the dial are three counters: chronograph counters - at position "2" o'clock, indicator of small second hand - at position "6" o'clock, 30-minute display at position "10" o'clock. The dial is covered by mineral glass.
Ladies watch LOis Hill 9388 are made on the base of quartz movement ETA. Water resustance is up to 30 meters. Lois Hill 9388 watch comes with bracelet, which is made of sterling silver 950.
Feature of the bracelet - is not just the material which it is made of, but an engraved floral and leaf motifs, which, as you might guess, is the main motive of the entire watch design hours.
Buckle is also made of pure silver, engraved the logo of the factory. Buy Lois Hill 9388 watch is possible from the compnay's authorized representatives.
Ladies watch Lois Hill – 6156
Another notable novelty 2012 at BaselWorld 2012 watch exhibition-fair has become an original ladies watch Lois Hill 6156, in which the design has continued the exploration of the world and cultures of different nations.
Feature of watches – round case made of stainless steel 316L, on the bezel of which is engraved a delicate floral pattern. The white dial is also decorated with a floral pattern. On it are placed the hour, minute, second hands and date aperture. Time indices in the form of bars are made of stainless steel. Glass covering the dial - the mineral, with anti-reflective coating. The case back is also transparent.
The basis of the model Lois Hill 6156 is Quartz movement ETA. Functions: hours, minutes, seconds and date indication. Water resistant of the watch is up to 50 meters. It should also be noted that the watch is complemented by a bracelet made of 925 sterling silver, which is also as case is decorated with a floral pattern. Bracelet has a clasp, as well as a bracelet is made of pure silver very highest order, and decorated with engraved logo Lois Hill. Buy Lois Hill 6156 watch is possible through the company's authorized representatives.