Exclusive interview of Cuervo y Sobrinos for Montre24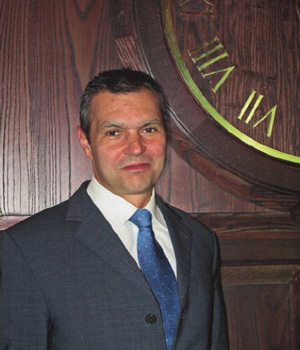 The legendary watch manufactory with Caribbean soul and Swiss heart - Cuervo y Sobrinos – has been producing luxury and original wristwatches complete with humidors for 130 years that are appreciated by many generations of passionate collectors. Armando Rio Cuervo and his brothers opened the first store of Cuervo y Sobrinos in Havana, thus continuing business of his uncle, who laid the foundations of the legendary factory. That is why the company got its sonorous name of Cuervo y Sobrinos ("Cuervo and nephews"). Today the popularity of brand is growing relentlessly, pushing the boundaries of its international expansion.
The managing director of watch company "Cuervo y Sobrinos" Massimo Rossi invests all his energy to the growth and brand positioning at the market today. He has kindly agreed to answer questions of Montre24.



Montre24:

Today the wristwatches Cuervo & Sobrinos are known as original and exclusive watches for collectors all over the world. How did the company Cuervo & Sobrinos manage to relive again after such long stagnation and stand in a row with the largest watch manufactures?


Massimo Rossi:

Cuervo y Sobrinos was a very successful brand in the '40/'50 years, but due to the Cuban revolution the brand almost disappeared from the markets during more than 40 years. In the year 2003 we officially re-proposed Cuervo y Sobrinos at the Basel fair. The re-launch of a brand is a long-term process; we are on the right track thanks to the unique positioning and heritage of Cuervo & Sobrinos - our aim is to reestablish Cuervo & Sobrinos as the only watch brand that stays for a true and genuine Latin life style.


Montre24:
How does the company Cuervo & Sobrinos present its watches on the market? Are they vintage watches?

Massimo Rossi:
Cuervo & Sobrinos are new period watches. It means that our watches keep in term of aesthetics and flavor the spirit of the original creations, and therefore they have a touch of vintage.


Montre24:
Are you going to keep your classic theme? Or do you want to create something new, for example, a military watch or a watch with difficult complications?

Massimo Rossi:
Cuervo & Sobrinos stays for elegant and classical watches, and we definitely will not introduce modern watches that follow a short term trend. Of course, we have to innovate our positioning and DNA: in this sense, a military watch could be a very good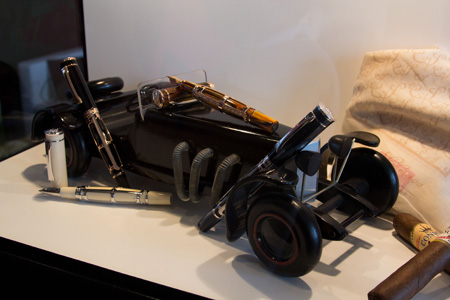 part of our collection. In term of complications, it is also clear for us that we want consistently improve the performance of our watches. Our main strategy is the development and creation of in-house caliber (like the "historiador semanal 2853") to be more credible towards the industry and consumers instead of buying complications that do not differentiate ourselves from the others.


Montre24:
Is the using of light tobacco tones in your watch displays one of the distinguishing feature of your original watches?

Massimo Rossi:
Of course: Cuervo & Sobrinos has 2 clearly distinctive colors: one is the tobacco and the other is the light cream/champagne color.


Montre24:
Are you going to continue producing watches according to old drawings and sketches or to create something new?

Massimo Rossi:
Both: we need to innovate by always keeping an eye on our past and tradition. We can't and we don't want to forget our origins!


Montre24:
Will the watches Cuervo & Sobrinos remain as products only for collectors or they acquire a mass character?

Massimo Rossi:
Mass character – never! Cuervo & Sobrinos is an exclusive brand, with a unique profile that appeals to a certain client: consumers that appreciate refinement, exclusivity, tradition and for sure a Latin style. Also because of our limited production we will therefore never become a "main street" brand - we will remain an exclusive, nice and unique niche.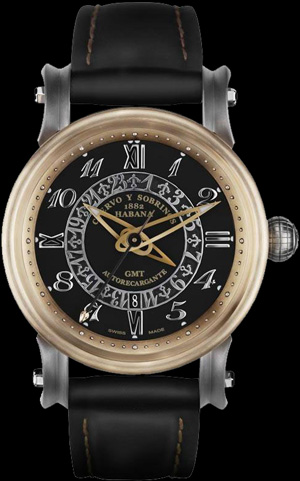 Montre24:
In 2008 you presented a model, made of bronze - Torpedo Pirats. Why did you decide to present such model?

Massimo Rossi:
Two main reason: the bronze is a very old material that has always been used for luxury/up-scale products in the very past (art, objects, etc.) - so the bronze brings with it a touch of tradition, history and original material. The second reason is that bronze was used by the pirates in the Caribbean (for making the boats). And Cuervo & Sobrinos also origins from the Caribbean - this is why the name of this bronze watch is PIRATA.


Montre24:
And what do you think about bronze at all? Would it have a future?

Massimo Rossi:
Yes, it can have a future, but Cuervo & Sobrinos wants also to innovate, so we are already searching other materials for this special model.


Montre24:
Among your beautiful and original watch collections there are not any one with diamonds. Are you going to create any with diamonds for demanding persons in the nearest future?

Massimo Rossi:
Diamond watches will remain a part of our offer.


Montre24:
Nowadays there is a tendency to enlarge the watch cases. What do you think about it?

Massimo Rossi:
Large-case watches are still demanded for sports, but it is also clear that there is an increasing demand for timeless, smaller watches.


Montre24:
On BaselWorld 2011 there was a tendency to simplify watch movements. What do you think about difficult complications of watches, for example, tourbillion or perpetual calendar?

Massimo Rossi:
Although we also offer a tourbillion and a perpetual calendar, our aim in the future is to develop more and more in-house calibers, which propose more useful complications for the consumers (like the calendar weeks in the seminal), but those functions and complications, which are exclusively of Cuervo & Sobrinos, are more important.


Montre24:
Which market do you think is more attractive and perspective?

Massimo Rossi:
All markets have a potential for a unique brand like Cuervo & Sobrinos, because in term of value positioning and heritage we do not have competitors. It is clear that from a strategically point of view, we want growth at the markets, where there is a bigger potential (for us: USA and Asia).


Montre24:
Many watch companies produce watches especially for some market. Are you going to produce those kind special watches?

Massimo Rossi:
We carefully listen to our distributors and retailers and we are open to follow-up their suggestions, but we need to stay with our spirit and identity.


Montre24:
How many watches do you sell annually? Do the sales of your watches increase or they remain stable?

Massimo Rossi:
We don't give any information like this but, believe me, the growth potential of Cuervo & Sobrinos is still enormous.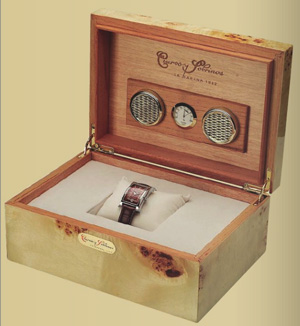 Montre24:
Which countries is the great volume of sales of your watches fixed in?

Massimo Rossi:
USA, Japan and Spain are our best markets today, but there are another 15 markets, where our performances are increasing form year to year.


Montre24:
Does the company "Cuervo & Sobrinos" have any own know - how? And if you have, would you tell about it in detail?

Massimo Rossi:
First of all, we have a value positioning that differentiates us from everybody else! The unique Swiss watch brand with a true Latin heritage is not a slogan but a positioning statement. For a life style watch, like Cuervo & Sobrinos, it comes before the know-how. You can acquire the know-how during the years (and this is what we do), but you can't buy the tradition and unique spirit that we have in our DNA.


Montre24:
Among famous owners of watches "Cuervo & Sobrinos" there were such prominent persons as Einstein, Churchill, Eleanor Duse and Hemingway. And is there any famous owner of your watches today?

Massimo Rossi:
As I explained at the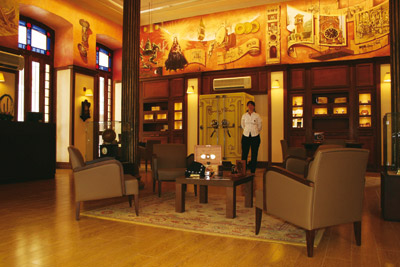 beginning, the brand building process is still very long but we already have many famous people in Spain, USA and Japan that are wearing our creations (mainly sport celebrities and famous actors).


Montre24:
Next year your company will celebrate its 130th anniversary. Are you going to present any new model dedicated this memorable date?

Massimo Rossi:
Of course, we will present a new special model of the 130th anniversary in January, where we will have an international distributors meeting. The press will be informed.


Montre24:
And what will you wish our readers?

Massimo Rossi:
A watch is not for reading time but a strong emotional product, and we believe that in all watch industry Cuervo & Sobrinos is one of the brands, which offer a genuine and true emotional dimension. Cuervo & Sobrinos stays for a time (old Havana for beginning of the 19th century) of natural elegance, refinement, aesthetics, beauty and true quality by wearing a Cuervo & Sobrinos you somehow enter in that unique past world!