Caliber 360 is classic traditions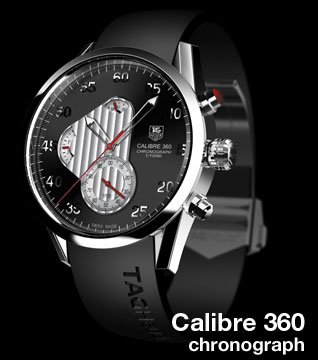 of the company. This model is an example of the fact that in a watch-world the era of old-fashion movements containing different gears, wheels, pinion and supplied with manual rewind has not finished yet. A new discoveries are waiting for their explorers!

Caliber 360 produced by TAG Heure company made a lot of people have a look at chronographs in other way. How many people have changed their mind considering TAG Heuer brand! Caliber 360 is an amazing thing – it is able to count time accurately within a hundredth part of a second.
Today it is the fastest watch-chronograph in the world. The achievement itself is very praiseworthy, but it is very hard to make it to think it over and to solve different problems.
"We try to approach to every project open-minded. Usualli it means that we start to have doubts even in evident things – in the case if there new ideas can appear. In the project 360 at first we decided to build a caliber in order to make all the functions work controlled by one single movement, though the engineers were sure that this ideas will never come true. There came a question: how to make the movement count the hundredth parts of second without help of any other devices" - says the head of TAG Heuer production department, Stephan Linder.

Learning the history and the heritage:

The history of caliber 360 starts on the 12th of April 1882, when Mr.Hoyer received a certificate of a patent which described one-button-watch supplied with a stop-watch which counted the hundredth parts of a second. The patent was buried in the company's archives and the model was not sent to the manufacture to be produced.
These blueprints let to monitor two tricky solutions: the balance, according to the idea should work with a permanent speed of 18000vph which is a typical speed for a pocket watch of old times). It is well observed in the blueprints: the balance cock ant the place taken by it is quite big, which means that a watch-maker didn't want to supply it with a high-quality balance which could take less place.

The section of a chronograph is controlled by a columned wheel and provides only one hand. A patented device depicted hours and minutes, it has a small dial for seconds at the position of "6 o'clock", so well the readouts of a single hand of a chronograph is observed at a scale, placed at the front edge of a dial.

Unfortunately, the balance wheel and the most important part of a driving gear are not shown at the blueprint, only two mysterious wheels drawn as circles at a chronograph section are shown.
Tomas Hoolon, a manager of experimental models announce that those two circles at the blueprint denote frequency converter. The converter should provide the speed of a chronograph's hand, need for the hundredth parts of second measuring.
Hoolon says; "That part did not appear, may be because the converter took too much energy and it was not practical".

The puzzle solution is:

TAG Heuer engineers had too much information

concerning to mechanic watch with a high rate of frequency swing, created in the end of 60-s and 70-s. It was time when ordinary watch models were "fighting" with quartz once. TAG Heuer trird to find a way to achieve balance frequency rate of 360 000vph – which was needed for the hundredth parts of second measuring. So, well in watches such frequency rate had never been applied before.

Stephan Linder says:
«We cracked our heads, thinking about this task. We have taken too many variants, observed many complex technologies, with a power reserve and a wheel system for example. Finally, all the team admitted that the movement should contain two parts: an ordinary one chronograph movement, another – a movement which provides an accurate indication. The first part of a movement should work with an ordinary speed, another one – a bit faster. It was a key decision, which became the basis of produced watches. The essence of the problem was that we didn't know how to connect two separate parts into one solid thing."

"Micrograph" became a great help when watch movement was designed and finally created. It is impossible just to take a huge movement and to make it smaller in a moment, it will not work in the way as it was before. So here comes the question concerning the technical parameters of the materials, friction and possible production of the same elements of suitable overall dimensions.
Having divided the task into a two parts TAG Heuer specialists understood the main chronograph's work principles. They did not know what to do with a high-speed energy module which energy was need for work of a chronograph. It was a stumbling block for everybody who has taken part in the experiments before. So well, here came two questions: how should speed be provided and how to supplied it with necessary energy reserve?

Two barrels supplied with one rewind:

"The maximum number of turns per minute of your car engine is nearly 6500. So now, imagine that its turns increased up to 65 000 turns per minute..., Stephan Linder says – our watch is a real revolution. Everybody told me that creating movement which has such a high rate speed balance is impossible. Neither balance and wheel gear nor ruby are able to care such speed. In this case I decided to create a doubled movement . You know that in track and field athletics there are two types of sportsmen: sprinters and long-distance runners. So that was our idea which helped to create the movement. One of its parts is "a long-distance runner" another is "a sprinter".
Engineers started to design winding system which was able to rewind both spring barrels – as it is in other power-consuming watch models (a striking clock for example has it: the spring in it is need for making a signal another one is for a watch itself). Such decision helps to avoid dead spot in energy supply to a base movement when striking is switched off (in the case of caliber 360 – chronograph counts the handredth parts of a second).

A watch supplied with only one barrel during each switching on of a high-speed chronograph accrued an error of energy supply. It comes without saying that it was not what was needed. The problem was to build an architecture of two different movements, which could be connected as one solid "organism". So, the decision was found and it let to obtain TAG Heuer some new patents.

Size reduction helped to create a high-speed counter. A balance wheel in caliber 360 diameter is 5,8mm which is 25% less than ordinary movements have. The amplitude of oscillation is 120° which is 40% less than standard one. All is need to increase the speed... It is evident that for oscillation with a higher amplitude much time is need.
It goes without saying that it is very easy to plan the architecture of a balance at the preparatory stage, in order to make it fit to the movement and its functions. But it does not work in the case of a spring. Even if it is already set how many turn the spring is going to have and one of the possible CGS parameters is taken, every following spring should be accurately chosen for every other balance.
Can you imagine how long took the search of a suitable spring for caliber 360? Here the engineers of TAG Heuer were the earliest explorers. Finally they decided to stop their search on a spring which has 6,3 turns which is twice less than an ordinary spring has.

Possible problems: the designers and watch-makers were almost at their goal when some unexpected problems accrued. It should not be neglected that as higher is the oscillation rate the higher is the tensity of a running spring and the power transferring to the wheels of a chronograph. More over crutch and balance in connection with tight and short spring are too small to be compared with such forces. So here comes the question: Can the movement of a chronograph start its work at a set time? It is easy to say that a huge energetic workload can block the crutch for a while when a chronograph starts to work.
Finally watch-makers decided to make a device which can make movement work and it easily solved all the problems.

There also was a problem concerned lubrication because in such a speed of turning usual technical oil splashed to the sides. Dry lubricants are used quite often for such case, but it is hard to apply them and it raises watch price higher. So, here comes the solution – an ordinary watch lubricant which is easy applied and keeps all the elements in a good condition for a long time. All these decisions seems quite simple but nobody knows how difficult it was to come to these.

There were some points of view that elements of chronograph can wear out in a very short time/ it should be mentioned that some producers avoid even the speed of 36 000vph, thinking that this is an exorbitant use which is non-practical. It is interesting what can they say about 360 000vph as caliber 360 makes?...
Finally the common sense won, TAG Heuer workers wonder hoe many hours can the chronograph work? Absolutely, it can not work constantly , because a chronograph is needed to count a very small periods of time.

As a result even if a hand of a chronograph is rewind every 2 hours an owner should bring the watch to the repair office soon.

Quality control:

The case is that ordinary test check tools can not detect the work of the movement which is able to make such high rate of oscillation. That is why TAG Heuer created a special device for speed check and a special software for it as well. This device examine every movement created by TAG Heuer. In the heart of a speed check tool is a small laser beam which can accurately detect how the hand makes one turn around the dial, counting one hundredth part of a second in one move.