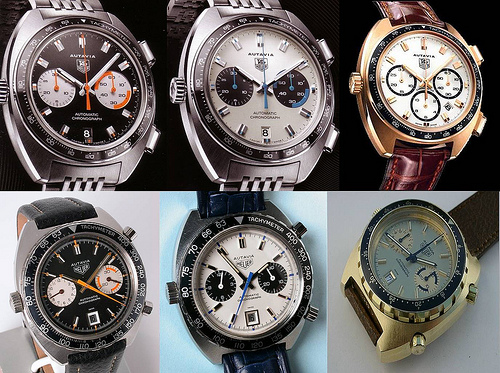 TAG Heuer Autavia — is a legendary tool of chronometric accuracy. For the first time it was issued in a far 1933. The tool for time watching was designed especially for cars of Lux class, released in 30-s. Also some aircrafts were supplied with such devices. TAG Heuer Autavia watch from the moment of the release became the key and irreplaceable thing. Their dials were easy to read and in any moment any owner could watch time by TAG Heuer Autavia watch.
After thirty years, since 1958, TAG Heuer Autavia dials were not built-in a dashboard of a plane and cars of Lux class. Watch makers had to develop a new variants for watch model transformation immediately.
Such idea came to the mind of TAG Heuer watch-makers thanks to extra-accuracy and reliability of Autavia chronometer. Experienced watchmakers wanted to replace such a good watch from a dashboard to a hand of a pilot or a driver. In 1962 this model finally was renewed and released in a new design, having saved its old strong points.
In the end of 60-s TAG Heuer made a step ahead starting a development processes of one's production with a help of modern technologies and innovations, incarnating all the revolutionary ideas.
In 1969 TAG Heuer released a new automatic movement Chronomatic which is tightly connected with the name of a great Swiss racer of Formula-1 Joe Ziffert.
Nowadays in era of high technologies, TAG Heuer company applied all the forces into one's work and all the skills possessed and collected through ages having returned and released a renewed watch model TAG Heuer Autavia, just having changed its design a little and having applied new technologies to an ideal watch model.
As a result there came a watch which shape reminds a previous model.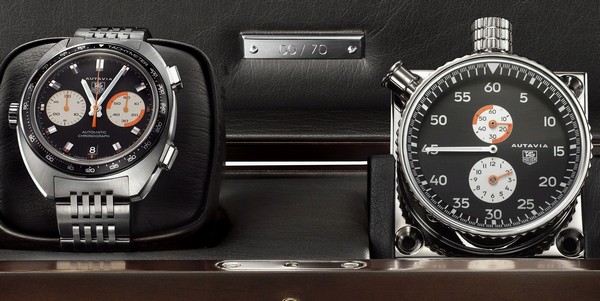 New TAG Heuer Autaviais available in two colours. The dials are perfectly coloured and amaze by a restraint of shades and ascetic monochromeness.
This chronometer has a black dial where silver counters are placed. Also it is can have a white dial with black counters. Both models look elegant and beautiful at a wrist. Hands of the counters are red or blue. These colors add more nobleness to TAG Heuer Autavia watch. This mechanic watch model is supplied with a tachometer and its case is rather large – diameter is 41,2mm. The buttons remind old models of stopwatches but they are quite ergonomic. It is very easy to use the watch even having put on thick racer's gloves or in any difficult situations.
Bracelet is also very comfortable, reliable and well-made respond to all the standards.
TAG Heuer Autavia – is an incomparable model created to live for ages. One of the items of TAG Heuer Autavia series became word famous and was released in limited edition – 150 models. Case of every model is made of Rose gold. TAG Heuer Autavia design can not be unnoticed. Watches attracts by a rather massive case and a nice combination of colours.
TAG Heuer Autavia watch is a best concomitant of any watch fan. The model is beautiful, expensive (even rich) but also it is simple and sportive which speaks for its functionality.