A reputation of watch owners make a huge influence on a brand that produced watch model that they have. The chose of the potential client is always ruled by this "reputation". The owners and by the way – representatives of TAG Heuer company are actors, singers, sportsmen and Dj-s such as Shah Rukh Khan, Eldrick Tont "Tiger" Woods, Brad Pitt, Maria Sharapova, Uma Karuna Thurman, Lewis Carl Davidson Hamilton, Kimi Raikkonen, Jenson Alexander Lyons Button, Leonardo Wilhelm DiCaprio, Armin van Buuren, Cameron Diaz, Sebastien Ogier.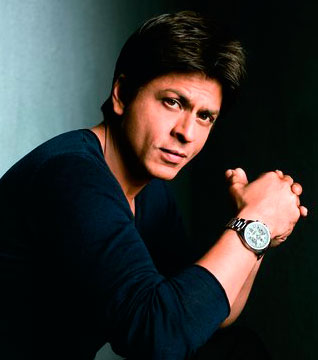 Shah Rukh Khan is a famous Indian actor and producer. As he always says himself, his name is translated from Persian language like "king's face" or "king's way". In watch collection of his there are also Tag Heuer model — Link è Aquaracer.
The first debut of Shahrukh on TV was in 1988. He took part in some soap operas. The main role in one of the soap operas he played in 1992 in "Crazy Love". After this he got his first prize of Indian cinematic journal. In 1993 he played a role of a bandit in a movie "Death Game" and " was shooted in "Darr". The second prize Shah Rukh achieve when he was shooted in "Dilwale Dulhania Le Jayenge" (1995), the movie became one of the best of Indian movies and it's box-office takings was nearly 12billion rupee. After all these movies Shahrukh became one the most demanded Indian actors.

Eldrick Tont "Tiger" Woods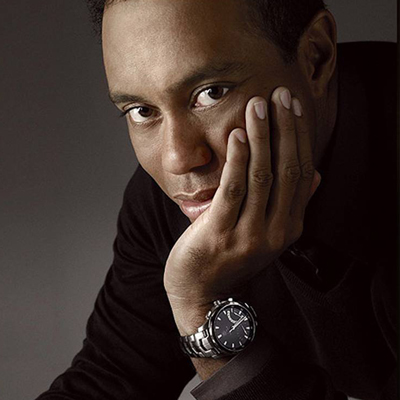 – is a great American golf player, he is a repeated world champion and also a winner of famous Major tournaments. Having 18 wins he takes the second position (after Jack Nichols) in a world golf society. Tiger was a winner of such tournaments US Open (three times: in 2000, 2005 and 2006), UK Open (three times: in 2000, 2005 and 2006), PGA championship (four times: in 1999, 2000, 2006 and 2007). Tiger is an official representative of a Swiss watch-brand TAG Heuer since 2002.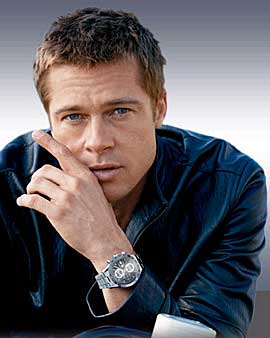 Brad Pitt (William Breadly) – is an American famous actor and producer, also he is a winner of a Gold Globe (1995) for a part in a movie " Twelve Monkeys", twice he was Oskar nominated. Brad Pitt was born in Shauna, Oklakhoma, before he became a famous actor, he worked in different spheres, he even was a driver, a barker walking in a costume of a huge chicken near some cafe El Pollo Loco. But this time was not spent for nothing, he combined his work together with study of actor art. Pit's carrier started when he played his role in a television series "Dallas". After he was welcome to some small roles in different other series. In 1999 Pitt played one of his well known roles in "Fight Club", based on Chack Palanick's novel. After this he took part in "Troy" where he was an Achilles. Pitt was called a sex symbol of a planet which also made him a success and popularity.

Maria Sharapova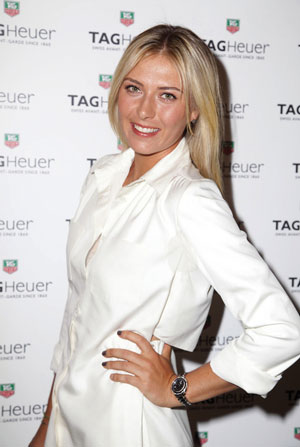 – is a famous Russian tennis player, a winner of Wimbledon tournament in 2004, in 2006 she also took part in US Open championship and in 2008 she won a "Grand Salem" competition.
In 2011 Swiss Company TAG Heuer opened its first boutique in Melbourne.
The honour to cut the red ribbon was afforded to Maria Sharapova who has already been an official representative of TAG Heuer watch-company. She said that it was very difficult for her to find a watch which can reflect her character, mood and individuality. As a base for own watch Maria asked to take a well-known model Formula-1. She ordered to make the bezel in the shape of a flower and to decorate it by 120 diamonds. The dial should be nacreous and the strap should be made of pink satin. As a result she got a glamorous watch with a sport accent. The model suited Maria perfectly.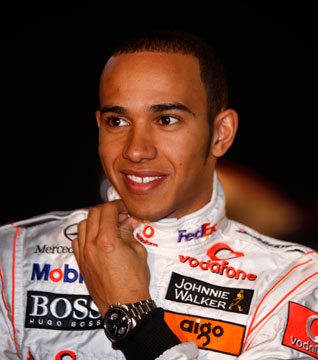 Lewis Carl Davidson Hamilton – was born on the 7th of November 1985 in Stivenage, UK. He is known as a great Britain racer, Formula-1 Champion of 2008. Now he is a member of Vodafone McLaren Mercedes team. Hamilton started to compete when he was very young, at the age of 8 years in Rye House Kart Circuit and almost immediately he started to win the first prizes. In the age of 10 at one of racing competitions he met a boss of McLaren F1 team, Rhon Daniels. Lewis came to him and said: "Hello. I'm Lewis Hamilton. I won at a British competition and I wish to seat at a wheel of your bolide". Denis listened to him and left a message in a book for autographs: "Call me in 10 years in order to arrange something".
In 1997 when Hamilton compete in South Yamaha, he met Rhon again and concluded a contract with him. The contract provided support for young McLaren pilots. So , it was the first time when Denis took a place in Formula-1 team, which made him famous among the world young racers. Amazing wins of Lewis are inspiring TAG Heuer for many years for making new sport watch models. Denis has an automatic sport chronograph Carrere Calibre 1887 supplied with a complex movement, made individually for this model by TAG Heuer specialists.

Kimi Raikkonen – is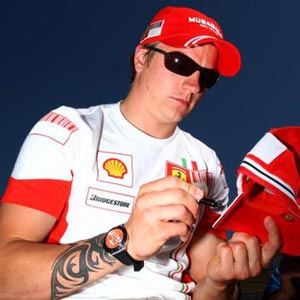 a famous Finnish Formula-1 pilot, a world champion 2007, twice vice-champion of 2003 and 2005. He is considered to be the best racer nowadays. In racing from 2007 to 2009 he was in Ferrary team and since 2009 he started to take part in rallies himself. In December 2009 Kim left Formula-1 for a year and spent the next year in WRC, after signing of contract with Citroën Junior team. In 2011 Kimi Raikkonen gathered his own team of racers in WRC and called it ICE 1 Racing.
That is why he continued to defend this team in Citroyen cars in rallies, and Kay Lindstrem became his navigator.


Jenson Alexander Lyons Button - is a racer of Formula-1. He is British and a member of Vodafone McLaren Mercedes team. He was awarded by Lorenzzo Bandinni award for his great contribution into racing sport development. Also he was awarded by a memorable trophy of Hotoron. He was a champion of Formula-1 season 2009. He started his career not long ago, in 2000 he was a member of Williams team, the second season he spent in Benetton team. In August of 2006 in Hungary Jenson Button won his first Grand Prix after thirteen races for his new team. In season 2009 he brought 6 prizes of seven possible. Thanks such a great job, Button provided his team with a champion title and got a Constructor Cup, tournament matches for which was only that very season.

Leonardo Wilhelm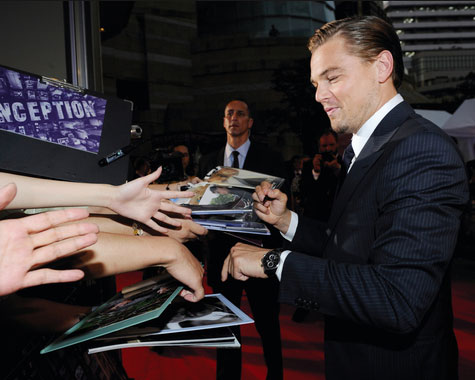 DiCaprio – is an American actor, three times an Oscar nominee. He became the most popular after his role in "Titanik", "New York Bands", "Beach", "Catch Me if You Can" and others. His way to fame led from being an idol of teens in "Titanik" to the heroes of such a serious movies as Christopher Nolan and Martin Scorsese make. Today, thanks such an achievements, he could relax and take pleasure of Hollywood fame. But being a passionate environment protector, Leonardo does not spend his time for nothing. He, together with a World-famous Swiss watch company TAG Heuer uses it profitably. Having processed the design of a new automatic watch they decided to transfer the money, got from selling of TAG Heuer Aquaracer 500M Leonardo DiCaprio Limited Editions to NRDC (Natural Resources Defense Council) and International Green Cross. These two well known organizations are keeping vigilant watch on the environment protection.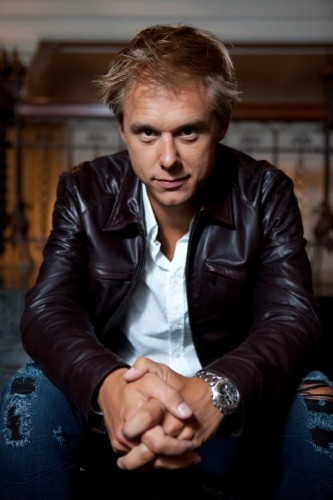 Armin van Buuren – is a musician from Netherlands, also he is a producer and DJ, who plays exclusively in "Trance" style. Also he is a director of his own radio-show ASOT (A State of Trance). This show can be listened to all over the world and Russia is not an exeption. According to the review of DJ Mag magazine, Armin is DJ¹1 of 2007, 2008, 2009 and 2010. As many other celebrities named beffore, he also prefers watches made by TAG Heuer watch company, which can offer its costumers high-quality models of modern watches for a good price, different collections of modern watches, which compound an vanguard design, a number of different styles and sport spirit. That is why every person who wants to collaborate with this company and who wants to become its constant client, can easily and fast find a TAG Heuer watch according to once taste.

Cameron Diaz – is an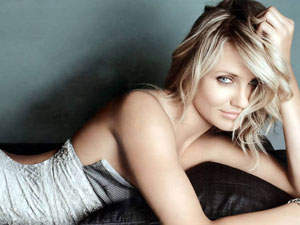 American actress. She had became a model when she was 6 years old. Firstly she was shooted for Elle magazine, after there were Seventeen and Mademoiselle. Not once she took part in different commercial projects as advertisements for Calvin Klein Fashion House, Coca-Cola and Levi's companies. A special popularity she got after taking part in "Charlie's Angels" where she, togather with Lusie Liu and Drue Berrimour bwcame an special agent. A well-known american actress Cameron Diaz was a representative of many famous brands. TAG Heuer is not an exception. She signed a contract which prove documentary that she is an official ambassador of TAG Heuer. For a new advert she sit in a new watch model from the latest collection of TAG Heure.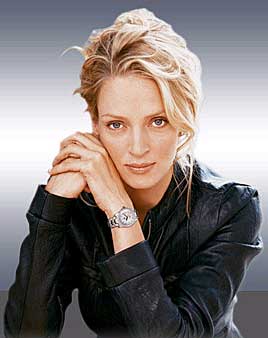 Uma Karuna Thurman – is a world-famous American actress. Her parents called their daughter Uma in honour of Hindu goddess. In translation from Sanskrit Uma means "no suffer". At the age of 9 years she constantly fell shame because her name and asked her parents to call he Dianna, but later she put up with her name and even became proud of it. A legendary fame came to her after she took part in movie "Henry and June", where she played a wife of a writer – Henry Miller.
Uma became an official representative of an expensive Swiss watch company Tag Heuer not long ago. When the first sport collection appeared she found in it a model for herself. In the case of such event TAG Heuer released three collections of exclusive models of jewellery which cost more than 100000 euros each. Designers of TAG Heuer watch company made an accent that it was Uma, who they need to represent new watches and jewellery.

Sebastien Ogier – is a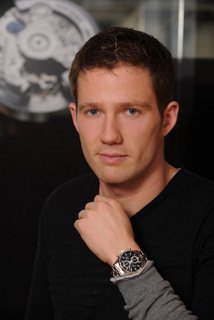 french racer, a star of a world racing who became an ambassador of a luxury Swiss watch company TAG Heuer.He became a winner of Rally Championship in 2008. Nowadays he is a member of Citroen team. Ogier linked to it in a very serious moment of his life. It was the day when Citroen team celebrated its 150th Anniversary. After four triumphs, Sebastian laid claim to take part in WRC 2011. in this competition there were going to compete the greatest races from five continents of the World. The start was on the 10th of February of 2011.
Being inspired by an amazing achievements of Sebastian Ogier, TAG Heuer watch company decided to go on a tour across the World, staying in the places where the rally leaders were going to present new watch models and horology special could answer customers' questions.
Sebastian Ogier resumed answering that in racing and rallies as in many others spheres of human life, patches are very important.