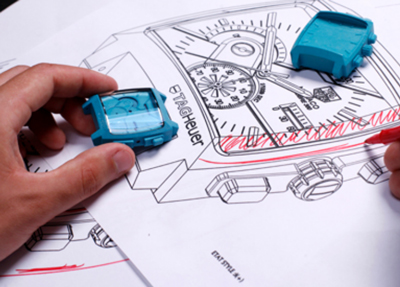 Specialists of a famous Swiss company TAG Heuer are not happy with the present widely spread watch-quality standards. That is w confirmhy, constantly longing for production improving TAG Heuer specialists created their own, more strict criteria of testing quality of everything produced.
There were conducted many thoroughly handed tests and procedures. All the instruments were tested as well till Swiss Federal Institute of Intelligent Property officially recognized TAG Heuer and confirm their patent.
Swiss Federal Institute of Intelligent Property is an organization which defenses trade right, patent right, design right and author's right. Also it provides protection of trade, patent, design and creativity at the international level.
For jewellery, which is used for watch decoration, firmness testing is made with apply of a special supersonic sound technology. In extra cases the company created individual equipment, even if it is going to be used only once. The example of such unique device is a tool for diver watch Aquaracer 500m buttons effectiveness testing.
Shock-resistance is tested in the following way – being completely made a watch is thrown down from the high of 1meter. The speed before the stroke against the surface is 5000gal. The power of stroke is nearly 500kg.
Such tests are held twice. The first strike comes at a front side, the second at a side where watch mark "9 o'clock" is. After such kind of examination a watch which movement is still working is considered to be a model which passed testing.
So it is a kind of a crash-test, which is look like an automobile one.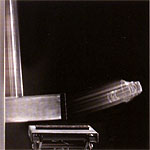 The next test is called a "pendulum hammer", it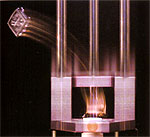 works in the following way: watch is placed at a side and fixed, after it gets hit by a hammer perpendicularly the surface of a watch. Before striking, a hammer being under the impact of special tool makes a round-like moving and only after it gets lower up to the case of the examined watch. The impact force is equal nearly 3kilos, the speed of hammer turning is 4,43mps.
After this test there should not be any even very small damage as evident as microscopic once.
Corrosion resistance tests are made in dirty city environment and in a hard climatic conditions. Testing is committing in the following way. TAG Heuer watch is placed in an artificial conditions of with a neutral humidity level and 40ºC temperature.
After this during 14 days experts carefully looked after the changes happening to the case of a watch not taking them out of the glass case through which experts were watching. In the end started a detailed analysis and case examination under a high-performance microscope. The experts using such microscopes try to find the smallest scraps and case or crystal damage which can not be noticed by a human eye.
In the case if some damage is found a high-quality specialists make a thorough analysis of it in order to reduce possible problems that can occur.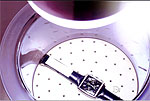 The influence of artificial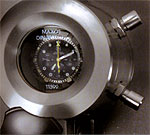 (electric) light and UV-influence are under a huge attention in the case of watch testing process.
Swiss watch TAG Heuer which is under the experiment is placed under some mercury lamp of high pressure in a distance of 30sm in the way to let intense beams fall on the dial. This kind of test lasts for 6 days without any break. Such manipulations are conducted in order to get sure that all the paints used for coloring the dial and other kinds of coating do not bleach and keep their intensity in a primary look.
TAG Heuer company chooses only the most corrosion-resistant materials that is why hand watch produced by this Swiss company do not afraid of penetration of any hydrochloric substances. This fact is proved by the following test. A watch is placed into a camera, where its case and all the inside elements are sprayed by sodium chlorides uninterruptedly.
In the end of a "difficult exam" the case should not have any changes of color or anything else.
TAG Heuer straps are also examined properly by the leading specialists. Bracelets, buckles and other fixing parts are tested attentively.
Examinators insert two metal bars into a fastened bracelet or a strap during testing time. When testing starts, these two metal bars move apart stretching strap or bracelet in a horizontal position. After starts rotation with a speed of 10mmps. In a definite period of time, the tool stops and rests in such a state for one minute. After this a watch strap is sent for checking to an expert. As a result such kind of watch examination a strap or bracelet and their components should not be damaged anyhow.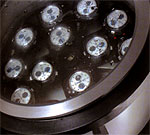 Water resistance examination is conducted in the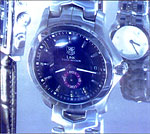 following way: firstly, a watch is dipped into a water preheated up to 45ºC – it is condensation test. Secondly, in order to check how a watch behaves in the case of temperature drop, 18ºC water is poured on a crystal and afterwards see the crystal through if there are any changes. If there is no any, the third stage of water resistance examination starts. A watch deep once again into a water for one hour. Then testing watch model is sent for one more condensation checking and temperature drop testing. Next comes another trial. Into the same water buttons and crown are dipped, because they also need to "experience" the same as every TAG Heuer watch, because they are implacable part of it. Finally a special trial comes to every detail of a watch, without any exception. TAG Heuer experimental watch model is dipped into a water under a high pressure for about 20 minutes (the level of pressure is different for different models). As a result all the parts of the movement, case, hands (especially a hand of seconds) should work without any changes or deviation.
So, but it is not the end of a huge exam. In future a watch are going to be placed into a case of low pressure of 1bar, being in the water and not changing its position. A watch, which overcome such a complex "obstacle course" becomes a carrier of a proud sign at the back lid of a case - water resistant.
During the test of wear and corrosion of a case, TAG Heuer watch undergo an abrasive surface friction for about two weeks making during this time more than 100 000 different movements.
There is also a test on checking a bracelet links wear resistance.
Really it is sometimes difficult to understand how a watch can work after such a rough examination, but the fact is TAG Heuer watch stay perfectly safe.
All the tests invented by TAG Heuer is impossible to name, because there is a huge number of them, but is it should be remembered the need – why all this manipulations are done for. The main idea is – providing of the mos comfortable use and wearing of a watch model, longevity of released production.
Except these tests TAG Heuer specialists model possible situations that can occur while Tag Heuer watch is used.
Before releasing a new collection, Swiss watch company TAG Heuer examines the production carefully and conduct a number of tests in order to reduce possible misfortunes. During the last and actually final stage of testing an examined watch is sent to a "vintage testing" - a careful inspection of a qualified experts who should prove a perfect quality of a product.