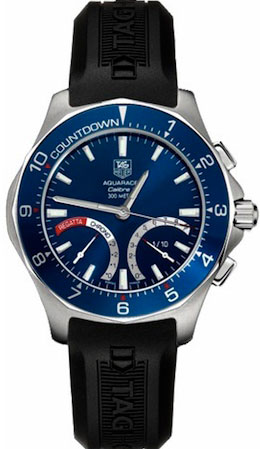 Despite the fact that there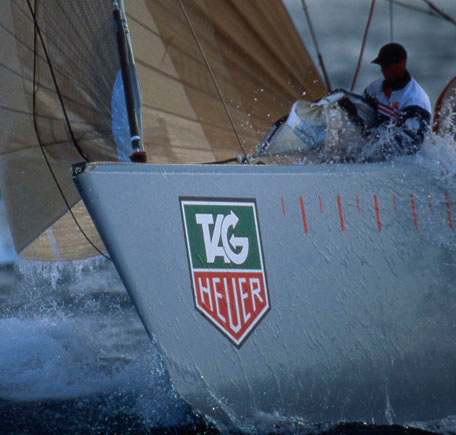 is no seacoast in Switzerland territory, it is not a freshman in different boating competitions and regattas.
A famous Swiss watch company TAG Heuer, which produces watches as accurate as chronometers, in 1995 took part in Louis Vuitton Cup competition, where it perfectly overcame the set goal and passed into semifinal.
The yacht «TAG Heuer Challenge» was conducted by a yachtsmen Chris Dickson. Being a very clever, strong and handsome man he won. Being keen on sea freedom, TAG Heuer did not want to stop after their first win. In 2002 a Swiss company took part in a new sea battle in a company of Oracle BMW team. But this time TAG Heuer and Oracle BMW were less lucky. The winner became Alinghi team.
TAG Heuer is an official sponsor of Louis Vuitton Cup competition. It provides the leading teams with some necessary equipment ans sunglasses.
TAG Heuer is a kind of some symbol which connects the force of all the participants in their desire to win.
A contest for Louis Vuitton Cup like a magnet attracts yachtsmen from all parts of the World because of its breathtaking spirit.
The race contains a number of interesting regattas. Firstly comes casting of semi-finalists. All the process is directed by two judges according to the results of nine tours of competitions. The regatta is held in different countries all around the world. The participants of such a unique competitions cover the oceans and seas of our big planet with furrows. An intense struggle for a win attracts the public from all over the world, it is interesting to look after not only a very fast speed which make the yachts but also for a way that yachtsmen conduct their boats, their tactics which cause amazing wins at the finish.
The struggle for a Cup of America is different from others by so intensive contest, which grabs attention in a moment. Sometimes it is impossible to believe how bravely the competitors behave, becoming the winners of a prestige regatta.
Watch models created by TAG Heuer were made especially for sea regattas and in a short period of time they had become an inalienable part of team equipment in Louis Vuitton competitions.
Winners who distinguished oneself in a race were awarded by the best TAG Heuer watches: TAG Heuer Aquaracer Calibre S and sun glasses Golden Silmos and Reddots.
A struggle for Louis Vuitton Cup is based on a enthusiasm and purposefulness of participants, so it can be sad that it is one of the main particularities of the competition. The competition where win only best participants is very remarcable for TAG Heuer company. An unbeaten value and accuracy in every extreme conditions and a perfection of pass – are the main characteristics of watches produced especially for sailors by TAG Heuer company.