Leonardo DiCaprio and his watches
It is important to remember that every time you buy something,
one hundred percent you support the policy of
the company that produced this thing.
Leonardo DiCaprio
A handsome man, a talented actor, heartthrob captive, Leonardo DiCaprio, as no one else knows the value of this wise saying, and not because he is its author, but because of the very noble - not the first time – he is the face of legendary company Tag Heuer, but about this later...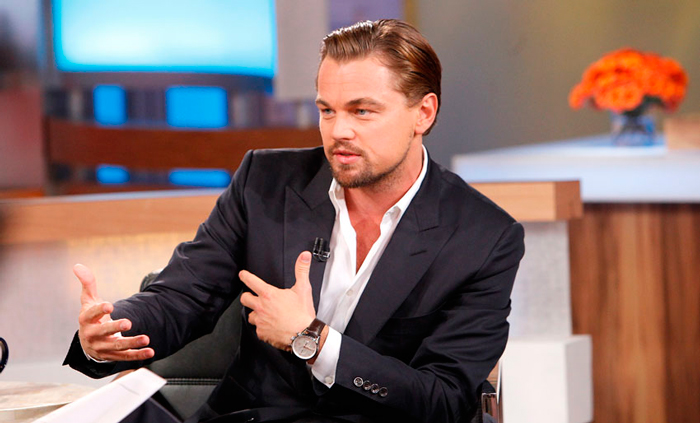 Leonardo DiCaprio and his watch
For a big ship - a large swimming!
The fate of the small and humble Leo was not predetermined from childhood (as he naively thought), despite the fact that he grew up in Hollywood. And, already in his youth it was to be expected, what kind of watch and on what occasion the conqueror of women's hearts and handsome Leonardo DiCaprio would select. No mystery! Just a series of events, logic, reasoning, and an iron will, inherited by a little boy from distant German ancestors... Let's trace together this interesting thread ... So, up to 13 years, the young man thought, quite seriously, that the actor's craft - it's a kind of freemasonry that talent is transmitted exclusively through the genes or laid in the blood. Everything was much simpler - after a while Leo himself had hired an agent and went to the trial, which was more than 160. DiCaprio had a great willpower! One could guess what kind a watch he would choose in the future ... In the school young Leo has already hit his teachers and peers for his talents, depicting, in his words, "a brainless idiot with a broken arm." At this point, the audience applauded...!
But how cruel they were wrong, Leonardo was never a mindless idiot. Some of his statements, which some shrewd journalists strive to distort or trivialize, say about his serious and even a little old-fashioned way of life. Does a minded person can say this: "The joy of the glory goes pretty quickly, and you realize that the main reward is not that suddenly every mole begins to recognize you in the street but that your films will remain after your death." Yes, it is the facts that for a large ship - great diving and for serious man - cooperation with a major watch company that doesn't create one-day watches but chic and proven watches! This is, of course, about the manufacture Tag Heuer!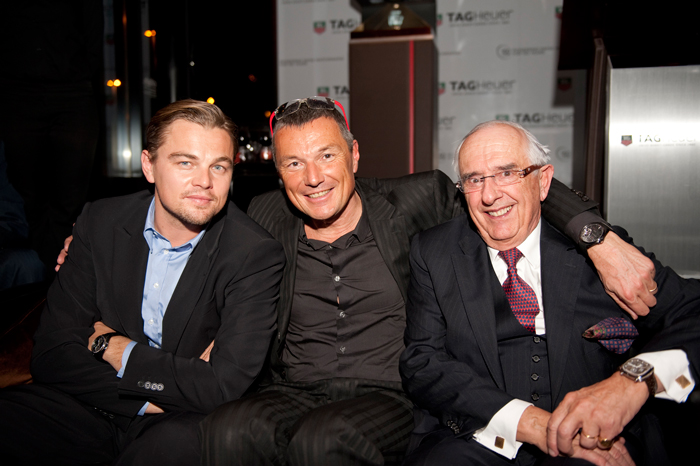 Leonardo DiCaprio, Jean-Christophe Baben and Jack Heuer
The wonderful world of Tag Heuer watches
How you call a boat, so it floats. This saying applies not only to the vehicle, but also to passengers, especially if it's famous passengers. Let's think about what could coerce a major brand in collaboration with such a serious person like Leonardo DiCaprio in addition to the three Oscar nominations and an impressive track of record cine list ("Titanic", "Home", "Gangs of New York", "Shutter Island," "Catch Me If You Can" "The Departed" and "The Beach")? Let it be known to all the young ladies of the late nineties, which just went crazy from Leo (aspirated), which filmography of "Jack" is not confined to "Titanic"! In his 38 DiCaprio was able to end with movies and rest on laurels somewhere in the Canaries in his own mansion, sipping a century whiskey, smoking a Brazilian cigar, brought to him of the places "where a lot of a lot of wild monkeys." However, being a conscious man, even more orthodox (he will be a good father) Leo continues to work as a cinematic and the public, while remaining not party and somewhat a secretive person. People's favorite is a passionate defender of the environment - together with the brand TAG Heuer he developed a design of unique new watch TAG Heuer Aquaracer 500M Leonardo DiCaprio Limited Editions. Profits from the sale went not into the pocket of the star and producers, but at the expense of Green Cross International and NRDC (Council for the Nature Protection). In addition, he is the head of The Leonardo DiCaprio Foundation and serves on the Board of Directors of the International Fund For Animal Welfare, Natural Resources Defense Council and Global Green USA. Maybe you thought that Leo is a saint? Absolutely not! He is a normal person with his roaches, everything like at everyone else! On this occasion, he said some interesting things: "More than anything, I want to be an irresponsible jerk, such as many of my friends. But when I think about the consequences of such behavior, I realize that I can hardly afford it. The last thing I wanted - it's become a typical Hollywood fat bastard in the money. I grew up poor, and really was happy then". Draw your own conclusions, gentlemen!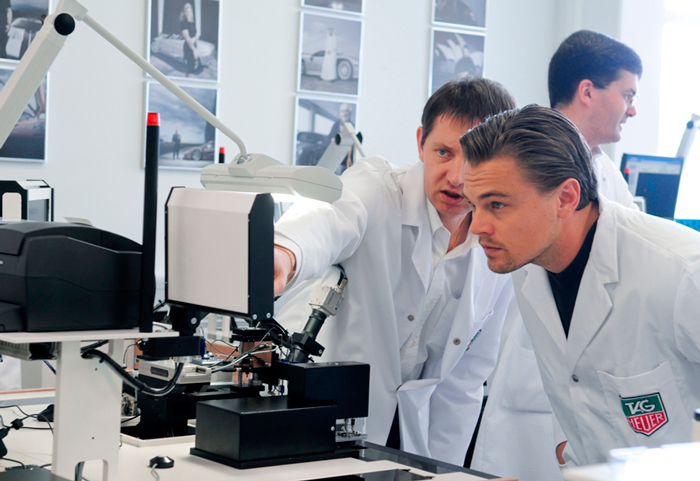 Leonardo DiCaprio and Tag Heuer
So, let's walk through the gallery TAG Heuer watches in the collection of DiCaprio. First showpiece is a racing watch Carrera 1887 Titanium Racing Chronograph by TAG Heuer and it is a dream of every man! This sporty chronograph, equipped with a titanium case with black carbide coating, is different from other models with straps in the high-tech spirit made of alligator leather with a modernized folding clasp and black ceramic bezel with tachymeter scale. Practical, readable, sports time meters combine the functions of display time, date and chronograph. On both sides this watch is protected by a durable sapphire crystal, and through the transparent case back you can see the "essence of the watch" - the mechanism Calibre 1887, which consists of 320 parts. A power reserve is 50 hours and Leo cannot be distracted by different things and do the noble thing!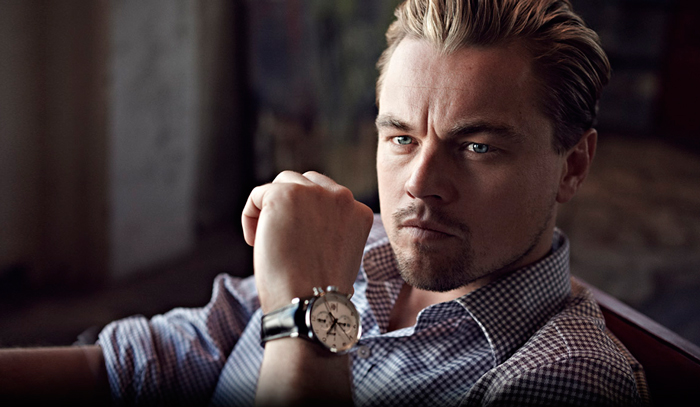 Leonardo DiCaprio and his watch
DiKapiro has one more favorite watch – a dive watch TAG Heuer Aquaracer 500m from the collection Link Automatic with steep contemporary design. This is the first mechanisms in a collection that are different with rotating bezel, and you can operate it, even in diving gloves. Depending on the model, the case is made of titanium («Full Black») or steel.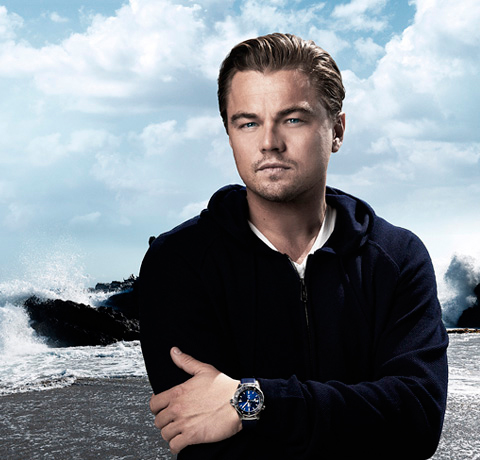 Leonardo DiCaprio with TAG Heuer Aquaracer 500m watch
The highlight is still considered a watch Limited Edition «Leonardo Dicaprio» Link Calibre 16 Chronograph, issued in limited edition - 2000 pieces. DiCaprio himself was involved in the design of time meters! As it has been said above (but will be useful to recall, well, just in case, if anyone would follow the example of Leonardo...) fees from the sale of timepieces have been transferred to the environmental organization Natural Resources Defense Council (NRDC) and Green Cross International.
"For what is such an honor?" - the reader asks. Answer: DiCaprio is the official ambassador of the brand TAG Heuer, well, at all, "athlete, a handsome man!" Thus, the "watch after DiCaprio" has a round stainless steel case with a diameter of 43 mm. Water resistance of this miracle is 100 meters. The date aperture and chronograph counters are placed on the navy blue dial. Indication of seconds, minutes and hours is made by three central hands.
The dial is protected with durable sapphire crystal with double anti-reflective coating. A screwed case back, which is also closed with" a sapphire crystal, has an inscription - «LEONARDO DI CAPRIO LIMITED EDITION» and «NOT NUMBERED». That's not all - watch «Leonardo Dicaprio» Link Calibre 16 Chronograph equipped with Swiss automatic caliber TAG Heuer 16, which is compiled on the basis of the mechanism ETA Valjoux 7750.
The young ladies, who grew up on "Titanic" at this time rolled their eyes, "and what should we do? Again, you're with your gadgets! ". Technically competent people nodded approvingly: "So, a good watch! We must take it!" To buy a model of "king of the world" you can in October of this year (2013). Hurry, ladies and gentlemen, you will have something to show the grandchildren!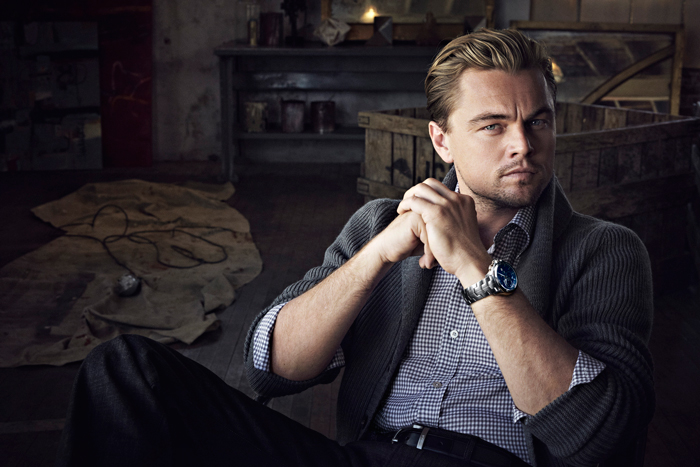 Leonardo DiCaprio with Limited Edition "Leonardo Dicaprio" Link Calibre 16 Chronograph watch
TAG Heuer Carrera WV211B.BA0787 – "The Beginning" started...
Not only DiCaprio played a major role in the movie "Inception" of director Christopher Nolan, but his watch also – a model TAG Heuer Carrera WV211B.BA0787 showed off on the wrist of Dominic Cobb, a thief who is engaged in industrial espionage, obtaining the necessary data from the dreams of people. Cobb is able to control the dreams and the time running around to different levels of human consciousness and he hasn't time even to eat. Yeah, good processing!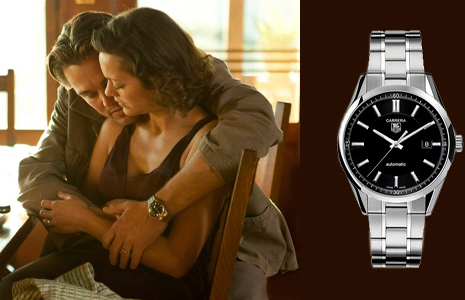 TAG Heuer Carrera WV211B.BA0787 watch in the movie "The Beginning"
TAG Heuer has approached the issue very well - despite the fact that the watch was shown a close-up more than one time, the logo itself was not visible. As a result, after some time the search engines literally exploded from the barrage of queries, "DiCaprio watch in a movie Beginning." This is what a hidden advertisement do with the people...
What is so interesting about this watch, which "broke" all? Time meters, with a diameter of 39 mm and water resistance up to 50 meters and an automatic movement TAG Heuer Calibre 5 is differ with black or silver dial, applied marks and date. The watch TAG Heuer Carrera WV211B.BA0787 is equipped with durable sapphire crystal. The case is made of polished steel. Solid folding clasp with safety and brown leather strap with a light quilt or a steel bracelet complete the beautiful picture! And imagine such mechanisms at the Cobb? Not a man, but a dream! By the way, Cobb is a Sanskrit word meaning "dream"...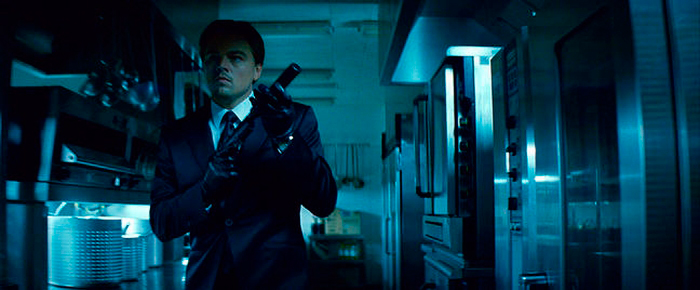 TAG Heuer Carrera WV211B.BA0787 watch in the movie "The Beginning"
Shine on you crazy Diamond
Another watch - Breitling Chrono Avenger - lit up in 2006 in the film "Blood Diamond," which tells the story of a hard diamond business on the background of the war in Sierra Leone. After the shooting, Leonardo became wary of the diamonds. It is not known what the story stretches behind him... On the other hand, Leo does not remember exactly when the last time buy "stones." Most likely, he was buying diamonds for his mother because she was the only person he could buy a diamond.
"Unfortunately, I had not thought to find out the story of a stone before buying" – DiCaprio says. What is so special about watch itself? Well, first of all, is a Japanese quartz movement Citizen/ Miyota caliber OS60. Second, these unique chronographs have guilloche dial and silver-plated hour markers. Durable sapphire crystal protects the mechanism from scratches. Stylish strap is made of rubber, plus - the clip-clasp Breitling. The case is made of black chromium. Thanks to this coating a watch has a high resistance to corrosion. With such time meter it is no terribly to go even in Sierra Leone in search of diamonds.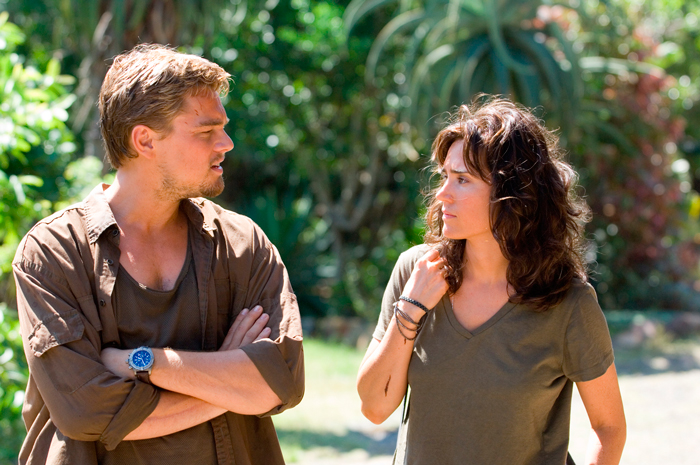 Breitling Chrono Avenger watch in the movie "Blood Diamond"
"As a child I wanted to be a biologist, although the newspapers did not write"
Yes, it's true! As a child, DiCaprio wanted to be a biologist. But do not grow together ... Now these good aspirations Leo compensates for its activities aimed at the preservation of what still somehow possible to save on the planet Earth. For all that, he has no political ambitions. Furthermore, Leo is very wary of people who have. Which is understandable - the guy grew up in the slums of Hollywood and had no idea that one day he would be what has become. He was more concerned about environmental issues than what tie to wear today. Roof of his home has solar panels and his "Tayota Prius" he calls "hybrid wheelbarrow," and it is not a cult for him. The same car he bought for his mother and father. These cars throw into the air by 75% less carbon dioxide than normal "monsters." A proof of that is his partisipation in a charity event organized to support the funds NY Cares' Hurricane Sandy Relief Effort (organization that provides assistance for the protection of women who were affected by Hurricane Sandy in New York) and UN WOMEN. On the hand of DiCaprio, of course, were unchanged TAGs (as they are lovingly called by connoisseurs) Link Limited Edition with blue dial.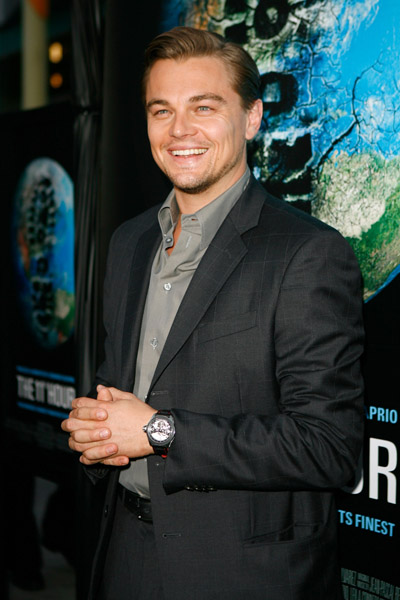 Leonardo DiCaprio with Jaeger-LeCoultre Master Compressor Extreme Lab watch at the premiere of his documental film "The 11th Hour"
Yet not only TAG Heuer works with the Leonardo. Relatively recently, DiCaprio showed up at the premiere of his documentary «The 11th Hour» with a watch by Jaeger-LeCoultre - Master Compressor Extreme Lab. What is it that links Leo and company Jaeger-LeCoultre? The answer is obvious: the protection of the environment. Successful attempts of brand aimed at the preservation of nature, has long attracted DiCaprio and his Foundation. And good wizards of our time decided to work together. So, unique, can be said the only and unique watches Jaeger-LeCoultre Master Compressor Extreme Lab, Leo decided to sell it for a tidy sum, which will go to the treatment of the planet Earth. On the mechanisms will be a personal signature of DiCaprio which please the fans. The second time meter, which has the same noble mission, has become Jaeger-LeCoultre Reverso Gyrotourbillon 2. And what about personal preferences, then favorites of Leo have become Jaeger-LeCoultre Master Minute Repeater and Jaeger-LeCoultre Master Compressor Extreme LAB '(caliber 988C).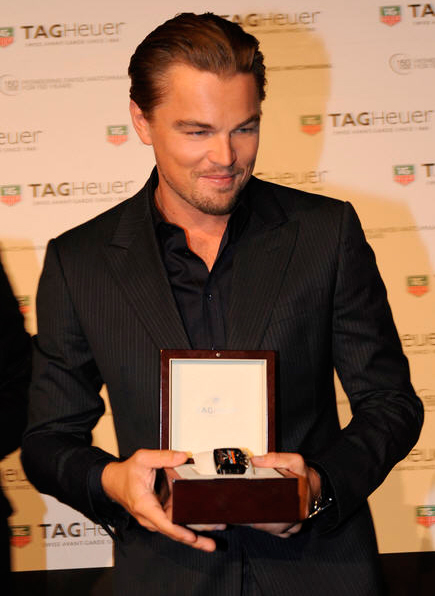 Leonardo DiCaprio with Tag Heuer Monaco Twenty Four Calibre 36 Chronograph watch
Kriëger – smart watch for clever man…
DiCaprio is happy to wear watches of other famous brands. Such a lucky company is Kriëger. This young brand - Kriëger - has already won the hearts and trust of their celebrity clients. Leonardo, of course, is no exception. How this watch attract the "King of the World", the owner of a number of unique time meters? It is, first of all, the "mind" because Kriëger is a smart that can even predict. No, not the future, but the time of the tides. Chronometers are driven by microscopic gears and ruby red icon, which has already become an icon of brand with extraordinary precision shows the phase of the moon, which allows us to calculate the time of quadrature and spring tides (experts knowing nod - "Approving a Choice!"). DiCaprio as a true connoisseur of quality (his German roots make it known!) decided not to miss the opportunity to acquire such useful watch. Moreover, the history of the dynasty Krieger is somewhat like the story of the "Titanic." No, no, all is alive and well, just one day suddenly rising tide prevented the family boat to overcome the way under the bridge to the harbor. Not finding the watch with the function of showing the tides, Krieger decided to correct this unforgivable mistake of the watch industry and created such a watch.
In addition, chronometers, depending on the model, are water resistant up to 600 - 800 meters. How provocative it would sound, but with a different scenario of the "Titanic" such a watch would be very useful for Jack (handsome of the film). In addition, mechanisms are equipped with the usual watch set. DiCaprio has decided to keep up with the times and became the proud owner of Kriëger watches. Especially they have long been considered synonymous with respectability, highlighting the impeccable taste of the owner and his special place in society!

Leonardo DiCaprio with Raymond Weil watch in the movie "The Great Gatsby"
ToyWatch – it is time for fun
DiCaprio is one of the few who adhere to the principle of the "golden mean." If the brand is not as advertised, it is not the reason for the manifestation of unhealthy snobbery, cause the company makes worthy watches. Palette of Leonardo's roles is as diverse as watches by ToyWatch. What is so unusual about these gauges of time? At a minimum, it is their appearance. It is bold watches for people who are able to make and receive a challenge! The company's motto: "Italian watches at the hands of American stars!" Indeed, this is an original brand specializing in the manufacture of a little weird at first glance wristwatches.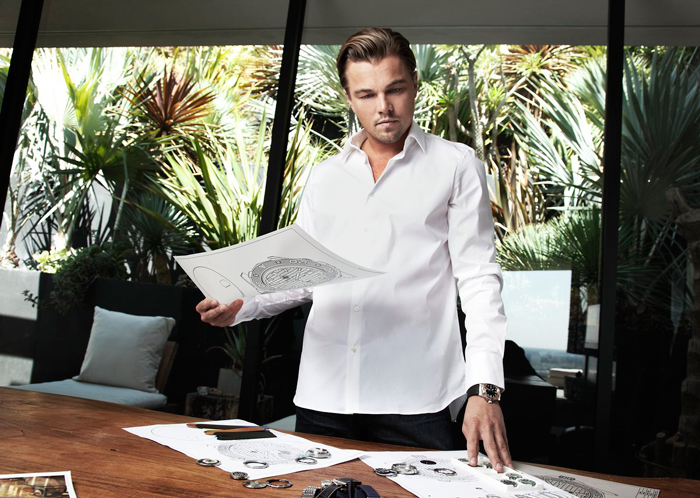 Leonardo DiCaprio and Tag Heuer
ToyWatch - this is a unique brand, specializing in the production of original watches. In the line of the brand there are all the models that can be imagined. ToyWatch designers use a variety of materials, from stainless steel to multi-colored, high-tech polycarbonate. Brand experiments shamelessly: mechanisms are equipped with multi-colored dials of poison-green, purple, sunny yellow, dark blue, bright orange and other colors. Forms of watches are also very different: square, round, barrel-shaped. ToyWatch - it's bright and unusual toy for adults! It is not surprising that in addition to DiCaprio, Sylvester Stallone, Madonna, Michael Jordan gladly wear these watches. Such time meters do raise emotions in the same way as the heroes of Leonardo. In his own words, 30 years is the age, when on the one hand you realize that you are truly an adult, on the other - you still want to continue to play the fool. Well, it is better to do putting on ToyWatch!

Leonardo DiCaprio and Tag Heuer
Leonardo DiCaprio manages everything - worthy to have a fun, and make serious and useful things. However, he does not look like a Hollywood well-fed not fosterling the land. After all, classics of rock 'n' roll were right, "You can… lay your head on a TV screen and think to be smarter. But to stand, I have to hold the roots". So Leo has not forgotten his roots. Who knows, maybe that's why he looks dignified against other legends of Dream Factory and elegant collection of watches for him is just a way to help others, and not a fetish.

Written by Valya