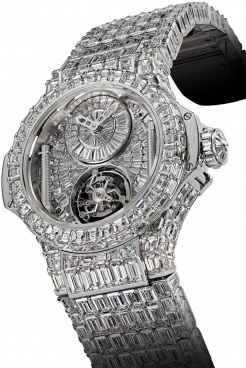 Hublot Big Bang 2 Million EUR. For about a whole month, 45 best gemcatters worked non-stop to create this unique wrist watch. The case and bracelet are encrusted with 637 baguette diamonds, totalling over 140 carats. Besides, there is one rose cut diamond on the crown. All the best diamonds used in this watch came from the mine of Yakutsk (Russia). The diamonds selected by Hublot's experts are of the high quality with colour and clarity of VVS. About 270 carats of rough diamonds were chosen by watchmakers for Hublot's wrist watch, but only 141 carats remained after cutting. The case is made of 18K white gold set with 72 baguette diamonds total weight of which is about 20.85 carats. 18K white gold bezel is also set with 72 baguette diamonds (11.14 carats). Crystal Sapphire with anti-reflective coating. The crown made of 18 K white gold is set with 24 baguette diamonds and one rose cut diamond (1.2 carats). The dial of 18K white gold and palladium 150, is encrusted with 116 baguette diamonds (8.87 carats), flanked by two Vendom columns. The name «Vendom» symbolizes Hublot's boutique located in Place Vendom, 10. Faceted skeleton hands are rhodium-plated and encrusted with diamonds. Hublot Big Bang 2 Million EUR has a hand-wound movement (caliber HUB 6003) with tourbillon. Power reserve is 120 hours. 18K white gold bracelet with folding clasp is set with 353 baguette diamonds (102.62 carats).

Hublot Big Bang One Million $ Big Bang. The diameter of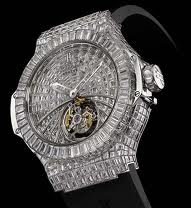 18K white gold case is 44 mm. It is encrusted with 322 baguette diamonds with total weight 24.65 carats. The Swiss watch dial made of white 18K gold is covered with 129 baguette diamonds (6.40 carats). There is a skeletonized tourbillon at "6:00" on the gold dial. Inside this wrist watch is a caliber HUB 6000 manually wound tourbillion mevement. A black strap with Hublot logo is manufactured of natural rubber.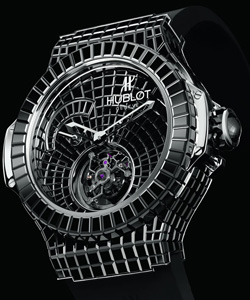 Hublot One Million $ Black Caviar Bang. Hublot wrist watch for men presents the concept of "invisible visibility" showing the technical and design achievements of the most skilled Swiss watchmakers. It took Hublot's experts about 2000 hours of meticulous work to create this Swiss watch. The most experienced jewelers chose 544 baguette diamonds for watch encrusting. The case with diameter of 44 mm is made of 18K white gold and covered with 322 black baguette diamonds (25.11 carats). Sapphire crystal with anti-reflective coating. The 18K gold crown is set with 13 black baguette diamonds (1.7 carats). The dial is presented in 18K white gold and encrusted with 179 black baguette diamonds (5.48 carats). Caliber HUB Solo T manually wound tourbillion movement. Power reserve is 120 hours. The natural black rubber strap is decorated with Hublot logo.