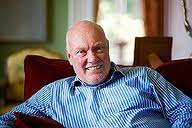 In 2004 the head if Hublot watch-company became Jean-Claud Buiver - the member of joint stock company governing. Jean-Claud Buiver was the director general of Blancpain, Swatch Group.
Under his direction Hublot created a new conception of development - "Art of Blending" - which was used while new models of watches were processing. A perfect blending of gold, ceramics, tantalum, red gold, titan and magnum is presented in these watches.
The conception was supposed to use know-how developments in connection with traditional Swiss horology.

On Baselworld 2005 Buiver defend the justifiability of once conception, having released a new collection of Hublot watches.
Hublot Big Bang model had a stunning success and was a good example and proof of "Art of Blending" conception justifiability.
The number of reservations increased, to the end of the year it increased three times much.
In November 2005 Chronograph Big Band was rewarded with some international prizes ("Design 2005", Geneva Grand Prix horology competition; "The Best Sport Watch", Japan "Watch of the Year" competition; "The Best Big Watch", Bahrain "Watch of the Year" ceremony).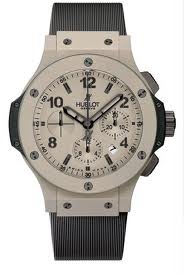 In 2007 the model Hublot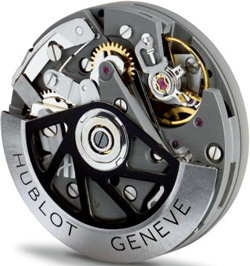 Mag Bang was released. All the details were made by Hublot manufactures. Making the case and movements of Mag Bang watch, watch-makers used a very light and new alloy of aluminum and magnum (AG5).
Aluminum relates to the group of light metals. It is paramagnetic, easy-formed and easy-processed mechanically. It is corrosion-resistant because of fast oxide film appearance, which protect the surface from further atmosphere contact.
Aluminum was founded in 1825. Mostly it is spread among third part of all metals, it is the third among the elements existing in the Earth crust.
Aluminum density is 2,7 g/sm3 which three times smaller than steel density, that is why aluminum alloys are very light. Aluminum is in the alloy which is used for Hublot watch case making. Pure aluminum is very flexible, that is why for industrial needs copper, zinc, manganese and titan are always added to it.

In 2007 Big Bang model made of ceramics and gold was called "The Best Watch" by Caesar magazine. A high tech ceramics used by Hublot for cases and bezels of some watch-models is made of zirconium dioxide basis. The ceramics is very firm and material, scratch-resistant. Zirconium dioxide ceramics is white semitransparent material. To reach bright color of ceramics (from black to wine red) the compounds of different elements are added.

18carat gold is used for case-making. Pure gold is very flexible material and it is rubber sore easily. For obtaining necessary physical characteristics from 25-64% of other metals (copper, silver, palladium and etc.) are added to gold. The color of gold depends on copper and silver quantity.

"Art of Blending" conception was developed by Hublot maximally. It still searches for unusual materials and new alloys. During 2008 Hublot Big Bang Purle Carat watch produced with some addition of gold and amethyst achieved three prizes and attracts everybody's attention.

At the sixth exhibition "The Night of Horology" in Geneva it was awarded by the second prize in "Female Watch" category. At the same category Big Bang watch were awarded by the prize of "Jewelry and Desk Set" competition in Bahrain.

As a component for some elements making a synthetic fiber (Kevlar – a unregistered trade mark of DuPont) is used. Kevlar is not very expensive material, it is only used when there is need for some extra flexibility achieving.

For some models producing platinum with addition of 5% copper (47carat) is used. Platinum has a high corrosion-resistant characteristic. It is processed by diamond tools and shiny polished.

Caoutchouc is widely used by Hublot. Black color of it can be made by carbon-black. White color is made by kaolin, chalk, cranium dioxide and talc powder adding.
In horology stainless steel is widely used. Case, bracelets and components of movement are always made of it.

Stainless steel is an alloy which contains an iron as a basic material, chromium for corrosion protection and nickel which makes the alloy firm.
For cases and bezels production for Hublot watches pure tantalum is used.

Dark-Grey color of tantalum is in a perfect contrast with gold, steel, titan and platinum. Tantalum is inert and does not cause allergy, is very firm and corrosion-resistant.
Titan (mark6) contains of 4-6% aluminum and 2-3% tin are also used for some watch cases making.

Titan is extracted from rutile and ilmenite. Titan is not allergenic material, it can be combined with all the materials which are heatproof and corrosio-resistant.