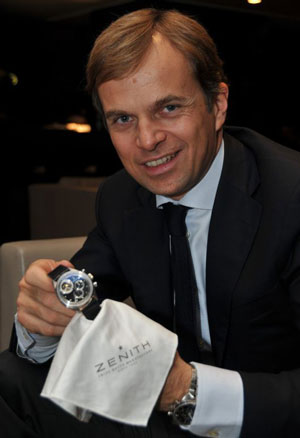 On the 1st of June 2009 the head position of ÑÅÎ Zenith manufacture was taken by Jean-Frederique Dufoure. Philip Pascal, who was the head of a concern LVMH (zenith is enter into the composition) announced about the appointment and explaining that he has a huge experience of in a watch-making which helped him to learn a lot to this point.
Dufoure graduated from Geneva University of commerce and industry. In he past he was nominated on accountable positions at Swatch Group and Ulysse Nardin. To zenith he came from Chopard. During the last two years Dufour gained a reputation of one of the most successful leaders. As he suggests himself, he just took the right way for Zenith brand development.
The first Dufoure's aim was need to concentrate on the producing process in general and on modernizing of El Primero movement in particular.
He thought that zenith brand has to be reoriented in order to come to the leading positions. Dufoure conducted the inspection of increased watches lineup created in the period of Tieri Natafa leading time.
As a result he reduced the lineup from 800 items to 152. later a long and hard-working period of learning brand history in archives came.
At this very moment Dufoure decided to bring to life Swiss hardware of an old kind.
«the number of our patents is near 800! - reveals Dufoure. - thousands of drafts and drawings, thousands of different manufacture designs! I was amazed – these are treasures of techniques and science, which has already covered by dust".
Zenith brand has already became the part of Swiss manufacture history. Dufoure suggests that watch is not only a beautiful case and a perfect movement. It is also a device which can and have to be produced in a huge run, but with a permanent quality control.
Here Dufoure chooses as an example American industrialist Henry Ford, who raised up his automobile business from the ground up, including the whole manufacture, supplement and sales. Moreover it is need to be foreseeing who will buy these watches and what for.
"It seems to me that, nowadays Zenith watches response all this questions, - suggests Dufoure. The intense of a consumer is clear to me. I can easily say what exactly watch is needed. And I know how to make them"
being oriented to the values of the past, today Zenith emphasizes four main lines of watch. To 2010 manufacture can brag about strictly defined watches collections Academy, El Primero (models Class and Chronomaster), sport model Defy and elite, combining quality and the basic price level.
During the last two years the family of Zenith watch increased in 30 new products. Moreover this period is called " Dufoure Epoque", the recently cam watches now have a status of classic models and are kept in different collections.
So it can be said for sure that Dufoure returned Zenith to a traditional esthetic state. The secret of his success he called the attitude towards the brand not as to the name of fantastic examples of watches but as to alive and constantly developing industry. It is impossible to be on the top, not having own traditions and ideology.