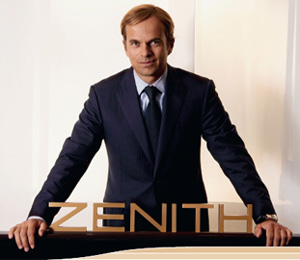 It is not a secret that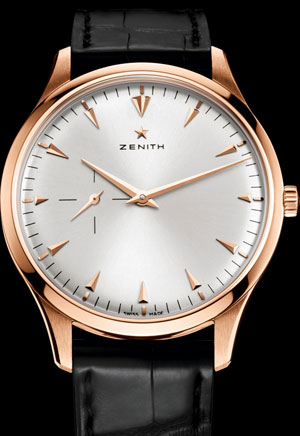 any modern trends come from real life. So, well the present crisis touched not only the economics.
Zenith company was not an exception, they created new fashion trends, besides in some crisis periods the luxury items demand gets low, and people spend less money is there is no strong need for this.
In 2009 Jean-Frederique Dufoure became the head of ÑÅÎ Zenith. He realized the situation immediately that they need to concentrate on those consumers who like a reserved classics. So, watch Zenith Elite Ultra Thin in an ultra-thin case appeared in a strict design conception (only 7,60mm thickness in a diameter of 40mm).
By the way, this model reminds not only the time of simple design, but also a time of democratic prices (which depends on the model and minimal price is 3hundred euros), so well this watch again can be an attribute of intelligent people who adored zenith brand in past times.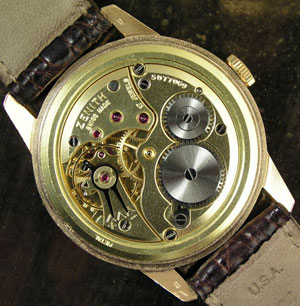 At a first glance they are very simple. Elite Ultra Thin watch has a very thin case and a thin (3.81mm) very complex movement, supplied with auto-rewind Elite 681 which provides up to 50 hours work.
For creating the cases stainless steel or rose 19carat gold are used. The back lid made of sapphire crystal, showing up the movement and work of a tungsten inertial sector of a rewind.
The dial plate of Zenith Elite Ultra Thin has a facet hour marking out. Some models have marked hour intervals incrusted with diamonds. The color can be different: white, varnished, silver, dark-grey, black and brown. Some models have a dial pale where sun beams are guilloched. The hands of Zenith Elite Ultra Thin are sword-like near the position of 9 o'clock.
All this beauty is set under the sward-like sapphire glass with double anti-reflective covering. Strap of Zenith Elite Ultra Thin is made of black or brown real alligator leather with a clasp made of the same material as the case.
For the most convenient use the the strap is rubberize inside. Zenith Elite Ultra Thin watch combine one of the best Swiss gauges, perfect and reserved design, reaffirming that elegance is actual forever.