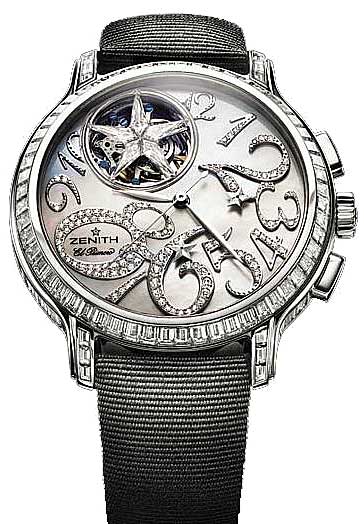 Female watch are bought not only for knowing time, but also for accessorizing the owner of the watch, nonetheless the technical demands were not canceled.
Zenith company produces watches known for their ingenious movement. Having become the head of the company Tiery Nataf set a goal – to return the past reputation to the brand. According to his point of view the The experiments they could reach it by improving the present mechanism and developing the design of Zenith watch.
At first the specialists treated Nafat's efforts sceptically. The experiments taken for tourbillon speed extension drived the masters crazy.
They explained Nafat many times that it is impossible to do, but he didn't listen to them. The first tourbillon, issued by Zenith was to be the best. Nataf suggested: "Inf the word "tourbillon" means "vortex", the speed of air flown increases in the case if increasing heigh, so well, what does interfere us to make a new tourbillon-like model with some levels increasing the winding wheel balance?".
Having taken the advice, watchmakers made a tourbillon with an amazing rate of balance 36 000vph. So, by this Zenith masters set a world record.
On the base of this mechanism the first female tourbillon Zenith Starissime Tourbillon Chronograph was made. Nataf himself was working at the design of this watch. Also it was he, who insisted on the name of this chronograph. The keyword is "starissime" according to his mind means a very huge star, which is higher all other stars and and brighter them.
The case of Zenith Starissime Tourbillon Chronograph is made of 18 carat gold, has a middle size diameter (40mm). An automatic mechanism has a special calibre Zenith EL PRIMERO 4029 and superhigh-speed tourbillon. However Nataf preferred to scarify functionality to the beauty: the chronograph counters are changed in this construction by golden stars and loses their utilitarian functions.
In the carriage of a tourbillon a star is fixed. It is made up by fancifully facet diamonds. In 60 seconds I makes one whole turn around once axis.
The dial, buckle and the case are handmade encrusted by diamonds.
For Zenith Starissime Tourbillon Chronograph decoration 117 fillet cut diamonds (total weight 9,8 carat) are needed.
Nataf was satisfied with a result. He suggests that an issue of Zenith Starissime Tourbillon Chronograph can be the peak of the company's potential development. More over the gentle sex for who watchmakers were working are lots of women all around the world is delighted.