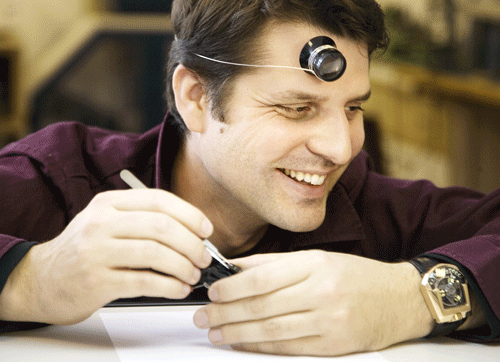 Martin Fry's idea of creating and design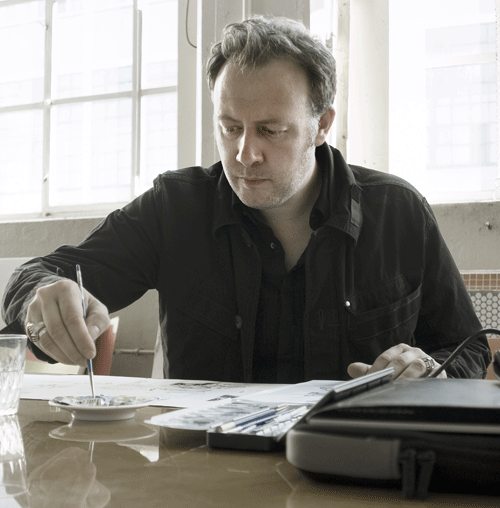 watches of the first indexing time served as the foundation for the company was founded Urwerk. People are often looking for innovative solutions. Maybe this is what has helped the company acquire Urwerk great success and popularity. Fry, together with his brothers Felix and Thomas Baumgartner (skilled watchmakers and skilled craftsmen), founded Urwerk. Grandfather of brothers gathered chronometers, and his father was engaged in the restoration of antique curiosities. Thomas for a year restoring the pendulum watch of the XVII century, in which he used the original parts. Felix did a lot of work for the company Vacheron Constantin. These fine engineers added an artist, designer, producer and art historian Martin Fry. The first experience of working together Baumgartner and Frei was to improve and reduce the size of the night watches of Pope Alexander XII to watch. Night watches of Pope, this is a unique property of the Catholic chaplain, which was established in 1659 by brothers Kam-Lanus (Italian masters.) The Italians used the principle of "traveling hour," replacing divided into 12 parts and the hands on the dial, curved window, in which the moving figures were. At the beginning of each cycle figure appeared on the left side window, which is an hour later hiding in the right hand side. The top four auxiliary labels helped in the last minute to navigate. The team ran a complex movement of Urwerk watches with four satellites in a gold case with dimensions of 5 to 3.5 cm.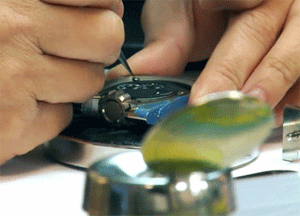 Model UR 101 was developed in 1997.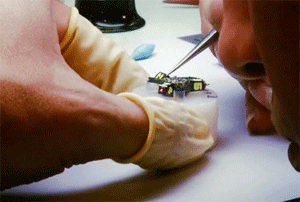 Watches look like stone, polished ocean. The huge success of watches waiting for UR 102, which were sold for a few manufacturing.
Model UR 103 was presented by the Basel exhibition in 2003. Design UR 103 watches worked in the form of a spaceship. Large crown, reminiscent of rocket engine is in the "12 o'clock". Cockpit resembles a transparent casing sector.
On the reverse side are three hands under a sapphire crystal dial: a 15-minute, power reserve indicator with the second and dial. Accuracy is controlled by the adjustment screw.
Urwerk young company and has no tradition, so it quietly experimenting with the technical equipment and design of watches. The technical part is controlled by the brothers, and the design develops talented Martin Fry.