| | |
| --- | --- |
| News of Montre24.com: exclusive video of Urwerk at BaselWorld 2012 | |
Information watch portal montre24.com presents to all lovers of fine watch making and lovers of original watches an exclusive video clip of the famous Swiss watch company Urwerk, which kindly opened the door of its pavilion at BaselWorld 2012. The annual exhibition BaselWorld now is one of the most important events of the surprising watch and jewelry world. BaselWorld exhibition has become a kind of "sacred" place - "Mecca" of watch industry, in which presents the latest achievements of the watch industry and the creation of luxury jewelry companies. BaselWorld is a unique opportunity for watch, jewelry, as well as for companies, producing related products, as well as for companies engaged in production and processing of precious stones to familiarize the general public, professionals, distributors, partners and potential customers with their latest achievements in the field of watch mechanics and various design ideas and new models that are the result of painstaking work of skilled craftsmen. BaselWorld is not just an exhibition, and exhibition - fair, because guests can purchase their favorite watch or jewelry on the spot.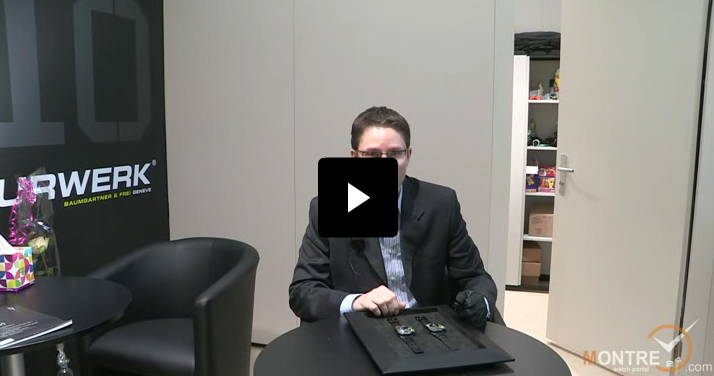 The watch company Urwerk is relatively young manufacture, having no well-established watch making tradition, but it has managed to win a huge success all over the world of watch making, which was possible by innovative ideas, quietly experimenting with the technical equipment and design appearance of watches. The technical part is controlled by the brothers, and the design is developed by a talented designer Martin Frei. At the annual exhibition BaselWorld 2012 watchmaker Urwerk has introduced two versions of the legendary UR – 110 with horizontal time display - UR-110 UR-ST and 110 TTH. Development of watches required for more than two years of hard work by the most skilled craftsmen, in the result of which saw the light the unusual and innovative novelty – a wrist watch UR - 110.
The main task was to create an ideal watch center carousel and rotating hour blocks. Men's watch UR-110 is a worthy addition to the complex and amazing collection of the company Urwerk, which display the time by using the "satellite" time display. Recognizable watch case of Urwerk watch, which has become the hallmark of the company, is made of titanium grade 5 with a bezel made of steel coated with AlTiN (versionUR-110 ST) or grade 5 titanium with bezel of tantalum. To get acquainted with Urwerk watch at BaselWorld 2012 fair is possible in the video clip of montre24.com, clicking on the link http://montre24.com/video/105/.
Official site of Urwerk watches.
01.04.2012
URWERK - Geneva, January 2014
I am one of the latest creations to emerge from the URWERK atelier. I tell the time through my satellite complication display with wandering hour and retrograde minute indicators.
30.01.14 Comments(0)

New EMC Concept by Urwerk
Recently, the founders of the famous watch company Urwerk Felix Baumgartner and Martin Fry have announced the completion of works over the EMC concept, to combine traditional mechanics and advanced electronics.
06.06.13 Comments(0)

UR-210 AlTiN Timepiece by Urwerk in a new image
Watchmaker Urwerk this year pleases the fans of unusual watches with an original model UR-210 AlTiN. The watch, providing the monitoring the charge of energy, have a new look.
07.05.13 Comments(0)

UR-110 PT – Perfection is in the detail
The UR-110 is back on the scene, shedding its original titanium and steel case to retain the essentials: Its ARCAP mainplate and planetary satellite complication. The UR-110 has got a second wind and with it, a platinum bezel for a decidedly vintage look.
31.01.13 Comments(0)

The UR-210 - Partly human
The UR-210: Never has a timepiece displayed such feedback and attachment to its owner. In a first for a wristwatch, URWERK's UR-210 highlights and monitors the symbiotic relationship between man and his mechanical watch.
12.09.12 Comments(0)

BaselWorld 2012: UR-110 ST Watch by Urwerk
At the world exhibition BaselWorld 2012 the famous watchmaker Urwerk has unveiled its new model UR-110 ST. The name of the company Urwerk is associates with the supercomplex watch models.
17.03.12 Comments(0)

The most interesting watches of the upcoming auction Antiquorum
In December 7 in New York it will be the next auction Antiquorum Important Modern & Vintage Timepieces. It can be purchased by such outstanding watches, such as Vacheron Constantin Ref. 30020 2000, equipped with minute repeater and perpetual calendar. This model is presented in the case of platinum, and is estimated at $180-220 000.
17.11.11 Comments(0)

Presenting the UR-110 ZrN Torpedo: a Champagne Supernova for the Wrist
A long time ago in a galaxy far, far away, a carbon-oxygen rich white dwarf star erupted in a gigantic thermonuclear explosion. The resultant supernova was designated SNLS-03D3bb and it revolutionized astronomy as it was twice as powerful as was thought possible.
12.10.11 Comments(0)

In September 23, 2011, a charity auction Only Watch was held
In September 23, 2011, on Friday, a charity auction Only Watch was held under the patronage of His Highness Prince Albert II. The proceeds for the auction will be given for research into Duchenne muscular dystrophy. The auction is held every two years, and among its members the most prestigious Swiss watch brands appear.
26.09.11 Comments(0)



Martin Fry's idea of creating and design watches of the first indexing time served as the foundation for the company was founded Urwerk. People are often looking for innovative solutions. Maybe this is what has helped the company acquire Urwerk great success and popularity. Fry, together with his brothers Felix and Thomas Baumgartner (skilled watchmakers and skilled craftsmen), founded Urwerk. Grandfather of brothers gathered chronometers, and his father was engaged in the restoration of antique curiosities. Thomas for a year rest...
Detailed information Urwerk