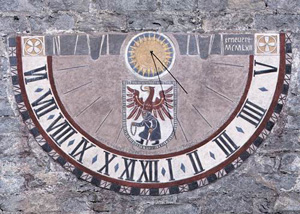 Usually, talking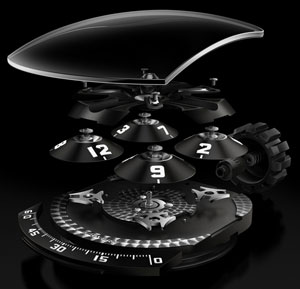 about style of things, we mean its appearance. But if we talk about non standard, as wristwatches Urwerk, technique component can be considered as element of style. Their patented movement has unusual construction, the specialties of which reflect on appearance. Watches of brand Urwerk will not confuse with anything else.
Artist Martin Fry claims that creating new model of wristwatches, he doesn't guided by appearance of concrete prototype. It is combination of impressions.
All models Urwerk named by letters UR in combination with different digital indexes. If numerals don't have questions, but etymology of letter meaning can be interpreted in different ways. The most simple meaning is the beginning of the company's name – Urwerk. But if we'll go deeper, it find out that "Uhr" in translation from German means "Hour". The origin of this word is about fifth century BC. According to this version, Uhr is a town in Mesopotamia (territory of modern Iraq). He was famous with its first observatories, built by native astronomic. Here lived first watchmakers, who built towers with solar clocks.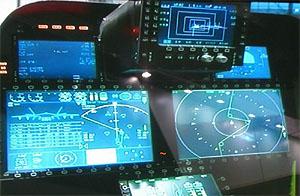 There is version, that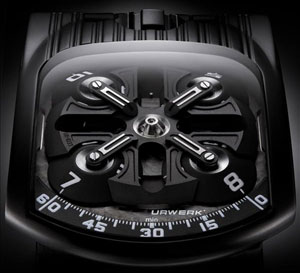 moving of the sun was the first prototype of movements with "traveling" hour. The work of such watches resembles the moving of sun on sky during the day. Before Felix Baumgartner and Max Fry such movement was created in Italy. In 1656 brothers Campanus got an order to make night watches for Pope of the Rome Alexander ƠII. The creation of Italians had semicircular dial divided on 12 sectors. At the beginning of every hour regular numeral appeared from right side, moved to left side of the window and disappeared, gave way to next. In the whole Urwerk repeats this construction, but has usual size about 36-38 mm, which suits to classic wristwatches.
Movement of watches Urwerk doesn't have analogs. Felix Baumgartner patented his technical invention –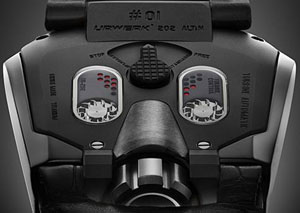 rotation element, which leads four conical discs. This technology stays unique.
Design of case doesn't give way to filling in original. Its streamlined forms say about dashboard of plane or car, and about fantastic spaceships. Some people see in lines of watches Urwerk helmet of movie hero Dart Vader. Associations can be different, the main factor is person's fantasy. To create case of such form is very difficult, it is made from durable material platinum. For example, to make round watches one should work under it no more than 12 hours. When saying about complicated forms, this process can be eight weeks. About half of this time goes on programing machine. During three weeks they suit instruments, regulate and adjust. For making one case for watch Urwerk goes two days. May be, this is additional factor that such products don't put on stream – very long and hard process of manufacturing doesn't let, though the main reason is in masters who want to give every person to please with their own feelings of time, checking it on wristwatch, made special for him.