Unusual watches. Don't hide your individuality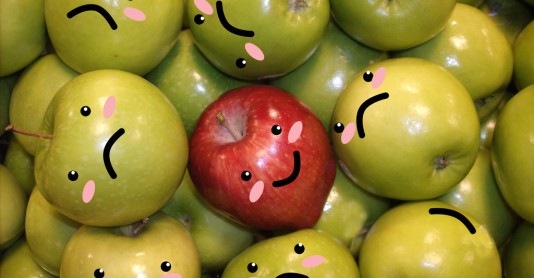 Standard rules, standard lifestyle. "People wouldn't understand it…", "I want to be like others", "Why should I stand out? I'd better follow the crowd…". What do you see in the miracle? You take yourself through the prism of reality perception, the way other people, in your opinion, look at you on the streets, in the office, in the public transport. We are ruled by stereotypes, majority opinion, which is summed from similar opinions of separate individuals. "This shirt is too gaudy for me. Who am I going to look like?", "I don't want to be criticized…". True, you shouldn't be distinguished, as you can be just like others with no individuality.
But it's not that simple! Life is changed just by those, who are able to stand out of the crowd, strong enough to answer to public opinion, to go against the grains of their own views and to convince the society in rightness of their points of view. It's easier to be in crowd – less responsibility. "I've just done what everybody does…". But "what everybody does" doesn't always meet your inner world, your conscience. Crowd is ruled by instincts, kills individuality, absorbs it. It's hard, sometimes incredibly hard to turn against crowd, to change your life vector into another direction. To stop, when everybody is running, running for dear life into precipice. "But they All do it! So, there must be some sense in it". Yes, it's sense of crowd. People, able to show their individuality, are really worth of admiration. There is a certain set of things that reveal its owner's views, his style, ability to differ. They are clothes, cars, sophisticated accessories and, of course, wrist watches. The watch remains almost the main thing that helps a man to make a statement; the wrist watch accompanies its owner in any place and situation, unlike car, for example. And naturally, thanks to modern variety of watch models, any person can choose what he likes – a wrist watch that would favorably distinguish him in any modern society. But still let's try to answer the question: "Why do some people want to stand out of crowd? What advantages do they get?" The answer is inside us. As each person is a bead of perpetual necklace of life, so unique and individual that it can create its own world. A person isn't like anyone, no matter how much he wants. Some people get frightened and confused, they try to hide their disadvantages in public, but they bury their advantages at the same time. A courage person knows well his features, favorably distinguishing him in society, emphasizes them that helps him to achieve the best results in life. And the weaknesses, on the contrary, wane, and such person seems almost perfect to masses. So, why don't we become courageous and reveal our hidden potential, show us from the best angle and be outstanding, stylish and extraordinary? The modern society gives all opportunities. Let's invent our own new style and show it to masses, win total recognition, as the style of unusual watches does it now. Once that style was a timid attempt to make its way into cramped world market of new brand wrist watches, trying to create something new, something different. Just that attempt to create and take a new share of the market led to appearance of Individual style – new look at usual things, forms of wrist watch cases and time indication methods. A notable watch with unusual case and fantastic dial will serve you well in many spheres of life: business, leisure or social event. You will have more attention at a business meeting, so you'll have a chance to say to your partner just what you want. Various unusual forms and color decisions of Individual wrist watches allows you wearing one model on the beach, with shorts and polo-shirt, as well as at the social event, in strict tail-coat. In both cases you will be advantageously distinguished from others; the watch will tell about your perfect taste and individuality, success and wealth, as the unusual watches are usually a bit more expensive than others of the same brand.
Unfortunately, some watch brands go too far in their fantasies and create very unusual and extraordinary things at the expense of functionality and comfort. Sometimes such fantastic ideas are impossible to wear or use, they become expensive exhibits of collectors, who pay attention only at exclusive and incredible things. However, more conservative collectors add with pleasure Individual wrist watches to their collection of Military watches. As why does one need to buy another business-class sedan, if he already has five of them in his autopark? An excellent sportcar will perfectly dilute strictness and ascetism of collection. Especially that something, which seems unusual today, can become classic tomorrow, and the history abandons with such examples. The price on such models will only rise in time, and after some decades the wrist watches, so unusual and even futuristic for us, will be named with the prefix "retro-", past epoch classics.

HD3 Complication Black Pearl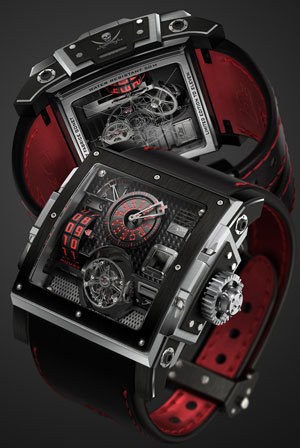 The Swiss watch company "HD3 Complication", recently appeared at the world watch market, announced itself with its extraordinary wrist watches of Luxury class, releasing the limited series "Vulcania". Apart from, to put it mildly, "unusual" design, HD3 Complication decided to present the line "Vulcania" in a new perspective, followed by striking success of that model. Inspired by beautiful legends about pirates and by romance of sea, the talented designers of HD3 Complication decided to create their own "black pearl", to bring the spirit of that time to modern epoch for anyone could "play" as if they were pirates when tired of everyday life.
Technically the chronometer is nothing else but the sensational watch "Vulcania" with all complications and interesting attributes. A conceptually new bi-axial tourbillon, seen through both face side and transparent back case, became the heart of wrist watch. But still its design style attracts special attention. The case is crafted in PVD-coated titanium. The scarlet indications strongly contrast with total grey-black color range of wrist watch "Black Pearl" that adds more points to the appearance, not to say about dial – a real retro-futurism. The hours are indicated by means of two scarlet disks, situated at "9" hours. The minute indication is easier – there is a supplementary dial with 60-minute scale, also of bloody-red color. There is the power reserve indicator in left upper corner, made in the form of sextant. By the way, the movement is designed for 80 hours of work.
Now about the pirate theme. There is no pirate without "Jolly Roger". Indeed, this flag is an inseparable attribute of all stories about "hard" life of sea-robbers, and the Swiss company "HD3 Complication" couldn't pass by that symbol! There is a hatch on the left side of case, which looks like a cannon hatch, and, of course, it is adorned with the famous symbol of terror of the sea – a skull with two crossed sabers. The crown is nothing else but a miniature steering wheel, seen through a transparent aperture at "3" hours. The transparent sapphire back case is engraved with wind rose with scaring skull at the center, and the name of customer, "captain" of this pirate watch, can be applied under the "cannon hatch" with Jolly Roger. Such careful attention is paid to the customer because of Black Pearl exclusiveness – only 11 models of this unusual wrist watch were issued. The pirate chronometer from HD3 Complication is equipped with straps in 3 variants: leather strap with red stitching, rubber black and alligator leather straps. In spite of its marine theme in design, this watch is better to leave on earth, as its water resistance makes up only 50 m, so it won't bear anything, except handwashing and rain.
The Swiss wrist watch "HD3 Complication Black Pearl" is an outstanding example of unusual watches, distinguished from monotonous models, and if you like everything that concerns pirates, this model will perfectly complete your collection of unusual and amazing things.

Azimuth Mecha-1 BMF Mr. Roboto


Since the middle ages people have been trying to imagine the world of future. But in the XX century indeed with popularization of cinematography the thoughts of future sank into people's heads. We always wanted to live better and, hoping for "bright future", embodied all our wishes and dreams in it. The total interest in "how it would look in 50 years" gave birth to such concept, as retro-futurism – an idea of people from the past about the world of future. They supposed that the technologies people had in those times were an apotheosis of all science researches and the cities in future would be full of improved stream engines and transistor computers. And, of course, people couldn't do without various mechanical assistants – robots, which would be wound up by means of some key, like wall clocks, and move in a strange way. Our cities would have been stuffed with pretty machines with hands and legs. There is something unusual and attracting in these strange creations, which were told about much in books and movies of past epoch. And the concept of "robot" is still associated not with high-technological dead machines, which only assemble cars at plants, but with something like human being, some iron creature that can feel, laugh and cry. The Swiss company "Azimuth" tried to remind and embody just these associations in its unusual wrist watches. This watch company has appeared at the market recently and drawn the attention by its unusual decisions in the world of wrist watches. After several years of being at the world watch market the phrase "unusual watches" is more and more used with the name of extraordinary watch brand – Azimuth. Nowadays the man, who reads the time on his wrist watch, but not on mobile phone, inspires respect, especially if his wrist watch distinguishes at general background of usual forms, stuffed the watch shops. This is the main accent Azimuth made, releasing the wrist watch of Mecha-1 series. The model "Mr. Roboto" became an embodiment of retro-futurism of 60s, epoch of "wound robots of future" in wrist watches, and the prefix "Mr." alluded to spirituality of nice pop-eyed iron man. The massive steel case of barrel-shaped form on 10 screws is always associated with robot's head and eyes –two time zones are indicated in the couple of green luminescent circles. The minutes are indicated with the help of retrograde hand on square dial – a kind of stylized mouth of our "wrist robot". And, of course, the designers haven't forgotten about famous winding key, breathing new life into all mechanisms of future from past epochs. This role if played by the crown in left part of the case, which, by the way, also revives our small mechanical assistant. The assistant itself has a self-winding movement Valjoux 7750 and is rather "independent". The water resistance of iron friend makes up 50 meters that helps you to feel safe if some water drop on it. The watch is equipped with soft rubber strap. The time reading with the help of this unusual watch requires some training, but the beauty of its performance eclipses any possible discomfort. Mr. Roboto will be a perfect assistant for creating your own style in any conditions.

MB&F HM3 FROG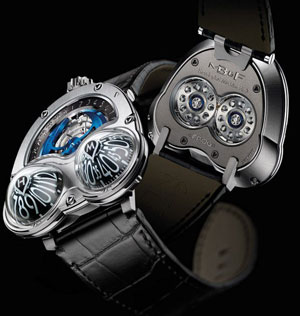 The watch industry is rather complicated and serious segment of the world market, where everybody tries to present himself well by making only "serious things", improving and completing usual forms with various complications and new-trend materials. As releasing something extraordinary, you risk to be misunderstood and enough to make a cat laugh – goodbye, seriousness, earned by sweating of your brow during many years. But Maximilian Busser, the founder of MB&F made efforts for making a wrist watch that would evoke any feelings, except seriousness. And the name speaks for itself – the creators named their product "Frog". Such unusual name "stuck" to the watch by its own, as the form of case reminds of the amphibious' head, and the enormous round "eyes" of the watch completely assuaged doubts. Wearing such watch, a person as if says: "I'm serious when I have to be, I don't suffer from excessive arrogance". At the same time, despite playful and even ridiculous appearance of this wrist watch, the watchmakers went deeply into design of movement and details; many details of this watch movement deserve admiration and are a wonder of horlogerie. The hours and minutes are indicated by means of two rotating spheres – so-called frog eyes. Their creation required serious craftsmanship: the thickness of aluminum sheet they are made of is only 0,28 mm, and the weight is only 1,5 grams. It helps to minimize power inputs for spherical 3D dial. The unique domed sapphire glass is made by talented master Martin Stettler from the company "Stettler Sapphire". Earlier the sapphire glasses of such complicated form were considered to be impossible to make, as that material is difficult to process, and any slight imperfections could lead to visual distortion of dials. At first glance on this wrist watch an enormous self-winding rotor, made of 22-carat gold with blue or green coating, strikes one's eyes. An extraordinary big disk of date indication rotates around it. Specially for this model the watchmakers from MB&F have designed a completely new system of gearing. The case is made of grey or nielloed titanium and equipped with black strap, made by hand from alligator leather, with 18-carat white gold and titanium buckle. It should be noted that such "frog" form of case is rather comfortable and allows reading the time in any position of hand. The wrist watches "MB&F HM3 FROG" were limited by 12 pieces in two variants that made them a "cheesecake" for collectors of unusual watches, for those who want to present themselves from various sides. This wrist watch is an embodiment of Maximilian Busser's idea "…to bring a child's sense of awe and sense of playfulness into high-end watchmaking…", as in our childhood we were free from stereotypes and obtruded opinions of society.

Urwerk UR-110 Torpedo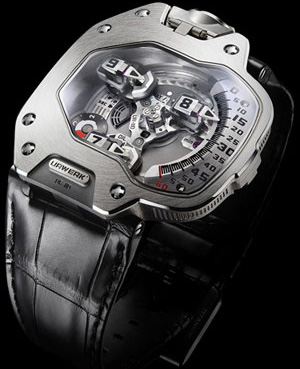 What brand wrist watches are recognizable even at distance? Of course, it's the watches of the leader in manufacture of unusual watches – Swiss watch brand "Urwerk". For many years the watchmakers, the Baumgartner brothers, have been gladdening the fans of exotic things with their extraordinary case forms and futuristic methods of time indication in Urwerk wrist watches. The new creation of talented watchmakers was presented at the international watch exhibition Basel World 2011 and named "Urwerk UR-110 Torpedo". This "galactic" chronometer deserves the title of horlogerie wonder, and the original design of wrist watch UR-110 Torpedo can be a standard for many watch brands, striving making unusual instruments of time reading. The name "torpedo" was given to reference of that watch due to three self-guided crowns with hour indication, moving in an "orbit" of minute arc; they are always directed at one side and parallel to each other. The indication is so slow and smooth that sometimes the time is seemed to be stopped. It is achieved by means of complicated "planetary" system of watch hands and patented movement of "traveling" hour. The complex construction consists of three levels: the main central tower, set along the full length of UR-110, provides balance and steadiness of all complication; the "planetary" systems of gearing allow mobile hour blocks rotating around the dial; three hour blocks, consisting of "satellite hour" and minute hand, are set on "planetary" gearing and constantly rotate in opposite direction of central carousel round movement. The hour indicator of this wrist watch model is situated opposite to arc-shaped 60-minute scale, which is on the right side of case. Such type of indication is rather comfortable and allows the owner of this wonder-watch reading the time instantly, not rolling up sleeves. The wrist watch "UR-110 Torpedo" is a "regular evolution" of unusual variety in time meters from Swiss brand "Urwerk". In addition to unusual hour and minute indications, the chronometer "UR-110 Torpedo" is provided with indicator of day and night, 60-second counter and indicator "Oil Change". The enormous case (47mm ű 51mm ű 16mm) is made of grey or nielloed titanium and because of its "planetary" sizes it will be suitable for only owners of big wrists. The back case is provided with one more know-how from Urwerk: a titanium back case hides a complicated self-winding system, regulated by two turbines and minimizing the load on the movement itself. The watch "Urwerk UR-110 Torpedo" is equipped with black stitched crocodile leather strap, adding some light classic note to watch collection of this chronometer's futuristic ideas. Despite unusual appearance, this wrist watch looks excellent with business suit or evening tail-coat. The watch "Urwerk UR-110 Torpedo" embodies a perfect strict style of finishing and fantastic fascinating movement, taking us somewhere into the space, to an epoch when people will fly to the Moon to spend their week-end.

Harry Winston Opus Eleven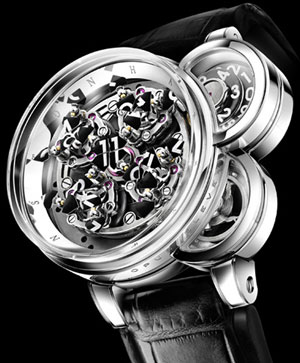 The model of men wrist watches from jewelry and watch legend "Harry Winston", named Opus Eleven, whirled into field of unusual and extraordinary things. This is the eleventh watch from masterpiece line "Opus", which was founded in 2001 by ex-CEO of watch department in the company "HW, Harry Winston Rare Timepieces" and current leader of the watch manufactory "MB&F", creative Maximilian Busser. Another year, another famous watchmaker, invited by the company for close collaboration, another "watch sensation" from Harry Winston. Created in 2011, the eleventh extraordinary Opus is a creation of talented Swiss watchmaker Denis Giguet, who has his own watch manufactory "Manufacture Contemporaine du Temps" (MCT). It's not a secret that a modern active man is very mobile, he is constantly moving, he always has to hurry, do many things on the move, therefore, he always tries to schedule his time, "unscramble" each minute to do all necessary things. In this basis, let's look at the wrist watch from another side. Opus Eleven is the first wrist watch in the history that fully changes a standard idea of the time, literally divides the time, and breaks off small parts from it. This "time replicator" is unusual with its unique movement, "confined" in the case, which you will admire for a long time. Such movement wasn't used anywhere else earlier, that's why all one hundred eleven owners of Opus 11, which was naturally issued by limited series, can safely figure on exclusiveness. This men watch with standard functions (hours and minutes) contains three crossing drums. The first drum, looking like a dial, the biggest one, shows hours without traditional hands; the second drum is smaller, it shows minutes (the minute indicator couldn't be placed in the main drum because of unusual hour indicator); and the third drum, the smallest one, demonstrates the movement of titanium balance wheel. Let's describe the "unusual" point of time indication. First of all, you can read the current hour in the center of big drum, where an Arab numeral is formed literally from small parts each 60 minutes. You only have to wait a bit, and in an hour a fantastic performance is started under the sapphire glass – everything starts moving in different sides, comes into full chaos, and the numeral of current hour shatters and becomes another numeral of next hour. It's easy to guess that this show is performed "under the dome of dial" each 60 minutes. The minutes are also indicated in a quite unusual way – on two rotating disks, one of which shows tenths, the second one – units. The mechanic hand-wound watch "Opus Eleven" is provided with unique complicated movement, designed by Denis Giguet. It consists of four satellites, each carries three parts of shattered numeral, and the vertical transfer is performed by means of many different wheels (such form of wheel excludes a possibility of numeral parts knocking together), six pinions and splay rotating axes. You can admire the movement of this elite watch, provided with big balance wheel in vintage style of past epoch, through the transparent back case. Enormous quantity of time was spent on design of such incredible movement, which consists of 566 elements and has a 48-hour power reserve. The fantastic movement is set in 30-m water-resistant case of 18-carat white gold. The fascinated owner of Opus Eleven can wear this masterpiece of watch architecture on his wrist with the help of black crocodile leather strap with unfolding golden buckle. The watch experts, amazed by craftsmanship of Harry Winston watchmakers and professionalism of Denis Giguet, call Opus Eleven a technical puzzle. In fact, Opus 11 is something more than just a watch, it is perhaps a revolution in all watch industry. Looking at this model of unique Swiss watch, one can safely say that man conquered the most mysterious "phenomenon" on Earth – the time. This watch is a movable image of immovable eternity.

LOUIS VUITTON Tambour Mysterieuse

Fascinating magic of mystic movement.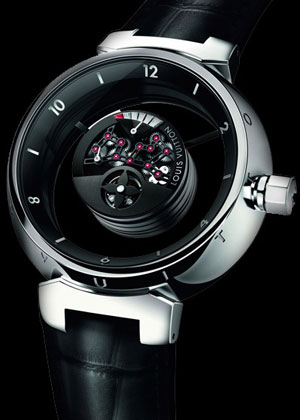 These words come up to mind, when one looks at fantastic piece of horlogerie – new women wrist watch ""ambour Mysterieuse" from the world leader in manufacture of elite accessories "LOUIS VUITTON". When the company "LOUIS VUITTON" started manufacturing its own wrist watches, it made a sensation at the world watch market with its unusual fantastic models. Since there are many fans of extraordinary exclusive things among ladies. Keeping familiar classic features, the masters of LOUIS VUITTON complete them with their vanguard ideas in magically beautiful performance. The wrist watch ""ambour Mysterieuse" suits to such description best of all, as at first glance its movement can't do without magic. The miniature graceful movement as if flies in the air on ultrathin transparent plate from sapphire crystals, and it's completely incomprehensible how it can be connected with the case and crown. The spectacular hands point to time indication, applied on the ring, inclined to the watch center. Despite all its feminity, the watch can boast of quite serious characteristics: 8-day power reserve, self-winding movement and, of course, serious price! One will have to fork over about $250.000 for this "trinket" and wait for making his ordered wrist watch about a year. Such long-term manufacture is proved by complexity of "ambour Mysterieuse construction, counting 115 details, and in addition, the client can specify materials and design style of his future watch in details. Yellow, white, red gold in various combinations, platinum with various jewels: rubies, diamonds, sapphires – are at your disposal. The power reserve indicator can be made of jewels in various styles. The client can choose a crocodile leather strap of several futuristic color decisions. You can be completely sure that Your wrist watch from LOUIS VUITTON "Tambour Mysterieuse" will be exclusive and unique. The designers of LOUIS VUITTON are never frightened to embody their boldest thoughts and ideas, and, as a result, original and extraordinary models of wrist watches, fascinating with their almost inexplicable movement, are born.

Romain Jerome Day & Night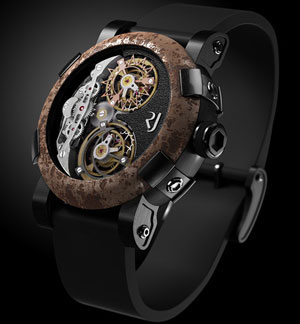 The things the modern watchmakers invent are to surprise their customers and attract the attention of new fans. But rusty watch for $300.000, which doesn't show the time?! Many would take it as a too bold idea, except the designers from the company "Romain Jerome". And they weren't out of pocket! After the presentation of new extravagant model of wrist watch "Day & Night" all timepieces were sold out during 48 hours. The issue of wrist watch "Day & Night" from Romain Jerome became a quite ambiguous event: the fans of watch company "RJ" consider that creation a real masterpiece of horlogerie, and the amateurs of more classic models speak about large-scale delusion of ordinary people, created by PR-managers of Romain Jerome. But anyway we should, first of all, value the watch itself, but not the rumors about it. As for individuality, Day & Night sets all records. No one earlier offered a new approach to time calculation, and Romain Jerome boldly took that heavy flag of horlogerie innovators into its hands. That wrist watch, no matter how one thinks of it" evokes some emotions anyway. Isn't it the main point? To win the enemy of all watchmakers to its side – the rust – and use it as a main design element – isn't it the creativity the world watch market is lack of? The rust symbolizes irreversible march of time, influencing everything that surrounds us, that's why the creation of new already rusty watch is an idea with deep philosophical sense. The wrist watch "Day & Night" divides a day into two stages: day and night, measured by means of complicated differential system of two tourbillons, symbolizing transfer from light to dark, from one life to another. Such scary symbolism, in fact, accompanies us in many everyday things, but the watchmakers from Romain Jerome indeed emphasized it in their new wrist watch "Day & Night". The wrist watch "Romain Jerome Day & Night" won't be unnoticed on your wrist and will perfectly complete any collection of unusual and exclusive watches.

Cabestan Winch Tourbillon Vertical Watch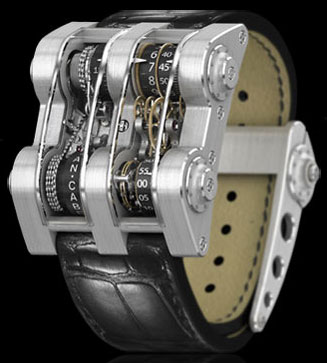 Looking at the new horlogerie masterpiece from Swiss company "Cabestan", it becomes clear that the phrase "Timepieces machines" is suitable for description of this unusual techno-watch. The creation, named "Winch Tourbillon Vertical Watch", can be hardly called a "watch", since it is so unusual for us that it reminds more of some mechanical computer of "future stream engines" epoch. And if a "usual" wrist watch consists of about 100 details, this watch machine contains 1352 details, many of which are made by hand from nickel and silver. The model of wrist watch "Winch Tourbillon Vertical" was created by one of the most famous watch designers of modern time Jean-Francois Ruchonnet, who founded the company "Cabestan" together with father of "craziest" model Harry Winston Opus – Vianney Halter.
When you look at the wrist watch, you forget why you've looked at it, and the purpose to know "what's the time" gives place to admiration by movement, which you can watch for hours. Therefore, the common use of this watch "takes the back seat". The watch "Winch Tourbillon Vertical" attracts the attention even if only the crown is seen from under a cuff. It's quite natural as it is made in the form of original windlass – an ancient detail of any movement up to the beginning of '' century. Such unusual parts, as a windlass and drive chain, came from the centuries, are embodied in the boldest futuristic forms of wrist watch "Cabestan Winch Tourbillon Vertical". But the owner will have to fork over from $230.000 to $400.000 for such "extravagant" distinction in society in platinum case, adorned with jewels. And there's a reason! Such a unique vertical movement requires many hours of hard work, and its uniqueness is beyond a shadow of doubt. Its fascinating work is perfectly seen through double sapphire glass with anti-glare treatment; in addition, the movement represents a dial with various time indications, applied on rotating drums. There are totally 4 drums in the watch: the right upper drum indicates hours and minutes, the lower one counts seconds, the left side shows an interesting winding system and energy transfer from windlass to movement, performed with the help of hand-made unique chain, which is wound on the lower drum at windlass turning and is wound on the upper one, a 72-hour power reserve indicator, during movement. If you wish, you can easily hide the windlass in a special compartment near the buckle. Moreover, the perfect accuracy of movement is provided by a complicated device itself – tourbillon, placed in the vertical movement that makes this wrist watch a standard of newest engineering decisions in the watch industry. The water resistance of unique case makes up 30 m. The watch "Cabestan Winch Tourbillon Vertical Watch" is rather massive: 46 mm in length, 36 mm in width, 15 mm in thickness, 230 g in weight. This wrist watch will be an excellent luxurious item for those who are ready to give a pretty sum for their individuality.

To be continued…