I am one of the latest creations to emerge from the URWERK atelier. I tell the time through my satellite complication display with wandering hour and retrograde minute indicators. My winding efficiency indicator – a world-first – lets you see if you are active enough to replenish me with energy via my automatic winding rotor, or if I am running on stored energy. I can also let you change the winding efficiency of my rotor so that it matches your daily rhythm, and I can even let you switch to manual winding mode. I am very rare, part of a limited edition of 75 pieces. My lightning fast retrograde minute indicator and sleek, dark looks have earned me the nickname "Black Hawk".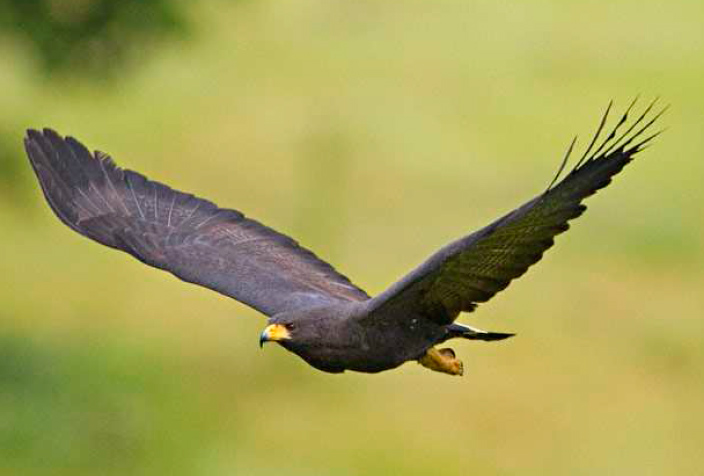 Black Hawk
My body is made of high-tech titanium and AlTiN-treated steel, which increases my resistance to scratches and acids. And, in a first for an URWERK timepiece, I am equipped with a black fabric strap.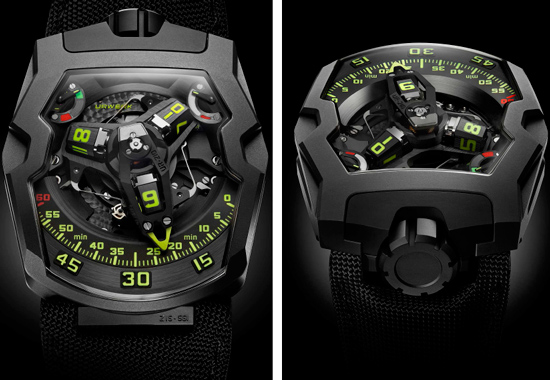 URWERK UR-210Y "Black Hawk" watch
The dial of the UR-210Y features a traditional power reserve indication at one o'clock. In a near mirror image at 11 o'clock we find a similar indication. No, it isn't a duplicate fail-safe, but something much more important which deserves our full attention, because it is actually a world-first complication that indicates winding efficiency over the last two hours.
Has your recent activity been enough to replenish your UR-210Y's energy levels? If yes, the winding efficiency indicator will point emphatically to the green zone. If not, you have been using more energy than you are generating, and the winding efficiency indicator will point to the red zone.

URWERK UR-210Y "Black Hawk" watch
Armed with knowledge of both winding efficiency and available power reserve, you are then able to intervene. If your UR-210Y indicates an insufficient supply of energy, you can position the winding efficiency selector at the back of the watch to "FULL".
The rotor will then convert the slightest movement into stored energy. In this configuration, a turbine connected to the rotor provides smooth, unimpeded power. But if you are more active, then that may provide more power than required and unnecessarily wear the mechanism. In that case, you would position the winding efficiency selector to "REDUCED" to engage the rotor damping system. An air turbine compressor mounted on ruby bearings spins and creates internal resistance – enough friction to slow down or dampen the automatic winding rotor. In "STOP" mode, the automatic winding system is disabled completely and the UR-210Y runs off reserve power and may require manual winding.
"Being able to interact with your watch, to have a dialogue with it… these concepts remain at the heart of our creations," says Felix Baumgartner, URWERK co-founder and master watchmaker. "With our UR-210Y, we have created a timepiece that tells you as much about the wearer's lifestyle as it does about its own winding efficiency.
"Our UR-210Y is a watch that lives on your wrist. It is dependent on you: You feed it with energy, you breathe life into it. The UR-210Y acts as a mirror of your level of activity" explains Martin Frei, URWERK co-founder and chief designer.
Back to the dial side, the UR-210Y's satellite complication with retrograde minute is both highly original and totally explosive. The principal feature is a high-tech, oversized, three-dimensional retrograde minute hand. Its function is to enclose the hour satellite and indicate the time as it transverses the 0-to-60-minute scale. This one-hour journey through time, tracing an arc of 120°, is smooth and fluid. But the true nature of the piece is revealed at the end of the 59th minute. Then a sharp distinct "click" signals the return of the minute hand to its starting point. In less than 0.1 of a second the hand flies back to dock with the next hour satellite. This high-speed retrograde system is based on three key elements:
· A central axis set in ruby bearings provides excellent stability for the satellite/retrograde complication. A cylindrical marine chronometer type spring runs vertically around the axis and generates the optimal tension required for the retrograde minutes flyback.
· A minute hand, which also forms a frame for the hour satellites, displays the time in an extraordinary way. Milled from aluminum to exacting tolerances of approximately 3 microns, the whole structure has a total weight of just 0.302g and is counter balanced by a brass weight. This three-dimensional cage offers rigidity as it transfers energy from the cylindrical flyback spring in the top center of the carrousel to the double-star gear underneath.
· A double coaxial star-shaped cam regulates the retrograde mechanism through its gearing and its rotation defines the trajectory of the minute hand. When the minute hand reaches 60, the double star trips a (one of three) hockey-stick shaped spring under the mechanism, which liberates the minute to fly back to the next hour satellite at 0-minutes.
The UR-210Y "Black Hawk" is available in a limited edition of 75 pieces in titanium and AlTiN-treated steel.
Official site of Urwerk.
Press release
30.01.2014