Watchmaker Urwerk this year pleases the fans of unusual watches with an original model UR-210 AlTiN. The watch, providing the monitoring the charge of energy, have a new look. The black case is made of an alloy of AlTiN, which is composed of aluminum, titanium and nitride. This alloy gives the watch a magic black shade, ensuring a high level of protection from scratches, acids, and other environmental influences.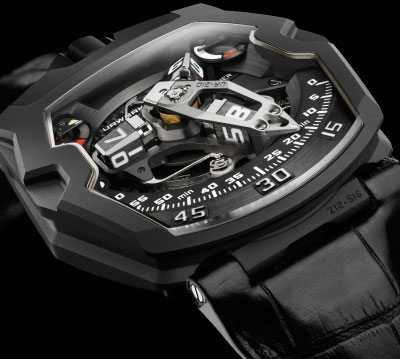 UR-210 AlTiN watch by Urwerk
The power reserve indicator takes its traditional place - at the 1 o'clock position, and at the 11 o'clock position is placed the indicator of the efficiency of the caliber's winding during the last two hours.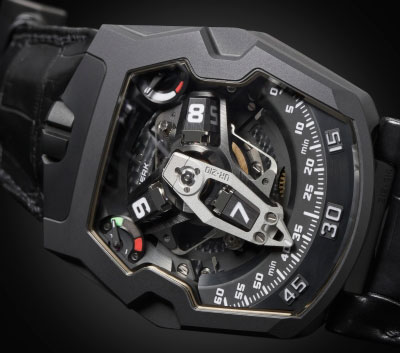 UR-210 AlTiN watch by Urwerk
With the new measure, the owner of the UR-210 AlTiN watch can control the operation of the mechanism. If the power supply is not enough, you can set the control winding on the back cover to the mark "Full". In this case, the rotor will instantly transform even a slight movement of the hand into energy. In the position "Reduced", the device to limit the rotation of the rotor to slow the automatic winding is turned on. In the position "Stop", the automatic winding device is turned off, turning the UR-210 into the watch with manual winding.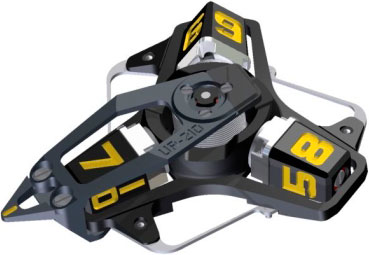 UR-210 AlTiN watch by Urwerk
The unique novelty comes on a black leather strap.
Official site of Urwerk.
Written by Angel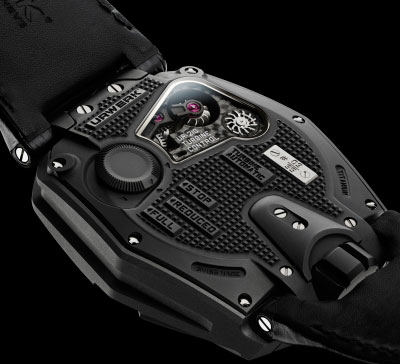 UR-210 AlTiN watch caseback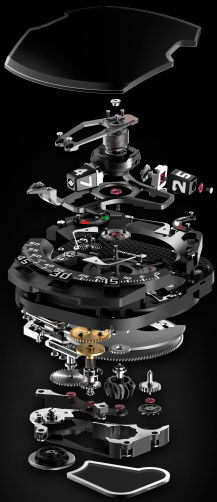 UR-210 AlTiN watch movement
07.05.2013