Digital time indication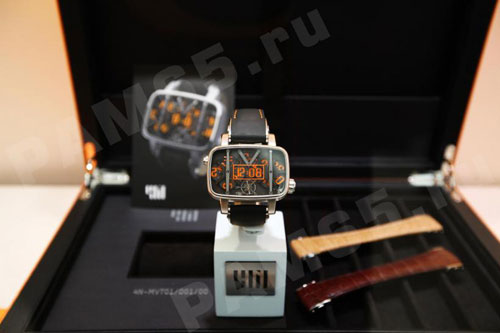 At bare mention of digital indication one has associations of quartz watches at once. However, digital indication is the prerogative of mechanical chronometers, appeared long time before quartz ones: the idea of hands replacement by time image with the help of numbers appeared among watchmakers a long time ago. Today the concept "digital watch" is inseparably linked with such concept, as liquid-crystal display, which managed to replace light diodes in first quartz watches and become an integral element of modern electronic time indicators. The nostalgic interest to watch classics as to inexhaustible source of traditional forms and various constructive decisions is constantly rising. Arab numerals, appeared many centuries before mechanical chronometers, are the base of digital indication. Indian numerals, appeared in about V century, became the base for creation of that "eastern" calculation system. Indian numerals underwent changes in inscription and were adapted to Arab writing. The Europeans got to know about existence of Arab numerals in only X century. Thanks to close connection of Christian Barcelona (Barcelona County) and Muslim Cordova (Cordovan caliphate), Pope Sylvester II became the first European man who learned those numerals. He understood how comfortable they were in comparison with used Roman numerals and was actively engaged in their introduction into European life. So, simple Arab numerals appeared in Europe, then were popularized around the world and became the base of calculation system almost everywhere. However, the watchmakers stood by Roman numerals up to XVII century: all mechanical watches were equipped with Roman indexes till that time. In time, Arab numerals managed to replace the Roman ones: more often the dials were adorned with more functional Arab numerals, which thanks to efforts of creative watchmakers acquired various interesting forms of inscription and time representation. One of the first forms of time representation is "roaming hour" indication, where the numeral of current hour moves along minute scale at dial sector.
The earliest pocket watches with "roaming" hour appeared even at the beginning of XVIII century. The watch of English watchmaker John Bushman serves as a classic example of such watches. The dial of that chronometer is provided with semicircular aperture with minute scale, by which the swimming time indicator in aperture points minutes. The pocket watches with such indication were not issued in a great number and soon transformed into wrist watches with "roaming indication". Such famous names as Nathan Horwitt, the creator of museum watches "Movado", Vincent Calabrese, member of famous watch company "Blancpain", are adherents of this indication system. The complicated system of "roaming" hour perfectly embodied in models of wrist watches Baladin, Vincent and Horus, created by Calabrese. The watch company Audemars Piguet, famous for its complicated chronometers, is a famous adherent of this complicated system. In 1989 that famous watch brand presented wrist watch "Star Wheel" that weaved features of pocket predecessors and absolutely new design approach. The open part of dial shows inner satellite movement. So, the problem of empty low part of dial was skillfully solved. In 2006 the jubilee renewed version of Star Wheel was born. The rarest complication of such type under the title "differential hour" is mentioned in the book "The hours". The principle of this complicated system operation is the following: a minute hand is at the center of dial; an hour disk with Arab numerals from 1 to 12 is fixed on the same axle a bit lower. Due to special gear the disk makes 13/12 of full rotation per hour. So, the numeral of current hour is always under minute hand that creates a visual unity of system. In aforementioned book the watch of John Finch, provided with spindle escapement and created by him at the beginning of XVIII century, is given as an example of watch with such indication system.
A relatively young watch company "Urwerk" uses "roaming hour" technique quite effectively in its unique chronometers, being seriously interested in loud and vanguard decisions. The chronometers, created by skilful hands of Felix Baumgartner and Martin Frei, represent a classic example of watch modernism. The models UR101 and UR102 are true classics of "roaming" watches. The "urwerk classics" has many peculiarities. First, the watch satellites swim by at the low part of dial. Second, a curved aperture replaced the flat semicircular cut at dial. As a result, the "roaming" indication acquired unusual form. The watch company "Urwerk" uses "Malt system" for control over satellites rotation: instead of usual springs, the hour indicators hold parts in the form of Malt Cross. Recently the company presented a new model of watch-concept without hand – CC1 "Cobra". This model is based on watch from Patek Philippe, created at the end of 50s of past century. The hours and minutes of this unusual model are pointed with the help of two linear indicators, which represent a dark strip, slowly lengthening in elongate aperture. The visual illusion of lengthening strip is created by rotating cylinder with dark spiral pattern. The hours are indicated by means of rotating discrete cylinder. Uniqueness and originality of this model is achieved through such set of complications, as linear and analogue indicators together with "jumping hour". There's no such combination in watch industry and, probably, will never be. However, the most extraordinary model among "roaming" watches of Urwerk are wrist watches "Hammerhead" with rotating hour bricks. This is rather unusual chronometer, including various micro mechanisms. The time is displayed in a rather uncommon way: 3 bricks with 4 facets are rotate and show the hour; the telescopic minute hand appears in its turn. The watches are provided with know-how, which is presented by a century one-meter, showing the total duration of chronometer operation. Thanks to this model, we can safely say that the creative potential of "roaming hours" isn't exhausted at all.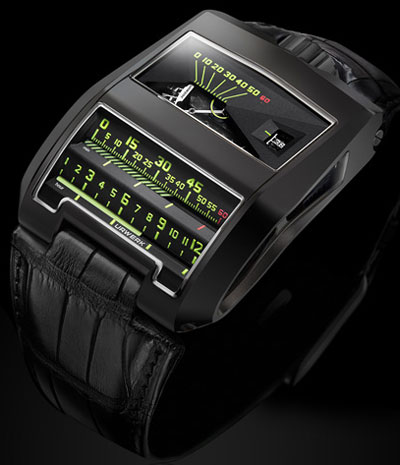 Another form of digital indication is "jumping hour" indication, where the numeral of current hour appears in separate aperture, and the minutes and seconds are displayed by traditional watch hands or other digital indicators. The wrist watches with such type of digital indication have appeared recently. True, the famous extra-complicated watches "Marie – Antoinette" from Abraham-Louis Bregeut, along with other complications, were provided with that type of indication. The "jumping chronometers" became especially popular only at epoch of art-deco and completed the watch collections of such famous brands, as Patek Philippe and Audemars Piguet. The first wrist watch from Audemars Piguet with that type of indication appeared in 1921, having become classics of that genre at once. That watch distinguished by flat rectangular case, elegant dial with elements of industrial aesthetics: its upper part is provided with hour aperture, the lower part – with a cut, showing part of movement. Another famous watch brand "Patek Philippe" started the manufacture of "jumping hour" wrist watches in only 1929. However, those chronometers, complicated both functionally and aesthetically, didn't win success among fans of strict devices and regenerated only after quartz crisis. It should be also noted that the manufacture of watches with digital indication in 60-70s acquired mass character, but the hour disks only slowly rotated in them. That's why today the digital time indication is mistakenly arrogated to quartz watches. Today the wrist watches with "jumping hour" have found their place among creations of extraordinary designers. The first brands, which renewed that type of time indication, became Vacheron Constantin and Chronoswiss. Their models Saltarello and Delphis perfectly combine the indication of jumping hour with retrograde minute hand. The wrist watch "Delphis" from Chronoswiss was released in 1996 and immediately attracted careful attention of watch connoisseurs and journalists. That model without hand justly deserved such attention: original way of time display – combination of jumping hour with retrograde minute hand – distinguished the model "Delphis" among modern quartz chronometers of that time. In an attempt to reach originality the creators made a rather conservative design. That model was equipped with movement with enviable "genealogy", which was produced in far 1967 and finally completed with caliber Enicar165. That classic caliber was not only elegantly finished by skilful hands of Chronoswiss engineers, but also modified and as a result acquired two aforementioned complications. That exclusive model turned to be so successful and popular that till nowadays it is considered to be one of the most balanced and beautiful chronometers with "jumping hour". Apart from "Delphis", Chronoswiss presented "Digiteur" with famous movement FEF130, released in far 1993. The main service of engineers is that they managed to put the barrel movement into case with "anatomical waist". Besides "jumping hour", Digiteur has two disks-indicators of hours and seconds. Another famous watch brand "Vacheron Constantin" made a rather interesting embodiment of digital indication of time in series "Metiers d'Art Les Masques". The showy effect of these wrist watches doesn't suffer from digital indexes, not switching instantly, at all. Each model of "Metiers d'Art Les Masques" is a real work of art, excellent masterpiece that nothing can stop you to admire, even the hands, i.e. their absence.
The worthy place among watch manufactories, which apply just this type of indication in their chronometers, is taken by famous watch brand "Gerald Genta" with its wide range of watches with "jumping hour" "Hautlence", line "OctoRetro" and eccentric line "Fantasy Retro" with Mickey Mouse at dial. A bit later, after foundation of his own trade make in 1984, Gerald Genta presented his eccentric Mickey Mice at the world watch fair "BaselWorld" for the first time. Then the organizers simply asked him to take away his watch and leave the fair. Yes, it's hard to imagine today that an ironic and bold design together with high complexity couldn't be simply admitted to such important event for each watchmaker. It's no use to rake up the past, we'll only note that the series "Fantasy Retro" with Mickey Mouse remains outstanding and rare example of complicated functions and healthy sense of humor combination.
Among models with "jumping hour" indication the legendary and ultra-complicated chronometer "Opus 3" should be especially noted. The creation of that watch was so unreal that, when Harry Winston and Vayani Halter announced their project, everybody was rather skeptical. It wasn't by chance, as they supposed to equip their watch not with one, but six "jumping" disks and one second one, which would be seen through six apertures. The expectations of skeptics were partially justified: in 2003 that watch was presented for strict connoisseurs, however, while no one complete watch-concept has been assembled. And if long-expected watch is born, its lucky owner will be guaranteed with careful attention of all collectors without exception.
The world-known Swiss watch brand "Azimuth" didn't "disdain" to use digital time indication either. It presented new watch-concept "SP-1 Landship" to strict connoisseurs and amateurs. The wrist watch "SP-1 Landship" isn't similar to anything: the designers of company fully exhausted their creative potential, having created a chronometer with complicated and principally new construction, reminding of tank. And it's not by chance: the source of inspiration for creation of that exclusive model is military equipment. This watch is also unique because it goes on sale by a very limited edition: the release of SP- Landship will make up only 100 pieces for 2011, and taking into consideration the population of Earth (about 7 billion), we can safely speak about high exclusiveness and limited number.
However, our review won't be complete without mentioning wrist watch "Zeitwerk" from leading German watch manufactory "A.Lange & Soehne". This is the first chronometer completely without hands and with "jumping" time indication in collection of famous company. The wrist watch "Zeitwerk" is technically advanced model, which is evidence that A.Lange & Soehne is ready for making bold and risky steps that are unavoidable at such radical denial of traditional hand construction.
The wrist watches that are lack of usual hands have been already seen by many people, thanks to efforts of many talented watchmakers. The indication in such watches is performed by means of apertures with numerals – this is a digital indication. Such watches appeared rather early and as history repeats itself, a modern watchmaker always returns to the past. However, in spite of return to origins, the modern watch fashion had made a big step from those years when watches were considered to be round devices with hands. The times when wrist watches were taken as a daring flight of engineering and design thought are left in far past – today such watches take their deserved place in collections of many famous watch brands.
Further we'll consider some of aforementioned models in details – they justly deserve special attention and more careful description.

Urwerk (UR-202 Hammerhead)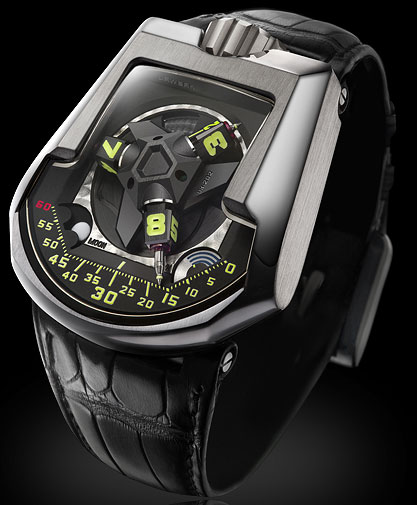 Urwerk is one of the youngest watch manufactories, which managed to win great popularity thanks to its extraordinary apprehension of time-keeping, embodied in non-trivial wrist watches "Urwerk". The watch brand "Urwerk" was founded in 1995 by brothers-watchmakers – Felix and Thomas Bomgartners and designer Martin Frei. The design project of new models was responsibility of Frei, and the Bomgartners were responsible for its embodiment. The name of this famous watch brand has a symbolic character: "Ur" is an ancient Sumerian town, at the center of which the biggest Solar watch of that time was situated; "Werk" means "work, create" in German. Following its name, the watchmakers create ones of the most amazing chronometers in the world. An outstanding example of this bold phrase is the model of wrist watches "UR-202 Hammerhead", which differs from usual chronometers from both construction and aesthetic points of view. The ultra-complicated wrist watch "UR-202 Hammerhead" is a crushing blow for old stereotypes.
The peculiarity of this model is linear time indication, displaying at this extraordinary model with the help of three telescopic hands with variable length, which form conglomeration around the center of dial. Three cubes with four numerals at facets are designed to show the hour, and moving-out hand – the minutes, which are made as a car dash-board. This complication is patented by Urwerk. The model is provided with power reserve indicator, day/night indicator and oil reserve indicator (yes, yes, you haven't misheard), showing the time for oil change in movement, which is necessary to be changed once per three year. In addition to all these functions, the watchmakers equipped the model with a century one-meter, showing the total duration of chronometer operation, like total indexes of speedometer. However, the main innovation of original watch "UR-202 Hammerhead" is the fact that the watch works at the expense of "wind energy". This system is adjusted through air compression by miniature turbine and air compressor. The wrist watch "UR-202 Hammerhead" is the first chronometer in the world with hydrodynamics. The model is provided with self-winding movement of caliber UR 7.02 with first in the world double turbine regulator. These turbines-twins are connected with rotating rotor. In accordance with selected position the turbines act like shock-absorbers. The turbines are controlled by 3-position switcher. The turbines generate necessary air volume, passing from inner part of case. The dial with luminescent hands and indexes is covered with sapphire glass. The case of 46.6 x 43.5 mm diameter is made of titanium. There are also models with cases of red, white gold and black cases of platinum. This chronometer can be justly compared with a miniature car. The wrist watch "UR-202 Hammerhead" from Urwerk will be estimated at its true worth not by everyone: this chronometer is for real connoisseurs and collectors. UR-202 Hammerhead is the future of high and ultra-complicated watch art.

Watch series "Metiers d'Art Les Masques" from Vacheron Constantin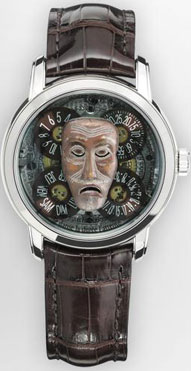 The collaboration of such brands, as Vacheron Constantin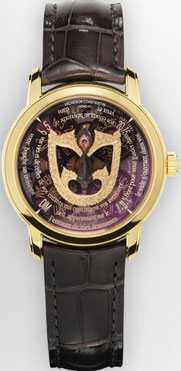 and Barbier-Mueller museum, sharing common values, philosophy and passion, led to birth of wrist watch series "Metiers d'Art Les Masques", which became legendary. The wrist watch series "Metiers d'Art Les Masques" represents a whole history during the time. The famous watch brand "Vacheron Constantin", founded in far 1755 by Jean-Marc, presented one subcollection of wrist watches out of 4 different masks to the world community during three years (from 2007 to 2009). Each model-mask is presented by limited edition of only 25 pieces. All of them are really extraordinary, excellent and worth of detailed description. But in this context we'll especially note models, presented in 2009.
Les Masques Indonesia Mask (ref. 86070/000G-9399) is a model with Indonesian mask from Lombok Island. With stiffen expression, reminding of confusion or astonishment, the mask is made with rather realistic features in some geometric forms. The eyes, as if petrified in perplexity, are dominant element of mask. The mask represents face of aged man with hollow cheeks, dark circles under eyes and eyebrows. The expression of "living" bewilderment is especially showed through mimic wrinkles at forehead and around mouth. Such mask was often used in theatre performances "Balinese Wayang Topeng" with literally dumb actors, as they had to fasten the leather strap to hold the mask on their faces. In that case, perhaps, the words were needless: the mask fully expresses emotions. The case of 40 mm diameter is crafted in 18-carat white gold. The dial is painted in pale-green color, which perfectly harmonizes and emphasizes full expressiveness of mask itself. The mask is made of crocodile leather and equipped with reliable unfolding buckle from 18-cara gold. The water resistance makes up 30 meters.
Les Masques China Mask (ref. 86070/000J-9400) is a model, adorned with Chinese mask "Zangs-'Bag" (Tibet, Tantra Buddhism, XVI-XVII centuries). This hollow mask as if reflects magic energy. Quite naturally crafted nose gives it a human appearance. Such mask adorned faces of some monks during ritual dances of Kalacakra cult ("Time Wheel"). The case of 40 mm diameter is made of 18-carat yellow gold. The dial is painted in pale-red color, perfectly matches and emphasizes all expressiveness of mask itself.
Les Masques Gabon Mask (ref. 86070/000r-9402) is a model, adorned with Gabon mask "Ngontang" of nation of Клыка. This white mask has a quite melancholy expression and transfers a sentimental mood of its creator. The mask is coated with ceramic material – white coalin. The white color referred to death spirit among nation of Клыка. The power and expressiveness of face are skillfully reached with the help of vertical line at nose's place and scarifications, emphasizing chin and forehead well. The curved eyebrows, diverging from bridge, complete the melancholic image. Such mask was used in ritual dances, devoted to forefathers. Such dances were organized to protect people from black magic and evil. The case of 40 mm diameter is made of 18-carat gold, and the dial is coated with pale-yellow color, perfectly emphasizing expressiveness of mask.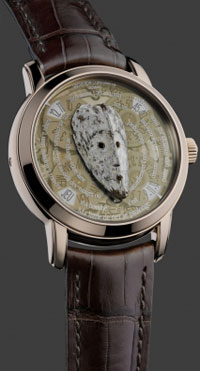 Les Masques Mexico Mask (ref. 86070/000p-9401) is a
model with Mexican hanging mask. This mask is distinguished by its power and severe profile. It looks rather realistic due to its aquiline nose and mouth down-corners. The culture of Mazcala had a strange custom to bury people under floors of their own dwellings. In connection with cult of worship to their forefathers, the graves were filled with small stone sculptures, representing agamic human figures, heads, decorative disks or plates, adorned with painted human faces. Also they put various masks and animal figures into graves. The case of 40 mm is made of titanium; the dial is covered with pale-grey paint, perfectly emphasizing expressiveness of mask.
The craftsmen of this "cultural" watch series tried to make the wrist watches-masks living at most by putting their whole sole into creations. We can safely say they've succeeded: the sapphire glass of dial is adorned around by golden letters of poem's text, devoted to each national mask. The author of such unusual poems is a famous French writer Michel Butor. Such circular way of writing letters creates a visual impression of "endless" text and as if shrouds you in incredible magic of time. However, you can't see this secret "message" at once: it is possible to read only at certain light and angle. "No-hand" movement of all models "Metiers d'Art Les Masques" is provided by self-winding caliber 2460G4 with 40 hours of power reserve. The watches are constructed so that your attention will be absorbed at extraordinary part: the watches are lack of hands. The time is read from four apertures: hours – in upper left corner of dial, minutes – in lower right corner, day of week – in lower left corner of dial. This unusual digital time indication is performed by means of four disks, which are operated by many wheels and gears. The black straps are made of crocodile leather and provided with reliable unfolding buckle from material, matching the case. The water resistance of all models makes up 30 meters. You can make a quite fascinating excursus to such various world cultures with wrist watch of series "Metiers d'Art Les Masques" from famous watch manufactory "Vacheron Constantin". Masks are a valuable heritage of primeval culture, fully integrated into haute horlogerie in chronometers of Vacheron Constantin.

A. Lange & Sohne Zeitwerk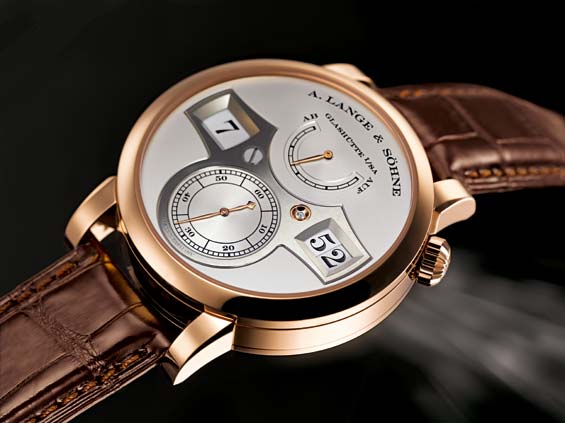 The year of 2011 has been marked for famous German manufactory "A. Lange & Sohne", founded in 1845 in Saxon city of Glashutte, by release of new debut model "Zeitwerk", which has won striking success at once. Even 18 years ago that famous watch brand amazed the world with its first premier – wrist watch with calendar of "big date". And now after almost two decades the watch company "A. Lange & Sohne" has boasted of amazing chronometer "Zeitwerk" – first wrist watch with "jumping hour" and "jumping minute" indication system, the prototype of which is debut wrist watch with "big date". The issue of Zeitwerk started a new epoch in watch industry. The wrist watch "Zeitwerk" is the first chronometer with "jumping hour" that is provided with acoustic accompaniment.
Today the wrist watch "Zeitwerk" is a visiting card of the manufactory. Thanks to watch design, the repeater was perfectly integrated into movement. It has become possible only because much force releases at disk and numerals indicator moving forward. After cycle switching, enough energy is reserved for other useful purposes. Just those "gold" reserves of energy were used for spring tension, putting two hammers into action. The hour aperture is at the left side; the minute one – at the right side. There is a small second dial at the lower part of dial. Two notable gongs are situated between dial and frame. A low tone is set for main time, and a high tone – for quarter of hour. The repeater for quarter of hour is quite rare today, but it's a very useful function. The watchmakers have changed the movement for that function: hammers were replaced by disks, striking at gong and making a full rotation in 15 minutes. The crown is moved upward, pulling which one can turn on/off the movement, beating the time. It is easy to check the work model of repeater, as you can see through crystal-clear sapphire glass if the hammers deviate from usual movement. "Jumping hours" are provided by hand-wound in-house movement L043.1 with 36-hour power reserve. The frequency balance of this movement is 18.000 a/h. The case of 42 mm diameter is presented in 18-carat white gold (ref. 140.029), in 18-carat pink gold (ref. 140.032), in 18-carat yellow gold (ref. 140.021) and in platinum (ref. 140.025). The platinum model is presented in a limited number of 200 pieces. The black strap is made of alligator leather and provided with reliable buckle from white, pink, yellow gold and platinum correspondingly.
Zeitwerk managed to bring the prestigious Genevan prize to Germany for the first time. The main prize of one of the most prestigious watch competitions in Europe - Grand Prix d'Horlogerie de Geneve-2009 – went to A.Lange & Soehne. The Grand-Prix L'Aiguille d'Or ("Golden hand") was given to model "Lange Zeitwerk". According to unanimous opinion of jury, the German craftsmen fully managed to combine traditional hand indication (in the form of second dial) with digital time indication. This prize is above any words, and it fully characterizes this model as one of the greatest chronometers.

Azimuth SP-1 Landship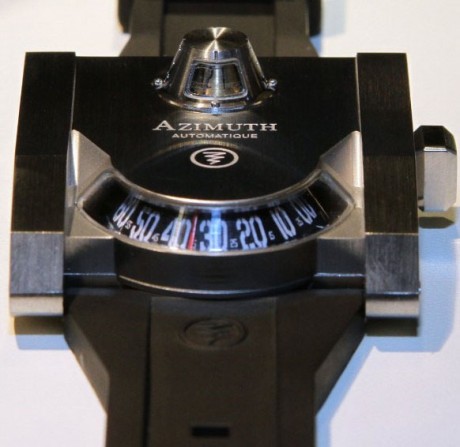 The designers of wrist watch don't stop amazing amateurs and connoisseurs of chronometers by their different variations of extraordinary chronometers. The classic dial is gradually replaced by new and unusual ones. The vanguard watch company "Azimuth", founded in 2003 in Switzerland, fascinated with its new "futuristic" model of wrist watches "SP-1 Landship". From the first glance at this wrist watch you can understand that the source of inspiration for making that watch-concept was military machinery, more precisely, tank of First World War, used by the British Army. The wrist watch "SP-1 Landship" will be estimated at its value by true connoisseurs, as the model strikes by its unusual and complicated construction. The watch has a small ledge in the form of cut cone, designed to embody a cannon ring mount. The first dial, displaying hours, is situated at "loophole" of ring mount. The big dial with minutes' points, in its turn, is situated lower. The 40 mm diameter case is crafted in titanium, like a real tank, that makes chronometer look "serious". The linear movement is provided by modified Swiss self-winding automatic mechanism with 32-hour power reserve and 28.000 a/h balance frequency. Besides, the watch is equipped with retrograde minute complication. The strap is made of rubber. This "watch tank" can endure depth at up to 30 meters. The wrist watch "SP-1 Landship" from Azimuth is a principally new concept of time-keeping, and for 2011 they are presented in a limited number of only 100 pieces. This chronometer has become a new standard for other watch manufactories and remains one of the most complicated and extraordinary watches today. The craftsmen of Azimuth fully managed to embody their unusual ideas about modern watch art in model "SP-1 Landship".

Harry Winston Opus 3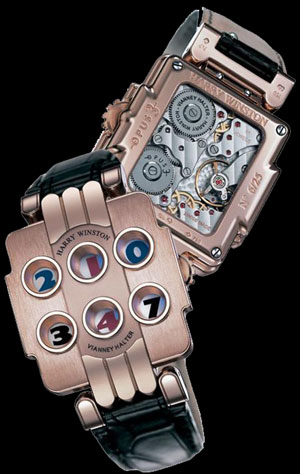 To be always in full view from time to time the famous watch brands should create something original, complicated and unusual. It's the main factor of success for modern watch manufactories at fast-growing market, full of competitors. Just this strategy is followed by the company "Harry Winston Rare Timespieces", which issues exclusive chronometers in a very limited number, collaborating with independent watchmakers. The wrist watch "Opus 3" from legendary series "Opus" has become one of the latest amazing novelties of the company. It was created as a result of collaboration with skillful watchmaker and admitted craftsman – Vayani Halter, who diligently fascinates all watch world with his, to put it mildly, strange chronometers. This time he has created a watch that today has no equal, considering its unusual form, complicated technique and unusual way of use. If the wrist watch "Opus 3" hadn't evident staples for strap, that creation would have been hardly taken as a wrist watch. A traditional dial, usual for us, is presented in a rather extraordinary way: six apertures, arranged in two rows, remind of funny colorful cubes and are designed to enlarge numerals of hour, minute and date indicators. But the numerals at such unusual dial don't make Opus 3 a traditional watch. The dark-blue hour numerals in upper row and black minute numerals in lower row are protected with reliable small sapphire glasses-illuminators. The time is read through apertures in the following way: first and last numerals of first row indicate the hour, fist and last numerals of second row indicate minutes, and middle numerals, vertically accordingly, indicate the date. At the end of each minute you can see a small performance, which revives the hours. The light-blue numerals of down counter, counting four seconds, left till minute, appear in upper aperture of date: 56, 57, 58, 59 and, voila, long-expected minute. The performance is created with the help of disk in the form of fan, which starts rotating in front of date disk for only several instants, and then at 55th second it becomes invisible again. The numerals of hour, minute and date are situated at two disks, which rotate at one axis. The upper disks have a hollow ("Lumiere"), where at certain moments the numbers of lower disk become visible. For creation of that chronometer the watchmakers had to reconstruct about 98% of existing 250 parts of watch movement. The hand-wound movement of Opus 3 on 53 jewels consists of two sets of cog-wheels, put into action with the help of winding barrel. Both of these movement disks are wound by one common wheel. The main difference of this wheel from the crown is its horizontal position in respect of main plate's plane and availability to move along axis by setting at 4 positions. By means of this wheel two winding springs, hour, minute and date settings are wound. You can see the movement of this complicated mechanism through back case, covered with solid sapphire glass. The power reserve – 40 hours. The wrist watches "Opus 3" from Harry Winston are presented in 55 pieces: 25 pieces in cases (diameter 36.00 x 52.50 mm) from platinum and pink gold, and 5 – form platinum and diamond finishing.

Chronoswiss Delphis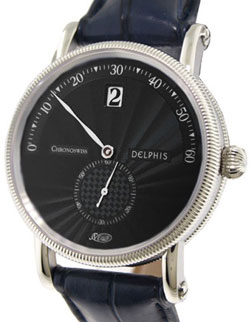 The famous watch company "Chronoswiss" also contributed its mite into creation of watches with digital indication by presenting a unique one-hand model of wrist watches "Delphis". One-hand watches are quite interesting and extraordinary apprehension of time. Chronoswiss was founded in 1981 by Gerd – Rudiger Lang, when the first workshop was opened. However, the brand was officially registered only after three years – in 1984. It was the time of quartz watches invasion, however, Lang decided to risk and arranged manufacture of mechanical chronometers. He didn't miscalculated: the mechanical watches won again their deserved popularity, and today the famous watch brand "Chronoswiss" is an object of imitation for many other watch companies.
Despite the fact that many companies create wrist watches fully with digital indication, the craftsmen of the company decided to combine traditional hand with numeral. The wrist watch "Delphis" from Chronoswiss combines three types of time indication in one system: the dial is provided with small second dial, minute indicator and date indication aperture in digital 24-hour format. The retrograde minute hand passes its 60-minute way, then returns to start position. When the minute hand returns to start position, the digital aperture changes the numeral. In spite of such "divided existence" the time is displayed on this watch very accurately. The wrist watch "Chronoswiss Delphis CH 1423 bk Brown" (ref.CH 1423 bk) is an original and classic chronometer, which, no doubt, will become an object of public attention, only due to its one hand. A small perfectly round case of 38 mm is made of stainless steel. Adjusted and accurate movement of this smart system is provided by self-winding mechanism Enicar 165 at 32 jewels, making 21.600 a/h and providing 34 hours of power reserve. The guilloched black matt dial perfectly matches the steel case and black strap of crocodile leather. Guilloche gives a visual depth and specific dynamics to dial. The dial is covered with solid sapphire glass with anti-glare treatment. The water resistance makes up 30 meters. The model is also available in steel case that, perhaps, is the best alternative for black dial. The wrist watches "Delphis" from Chronoswiss are presented in cases from gold or combination of gold and steel, and also with dials of various colors.