Watches-robots
Robot is not just the image of science fiction. Today it is the everyday reality that surrounds us every day, even if we do not think of their presence. Robots are used in various fields of human activity. However, they can also act as an entertainment or accessory. Perhaps, therefore, watch robots are becoming increasingly popular.
Of course, the original alarm watch-robot was a bit of accessories for children's rooms. Funny time meter perfectly complements the interior and attracts the interest of the child.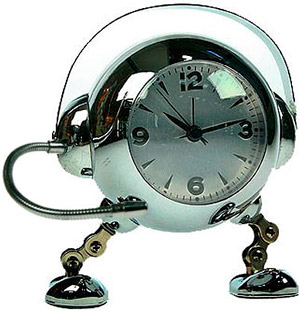 Robot alarm clock
Recently, however, even adult men often wear watch-robot on the wrist. This is partly motivated by the popularization of science fiction, as well as the growing interest in the style of "steampunk." But robots can be very different. How should look watches like that fall into this category? Before considering the examples provided by different brands, take a look at what qualities of robot must be borrowed by the meter time.

From similarity of human to "bucket of bolts"
Originally, the term "robot" meant an artificially created man. Similar images can be found even in mythology. For example, the ancient Greek Cadmus, killing the dragon spilled its teeth and plowed them into the ground, after which the soldiers have grown from them. Another Greek Pygmalion made man of stone, breathing life into created by him statue - Galatea. There is a Jewish legend of the Golem - a man of clay, liven up by a rabbi of Prague Yehuda ben Bezalel, who used Kabbalistic magic to do this. Such a myth includes the Scandinavian Younger Edda. According to this epic, a troll Rungner created from clay a giant Mistkalf.
Of course, these mythical creatures had a bit different functions than the current clock-robot. For example, the Prague Golem performs any tasks that it needs to be written on a piece of paper and put it in its mouth. A Scandinavian Mistkalf was like a fighting robot, because it was designed specifically for the battle with the god Thor. Consequently, these modifications did not count time.
The term 'robot' was coined in 1920 by the Czech writer Karel Capek. For the first time the word was used in his play "R.U.R." ("Rossum Universal Robots"). Capek created the term based on the Czech word «robota», which means "hard labor", "corvée", "hard work." In his view, the robot - it's a sort of modern android. Heroes of Capek in appearance were not different from the real people, but they were created from artificially grown organs by a trivial way of assembly without the use of magic. Since the release of Capek's play was started popularization of the term "robot".
However, the current watch-robots don't look like humans at all. Indeed, before the advent of industrial robots was thought that these cars have to look like people. Now this word is associated with a pile of metal and bolts. Let us try to understand how the watch -robots purchased the form that they have now.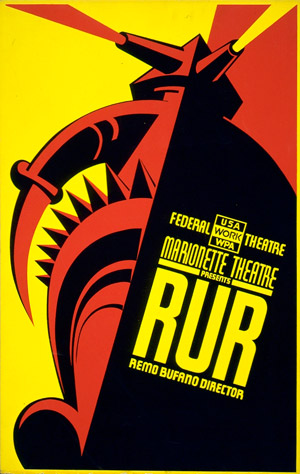 "R.U.R." ("Rossum Universal Robots")
From musicians to time meter

Before watch-robots' appearance, their predecessors had a bit different functions. The first such arrangements were made by the Arab scholar named Al-Jazari, who lived between about 1136 and 1206 years. This inventor created a boat with four mechanical pieces. They were, however, not rowing, but played the melody, using the harp, flute and drums, so why Al-Jazari sat them in the boat, to be honest, is not too clear.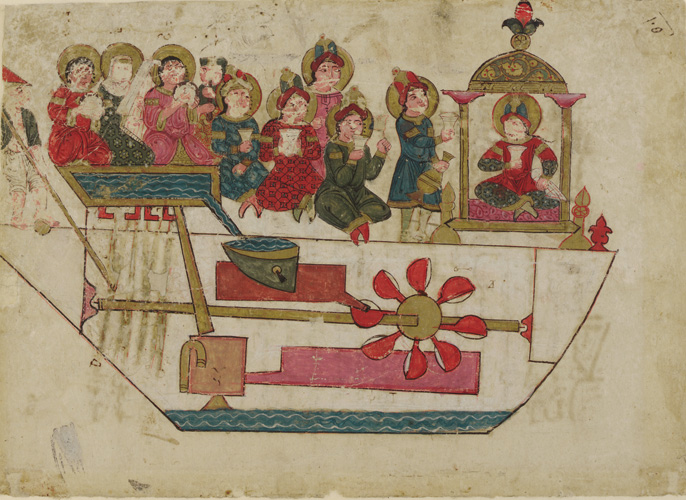 Robot-musicians
Naturally, Leonardo da Vinci, known for his unconventional inventions, had tried to implement such an experiment. In his notes, dating from around 1495 year, there are drawings detailing the mechanical knight, who was sitting on a chair, pushing his hands, turned his head and could even open the visor. The appearance of this prototype of robot was likely taken from the studies, described by Leonardo da Vinci in his famous illustration of "Vitruvian Man."
Although the functionality of mechanical knight is very poor by today's standards, for the time it was quite a complex machine. It is not known whether the great inventor was trying to build this primitive robot, or limited by drawing.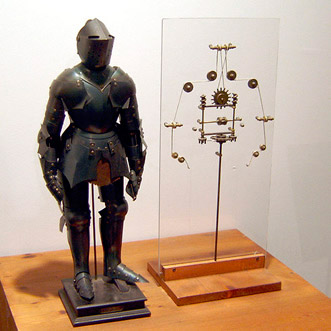 Prototype of the robot by the Leonardo da Vinci
At the beginning of XVIII century in press there were reports that various people had managed to create a car with signs of intelligence. However, all those sweet promises ended up being ordinary "ducks." It turned out that in sham arrangements were hidden either people or trained animals.
The first real human-like device was created in 1738 by a French engineer and inventor Jacques de Vaucanson. This android was also a musician - it could play the flute. Vaucanson made also mechanical ducks that, according to witnesses, could peck grain as real and even make the return process.

Vaucanson's duck
First inventor, departed from the idea of a robot as a humanoid creature, was a famous scientist Nikola Tesla. He has developed a radio-controlled boat of small size, which was demonstrated in 1898.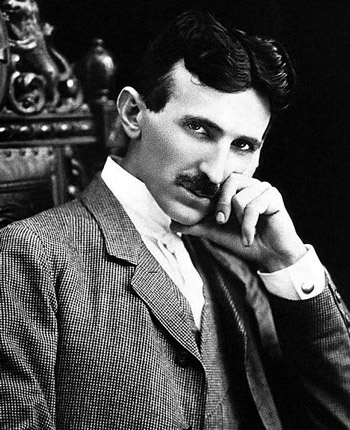 Nikola Tesla
Since then, science has made a giant leap. The development of technology has led to the fact that the robots have been used in everyday life (robot vacuum cleaner, mechanical dog AIBO, developed by Sony), industrial (machine tools with numerical control), military (intelligence, clearing explosive devices), science (robots used to explore the pyramids of Egypt or other planets). Robots extinguish fires and performed the surgery, work on industrial production and entertain people. If we mean watch-robot, so such a mechanism has become an accessory, decorating owner and emphasizes his originality.
| | |
| --- | --- |
| | Robot Astroskaut, Japan, 1950 |
Before we go further on these time meters, determine on what criteria, we will include them in this category. Thus we can conclude from this information that the watch-robots have a distinctive appearance, or specific functions.
Your personal robot
Of course, these devices are primarily intended to make life easier for the person to perform specific functions. For example, desktop alarm clock-robots, which are produced a great many today, help the owner does not oversleep. But this is not the only function feasible such gadgets.
| | |
| --- | --- |
| | Robot Lilliput, Japan, 1950 |
For example, the model of Stonehenge Clock - is generally a robot rather than a watch. They are not burdened by a rich selection of functions. The main feature of watch Stonehenge Clock is the original display of the time. On a special stand is located mechanical arm crane, around which are placed plastic cards with the size of 10x4, 4 cm with numbers painted on them. Total are used 14 pieces. Hand-arm constantly rearranges them, indicating the current time on the front side of the watch. Thanks to a chip Parallax Propeller a manipulator operates continuously, replacing one number in half a minute, and two others - for a full minute. Not very functional, but it looks really great. But such a gadget, of course, will not wear on the wrist.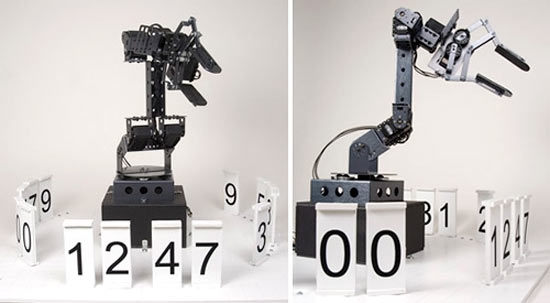 Stonehenge Clock
Wrist watch-robot should to perform certain actions, unusual for such accessories. In addition, it should be features that make human life easier. So we get a kind of a personal robot that should be compact, relatively inexpensive and easy to use.

Blue Sky s.r.l.
One example of such useful and compact accessories can be called a smart watch-robot i'm WATCH by the company Blue Sky srl from Italy. It has the compact case of rectangular shape. Its size is 50x44 mm, thickness of about 9 mm. Watch-robot i'm WATCH weights only 70 grams. Instead of the dial on this model is TFT-display with a diagonal of 1.54 inches, which is 240x240 pixels.
Watch-robot i'm WATCH is designed to link the work with other advanced devices. Feature this model resembles a miniature model of the tablet. Watch-robot i'm WATCH works on the operating system Android, like many modern smartphones. Its sensor screen gives the owner the ability to spread to the desktop necessary applications. It points time, and you can choose the type of visualization - analog or electronic display. This wrist watch has 64 MB of internal memory and a memory stick for extra 4GB.
| | |
| --- | --- |
| | i'm WATCH by Blue Sky s.r.l. |
Functional of the model i'm WATCH is extensive. It contains a built-in calendar, e-notebook with phone numbers and dialer. And you can accept or reject incoming calls, receive emails and messages from social networks, view photos, or check the weather, news from the stock markets.
Clever watch-robot i'm WATCH - it's actually a small electronic secretary at the wrist, always ready to make life easier for its owner.
Using it is very simple thanks to the multilingual interface. This watch has a built-in Bluetooth and even a microphone, speaker and audio jack, which allows it to entertain the owner of the music. Watch-robot i'm WATCH can support the device with the Android, iPhone4, and in January of 2012 Black Berry. In addition, it is also a stylish accessory, as the gadget looks stylish and is available in different color variations.
GPS Mobile Phone Watch
Specially designed for children a watch-robot GPS Mobile Phone Watch, which, in fact, is the electronic babysitter. The main objective of this gadget is to inform parents about where at the moment is their child. Watch-robot GPS Mobile Phone Watch is equipped with chipset GPS. Its main task is to determine the location of a child, who for some reason is left without adult's supervision. If your child is constantly drawn to the adventure, you can always request one coordinate. In addition, the memory of this gadget, you can add six defined points, and watch-robot will inform you when the baby came and went from there, via SMS-messages.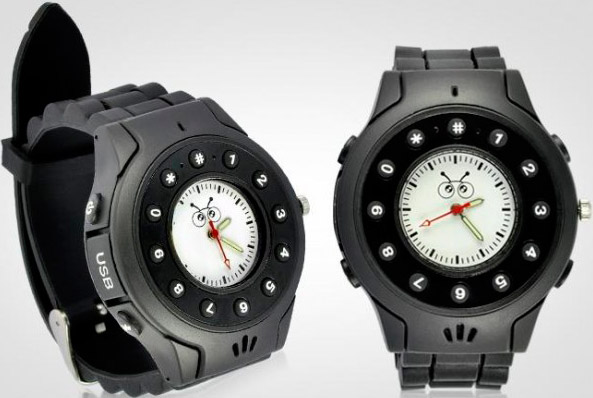 GPS Mobile Phone Watch
GPS Mobile Phone Watch shows time using the dial with three hands. Around it is located a fairly wide welt with buttons for dialing, and in the position of "6 o'clock" is placed a dynamic. In fact, GPS Mobile Phone Watch is not just watch-robot. In its memory, you can add four numbers for those in trouble child can quickly get through to the emergency services or the parents.
Also, the watch-robot GPS Mobile Phone Watch has quadband GSM module and the function of Bluetooth, allowed connect to a wireless headset gadget. Using GPS Mobile Phone Watch do not worry, got the child to school and returned home if he, even if you downloaded work. This watch-robot turns into a loyal assistant who will take care of the safety of the baby, not encroaching on independence.
U-blox
By the way, this model is also among the products of the Swiss company U-blox. It was created in 1997 and today has become a leader in the production of GLONASS and GPS. Experts of the company U-blox develops a set of chips (chip sets), and the software for them. Another useful novelty from U-blox is a watch-robot Watchie, helping to look after sick people.
If a person is suffering from dementia or Alzheimer's disease, it needs constant attention. Very often in the reports of the missing can be found reports of elderly people, who came out of the house for a short time, but lost because memory failed them. Watch-robot Watchie is designed to relatives could always find out where their loved one.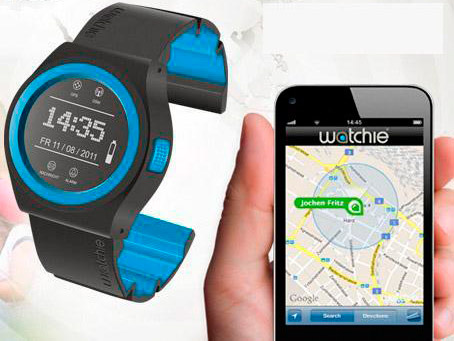 Robot watch Watchie by U-blox
This electronic nurse has other useful features. For example, you can set the limits beyond which the patient is not recommended to go. If it still happens, the one who looks after the owner of the gadget comes immediately notified. Watch-robot Watchie has a built-in accelerometer. It registers sharp movements or fall. If a sick person suddenly stumble or slip, the robot will automatically send a notification Watchie guardian. Charging of the battery lasts for a week. Watch-robot Watchie is a electronic nurse to help in caring for a loved one, even the busiest people. The gadget not only makes life easier for the trustee, but also cares about the safety of the patient.

Nike
A well-known company Nike has created watches-robots, which can become your personal trainer. When it comes to health and beauty of a person cannot rely on the off chance. It requires strict control of loads that the effect of the exercise meets expectations. However, not everyone has enough time and money to coach. With the model Nike + Sport Watch GPS Powered you can not only keep track of the traveled distance, but also the speed at a particular step of the way. These watches are equipped with robot-GPS-module, which is connected with the site Nikeplus.com, where your score is saved for viewing and comparison with the current data.
You can help your mechanical coach control and heart rate. True, it will have to buy a sensor. Watch-robot Nike + Sport Watch GPS Powered help evaluate the effectiveness of training, calculate the number of burned calories while jogging. This model is charged by USB. Theoretically, you can run with enabled GPS as much as 8 hours, unless of course you a load of strength. In standby mode, the watch-robot Nike + Sport Watch GPS Powered can run as much as 50 days. Such a gadget is cheap and it costs about $150, but such a contribution to own health and beauty can be invaluable.
Tokyoflash
A Japanese company Tokyoflash produces watches with futuristic design with an unusual way to display the time. They can be light-emitting diode, or a binary LED-display. The watch-robot Kisai Kaidoku is equipped with such a display instead of dial. The design of this model was invented by aficionado of time meter Tokyoflash Tynan Mayhew, who at that time was only 15 years old. He presented his own version of the design concept in a creative blog on the website of the brand. The model Kisai Kaidoku is ranked to the category of "watch-robots" for the reason that it does not show the time digits and displays on the LCD display, replacing its dial, the appropriate words. So, this gadget is speaking to its owner.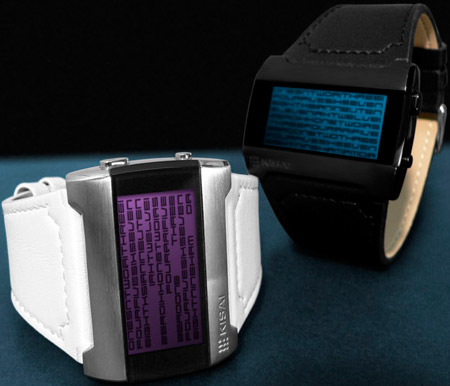 Robot watch Kisai Kaidoku by Tokyoflash
By the way, the same way the watch-robot Kisai Kaidoku displays date. To know it, you have to press a special button on the bottom, and the right words will flash on the display. In addition, in the arsenal of model Kisai Kaidoku has another useful feature - alarm clock robot. This gadget is very easy to use at night. At the top of the case there is a button that includes electroluminescent backlight. It certainly is not as bright as LED lighting, which is used in some other models of the brand Tokyoflash. However, this light is enough to read the words on the screen in the dark. LCD clock display Kisai Kaidoku may have a blue, purple or green. This model, by the way, is equally well suited to both men and women. The ergonomic design makes it comfortable to carry both people with large and with tiny wrists. Watch-robot Kisai Kaidoku is equipped with a wide leather strap in black or white colors.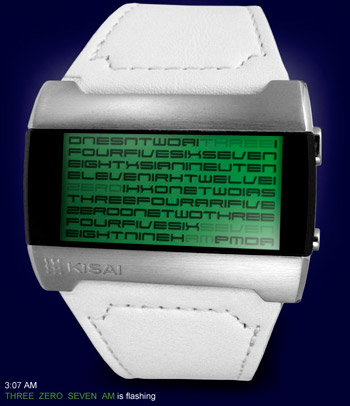 Robot watch Kisai Kaidoku by Tokyoflash
This model is not only unique, but also very practical. Think about it: your watch-robot Kisai Kaidoku at any time "tells" you the time and date, even if you are in the dark. To Chat now with the gadget, of course, will not manage. But be sure that in any company there are many wishing to talk actual about the watch with their proud owner, who automatically becomes the center of attention.
As can be seen from these examples, watch-robot is a compact device that can perform a variety of human functions according to its capabilities. This accessory can be a secretary, nurse, coach. However, do not shift to them the entire responsibility for such functions. Artificial intelligence, human-like in terms of development, has not yet been invented. The main task presented in this section of gadgets is the latest notification of the owner or unwanted incidents, and the responsibility for further action rests with you. So watch-robots include mechanical helpers to facilitate our lives.
By the image and likeness
However, fans of unusual design probably prefer the original look of a large number of functions. Watch-robot that resembles illustrations from science fiction or futuristic movies, surely would be happy to try on their own wrist, not only fans of this genre, but fans of the style of "steampunk." Many manufactures are happy to meet such a whim, creating a cute little robot pointing time.
Ninja Time
Designer Andy Kurovets approached this task with a good dose of humor. His watch robots Ninja Time resemble funny head ninja, traditionally shook in special attire. Only to the eye of the mechanical soldier on a narrow oval field of black is visible. T has two dials, one of which shows the hours, the other - minutes.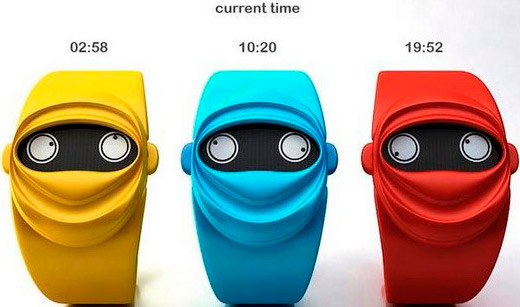 Robot watch Ninja Time - defination of time
The shooter in the classic sense of the word a watch-robot Ninja Time has not. Its function is performed by the black dots, which spin in circles of "eye". They rotate two independent mechanisms. Readings can be adjusted using of two special wheels, which are in the shape of ears of ninja. In general, watch-robot Ninja Time resembles a warrior, who had just received a severe blow to the head, so his eyes began to rotate in different directions.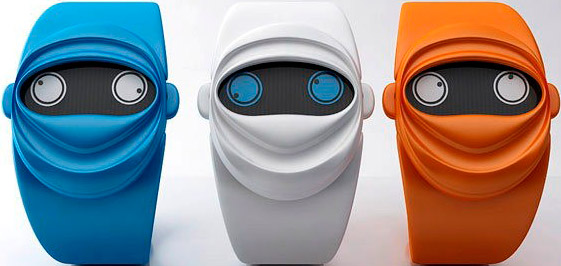 Robot watch Ninja Time
This accessory will raise the spirits of the owner not only with its original design. It is performed in different color variations. You can choose a watch-robot Ninja Time with a strap and case made of plastic in white, blue, yellow, orange and coral colors. Such a model is liked not by only teenagers, but also quite adults, who have an enviable sense of humor.
Nooka
As a basis for creating a model Zub Zot 20 Adventure Time Finn the watch company Nooka took the image of cartoon character Adventure time, a story about the extraordinary adventures of young Finn and his dog Jake. Its dial resembles a smiling attractive face of robot. This limited edition of Zub Zot 20 Adventure Time Finn is designed for children. To protect the baby's health, this watch-robot is made of environmentally friendly plastic, and case back of the case is made of stainless steel, which is also hypoallergenic. This watch-robot has size of 38x38 mm and a thickness of 10 mm. If a child wants to taste this bright watch, it does not hurt him. Even the packaging is made of food-grade silicone, in which it is possible to store food.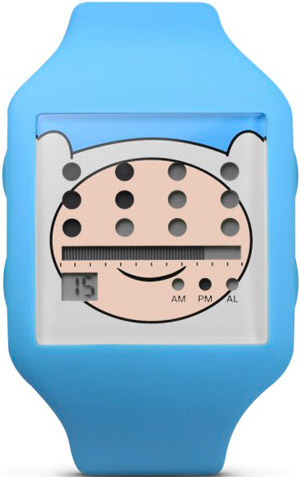 Robot watch Zub Zot 20 Adventure Time Finn by Nooka
The company Nooka has already become famous as a manufacturer of unusual electronic instruments for measuring time. Now, in collaboration with Cartoon Network Enterprises, which creates a fantastic cartoon Adventure Time, designers of this company have come up with this manufactory watch robot Zub Zot 20 Adventure Time Finn. To determine the time with it will be much more interesting. It is indicated on the LCD-display, decorated with images of smiling faces. In addition to this standard function watch-robot Zub Zot 20 Adventure Time Finn has built-in alarm and chronograph. Mechanism of model is quartz.

Top Point Industrial Company Limited
The company Top Point Industrial Company Limited creates designer watches, which are available at an affordable price. This, of course, not jewelry, but these options give people the opportunity to purchase an unusual accessory, analogues of which no one else has. The model Robot is, as the name suggests, watch-robot with the original pattern on the dial. This image will certainly be loved of accessories in the style of "steampunk." Bewitching face of robot is protected by mineral glass from external influences. In the center of the dial are the hands that are driven by a reliable quartz movement Miyota from Japan's Citizen.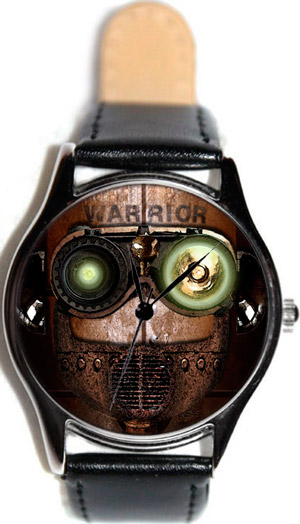 Robot watch Top Point Industrial Company Limited
This watch-robot by the company Top Point Industrial Company Limited has a case in diameter of 3.3 mm. It is able to protect gear from rain or splashing water, which may enter in the time meter during the washing of hands. The strap of watch Robot is made of genuine leather. Such a model of the firm Top Point Industrial Company Limited can rightly be considered an instance piece. By the way, this watch-robot is equally well-suited both for young people and women.
Azimuth
Swiss watch manufacture Azimuth released a watch-robot especially for fans of science fiction, which are called - Mr.Roboto. Its design is inspired by the classic models of old images of humanoid machines.
The history of creation Mr.Roboto began in 1950. That's when Japan cried the leaders in the production of assorted toy robots that were made mostly of sheet metal and equipped with mechanisms winded with a special key. They could make some simple actions, such as travel or move limbs, in general, to the extent possible to imitate human behavior. Some of the most advanced examples were equipped with glowing lights or knew how to let the spark. Naturally, these whimsical toys delight inexperienced kids.
Today's children can hardly be a surprise by these robots. Now, however, there are a large number of adults who are happy to collect these vintage toys. They sell for a rather big money, in the Internet there are a host of community and specialized websites dedicated to retro-like robots.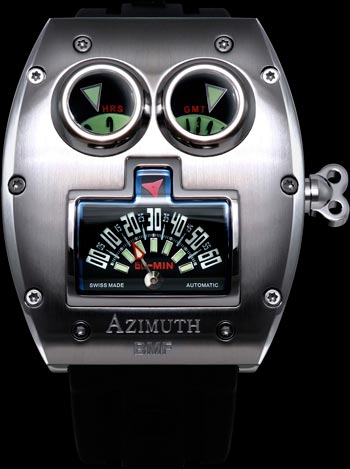 Robot watch - Azimuth Mr.Roboto
It is for these dedicated people the Swiss watch manufactory Azimuth has created watch-robot Mr.Roboto. This is a unique time meter, the case of which looks like a nice head of vintage clockwork toy. It is turned from a solid block of steel and it has water resistance up to 50 meters.
Watch-robot Mr.Roboto has not a usual dial in the conventional sense of the word. Instead, there are two round "eyes" on the case the face. These are the windows, one of which displays the local time and the other - the second time zone indication. Another window in role of the nose and mouth of a robot used to indicate the seconds, minutes and carried by retrograde scale.
For coordinating work of the entire face is generally responsible modified self-winding caliber ETA 2836-2. On the right side of case is located the crown made in the form of key, by which is usually winded mechanisms of the vintage robots, the design of which the model Mr.Roboto copies. This watch-robot by the company Azimuth can be called an example of successful alloy of catchy avant-garde design and functionality. The model Mr.Roboto is an accessory for the strong, confident men.

Urwerk
Wrist watches, produced by Swiss manufacture Urwerk, are always famous for their unusual design. Another model of this brand UR-210, also known as Maltese Falcon, also has a futuristic look. Its unusual hands look like paddles, but they do not rearrange any cards, and rotate themselves. Watch-robot UR-210 has one minute and three-hour hands. However, they are almost perfectly synchronized - precision fit of the components is just microns.
The minute hand moves on the scale located at the bottom of the watch, right to left. Reaching up to the "60 Minutes", the fairing, made of aluminum, automatically returns to its original position. There is an opening through which you can see indications of hands. They, in turn, are rectangular modules rotating around their axis, on which are placed the digits.
The similarity with the robot watch UR-210 is not only by hands-satellite, but also the shape of the case. It is made of a combination of titanium and stainless steel and polished by sandblasted to a pleasant matte finish.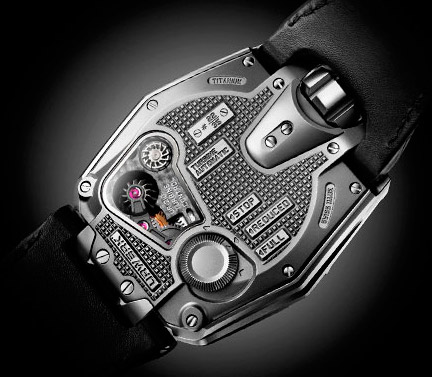 UR-210 watch caseback
However, the main highlight of watch-robot UR-210 compared to other time meters is the mechanism. This model has a specific complication, called "indicator of winding's efficiency", which is located in the upper left corner of the dial.
Watch-robot UR-210 is very sensitive to changes in the rhythm of activity of its owner. If instead of, say, do cleaning or exercise, you sit down in front of TV, slowly drinking harmful donut least with harmful cola, the hand of indicator to immediately slip into the red zone. This means that the mechanism is not sufficient for your movements to support the work. Efficiency of indicator is closely linked with the counter of power reserve, located in the upper part of the dial.
Accordingly, if you do not heed warning, after a while the hand of power reserve will be in red dangerous zone, which means reducing the accuracy of the indicators.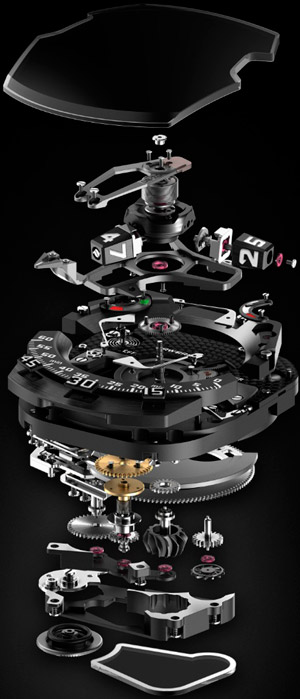 UR-210 watch movement - caliber UR-7.10
However, watch-robot UR-210 has the same human qualities - it can be negotiated. On the case back is located a special switch that allows you to adjust the load on the rotor. Do not want to get out of bed? Turn the switch to position «Full», and turn on all-wheel drive, resulting the rotor stops to resist rotations and will be able to resist the winding mechanism even turn pages in a book. Are you looking for less capricious watches in different store? So chose the mode «Reduced», in which air turbine provides a reduced load on the rotor. If you have planned to break the sound barrier of speed, better turn the selector to position «Stop», to block the movement of the rotor at all, or watch-robot UR-210 cannot sustain.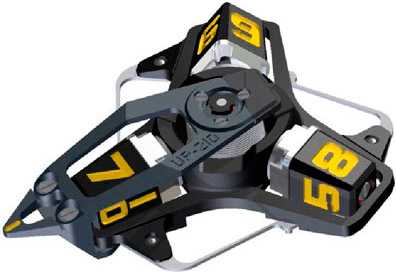 watch blok
Novelty by the factory Urwerk - it's not just the original design, reminiscent of intelligent mechanisms of sci-fi movies. Watch-robot UR-210 has a kind of educational function, cultivating in the holder of the responsibility for their actions and pushing it to lead sedentary lives, which is very good for health.
Casio G-shock
Of course, this topic could not ignore such a brand as Casio G-shock. All models of this manufacturer somehow resemble cartoon or toy robots - they are bright and fanciful. But the creators of this Casio G-shock did not stop.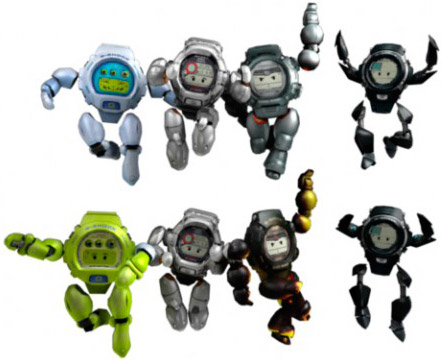 Cabots
Not long ago, the brand held a very unusual advertising campaign. Manufacturer Casio G-shock launched Internet project Cabots Dance Battle. Each visitor of page can select a specific model of the brand, from which is automatically created a three-dimensional robot - "Cabot". User got kind of modification of the once popular toys "Tamagotchi." Only now, as the characters were watch-robot Casio. The owner had to feed, bathe, recharge, and most importantly - to teach a variety of dance movements cabot. The result of this campaign was an online battle, in which the owners of cabots were trying to dance each other. They say that the winner of the competition will receive a special prize - a trip to Japan and a tour of the main office of Casio.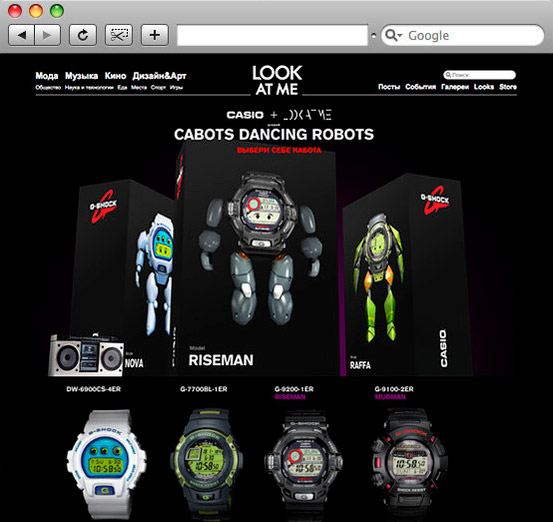 Casio G-shock - Cabots
During the existence of the project about 5 thousand unique users have got their personal cabots. Altogether, more than 25 thousand people visited this page. That is why the competition is over, but the game itself, although in a somewhat adapted version still exists in the vast network. In particular, it has been adapted to application in some social networks, where even today you can create a wrist watch-robot Casio G-shock. In dance battle fans of these characters are fighting with each other or the computer, trying to earn the most points.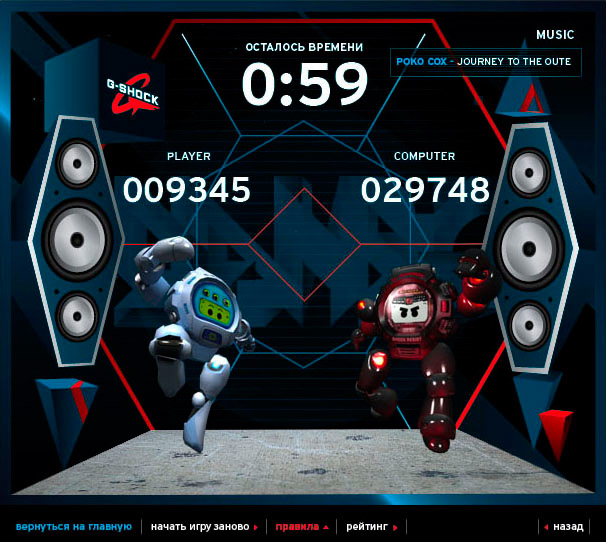 Casio G-shock - Cabots Dance Battle
It can be said that even though Casio G-shock are not formally watches-robots, but everyone can make them humanoid creature with the power of modern technology.
As you can see, for many watches is not enough to be just like robots. Often, this design shows that the gadget has a number of unusual features. However, even if the manufacturer is limited by simple image of intelligent machines on the dial, such a time meters can still be considered as a watch-robot.

«Bah! Familiar faces!»
In this case, we will talk about familiar to everyone good robots. Depending on the application, they can have displays, sensors, and any other electronics. Many manufactures have long raised the prestige of their brands that adorn the wrist watches with images of various celebrities. It's hard to argue that robots can be no less famous than real celebrities. Consequently, wristwatches can be decorated with the images of celebrities for logical reasons.
WALL-E
In 2008, the company Pixar Animation Studios has released an affecting sci-fi cartoon of Andrew Stanton called "WALL-E", which won the "Oscar" in the category "Best Animated Film". Its hero is a cute little robot cleaner named WALL-E, which is an acronym for the phrase "Universal Landscape Light Annihilator - Intelligent." It is one of many robots created for cleaning non-reprocessible rubbish that has made the lives of people on Earth impossible after an environmental disaster.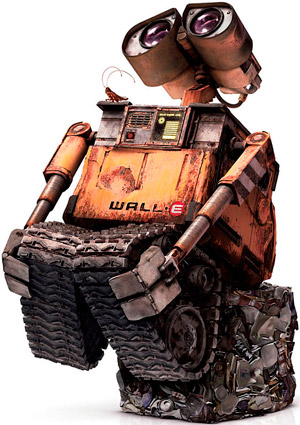 Robot cleaner WALL-E "Universal Landscape Light Annihilator - Intelligent"
Robot does cleaning, and in its free time collects various remains of the destroyed civilization. Favorite finds of WALL-E - is unknown plant, which it carefully cultivates in the old shoe, VCR and cassette with the film "Hello, Dolly." Watching this movie over and over again, the little robot gradually learns to human emotion. Perhaps that is what it is loved by millions of viewers around the world, and adults - no less than children. WALL-E is much more human than some people. That is why watches- robots like a little cleaner, is worn by even serious adult men.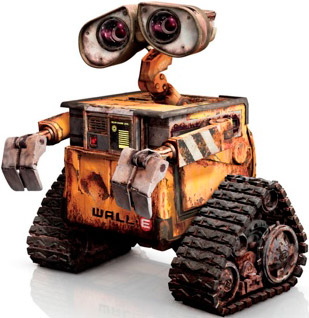 Robot cleaner WALL-E "Universal Landscape Light Annihilator - Intelligent"
Austrian designer Paul Kyuton not often makes the watch, and if he takes up such projects, it basically creates a unique time meter on request. It happened with the model Doublefeature, made for an American. The customer claimed that such a design was inspired by the car dashboard. But the uninitiated in this accessory immediately recognize a pretty attractive face of robot WALL-E.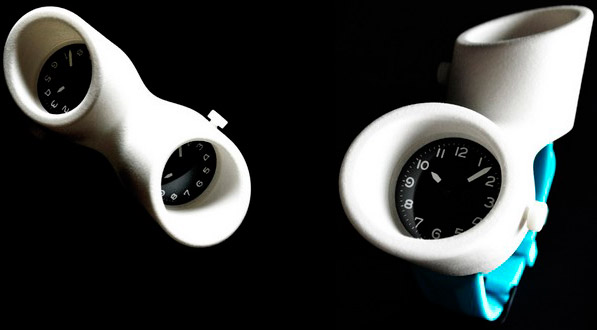 Watch-robot Doublefeature
Watch-robot Doublefeature has been created by using 3D-printing technology. Its double case reminds eyes of the robot WALL-E, each of which has its own dial in black with classic white markings. Each of them is subject to a separate independent quartz movement. One of the dials set to New York time, the second - to London. Strap, which the watch-robot Doublefeature is equipped with, is made of silicone in blue.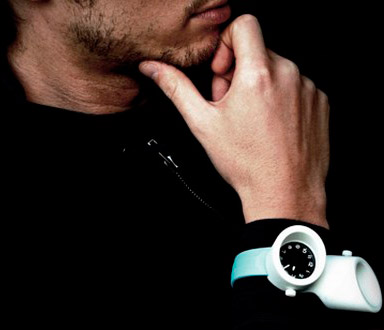 Watch-robot Doublefeature
Paul Kyuton argues that a second time meter like this one does not exist. By the way, like this robot watch, WALL-E was also the last mechanical cleaner left on Earth.
Bender Rodriguez
The character of cartoon about the future under the name "Futurama" has become so popular that many of its phrases, as it's said, went to the people. Robot Bender Rodriguez by profession - bending unit metal beams that are used to create the suicide booths. In them, on a plan of the creators of cartoon, in 3000s people can quickly take their own lives for only 25 cents. Otherwise, the character is also teetering on the brink of a foul, representing the quintessence of "black" humor.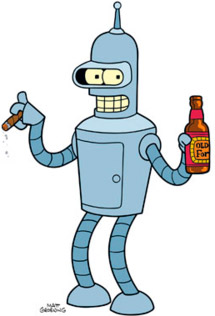 Robot Bender Rodriguez
What is the reason that the minor character of Bender has become literally a cult figure? It is not subject to any of the three laws of robotics, invented by science fiction writer Isaac Asimov, the essence of which is that the robot cannot harm a person, unconditionally carry out the orders and take care of own security. Bender – is outspoken misanthrope. From its mouth repeatedly sounds the slogan "Kill all humans! Glory robots!", though its best friend is an ordinary guy named Philip Fry.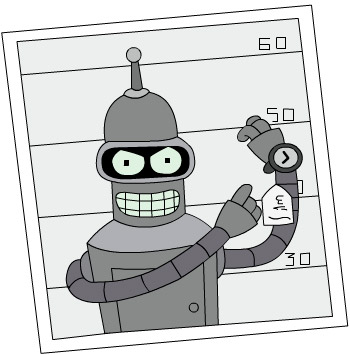 Robot Bender Rodriguez
Bender likes cigars; it is an alcoholic and has kleptomania. However, in this case, it is not suffering but these purely human vices even give it a lot of pleasure. In communicating Bender is rude, constantly lying, and in general it has a hard character. But of all the characters in "Futurama," it's probably the most famous. Bender images can be seen on various clothes and accessories, including on a wristwatch.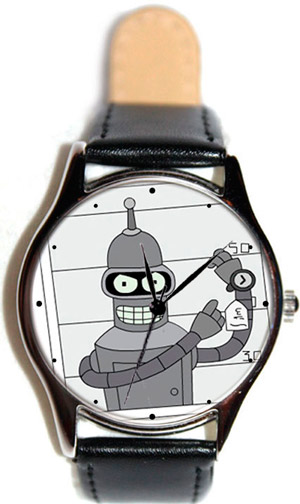 Design watch "Bender with watch"
The company Top Point Industrial Company Limited produces several variants of time meters with the image of this character. However, it differs only in the image on the dial. Otherwise, watch-robots of Top Point Industrial Company Limited are identical. Diameter of steel cases is 3.3 mm, making this accessory fits both sexes. Glass of front wall is mineral, and the straps are made of genuine leather in black. Watches-robots Top Point Industrial Company Limited are not afraid to splash water or exposure to the rain, but to swim in them is not worth.
Functions of this time meter are standard: it indicates hours, minutes and seconds using three central hands. Its precise movement is provided by practical Quartz Miyota by the Japan's company Citizen.
Other producers also offer buyers to buy watch-robot with the image of Bender. However, in most cases this unpretentious design models that are of interest for the most part as a portrait of the famous hero of "Futurama", perform their main function - timing – very well.
Watch Robot - is not just a stylish little thing or a fancy gadget. Probably, it main function may be called a reflection of the interests of the person on whose wrist it flaunts. Today simply measuring of time is not enough for people; they want the device to reflect their inner world. That is why watches-robots are not a passing fad, but a prearranged signal by which it is easy to recognize a kindred spirit in crowd.

Written by Olga V.