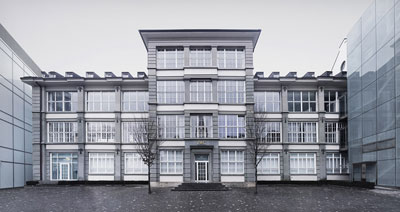 IWC – is a Swiss company. It was established in United States in 1868 by Florensi Ariosto Johnson. In United States in the years of strong technical development there was an urgent need of some reliable clock for using them in an enlarging railway service and for other purpose. Johns tried to connect modern American technology with a handcraft of Swiss watchmakers. On his Eastern trip he traveled all over the whole Switzerland till he finally met an engineer Hinrich Mozar, who offered him to settle down in Shafhousen, in German speaking part of Switzerland.
Not spending time for nothing, Johns decided to start his work and in 1868 he founded a company IWC. So called "Johnson's Gauges" clock were glorious, the the main particularity of which was a lengthen needle-shaped hand of thermometer, which was the most effective temperature controller if these times according to the words of IWChead – Kurt Clows.

IWC factory is situated in Schaffhausen in the north-east part of Switzerland in a small picturesque town. In this very place in 1409 were made the first Swiss clock which became an adorn of a Saint John church.
It happened because of vicinity of Schaffhausen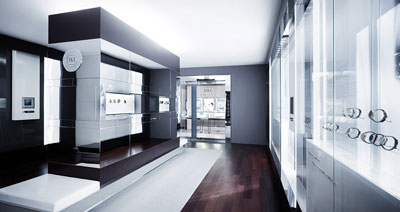 with Germany where production of a tower clock was highly developed.
From the very foundation of a company nonetheless some misfortunes occurred in the 20th century, IWC was a good start up and later it became a huge manufacture producing all world popular watches. For a long time the head oft he company concealed the fact that during the II World War the factory produced IWC watches for German pilots. In 1944 American air forces by a mistake destroyed the building of the manufacture, which was rebuilt after the war and continued its work.
The style of IWC watch is too individual it is very different from other Swiss watches. IWC watch is a male watch. There are no fashion models with bright dial plates and gems in IWC collections. The main particular thing of IWC watch is a large size of a case and unpretentious color of a dial. The main merit of Swiss watches is the movement, so the design comes second in order to accentuate the functional peculiarities of the movement and make the use more convenient.
In the modern collection if IWC quartz movement is not used. In 1978 IWC started to collaborate with Ferdinant Porsche which led to a new model "Porsche Design by IWC" (compass, chronograph Titan Ocean 2000) creation.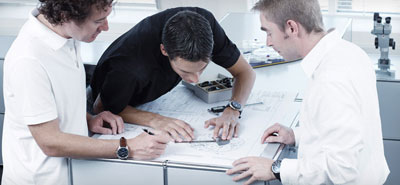 In 2000 IWC was bought by Richemont group. The caliber 5000 was released, the model IWC Portuguese Chronograph Automatic, issued in 2000 items was fitted out by it. The caliber was supplied by the famous winding up movement made by Pellaton manufacture, which provides 204 hours running time.
The model IWC Da Vinci was re-branded, the case was enlarged and made of rose gold and Arabian figures were placed on the dial.
In 2005 the partnership with the world-famous brands Schaffhausen and automobile concern Mercedes AMG led to a creation of a new IWC model - Ingenieur Automatic AMG. A new automatic caliber 80110 with Pellaton winding movement was created specially for it.
The case was made of titan, which IWC released and made popular in the beginning of 80-s. The forthcoming of this chronograph marked the return of Ingenieur watch collection to the market of a high-class sport watch.
Swiss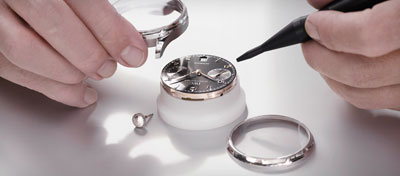 company IWC was one of the first which was working out special watch for pilots. The first aviator watch appeared in 1936 called Mark 9.
In 1940 IWC company made famous Big Pilots Watch. In 2006 in Pilots Watch collection IWC released a new issue of Big Pilots Watch with a modern design of a dial.

A 20 year anniversary famous IWC Da Vinci watch marked by new case color, made of Red Gold.
The models Da Vinci and Novenceto which have a perpetual calendar eternal, chronograph and Luna calendar are the most affordable. They are chosen by the representatives of "exact professions", real professionals of the sea and the sky.
Watch-regulators are the mechanisms where hour, minute and second hands are separated. Some time ago all the watches had the same construction. In that very way were made the first astronomic clock for navigation chronometers.
Nowadays these are watches which hands are fixed in a very unusual way. It can be strange but in IWC collection it has not been any regulators before.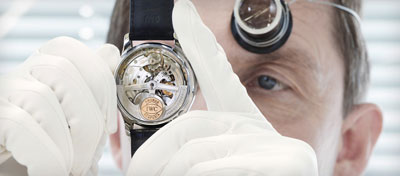 In Portuguese Regulator model one of the six IWC gauses (those were firstly used in the 1868) are used. These calibers were invented by Florentin Johns. The revived the caliber IW 98245 became shock-resistant, with an isothermal balance having kept John's hand-regulator without any changes.
The movement has a manual winder. Frequency rate is 18000vph and a stock run up to 46 running time. Portuguese Regulator are released in 43 mm Platinum case, Rose Gold case and Stainless Steel.
During 140 years of work German-speaking Swiss of IWC are found as the producers oft he most reliable watches. In pilot watches producing nobody can be compared with them. Spitfire collection are watches for aviators, but civils also like them. The watch has a stylish case, modern design and universality.
Under the outward case an inside case made of soft iron is hidden. It protects the movement from dust and magnetic field. The diameter is 39 mm, the height is 12,5mm, waterproof 60m, the case back is non-transparent. The installed mechanism of this model is gauge 30710, with a 42 hours stock run.
The dial is luminescent.
In 2009 IWC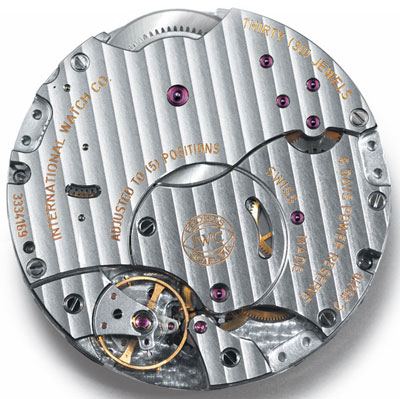 company released some novelties in all the collections. Sport collection Aquatimer was also renewed by 5 models. The real leader became IWC Aquatimer Deep Two, which case ist he biggest one among other models, the diameter is 46 mm and the height is 15,5 mm. The first watch IWC Aquatimer firstly appeared in 1976. In 1982 IWC company together with Porsche Design created the unique model underwater watch in a titan case, called Ocean 2000. The watch afford to sink up to 2000 m deep. The next model of such watch were released in 1997 and were called Aquatimer GST and their cases were made of steel and titan as well. The most technically interesting model is Aquatimer GST which is a legendary Deep One model released in 1999 equipped with a mechanical depth caliber.

Super-power movement of 5000 series made up on the platform oft he modern pocket caliber created by IWS and Florensio Aristo Johns can adopt the components of any complex. Such caliber became the main in a luxury collection of IWC Portuguese, on the base of which the movement with the most prestige packaging arrangement were adopted. Accorting to this way the movement of 9000 series were developed.
The real resources of 8000 series calibre are performed in the sensation of 2009 – IWC Da Vinci watch supplied with a new Perpetual Calendar Digital Date-Month. In 2009 US recognized IWC as the most luxury brand, even more remarkable than Patek Philippe, Rolex, Vacheron Constantin.
More over IWC watch were observed in such movies as Thick as Thieves (2009), Casino Jack (2010), Wall Street: Money Never Sleeps (2010) and Red (2010), where the main character Sara Ross (Mary-Louise Parker) wore IWC watch.