Watch and sky: soaring in the clouds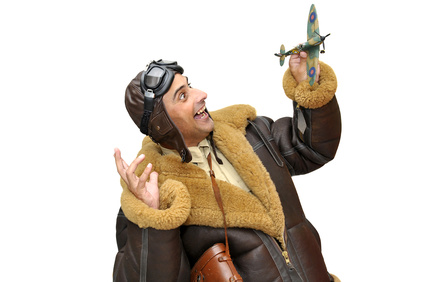 How beautiful the sky is! Hovering birds somewhere far away from vanities of the world. The wonderful sky inspired people from ancient times: poets and artists, sculptors and inventors were looking for muse in it. The humanity strived for rising to birds long before the first aircraft was invented. Imitating the feathery creations, the enthusiasts wore wings and dived from rocks. Of course, they appeared in heaven, to some extent, but anyway the problem of successful return from there was especially acute. An ancient Greek legend about Icarus, trying to fly over the sea with the help of wings, made by him from feathers and wax, is widely known. According to historians, in 400 BC a Greek philosopher Archytas of Tarentum created mechanical bird, on which he flew about 200 meters. The "flying lamps", representing stretched material on cupola and tightened oil lamp below, were very popular in ancient China. It is considered to be a prototype of balloon. The gliding was famous in Spain from 852, when an inventor jumped from high mosque with fabric wings on wooden spreader and landed smoothly. Later he invented something that reminded of hand-glider. It was the first attempt of controlled flying. The famous philosopher and inventor of Renaissance Leonardo DaVinci designed aircrafts, including the first helicopter, which unfortunately couldn't get off the ground. Although today many of his inventions are recognized to be good for short flights. In the Ottoman Empire happened to be an event, when a man got off the ground on a specific rocket, filled with gunpowder. The flight was successful and the "pilot" was awarded with money and honorary title. However, the way to sky was opened for people after inventing of lighter-than-air devices. The first serious achievements can be arrogated to France, when daredevils-aeronauts rose up to 1000 meters in balloon. Later with the help of improved constructions such flights lasted longer and higher. Unfortunately, the balloon flights had one enormous disadvantage – devices were uncontrolled and flew in direction of air flows. To fly where you want became possible when the airship was invented – a controlled balloon with mechanical traction. The first devices were run by efforts of "live" engines. Sometimes the propeller was turned by 80 men. Later the airships were provided with electric engines, and the invention of combustion engine made flying much more comfortable and faster. But the airships were a very dangerous transport device because of combustible gas, contained within cover, and soon they were replaced by heavier-than-air devices.
Now we can talk about modern aviation origin. The first "heavy" flying devices were gliders, which contributed much in the development of flying machines. The Wright brothers are considered to be inventors of first airplane. The device with engine made the first controlled flight in December 17, 1903. Having flown only 37 meters for 12 seconds, the device plumped on sandy dunes. But only in two years an amazing result was achieved. Wilber Wright flew 38,9 km for 39 minutes 23 seconds. The device, by means of which that record flight was made, can be safely called the first airplane. The Russian inventors constructed the first four-engine plane that laid the foundation for heavy aviation development. Later the world saw such inventions, as the first helicopter of Paul Cornu and first hydroplane of Henri Fabre. Both inventors came from France. The First World War "got its claws" into new invention of people. The planes, just starting their way in people's life, became used for military purposes. The intelligence operations and localized strikes were comfortable to carry out from air. And, as always, the war had its say on technique development. The planes were being improved and advanced. After First World War the "golden" age of aircraft construction started. New engines and bodies were being invented. The aviation took roots in humanity's consciousness not as a wonder of the world, but as a more usual phenomenon. The first air competitions started to be carried out. The first speed and flight duration records were set; the first transatlantic flight was made. The navigation devices made the flights safer and longer. The design of reactive engine started in 30s.
The Second World War forced to drastic improvement of aircraft production. Enormous bombardment aircrafts and first reactive fighters were issued. In post-war period the commercial aviation started to gather pace, the intercontinental passenger traffics were carried out at a greater speed, than water carriages. But the appearance of aviation sport became an especially dramatic event. The new kind of extreme competitions, spectacle and fascinating, compelled attention of thousands of people around the world.
The romance of sky insensibly appeared in everyday life of people. It penetrated into art, literature, fashion… It didn't pass by watch industry either. You can't but see some invisible and mysterious link between wrist watches and iron birds. As the watch is the same analogue device, used in airplanes and being used till nowadays due to its accuracy and reliability. The control panel is embodied in design of dials and cases. By the way, about design. No other watch is so similar to control panels in airplanes like the watch of Bell&Ross with its "Aviation" line. Just like an altimeter on your wrist. Well, how can one fly without watch? You can't fly away from time! The "sky" wrist watches must have their specific features, be comfortable and practical. Can you try to adjust your watch, sitting at the wheel of Second World War plane, when the cabin is fully iced, and wearing heavy gloves? I don't think you will succeed. But the Swiss company "IWC" with its "Big Pilot" series solved that problem by issuing a watch with very big crown. Anonimo went to even greater extremes in its summer watches and released a limited series of wrist watches with 24 largest airports of the world pointed on them. True, it's not very easy to buy such watches, as they were issued a limited number of only 50 pieces. On the whole, almost "sky" watches are designed in military style with ascetic appearance – some restrained beauty. The Swiss company "Azimuth" tried to transfer the spirit of aviation "golden age" in its "vintage" wrist watches. But there is a manufacturer, "won" the sky with its notable chronographs. As you've guessed – it is Breitling. No one competition on pilotage in different nominations can do without it. The style of aviation watches, style of simplicity and functionality wins more and more part of world wrist watch market. It's so fashionable to be distinguished by simplicity!
There many manufacturers of wrist watches, connected with aviation. The world watch brands are sponsors of teams and competitions, release limited series of their best watches, devoted to some event in the world of aviation sport or just inspired by beauty of various models of airplanes. Further we'll describe each model of aviation wrist watches more carefully.

Bell & Ross BR 01 Airborne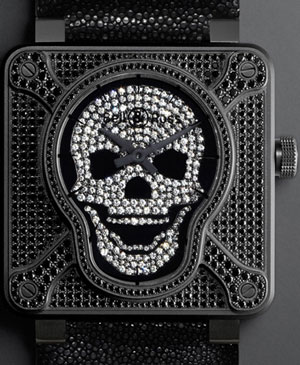 It's hard to find a watch brand, which would be linked with aviation close that Bell & Ross. The origin of company predetermined the main style of wrist watches, when in 1992 a group of designers and specialists for aviation devices development decided to create reliable accurate Swiss watches, able to work in various extreme conditions. As a result, they got something between an altimeter, borrowed from the Second World War fighter's cabin, and a modern usual wrist watch. This notable square case of BR01 series with 4 screws at the corners and round dial becomes the form-factor of Swiss brand "Bell & Ross", which determines its place at the world watch market as reliable movements, striking one's eyes.
Keeping the theme of military aviation in its watch item, Bell & Ross presented a new piece in its famous series BR01, dated to international watch auction "Only Watch 2009". An ascetic design in military style, specific for all watches of BR01 line, was presented in a completely new color and positioned by creators not only as watch, but also as jewelry. The model is named "Bell & Ross BR 01 Airborne", means "beautiful thing" and had deep meaning, connected with such significant event in the world history, as the Second World War. The designer's idea was to attract the attention to breaking point in military campaign of Germany and anti-Hitler coalition, to say more exactly, to disembarkation in Normandy, "D Day". And naturally considering the aviation orientation of watch brand "Bell & Ross", to emphasize the role of air-borne forces of the USA during that military operation. Just one of heroic divisions under the title "Airborne Divisions" is symbolized by dial in the form of skull, adorned with 259 white diamonds. Such unusual presentation was derived from emblem of airborne division with that skull applied.
In fact, we can't but value the contribution, made by those heroic guys, who destroyed the hope of German commanders-in-chief for their heavy "invincible tanks" into pieces. As just the operation of allies under the title "Normandy" together with operation of USSR "Bagration" determined the end of that war.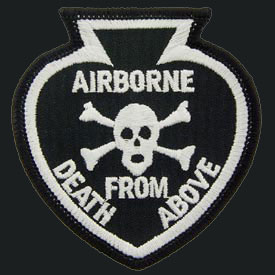 A great event demands for great devotion! And Bell & Ross wasn't stingy of design; indeed, who can immortalize feats of military pilots better than the official supplier of Military aviation of France? Three models of BR01 Airborne series wrist watches were presented at auction: Airborne, Airborne 415, Airborne 672, where the numerals point to number of black and white diamonds, used in design of case and dial, from simple model of wrist watch to real jewelry with time indication, with 2,78 carat total weight of jewelries. All three models are provided with steel case, representing 46х46 mm square, which can be transformed from wrist watch into table one or fixed at control panel of car or airplane. At that in second case they will be hardly distinguished from real aviation analogue on-board watch – this is the conception of Bell & Ross brand. The total number of BR01 Airborne wrist watches, released by limited series in all three variants, makes up 500 pieces – tasty pieces for most sophisticated collectors. The unusual watches of Bell & Ross also attract the attention by their straps, made of exotic "sea reptile" – skate. The classic luxurious black color of case and all indications distinguishes many models of Bell & Ross. The Airborne series is notable for crown, moved higher than usual "3 hours". The watches are provided with self-winding movement ETA 2892, its power reserve makes up 42 hours. The water resistance of 100 m allows swimming, wearing the watch. Some people may dislike such, to put it mildly, "unusual" form of dial, may people don't like the black color, so popular in Bell & Ross, sometimes one can doubt about practicality of skate leather strap. But just like no one can ever criticize the emblem of heroes-pilots, symbolizing "fearlessness in the face of death", so no one can dare to question the credo of all Swiss wrist watches from Bell & Ross – fearlessness to be different.

Cartier Santos Watch. Wrist watch. Clear prop!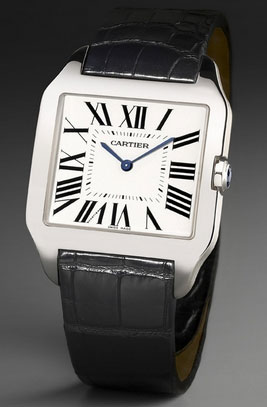 Cartier has the right to own the title of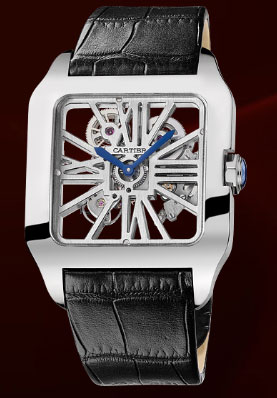 company, which manufactured the first men wrist watch, and its "Santos" series may be considered to be the most successful and popular line of wrist watches over the history of not only Cartier, but all industry of wrist watches as time instruments, but not only fashion accessories. The history of Cartier is an example of elite brand development, which counts over 100 years of exclusive jewelries and amazing watch masterpieces manufacture. At all times Cartier was a symbol of high society, its accessories emphasized sophisticated taste and status of their owners. The history of men wrist watches started from 1904, till that time Cartier was making only jewelries and women precious bracelets with miniature chronographs.
The beginning of ХХ century was characterized by impetuous industrialization, unprecedented economy growth, technical breakthroughs in many fields and also by total rage of sky exploration. People from all developed countries simply adored first aviators, they were considered to be modern heroes. The newly-made heroes-aviators got off the ground on incredible apparatus, not really good for flights – many such flights ended tragically. Only few people, genius inventors, were destined to go down in history of air explorers. The son of Brazilian millionaire Alberto Santos-Dumont, came to Paris in 1903, was one of such men. The talented Brazilian inventor is rightly considered to be a pioneer of air navigation and worthily contest that right with famous Wright brothers. Many historians are inclined to consider that Santos-Dumont opened the way to clouds indeed. Being always under careful attention, Santos-Dumont always was elegant, even getting off the ground, he wore strict suits of heavy fabric. One can say he became a trend setter among fans of his activity in some way. And due to him the men wrist watches were born. In France Santos-Dumont surrounded himself by many friends, representatives of high society. Louis Cartier – the founder of French subsidiary of famous company "Cartier" – was among them. At that time men used pocket watches, very popular at social parties and solemn occasions, and Santos-Dumont became anxious about comfort of using that time instrument in aviation, as the watch was almost the most important device for aviator, whose life literally depended on it. At one of such evenings Santos-Dumont complained about discomfort of using pocket watches in the air to his friend Louis Cartier and asked him to design a special watch, which would be good to wear on wrist and define the time, keeping a hand at the wheel. Cartier took it very seriously and started designing a conceptually new watch together with talented car engineer Edmond Jaeger. Their long and hard work resulted in men wrist watch "Cartier Santos Dumont" with rectangular case with smoothed edges – a projection of first flying apparatus fuselage cases of that time. Only functionality was significant, there the brand specific feature of Cartier watches was born – big Roman numerals with big empty white spaces between them, and 60-minute scale near the center. Edmond Jaeger also took that design seriously and created a small ultra-thin hand-wound movement. And in 1904 the audience, gathered to watch their favorite attraction of flight around the Eiffel Tower, was shocked, when their idol Santos-Dumont, getting ready for fight, noted the time with the help of unusual stylish watch on his wrist. The dandies of that time, fans of aviation pioneer paid their attention to such a notable item and dashed to find similar unusual movement. But they were going to be disappointed, as Louis Cartier promised his customer an exclusive watch, released in a single piece. Only in 1908 several very important persons were honored with Cartier Santos Dumont. Over 75 years about 800 models of those wrist watches were issued. In a time the watch collection was supplemented with new models and became the visiting card of Cartier watch brand. The cult watch "Santos Dumont" was presented in 2004 again, when in honor of 100th anniversary of that series 4 new models of wrist watch were released, including the famous newly designed "Santos 100". Presented in 2009, the watch "Santos De Cartier Skeleton" with conceptually new approach to watch structure with skeletonized dial, became one of the most notable models of "Santos De Cartier" series. The wrist watch movement was designed after the plate was made, "adjusted and sharpened" for it for the first time. As the plate of that watch consisted of Roman numerals and replaces indications of usual dial. The transparent manual winding movement of caliber 9611 – the pride of Cartier – is seen through it. The rectangular case of 46x54 mm size is crafted in palladium. The watch is provided with all specific features of series: massive welt on 8 screws, octagonal facetted crown and transparent back case. The wrist watch "Cartier Santos De Cartier Skeleton" is a modern example of first men wrist watch style, passed through decades, watches for aviation rise epoch heroes and of "sky" wrist watch style.

IWC Pilot's Watch Double Chronograph Edition TOP GUN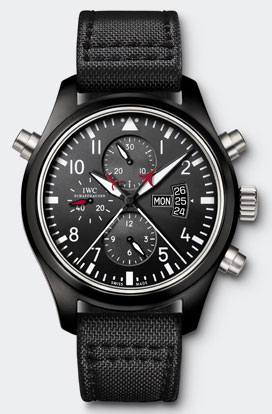 During over 70 years the Swiss watch company "IWC"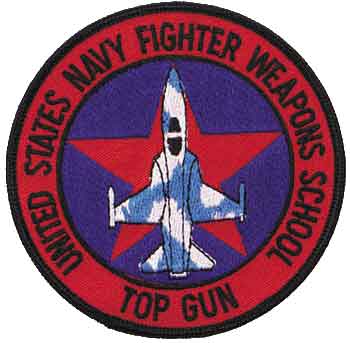 has been issuing wrist watches of flight theme – professional analogue devices of time indication for professional pilots. The wrist watches for pilots must be comfortable and functional, the indications – clear, and the crown – rather big. This is very important for aviation, where each second is under the belt and an instant inattention can lead to fatal flaw. The pilots-fighters of elite American flight school "TOP GUN", rightly considered to be ones of the best pilots in the world, know this rule, as nobody else. Just the emblem of this flight school is marked on conceptually new model of wrist watch "Pilot's Watch Double Chronograph Edition TOP GUN" from Swiss brand "IWC". The perfect pilotage and enviable courage of pilots-fighters, praised in many films and books, inspired the IWC watchmakers for creation of that unique men chronograph. Everything is notable: from materials of case to forms of second hands. The classic case of 46 mm diameter is an example of latest achievements use in the field of materials finishing in watch industry. It is made of high quality ceramics in combination with matt titanium and very hard, resistant to aggressive acidic mediums and protecting the movement from intensive electro-magnetic radiation. The manufacture process is very complicated and a secret of IWC; we can only say that the ceramic billets are made at extreme temperature of 2000 degrees centigrade, then after long-term cooling according to secret technology of IWC, during which the material acquires unique features, they are finished by diamond instruments and "high finish" polished. The back case with emblem "TOP GUN", as well as control buttons, is made of matt titanium, perfectly matching the grey color of dial indications. The wrist watch is provided with complicated self-winding movement with 44 hours of power reserve and represents split-chronograph. Two second hands with red counterbalances in the form of military fighters move independently from each other and can measure any time intervals. There is a date and week day aperture at "3 hours". Also there are additional dials with different indications at "6 hours", "9 hours" and "12 hours". Due to use of new materials, the massive case is very light and weighs only 130 grams that in combination with strong nylon strap makes "Pilot's Watch Double Chronograph Edition TOP GUN" almost imperceptible on wrist.
The Swiss company "IWC" with its model "Pilot's Watch Double Chronograph Edition" proved once again that its wrist watches are worth of professionals. The materials and technologies, used in that watch, are planned to be applied for following series of advanced technology wrist watches "IWC".