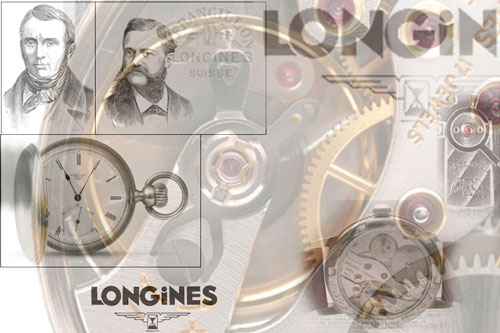 A long way, passed by the Longines company, completely shows evolutional development of the watch industry from a "hand-axe" to the latest technologies. Longines is not of those companies that along with other giants of the watch industry has a special place due to original technical developments, introduction of innovations and timeless classical values.
The creation of a crown belongs to just this company. In 1867 the movement L20A, substituted common order of fixing the time and winding with the help of the key, was made. This watch received a bronze model at the international exhibition in Paris.
Longines is one of watch companies in the world which started serial production of wristwatches already in 1905. Naturally, this required total reconstruction of the whole company. At that time wristwatches were not taken seriously by people so the company had to do its best much to promote new ideas and projects. Nevertheless, Longines was developing and designing wristwatches advanced for that times. For instance, starting from 1912 watch forms began changing. Ordinary round cases became rectangular and barrel-shaped. This new "image" was rather revolutionary and advanced but despite that, was great success.
In the 30s Longines supplied many various expeditions with its chronographs. For instance, Amelia Earhart's flight, the first pilot-woman, from Novaya Zemlya to Ireland in 1932 was one of such travels. Aviators' first trials inspired the company to make navigating watches called a siderograf.
In 1940 Longines made the first automatic movement calibre L22A which was the first one in watches for men. The first automatic movement calibre L14.16 for women's watches was produced in 1956.
In the 60s the company received four Oscars from the Association of Brilliants for extraordinary design resolution. Besides that, in 1964 the company was awarded the Order of Honour of Lausanne.
Longines made the first thinnest quartz watch in the whole world in 1960. In 1979 the company broke its own record and created watches with a thinner case. The case was thinned two millimetres and its thickness was 1,98 mm.
In 1982 Longines launched the leak-proof gold watch of 3 mm thickness. Today this wristwatch is a part of the La Grande Classique de Longines collection.
Continuing to make miniature watches, the company presented the movement of a 1,75 mm thickness for women's watches in 1983.
In 1984 Longines launched the Conquest collection including watches with the very precise quartz movement. The new technology of temperature compensation, developed by the company, made this watch more precise 5 to 10 times than watches with quartz movements.
The improving Longines brand, one of the oldest in the world and always much in demand, is on the right way creating elegant and unique models of the high watch art.