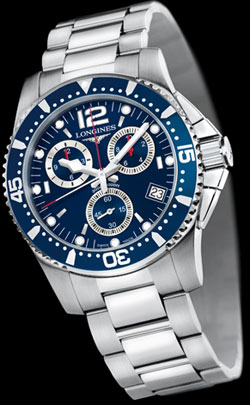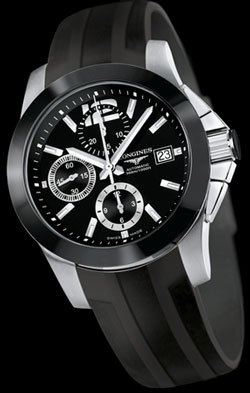 Longines sports collection also keeps aristocratic taste and subtle elegance. Sports models of the brand feature light construction and original unobtrusive aesthetic style. This collection has the company's main idea but, at the same time, features sports laconic design and high-precise materials being capable to stand big loads.
Technical research in the field of the watchmaking carried out by the company received many awards and distinctions. Due to large experience and innovative developments, Longines is particularly on good terms with sports. The company has invented some measuring instruments given precise timing to sports competitions.
A sports range is wide enough as Longines is a sports company. In 1919 it was official supplier of watches for the International Air Sports Federation. Longines measuring instruments "accompanied" many explorers during significant travels which nonstop flight (first over the whole history of mankind), made by an American pilot Charles Lindbergh across the North Atlantic in 1927, belongs to. Over 80 years the company has been producing watches intended for different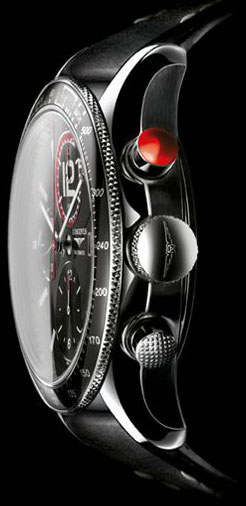 kinds of equestrian sport (the Elegance line since 1926) and since the 90s of the last century – for tennis. Since 2007 the company is an official timekeeper of Japan Open Tennis Championships and also the Russia's Kremlin Cup. Longines has various models especially made for motor racing, gymnastics and skiing. The greater part of profit on sales of sports models go to charitable foundations.
At different times the company's official persons were Gabriela Sabatini, Michael Chang, Andre Agassi and Steffi Graf.
Longines sports collection includes four lines: HydroConquest, Conquest, GrandeVitesse and Longines Admiral.
The HydroConquest line, as follows from the name itself, is mainly devoted to lovers of the water element. Watches meet all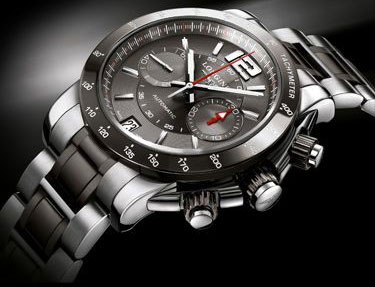 strict requirements being very necessary for diving. All models are water-resistant to 300 metres and equipped with a one-way turning bezel and a double safety buckle.

The Conquest line is quintessence of the brand's sporting elegance. Particular attention is given to design of a bezel, cabochon, a crown and a bracelet. Watches are made of ceramics which is an exceptional material combining solidity, high quality and aesthetic look.

The GrandeVitesse line perfectly demonstrates how the company has tried to "materialize" speed, to shape it. Watches have streamline and aerodynamic contours, dynamic and powerful nature which the motor racing world underlies.

The Longines Admiral line features rather aristocratic and sports style. These models combine elegance with reliability and sports energy with refinement.