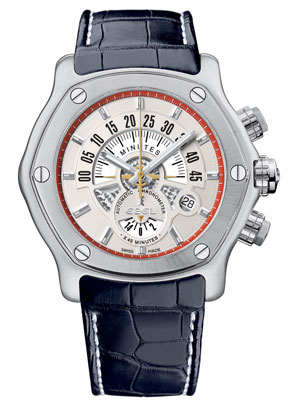 Many famous watch brands cooperate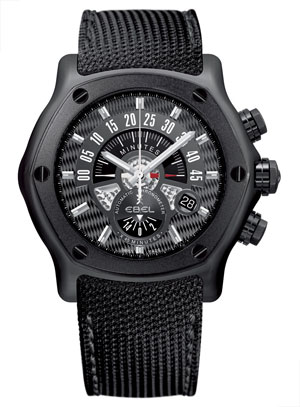 with the football industry, negotiate contracts with players, teams, associations. But the Swiss Ebel brand was the pioneer in this mutually beneficial activity. What could be more effective in the advertising world, than the most popular game, attracting millions of people, combined with a watch, the owner's style and taste indicator. Because wearing a football chronograph with the favourite team's logo is extremely pleasant. Ebel understood the advantages of such a union long ago and they flung themselves into the football world. Ebel managed to kill a dozen birds with one stone, signing contracts with 2 of the most famous European football clubs – Bayern and Arsenal. Ebel representatives consider, that these clubs are well-known even beyond the football maniacs' habitats and they are right. The associations with Bayern and Arsenal are speed, success, style and all of them are embodied in the specialized limited edition Ebel chronographs, devoted to these legendary teams. The "Bavarian" chronograph is fully executed in black color and incrusted with diamonds. It's not so simple to buy this watch, because all 250 pieces flew apart during the first days after the presentation. The wrist watch for Arsenal, presented in multiple shades of grey, with blue alligator skin straps and gold hands on the club's logo have already become a subject of attention for collectors. The "Arsenal" wrist watch series is limited with 350 pieces. Both models have essential marks of football propensity – 2 half times, break and extra time indicator. The chronometers were presented at the Baselworld watch exhibition in Basel.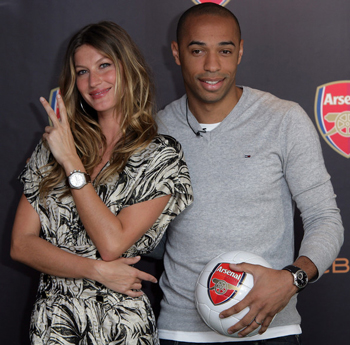 Ebel went further in their cooperation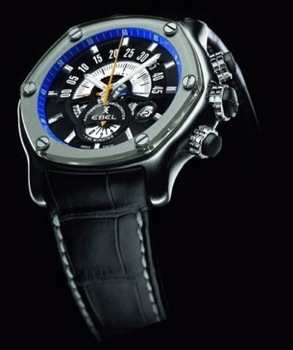 with Arsenal and declared themselves the official London football players' timekeeper. The Swiss watchmakers installed 2 huge digital screens on the opposite sides of the Emirates Stadium. The world-famous supermodel Gisele Bundchen, who is also an Ebel representative, gladdened the TV workers with her presence at the press-conference, devoted to the contract signature and the Swiss Ebel's cooperation with the English Arsenal. The team's ex-captain, Thierry Henry, also visited the ceremony.
Arsenal and Bayern are not the only football clubs, the Swiss men's watch manufacturer pointed out. The new 1911 Tekton Real Madrid watch model, devoted to the eminent football club, was presented to the club's chief executive officer, Jorge Valdano, by Ebel company's president, Marc Michel-Amadry. The series' limited edition of 500 pieces makes the chronograph a desired present for the legendary Real Madrid fans.
Ebel also chose the famous French "Lyon" football club and the Ukranian "Shakhtar Donetsk" club as their football chronometers' dedication objects. Ebel wrist watches "run" apace with the legendary football clubs' celebrities and different clubs' fans have something to draw their attention to in the Ebel wrist watch sports lines.